4 challenges for CTOs and CIOs in 2022

Deepak Arunachalam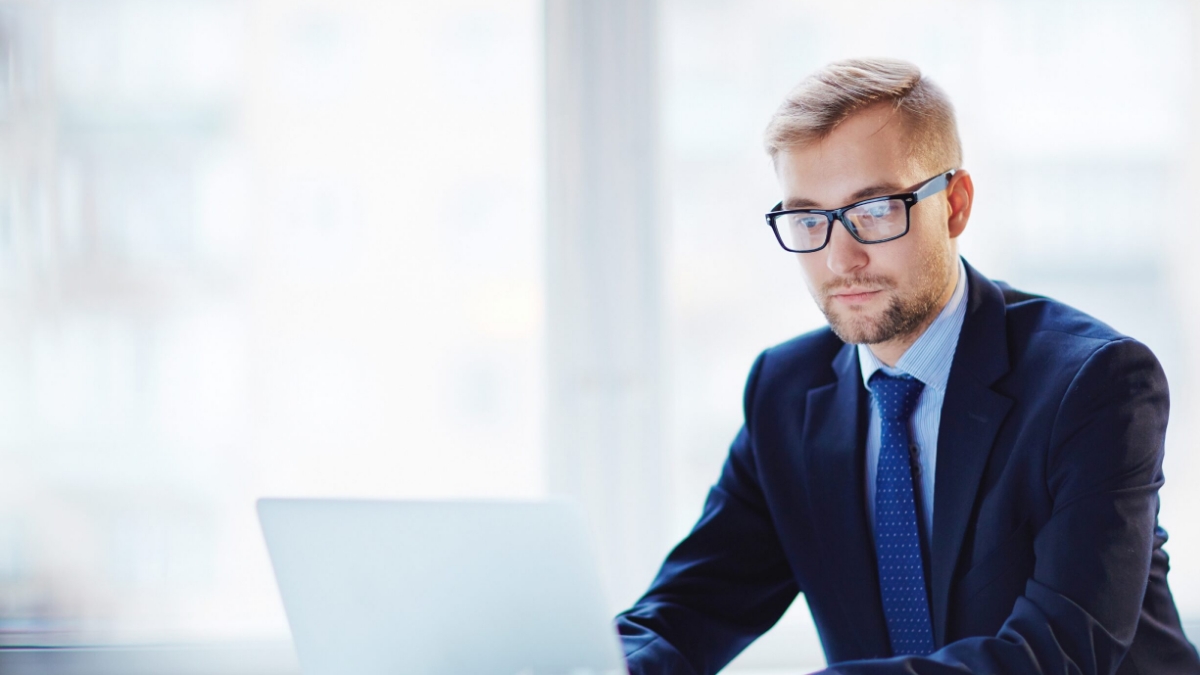 The constant changes of the past few years have stopped business leaders from speculating over when this global pandemic will subside, and instead focus on operational shifts that will enable them to better cope with future surprises. As enterprises grapple with the dynamic technological transformations required in the post-pandemic era, there are challenges for CTOs and CIOs that are expected to lead on transformation projects.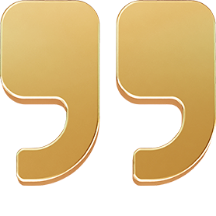 "It's not the strongest of the species that survives, nor the most intelligent; it's the most adaptable to change."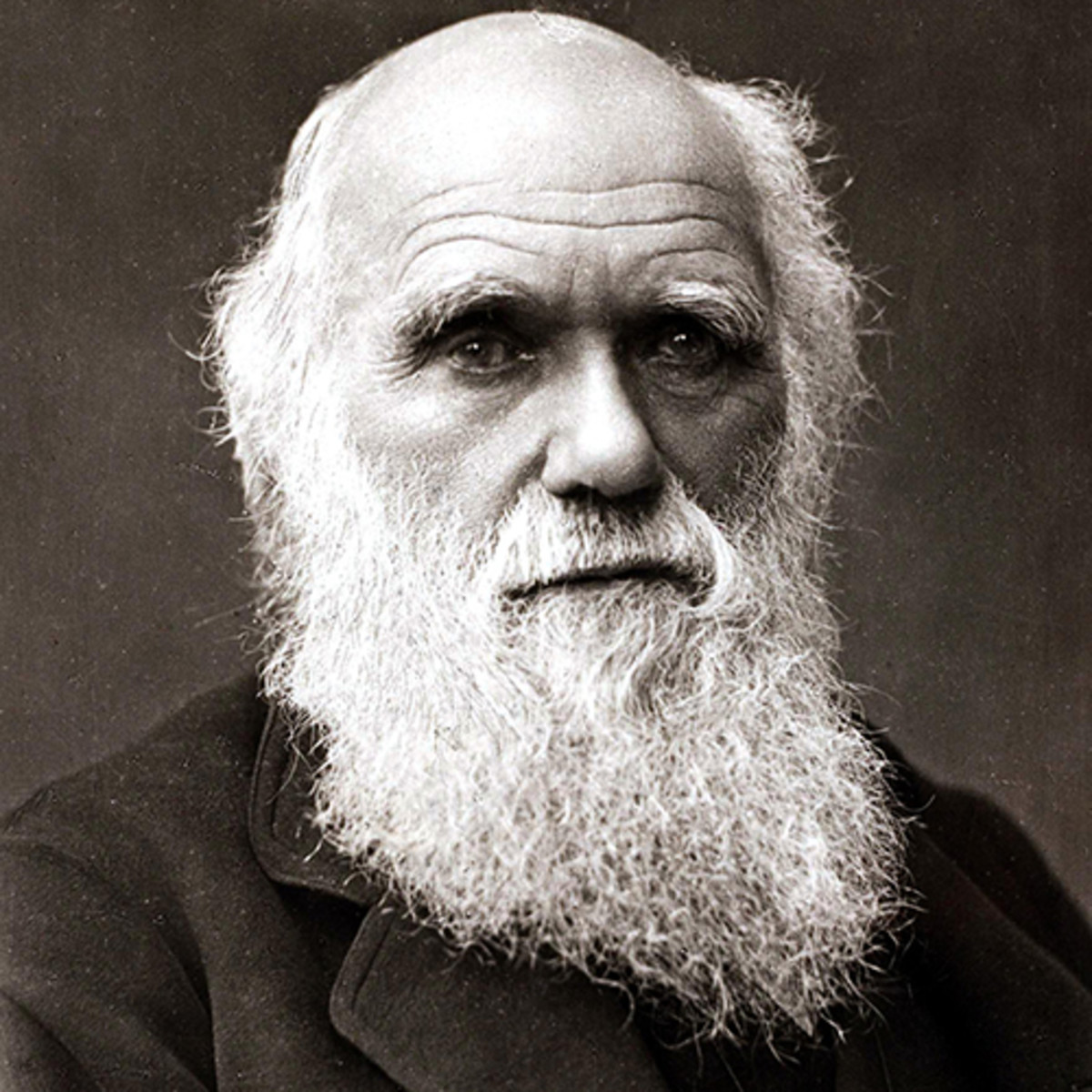 The evolving role of the CTOs and CIOs in times of pandemic
Traditionally, the functions of CTOs and CIOs were confined to identifying and tracking emerging technology trends and policies that could enhance their organisation's offerings and managing processes. But the pandemic-driven acceleration towards digital initiatives is changing this modus operandi.
According to a recent study, 89% CTOs and CIOs see themselves as change agents. Yes! CTOs and CIOs are not mere technology facilitators and advisors but are significant decision makers in the organisation. Obviously, CIOs and IT leaders are facing unexpected challenges too, and they have to support rapid changes. So, it's time for them to emerge as leaders within organisations more broadly.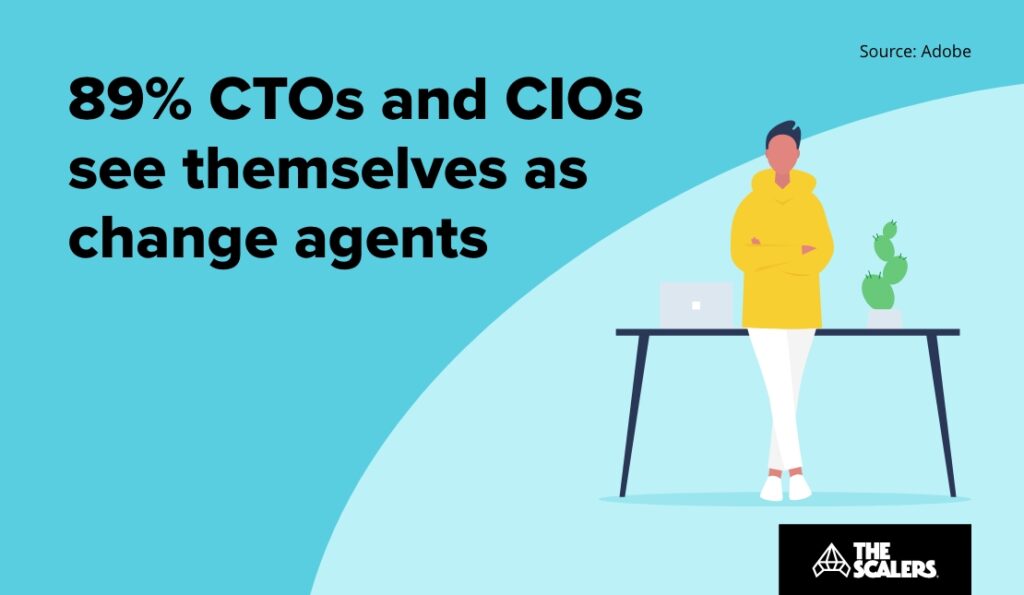 CTOs and CIOs are in the spotlight
The previous year has shaped up to be one for the record books. The events of the previous year and how businesses responded to them will change the way business is done for many years to come. As we head into 2022, one thing is definite: CTOs and CIOs are expected to deliver more business value than ever before, which is not easy in this crucial time of change.
The challenges for CTOs and CIOs in 2022 at first glance seem familiar. But, the question is how has your experience over the pandemic years changed your approach? What's your organisation doing now to become more competitive? How are you getting ready to adapt to the unexpected? These are essential questions to ask. Many come as an outcome of the pandemic while others are driven by digital-first business models that organisational leaders can't afford to ignore.
2022 is bound to be a busy and vital year for IT leaders. Here we explore some of the important challenges for CTOs and CIOs in the coming years. Leaders who focus on the below priority areas will help their organisations to steal a march over its rivals. We'll also provide you with some actionable advice on how to tackle them!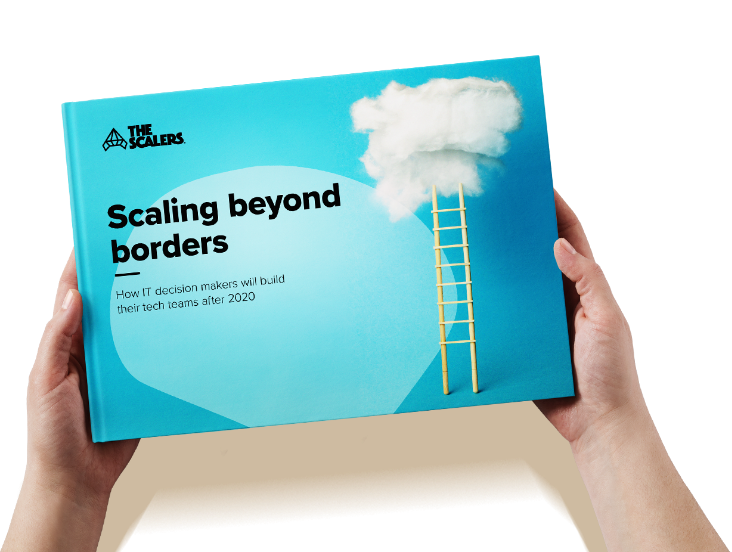 Learn how to scale fast with global talent
How IT decision makers will build their tech teams after 2020
DOWNLOAD GUIDE
1.Balancing harmony and productivity in the hybrid workplace
The pandemic has changed the workplace, initially forcing businesses into a remote work environment. Then this temporary move to remote work lasted a lot longer than anyone expected. Also, businesses realised a few things:
Employee productivity largely improved while working remotely.
Many employees don't want to go back to working in the office full time and this has become a valuable employee perk when trying to attract new talent.
When you include remote workers, your job pool grows exponentially.
With all these taken into account, most businesses say they'll use a hybrid work model. But, trying to permanently support hybrid work models will be among the main challenges for CTOs and CIOs well into 2022. For them, being able to support both models needs discussions on whether their current IT infrastructures will support this or if additional technology investments are needed, ensuring that all devices and networks are properly secured, regardless of location, and costs, and how to support a hybrid working model without IT costs spiralling out of control.
2. Security as an enabler of growth
The legendary race car driver, Mario Andretti once said, "It's amazing how many drivers, even at the Formula One Level, think that the brakes are for slowing the car down." In a business context, security and compliance are treated as time-consuming and necessary evils that slow down initiatives. As IT globalises, there are increasing threats to businesses of cyberattacks, especially from attackers where there may be little to no legal recourse. According to a recent report, the global ransomware damage cost is predicted to exceed € 234 billion by 2031.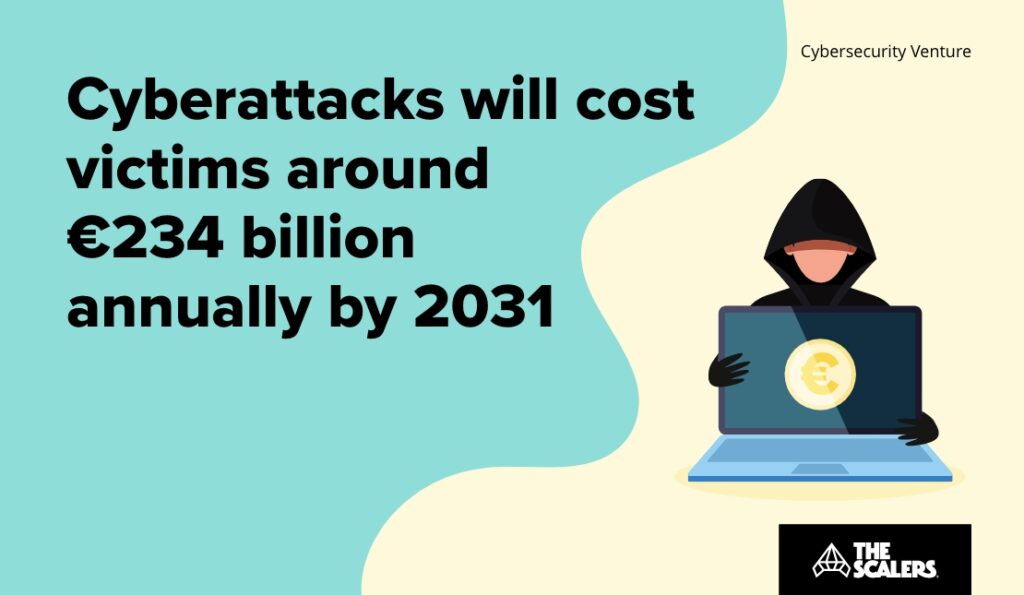 As more and more businesses move into digital formats, security breaches will increase. That being said, the major security risk every year remains the same: People. Rather than using technical methods to crack into a business, hackers today use social engineering tactics to get information from unwitting employees.
Businesses spend lots of money on cybersecurity but ignore this biggest threat. It's essential for IT leaders to educate their employees regularly on cybersecurity risks and how to avoid them. No matter how secure your backend is, there are increasingly new ways to hack it, and acquiring cyber resilience allows your business to avoid a black swan event.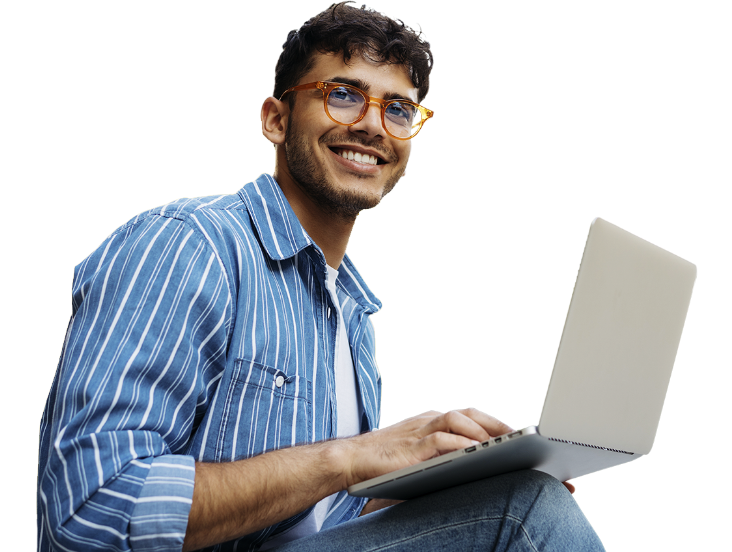 Build an offshore development team
Can't find the skills you need at home? Stop searching and start scaling
LEARN MORE
3. Speed is the name of the game
If there is one word to describe the previous year, it would be 'speed'. Today, CTOs and CIOs are under increased pressure to deliver services quickly without compromising on quality and security. They are constantly asked to provide more with limited resources, time, and budget. But, when you're asked to deliver offerings faster with the same resources, quality often suffers. You're cutting corners in the run to meet deadlines.
The demands for speed create a trade-off between quality services and short schedules, and the updates and rework that result can be suffocating. According to the latest survey by McKinsey, the inability to master the latest technology and ineffective team building accounts for an additional 40 percent of overspending. Offloading technological debt is easier than doing it. And it's the IT leaders who are expected to make this miracle happen. But, there are a couple of ways:
If you're facing a bottleneck, the solution is building an effective team.
Use innovative technology tools to get more out of your team.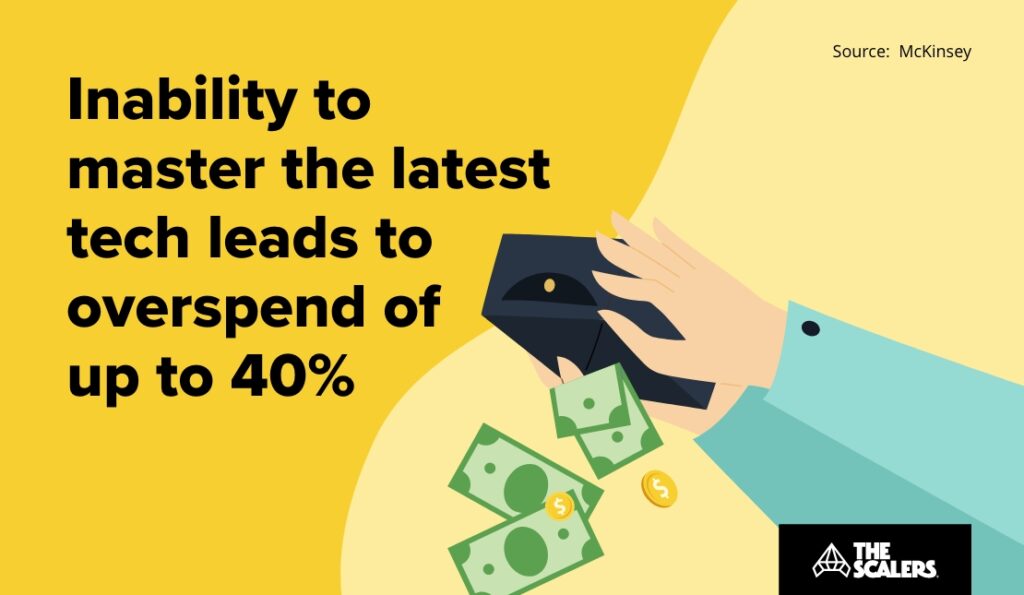 4. A lifelong love of learning
The degree to which people in the business understand how to use tech will also have a determining effect on how well businesses generate value. For this reason, business leaders need to make tech literacy a priority across the business. Some key questions CTOs and CIOs should ask themselves are
Have you budgeted learning in your talent and capacity plans?
Are you measuring how current your workforce's skills are and what your upskilling needs?
Businesses that are architected to learn and adapt at speed — whether using tech to develop a new business model or adopting a new methodology — will be those that succeed. This requires CTOs and CIOs to tailor an expansive view of learning. It includes developing regular skills projections based on future requirements and values, rolling out reskilling strategies, providing people with opportunities to develop new skills, and creating a learning environment that allows people to learn and easily share.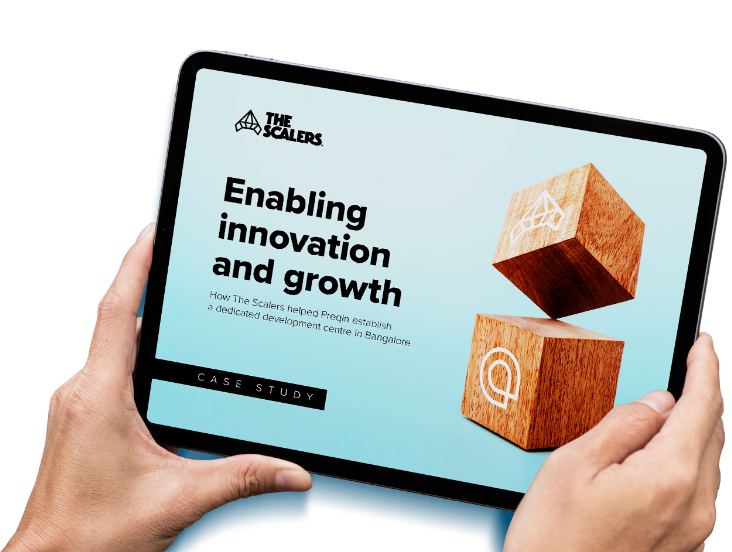 Scaling at speed: Preqin case study
How we helped a fintech establish a dedicated development centre in Bangalore
DOWNLOAD CASE STUDY
Challenges for CTOs: "In the middle of difficulty lies opportunity"
Changes are happening at a head-spinning pace as the role of technologies continues to evolve in business. CTOs and CIOs say that their responsibilities have already progressed to include transformational tasks. As change becomes essential for staying current, CIOs' and CTOs' responsibilities will also continue to change. Of course, this list of challenges for CTOs and CIOs could easily be much longer. But, this blog post is just a sneak peek of a longer conversation that forward-thinking business leaders must have. As IT leaders continue to navigate these obstacles, they can rest assured that — with proper planning and support — the path ahead is bright.
If you're looking to build an engineering team offshore to help facilitate business transformation with top Indian engineering talent, feel free to reach out to us. One of our senior executives will get back to you shortly and help you move forward based on your requirements.