"We wanted to have our own team and make it very Preqin, and we wouldn't have been able to build that team so quickly without The Scalers' help. From managing the office space and recruitment process, we would not have had the capacity ourselves to do this - not for such a large team."
The Problem
Preqin Pro, would be more powerful and comprehensive than anything they'd created before. To build it, the company's development capacity would need to scale up fast.
With an ambitious timeline of just 4 months to launch their new product, it was estimated that 15 new engineers would be required.
One option to outsource some development to an agency. However, having tried this in the past with mixed results, Preqin crossed it off. Doubling the size of the existing London team in such a short time was simply impossible.
But still they wanted their own team. Not just for Preqin Pro, but to provide capacity for an increasing pipeline of exciting new work. That's where we came in.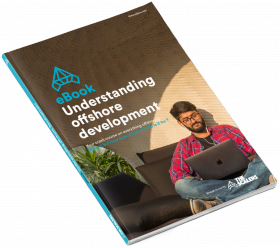 Understanding Offshore Development eBook
Your crash course on everything offshoring.
What is it? How does it work? Is it for you?
Download My Ebook
Our Solution
Preqin approached us looking to build a team of 10-15 developers within 4 months. They wanted experts in the latest technology: .NET Core, Redux, Elastic Search, MongoDB, and SQL Server. The long-term goal was a team of 40-50 developers.
We held several meetings with the CTO to understand their vision for the company, their requirements, goals, and expected timelines. In a few days, we presented a detailed strategic plan and operational roadmap for their software development centre in Bangalore. This included our projection for scaling the team from an initial 4 engineers to 40, over a period of 6 months.
Everyone aligned, we launched our hiring process: careful candidate search, pre-screening interviews, technical exams, personal interviews – the works. From an initial pool of 1,700 developers, we presented 70 qualified candidates to Preqin for final interviews and selection. At the same time, we secured a spacious office and furnished it completely, from painting the walls to supplying desks, chairs, laptops, and even "swag bags" for a little personal touch.
Within 3 months of our first contact with Preqin, their 15-person development team was fully operational and contributing to projects.
The Result
As of May 2019, Preqin's Bangalore team has 42 engineers including backend developers, business analysts, quality assurance engineers, and a scrum master. Roles like administration, for tasks like payroll and building maintenance, have also been filled.
The successful collaboration led to the successful creation and launch of Preqin Pro. Today, Preqin Pro is one of the largest global networks in the investment industry, with almost half a million alternative asset decision makers.
The development team is now working on a range of new projects, fully-integrated with Preqin's developers in London and across the world.