Software driven business: the key to customer centricity

Tom White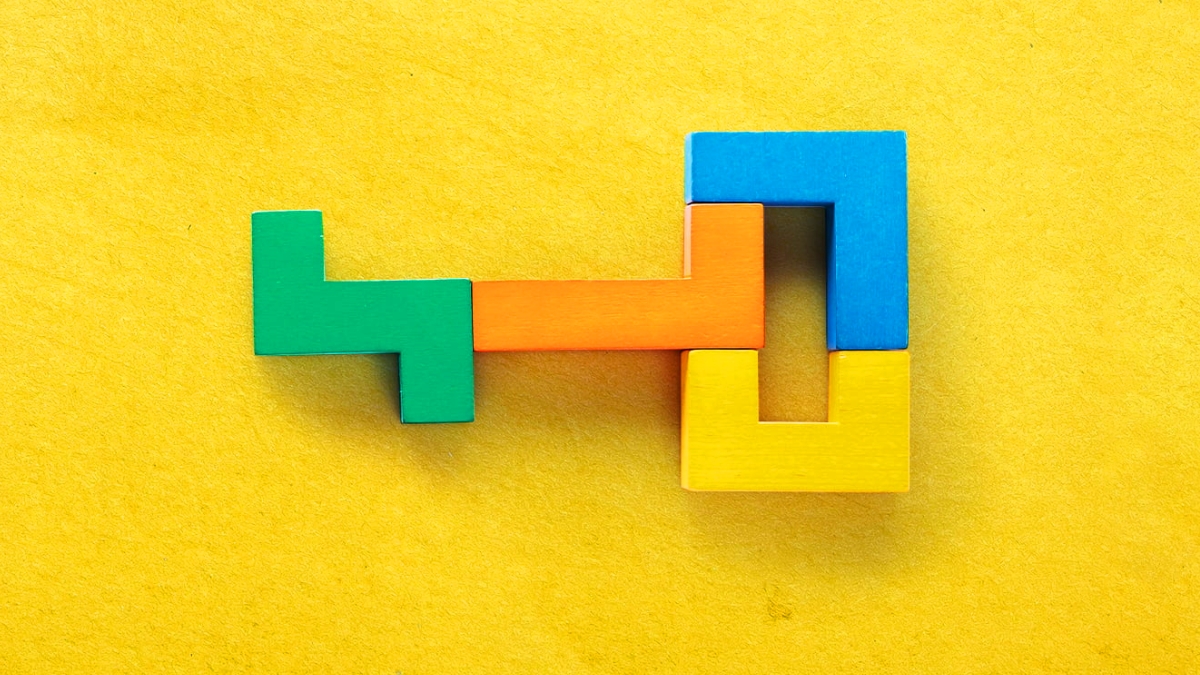 Digital transformation continues at an accelerated pace — partly driven by a requirement for increased resilience, diversified revenue streams, and continued competitiveness in the age of the coronavirus. Whether it's cake shops offering their recipes at a price online, or traditional family-run restaurants having to embrace the 'Uberisation' of food consumption.
We've seen gyms and fitness instructors move their products online and new apps enter that marketplace and disrupt an industry where a lack of dedicated brick and mortar space was seen as a definite barrier of entry. What wasn't foreseen was that the customer's own home could indeed become that dedicated space.
Adaptation as a response to crisis
As a response, some gym chains have had to invest more time and money into their mobile applications. Total Fitness, a prestige fitness and health club brand operating in Northern England started running virtual aerobics classes, offering personalised downloadable plans, and delivering their own-brand smoothies, shakes, and protein-rich savoury meals door to door.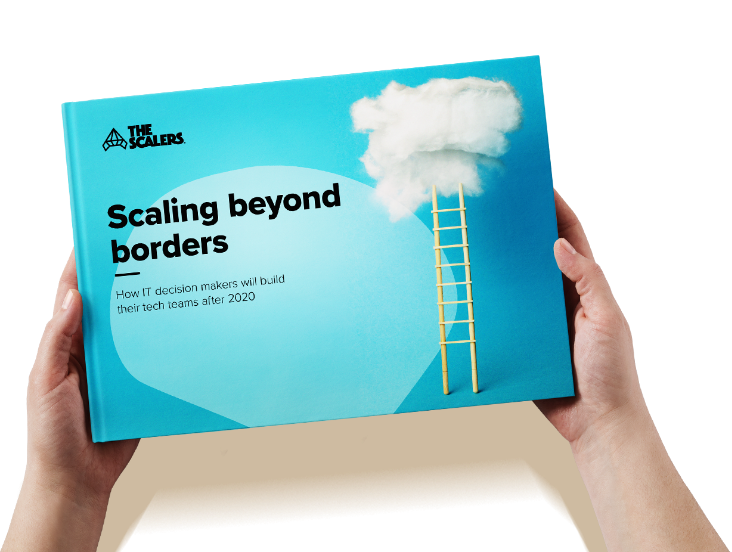 Learn how to scale fast with global talent
How IT decision makers will build their tech teams after 2020
DOWNLOAD GUIDE
A fitness club moving their offering(s) online certainly isn't an isolated case. What makes it noteworthy is that this is a 'high-end' service, where the exclusivity of the clubs acts as a selling point, yet they had to adapt in order to remain competitive. The exclusive, 'luxurious' nature of their model meant they were less immune than other service providers in the same industry.
They, like others had to move their model from an almost entirely-physical offering, to one — albeit perhaps temporarily — that operates almost entirely as application software with their working staff operating as distributed units, whether that's the kitchen staff preparing the meals in the family kitchen or the instructors operating from their home studios.
Of course, this is a very simplistic example of a more intriguing phenomenon — the rise of the software driven business.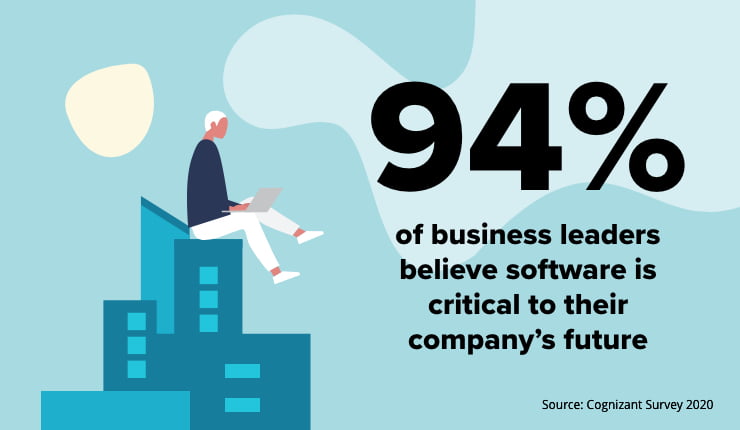 A new model emerges: the software driven business
Take Vodaphone, one of the longest-running giants of the British telecoms industry, and a key mover and shaker in the mobile phone revolution of the late 1990s. Just last week they declared that they now see themselves as "an IT company".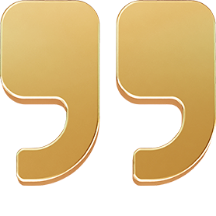 "We're going to expand from being a network service provider to a company that is also a software and IT business … We're going to need more software development and engineering skills, not just networking skills."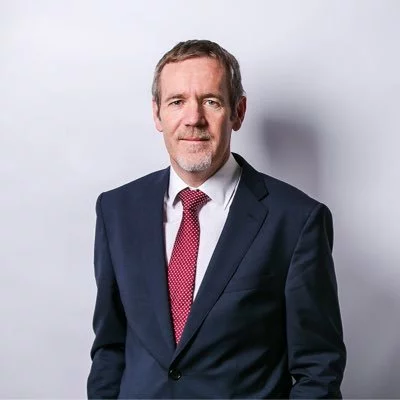 Scott Petty
CTO, Vodaphone UK
Perhaps in some ways they always were, I'm fairly certain there's always been a large IT operation in order to maintain their service and it's auxiliary features. However, this is a marked change in the way Vodaphone as a company sees itself — and describes itself to others.
Leveraging software for customer centricity
In the years ahead, many experts predict that software is going to become the primary engine of businesses. If we adopt for a second, as we always should, a customer-centric mindset then think of how they engage with brands they're interested in. Whether it's placing orders, requesting support for upcoming deliveries or existing purchases, viewing their account, or even applying for credit — on the backend it's all software.
Similarly, even prior to Covid, but more so during and 'since', mobile apps helped ease the strain on overwhelmed call centres particularly within financial institutes dealing with a deluge of payment-break requests.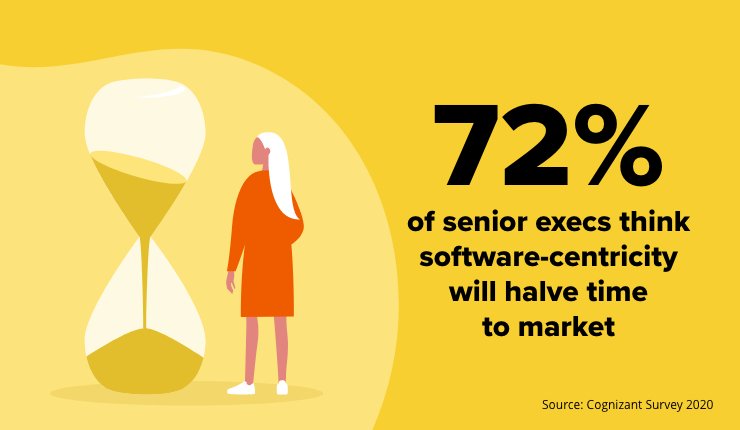 Likewise, it is software that helps the employees in those organisations get speedy access to the data they need to deliver customer-centric services, particularly in fast-paced crisis periods when such service is critical. As such, it would appear that like diversification and transformation, the pandemic has quickened the need for an organisation to become a software driven business.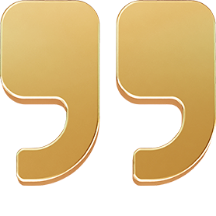 "Becoming a software driven business doesn't happen in one go — it's a journey. Companies that adopt the technology, processes and culture to anticipate new customer needs and quickly adapt to unforeseen risks lead the way."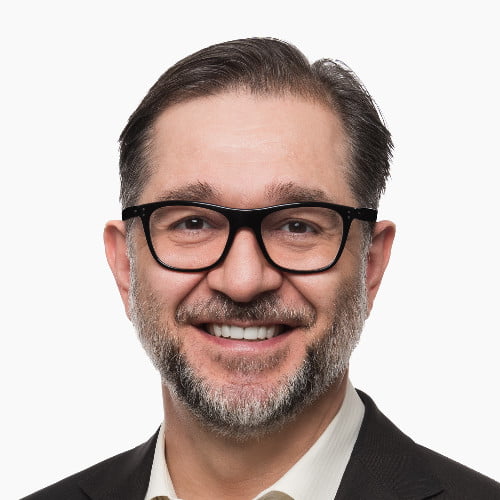 Allen Shaheen
Senior VP, Cognizant
How to: harnessing the cloud
In order to accelerate the pace of change, organisations need to quicken the shift from legacy architecture to a cloud-native approach. This approach enables more agility, decreased time to market, and most importantly — the ability to deliver and scale continuously. Cloud-native apps also take far less time to update than their legacy counterparts — helping companies create a better user experience for their customers.
To successfully deliver a Paas or Saas offering, organisations need to continually invest in the latest cloud architecture and foster a culture of cloud-native development.
How to: cultivating a software-centric culture
Getting the right culture in place is crucial when embarking on a quest to create a cloud-native, software-development-focused business. Interestingly, in a survey conducted by consulting firm Cognizant this year, 95% of respondents report that transitioning to modern software engineering is culturally challenging.
Aligning software development with the organisation's strategic priorities gives senior leaders a clearer picture of how important it is to the business. This is key, because in the same study cited above, 37% said there is a "poor perception of the business impact of software engineering" within their organisation.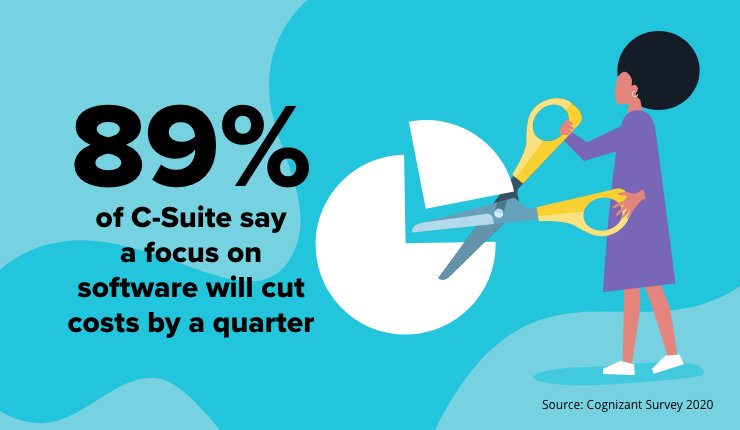 The future awaits
A new opportunity exists for technology companies to update their business model by leveraging software as a strategy. Enabled by cloud solutions, it will enable enterprises to remain competitive — crucial in times of unforeseen crises — lower costs, drive value, and deliver genuine customer centricity.
Innovating in a post-Covid world poses new challenges — from unpredictable changes in customer behaviour, to software developers who work from home in far larger numbers than before. To adapt swiftly to new risks and jump quickly in order to seize new opportunities requires agile IT infrastructure, new ways of working, and a willingness to experiment.
If you're struggling to find the skills you need to scale your development team and deliver exciting new products to your customers — and don't have the time to reskill existing employees, then you might benefit from an extended team in a talent-rich location.
In July we released an in-depth report on how the Covid crisis has led to a shift in attitudes toward remote work and how tech companies will build their development teams in the years ahead — and if you're looking to become a software driven business, then an extended team of highly talented software developers may help you scale and innovate quicker than you can at home.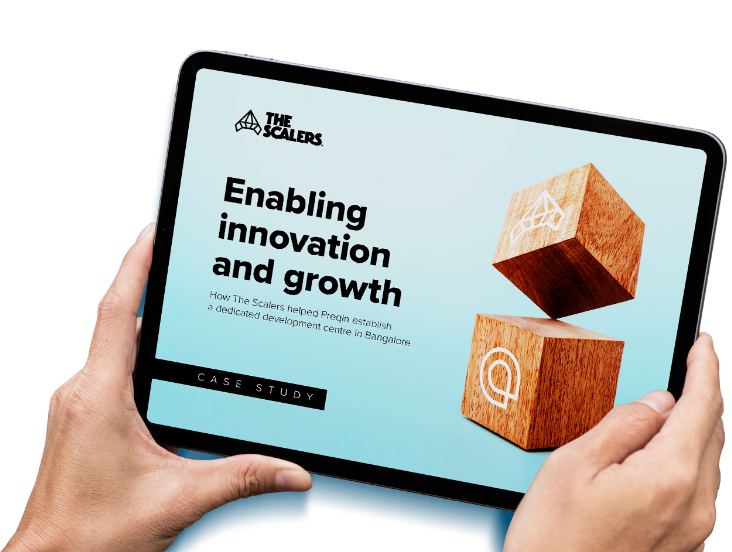 Scaling at speed: Preqin case study
How we helped a fintech establish a dedicated development centre in Bangalore
DOWNLOAD CASE STUDY
What you'll learn:
That new operating models are making businesses more resilient, and able to take advantage of emerging opportunities.
How to innovate without disrupting core processes — technology as a key driver of value, not merely a support.
Why establishing remote-ready technology infrastructure is key to becoming more 'pandemic proof'.
How to harness talent in worldwide talent pools, to scale beyond borders in a 'new normal' of recruitment and delivery.
To beat the European IT talent shortage, find out more about what we have coined 'Offshore 2.0', and to discover how CTOs, CIOs, and VPs of Engineering will be building their tech teams beyond 2020, download our latest report: Scaling Beyond Borders.
If you want to leverage Bangalore's IT ecosystem, and transform your business, feel free to reach out to us by filling out the contact form. As experts in building the best engineering teams in India, we can help you build your A-team.