The challenges of hiring developers in Denmark

Pablo Rodriguez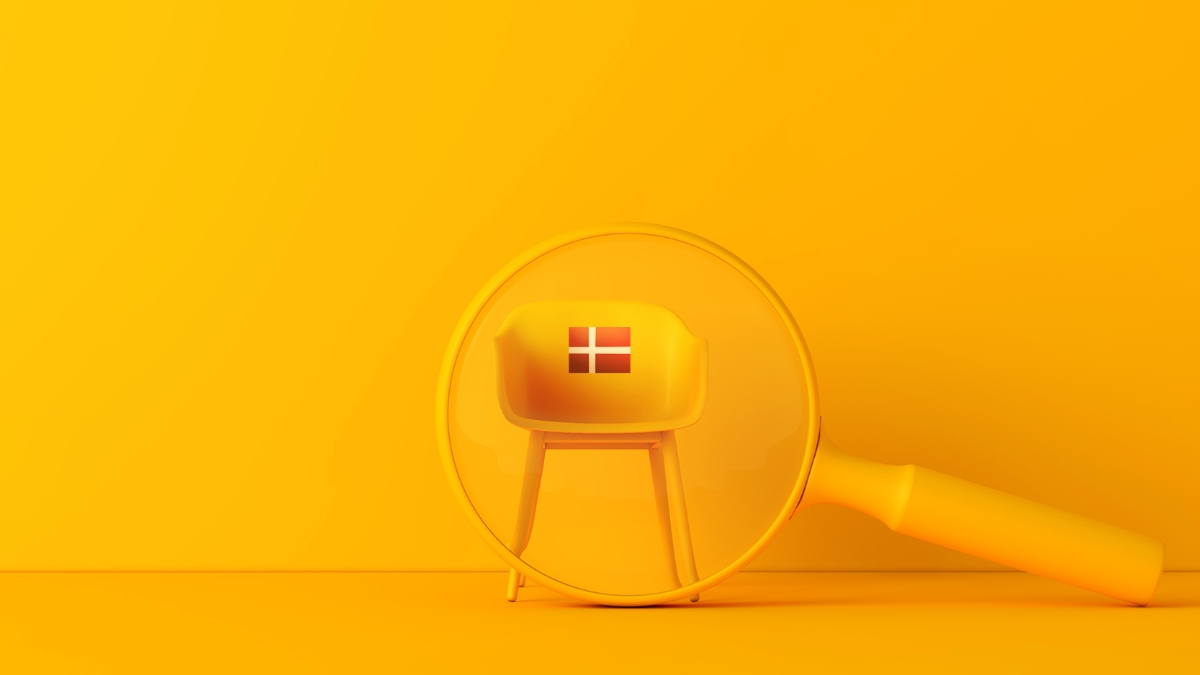 Do it like Denmark.
If countries were sold as a product, this would be an excellent slogan for Danes to promote themselves.
Scandinavian nations cop the first positions in every list of the best places to live and regions with the most competitive economies. Denmark is no exception.
Indeed, Copenhagen ranks second in the Global Liveability Index 2023, a report that classifies the cities with the highest quality of life worldwide.
But when discussing the country's software development industry, the story changes. Companies face many obstacles in hiring developers in Denmark due to the tech talent shortage and the lack of local engineers possessing niche programming skills.
Want to know more?
Join us in our analysis of the downfall of Denmark's software development industry and the challenges organisations confront when looking for top developers. By the end of the article, you'll learn the best alternative to onboarding regional talent and where and how to build a world-class dedicated development team in no time.
Let's dive into it!
The software development industry in Denmark
Don't do it like Denmark… if you want to hire a high-quality engineering team. While Denmark is a great place to live, the software industry is struggling to survive.
A recent IBISWorld report shows trends and insights on the country's software development industry from the past years and into the future, with stagnancy and decline becoming an alarming trend:

The Danish software development industry is worth €3.4 billion and ranks 13th in Europe in 2023 (of 26 total EU countries). The industry's rank has remained the same since 2018.
It's the 34th largest industry in Denmark in 2023 (of 275 total industries that IBISWorld tracks). The rank hasn't changed since 2018.
The industry's market size has declined 5.3% per year on average between 2018 and 2023. In the same period, the number of businesses decreased to 5.9% roughly per year.
To say the software development industry in Denmark is in bad shape is an understatement.
The stats don't lie. Local investment is shrinking, and companies are turning their heads elsewhere to find solutions to the challenges of hiring top engineers in Denmark.
If you are going to survive, let alone thrive as a Danish software company, you need to understand the challenges and adopt a different approach.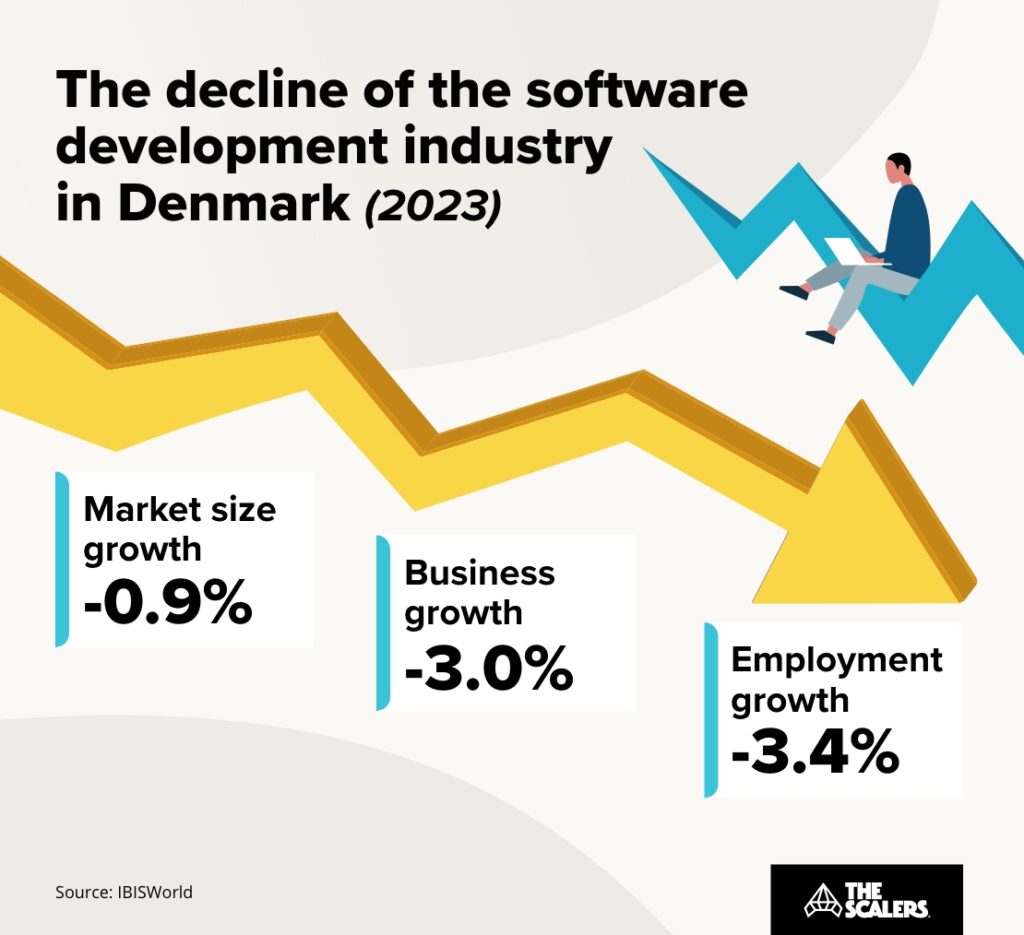 What are the challenges of hiring developers in Denmark?
Despite being one of the most developed European countries, Denmark suffers from a developer tech shortage like every other Western country.
Danish CTOs and other tech leaders are slowly coming to the same conclusion: it feels (almost) impossible to find qualified engineers locally. These are the main reasons why:
There's a limited local talent pool.
There's a developer skills gap and fierce hiring competition among businesses.
The country has a high cost of living and salaries.
And that's just the point of the iceberg. The Scandinavian talent gap compromises the region's tech growth, with more challenges coming into the scene as we write these lines.
Limited local talent pool
With 95,000 software developers, one would think Denmark has a rich talent pool.
But that's far from reality: Denmark is falling short of thousands of tech professionals. And efforts to address that shortfall won't kick into force for another couple of years.
The Danish government released the Digital Growth Strategy 2025 a few years ago, an initiative to position the country as an attractive digital hub and introduce computational thinking in elementary school.
Moreover, the Danish Agency for International Recruitment and Integration has updated the Positive List—a list of professions experiencing a shortage of qualified professionals in Denmark that are easier to gain a work permit and residency—with engineering, IT architecture, and tech consulting positions.
What are the closing dates for these roles? June 2025.

It looks as if Denmark is trying to position itself as a developer-first country a couple of years from now. Still, reports and growth trends show a much more pessimistic outlook (see IBISWorld insights in the previous article section).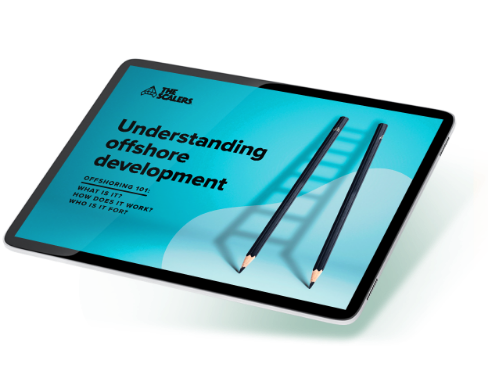 Understanding Offshore Development
Your crash course on everything offshoring. What is it? How does it work? Is it for you?
DOWNLOAD EBOOK
Skills gap and fierce competition
Denmark's tech talent shortage isn't just about numbers. It's about skills.
Danish developers don't possess niche programming skills and lack the tech or most advanced framework knowledge that engineers in other regions dominate.
But why can't a country known for its digital competitiveness and innovation produce top-class developers? It's a one-word answer: education.
Denmark is now starting to launch educational programs to train future engineers, while countries like India have been doing it for decades with significant results.
The Asian country adds 1.5 million engineers to its talent pool annually, with developers specialising in in-demand programming languages, from Phyton to C++ and Kotlin. While Denmark may have once led innovation, now they are left playing catch up.
On top of the skills gap challenge, Danish tech leaders face intense competition from top companies when building local development teams. This scenario increases the salary and recruitment costs, which is not a viable option for businesses with limited resources.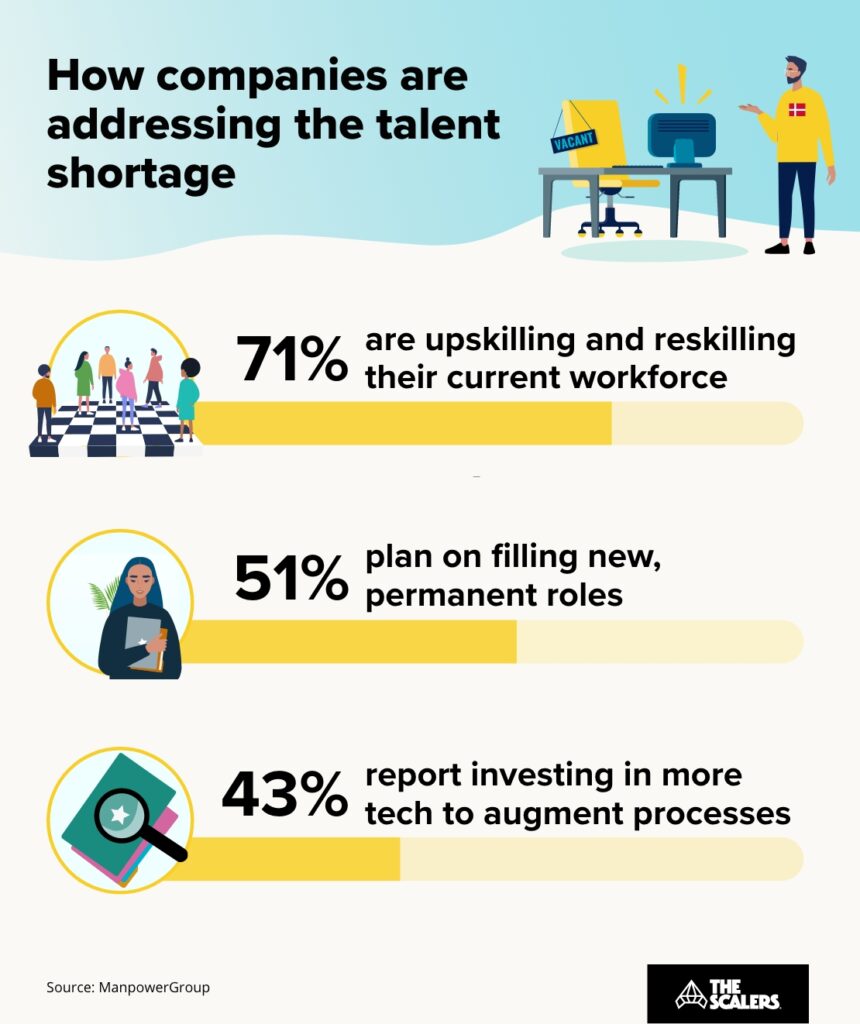 High cost of living and salaries
Denmark's status as one of the countries with the best quality of life also entails a higher cost of living and salaries.
Danish developers earn more than their global counterparts. This is an obstacle for companies that can't afford or aren't willing to allocate a large portion of their budget to hire a local engineering team.
For instance, a Danish software developer may charge you up to €45/hour. An Indian engineer with the same years of experience but niche programming skills earns €28/hour. Staggering.
These numbers reflect how building a local development team in Denmark isn't cost-effective, given that engineers earn high salaries and aren't as talented as professionals in other locations.
That's why more and more businesses are looking for an innovative approach to finding and hiring top-notch developers. Spoiler: the alternative lies outside their borders.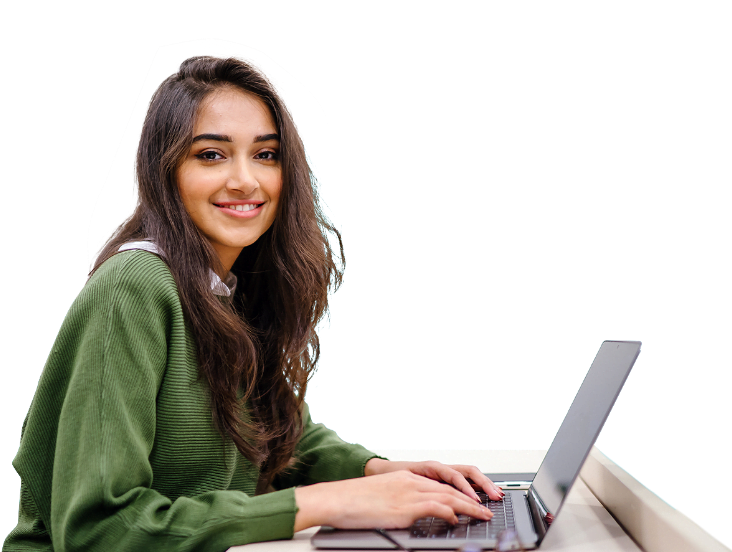 Extend your tech team
in Bangalore
Speed up your software delivery with an integrated and dedicated team
LEARN MORE
The best solution to hiring developers in Denmark
The best solution to hiring developers in Denmark is offshoring software development overseas. More specifically, in Bangalore, India.
Why?
If you've ever planned to move tech operations to a foreign country, you already know the pros and cons of offshoring and the factors you need to consider when choosing an offshore vendor.
Choosing the right offshore development company and delegating processes to one country or another is a defining moment for your organisation. Ultimately, you're trusting one of your most valuable assets to a third party: your software.
That's where Bangalore, the capital city of Karnataka state in southern India, comes in. Considered one of the fastest-growing tech hubs worldwide and nicknamed 'The Silicon Valley of Asia', the city is home to millions of elite engineers and R&D Centres of tech giants.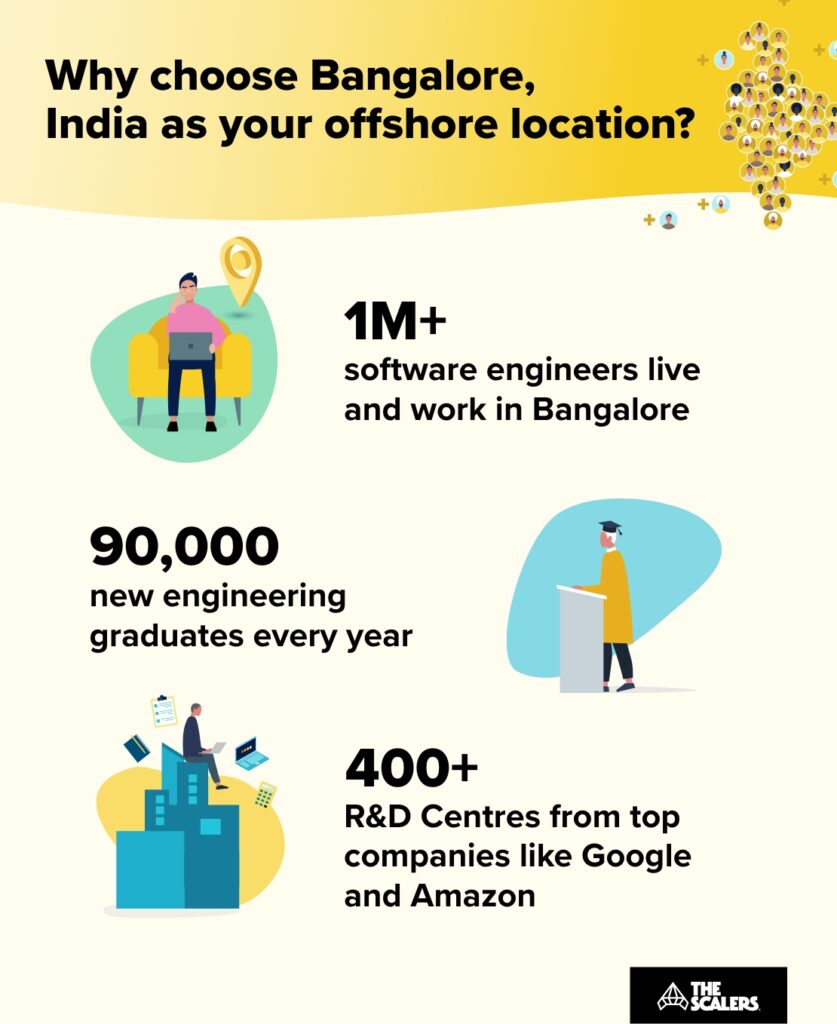 This is what you get when you partner with a reliable offshore development company in Bangalore:
Exclusive and easy access to the best tech talent in India
Dedicated software development teams that focus 100% on your company
Culturally aligned developers with a high English proficiency
Cost-effective solution to hiring local Danish developers
Unparalleled scalability and flexibility
Hands-off operations
That's what we offer at The Scalers: we build dedicated dev teams in Bangalore and do all the heavy lifting for you. We search, hire, onboard, and deal with administrative tasks so that you can focus on your product and core business operations.
Are you up to creating a top-quality engineering team and scaling your organisation to new heights? Contact us today, and an offshore expert will answer any questions you may have. Let's talk about your new team!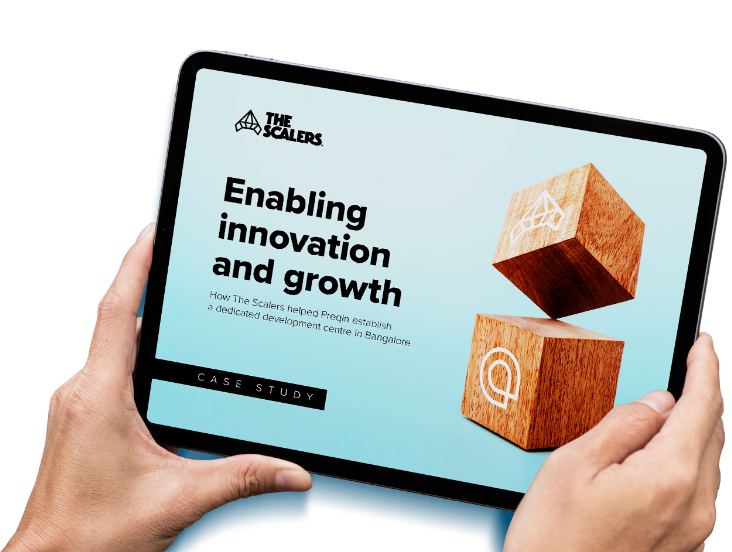 Scaling at speed: Preqin case study
How we helped a fintech establish a dedicated development centre in Bangalore
DOWNLOAD CASE STUDY
In summary
Although Denmark is a model country in many aspects due to its highly-developed and wealthy economy and social structure, this Scandinavian region suffers from a developer shortage.
CTOs, CEOs, VPs of Engineering, and other tech leaders find themselves in a difficult position when building local engineering teams.
The solution? Finding and hiring talent in locations where top developers thrive and possess niche programming skills.
KEY TAKEAWAYS:
Denmark's software development industry faces challenges in hiring developers due to a limited local talent pool, skills gap, and fierce competition.
The Danish government is launching educational programs to train future engineers, but the country lags behind other regions in producing top-class developers.
Denmark's high living costs and salaries make building a local development team cost-prohibitive for many businesses.
Offshoring software development to Bangalore, India, provides access to a large pool of elite tech talent, cost-effectiveness, and scalability.
Partnering with a reliable offshore development company in Bangalore allows businesses to focus on their core operations while building a dedicated, high-quality engineering team.
Stay tuned for more insightful content on our blog, where we'll share comprehensive guides and articles focusing on offshoring and digital strategies.
Looking forward to seeing you on the next one!