« All Posts
The challenges of hiring developers in Denmark
Just a few months ago, Denmark became the first country to appoint a digital diplomat — or tech ambassador — depending on how you prefer to juggle the language. The unconventional spin on the traditionally political role has been a way for the small Nordic nation to take on the world of tech and innovation.
From a domestic standpoint, the startup scene is doing its part to justify Denmark's digital aspirations. According to Copenhagen Capacity, the Nordics are the biggest producer of unicorns in the world, turning out successes like Unity Technologies and Sitecore. Not far behind are Tradeshift, Trustpilot, Zendesk, and Momondo.
Initiatives like #CPHFTW and Danish Business Authority's Start-up Denmark have been deliberate efforts to massage the country's entrepreneurial spirit, and the national contagion of coworking spaces has sprinkled the final touch of magic over the seemingly boundless startup craze.
Indeed, it seems almost impossible to exaggerate the significance of Denmark as an innovative powerhouse. The way to the top is digital and Danish startups are climbing fast.
We Need To Talk
But while the Danes are rightly celebrating their entrepreneurial victories, there are some taxing bumps on the road to technical stardom. With innovative ideas majestically lined up and ready for takeoff, it is the lack of developers that makes the door creak on its hinges.
To most startup founders and CTOs, that is hardly brand new information. They've been through the hiring funnel so many times, it has become a matter of course. It is a problem that is exceptionally frustrating because Danish developers are such technical pioneers — there just aren't enough of them.
It seems almost oxymoronic to speak of a unicorn lab that has no developers. But it is obvious that the headline-worthy startup successes are the hallelujahs of the industry and that there are real impediments to following in their footsteps. As a nation, Denmark have the ideas — they just need to fix the technical shortage.
I think the first step is to acknowledge that this is a widely shared problem. It helps Danes to understand the breadth and depth of the problem and it assists them in deciding what comes next.
And this is why we ought to pop open the debate. Danes should not to see it as their own inadequacy to charm the hottest developers on the scene but instead treat it as the political and educational problem it is. And while Christiansborg is fiddling with the long-term solutions, they need to install some short to medium-term alternatives with long-term durability.
Status Quo
We at The Scalers have a habit of going to Denmark quite a lot. We've spoken to start-ups in Copenhagen, Odense and Århus and we are here to tell you: you are not alone. Finding developers is a real headache.
In a chat with a Fyn-based startup, we were told that a major culprit in the search for developers is Netcompany. In record time, the IT consultancy has reached more than 1000 employees and is champing at the bit to snap up developers before they've even graduated. They've put in place extremely generous benefits packages giving them a sharp edge in hoovering the job market.
Among the people we speak to, the majority has a product built on PHP. As one CTO admitted: "It might not be the sexiest of technologies but it's an old friend and it does the job."

But despite being a widely popular technology, PHP is particularly hard to track down in Denmark. One Fintech company had been searching high and low for 10 months for a senior PHP developer but had received only four CVs, three of which came from university students.
In a meeting with a large agency in central Copenhagen (whose product was also built in PHP), the CEO's immediate response to the how-long-have-you-held-your-breath question was: "Trust me, it's been long enough."
When exposed to the news that the government had some significant initiatives in pipeline, she exclaimed: "But that's not gonna help me now, is it?"
It's not rocket science. It's the good old supply-demand mix-up; 'we need more than we can get so we bend over backwards hoping we can attract the people that will take our product forward.'
A young start-up explained how they had done everything in their power to dress to impress and throw on the sex appeal by offering free lunch, free beer, awesome colleagues and a solid paycheck. But as the CTO and co-founder despondently admitted: "But everyone does that so how do we compete?"
As a stopgap measure, he had pulled in two freelance IT consultants part-time but stretched across several clients, their focus, and hence the product, was crumbling. "If I calculate," he added, "all the time and resources I've spent explaining everything time and time again, it would actually have been faster- and cheaper- if I'd done the work myself."
Software Sass
An Århus-based Fintech company had been among the few fortunate who had found the lead PHP developer of their dreams. They had already agreed on terms and conditions when another company offered a more handsome salary, and as a result the contract was immediately abandoned.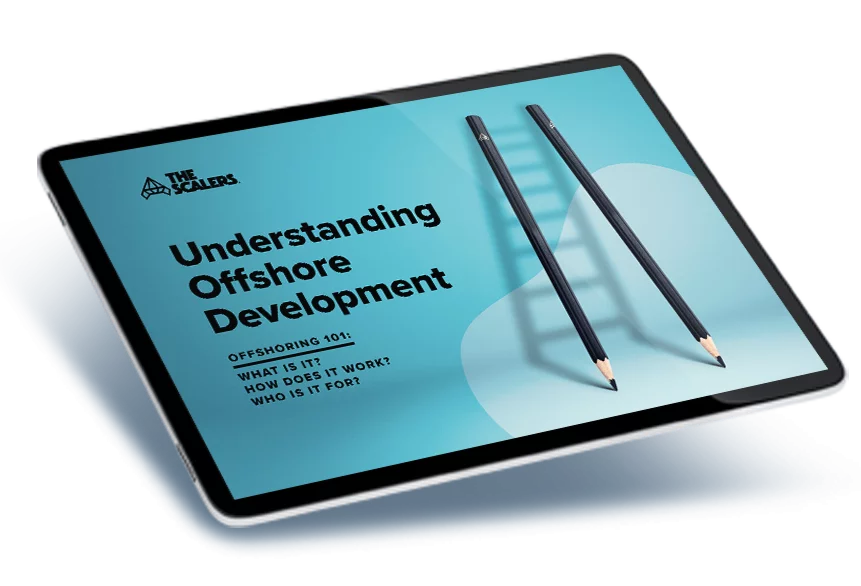 Understanding Offshore Development eBook
Your crash course on everything offshoring.
What is it? How does it work? Is it for you?
Download Ebook
The CEO of a Copenhagen-based marketing agency chipped in: "You can whistle for a developer satisfied with less than 50.000 kroner a month assisted by bountiful benefits to cushion the onboarding. And yet, they're still likely to turn around and walk away in favour of a fatter paycheck and a more promising environment." And who can blame them?
Discussing the Silicon Valley style conditions of the Danish developer market, a CEO and co-founder of a Copenhagen-based startup vividly explained: "Company X had poached a developer from Saxo Bank who had demanded a monthly paycheck of 130.000 kroner plus two paid holidays and an additional four weeks off in the summer. He obviously got the job."
A travel agency and a sales company we spoke to which had both been going for 28 and 12 years respectively shared that juniors expected a starting salary of 40.000 kr. per month. The CEO of the sales company added: "And in my eyes, no human being without experience is worth that amount of money." But the market has a way of meddling with what we believe to be fair.
"I'm Putting My Foot Down"
On the cynical end of the palette are the ones who've decided that enough is enough. One founder and CEO of a 40-strong startup in Copenhagen declared that "it's no longer a question of whether we should go offshore but where, when and how."
A CEO of a sales agency concluded: "I simply don't have the patience for this so we went to Bangladesh. I have a team of six people there that I manage myself. Anyone who knows the slightest about structure and process will manage offshoring. They [the developers in Bangladesh] have been working for me for six years. They know my product so well now I couldn't imagine doing it any differently."
A serial entrepreneur based in central Copenhagen was in the process of exploring the option of hiring a foreign-born developer who had spent 25 odd years in Denmark who would then be responsible for CTO'ing a whole team in his native country. The pool of talent is larger there and therefore, so is the chance of success.
The very successful startups have often plunged into the Silicon Valley venture. Although the prices are sky high, so is the number of developers. This part of San Francisco offers the product-centric environment that fertilises big business. And if you're capital heavy, this is not such a bad idea.
Danish minister of Business and Industry, Brian Mikkelsen has also participated in the debate on tech and entrepreneurship. He hit the problem nail on the head when he shared that: "The good idea often lacks access to capital, talent and market (to test the idea)" and suggested that perhaps the person with the unicorn idea isn't always the rightful owner and should at least consider handing the idea over to someone else.
But in a way, the startup community loses its democratic durability if we start slaloming the market to exchange ideas for money. When we ask an entrepreneur to submit his brainchild before it is born, we lose the wonderful stories that drive the startup spirit.
Danes need to build up the complete toolbox for technical world domination. But until we have all the cards on hand, it's worth exploring some alternatives. Let Christiansborg breed some good solutions for the decade to come but until they have materialised, Danes should take full charge of their technical ventures in a sustainable manner.