The impact of the global tech talent shortage on businesses

Tom White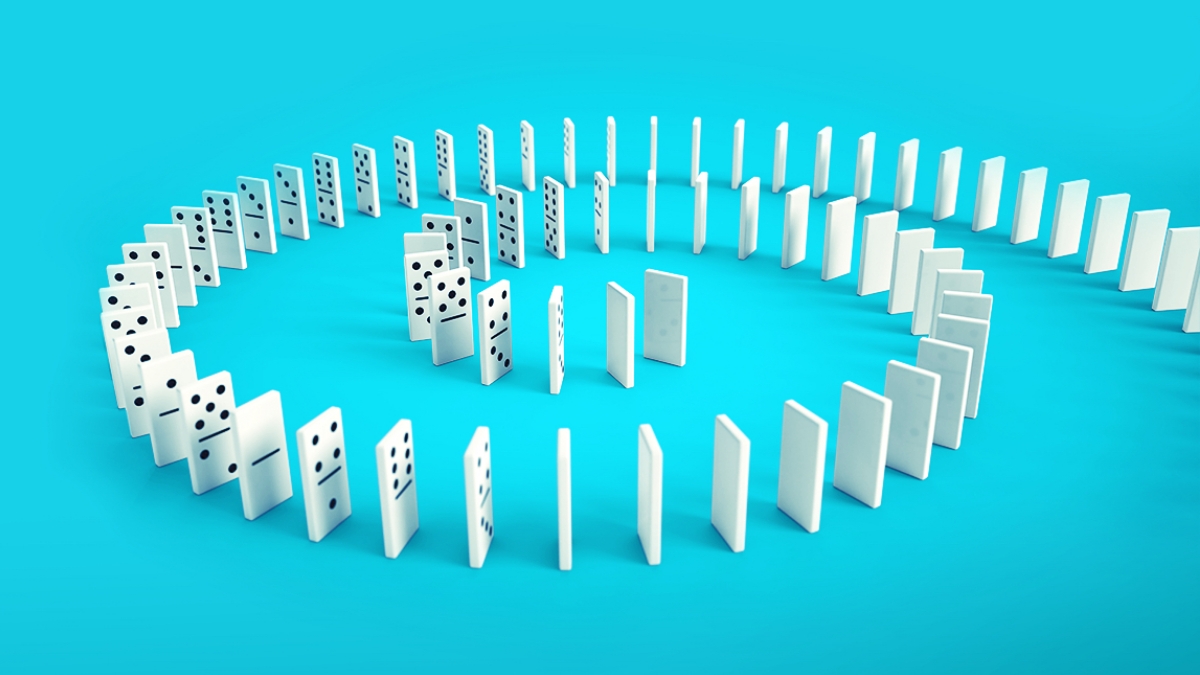 Newer technologies like Artificial Intelligence, alongside concepts like digitalisation and the 'new normal', have transformed the job market. On the one hand, the spark in automation has led to the loss of over 60 million jobs in the USA. On the other, the future tech-driven economy will create 97 million new jobs globally.
But there's a serious problem — talent shortage.
According to Korn Ferry's recent report, by 2030, over 85 million jobs could go unfilled because of the acute global talent shortage. And that's just the beginning.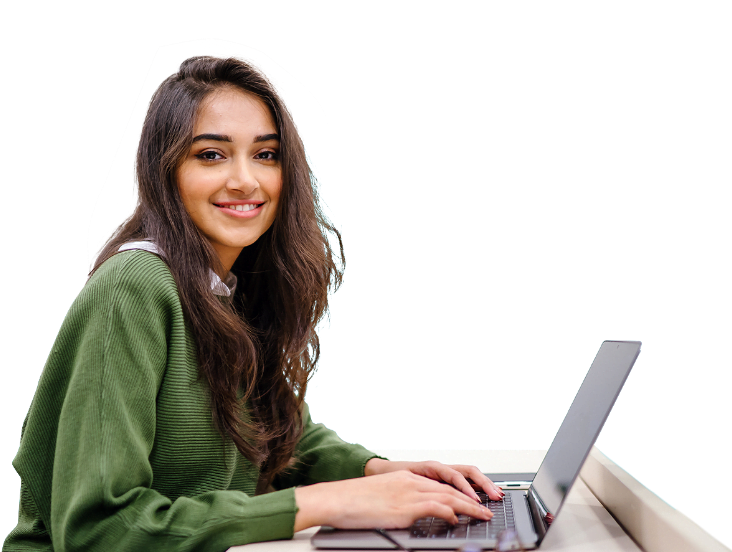 Extend your tech team
in Bangalore
Speed up your software delivery with an integrated and dedicated team
LEARN MORE
Why is the world experiencing a tech talent shortage?
Satya Nadella, the CEO of Microsoft, was quoted saying, "All businesses are software businesses." In 2021, that's exactly what we're seeing.
Software is the glue that holds a business together. It is the key driver of innovation and agility for enterprises worldwide. Irrespective of the type of service they provide, these organisations use software on a daily basis to coordinate workflows, support customer queries, manage databases, and even market their solutions.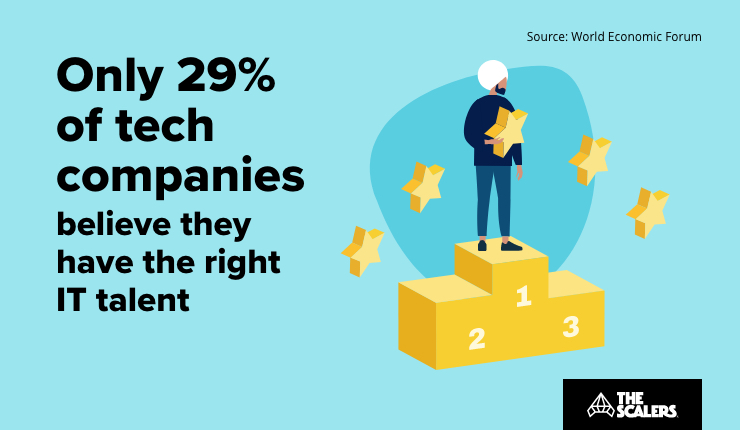 And because 90% of an average organisation's operations are supported by software, it is only natural that we are experiencing an unprecedented increase in the demand for skilled tech experts. But the catch here is that the demand has exceeded the supply, leading to one of the largest talent shortages in the history of the world.
Apart from this, other contributing factors to the global talent shortage include:
The exit or retirement of Gen-X from their existing roles.
Lack of skilled employees in new and innovative technologies.
Lack of formal STEM (Science, Technology, Engineering, and Mathematics) education.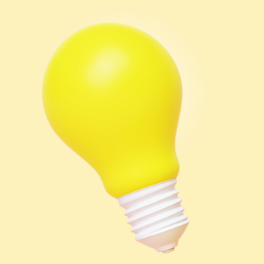 DID YOU KNOW?
Only 5% of high schools in the USA are certified to offer Advanced Placement Computer Science to students.
Source: Government Technology
Covid-19's contribution to the global talent shortage
While there has always been a scarcity of tech experts, today, because of the coronavirus pandemic, that gap is larger than ever.
When Covid-19 hit the world in 2020, a lot of businesses were nowhere close to digitalising their processes. Meanwhile, there was a rapid shift in customer interactions towards online channels. This made companies realise that to sustain their business and stay afloat, they had to go digital — and they had to do it quickly. This also meant that they had to augment their existing workforce with skilled tech resources.
And so, in the span of a mere few months, companies sped up years' worth of digital transformation and hired large teams to help them do it. In fact, according to a McKinsey Global Survey, many companies advanced their digital customer and supply-chain interactions by three to four years during the Covid-19 crisis.
However, an important part of digital transformation is automation. And while automation will create over 50 million jobs globally in the next few years, it also means that people will have to reskill to perform new tasks.
And that's what will significantly contribute to talent and skills shortages.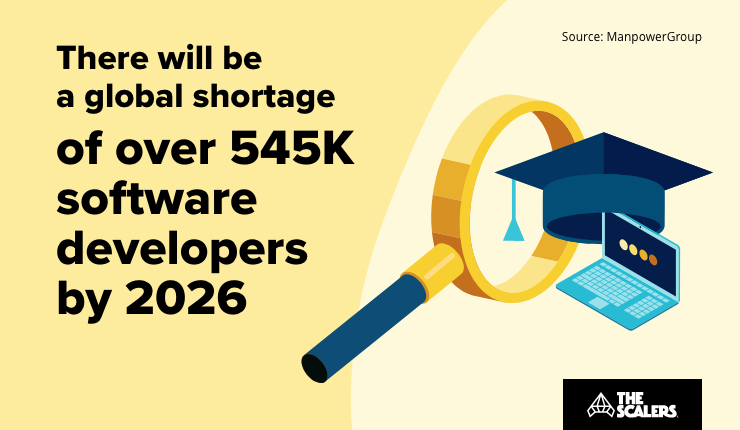 What is the global talent shortage costing businesses?
According to ManpowerGroup, over 36% of global employers are struggling to fill existing job positions — the highest in seven years.
But how is this affecting the company's bottom line?
The study went on to say that 54% of the respondents believe that the tech talent shortage has a medium to high impact on their bottom line and their ability to meet the needs of their clients. When you translate this in terms of revenue, the numbers are staggering.
For instance, in a survey of over 1,000 business leaders across the UK, it was discovered that roughly €7.6bn is spent every year on inflated salaries, temporary staffing, recruitment fees, and training — a 39% increase from €3.3bn in 2017. Similarly, the US could lose out on €132 billion worth of revenue annually because of skill shortages.
So what options do businesses have?
The acute tech talent shortage has led to a significant increase in the average developer salary globally. For example, in the USA, the national average salary is $94,000.
And while tech giants like Google, Microsoft, or Amazon can afford to pay an absolute premium to gain access to top-tier developers, it isn't as easy for small and medium-scale businesses to hire locally.
To bridge the talent gap, organisations are either outsourcing their processes or working with freelancers. While these solutions are temporary plugs, they aren't sustainable in the long term. In fact, one study found that businesses in the UK spent over €2.2bn on temporary staffing, despite their senior leaders reporting that their organisation's survival depended on reducing costs.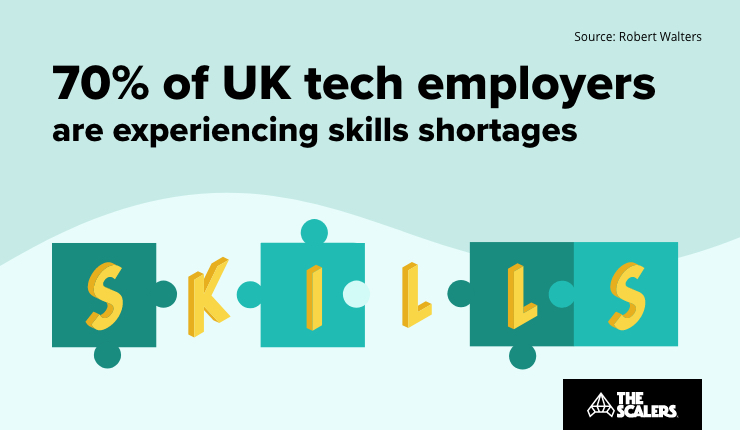 Can offshore development be an optimal solution?
With the acute tech talent shortage, fierce competition, and a growing requirement of resilience, finding elite engineers is the need of the hour.
Offshore development provides businesses access to massive talent pools in emerging tech nations like India. By going offshore, businesses can access top-tier skills, level up operations, accelerate innovation, and create better software solutions.
We've also released an in-depth ebook detailing everything about offshoring: how it works, where to go, how it can benefit your organisation, how to choose the right partner, and more.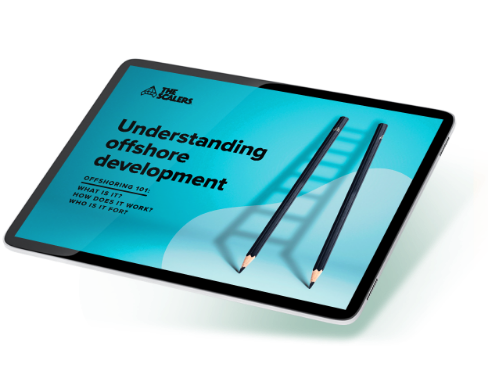 Understanding Offshore Development
Your crash course on everything offshoring. What is it? How does it work? Is it for you?
DOWNLOAD EBOOK
What will you learn?
The tangible benefits of offshoring and how it can help your particular business in your specific sector.
Whether your organisation is currently in a position to go offshore, and if so — the specific roadmap to go down to get going.
The best way to work with your eventual offshore team, to facilitate seamless collaboration across borders.
How to harness talent in worldwide talent pools, scaling beyond borders in a 'new normal' of recruitment and delivery.
If you'd like to know more about overcoming the tech talent shortage and building your own offshore team in India, feel free to reach out to us by filling out the contact form. One of our senior executives will get back to you within 24 hours.