4 lessons we've learned about the subtle art of hiring engineers

Tom White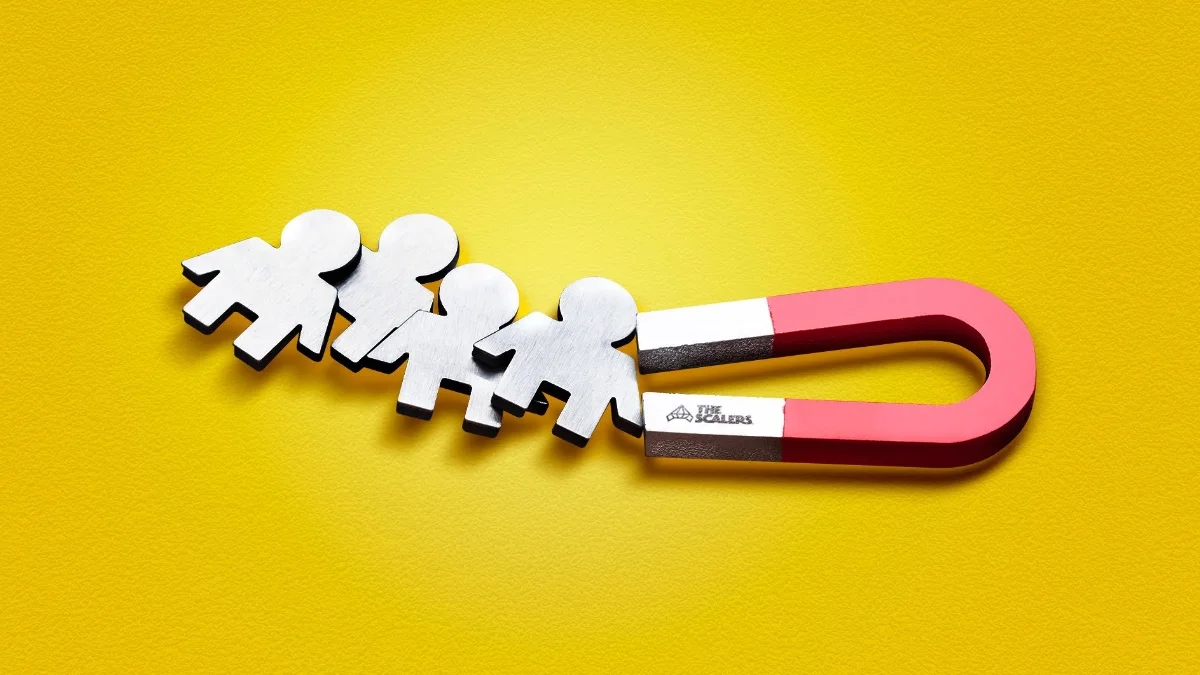 A recent study conducted by the Recruitment Employment Confederation (REC) showed a shortfall of roughly 59,000 engineers annually in the UK.
Other studies have confirmed that the unemployment rate for engineers in the US is less than 1%, making them the most in-demand professionals in the world today. To further add to this scarcity, research also shows that 50% of people in technology are planning a career change.
The reality is apparent — world-class developers are not only hard to find, but they also have the luxury of choosing the organisation they work for. However, if you, as a business, can provide engineers opportunities to make an impact, challenges that they can grow from, and a supportive community, there's no reason why they wouldn't want to work for you.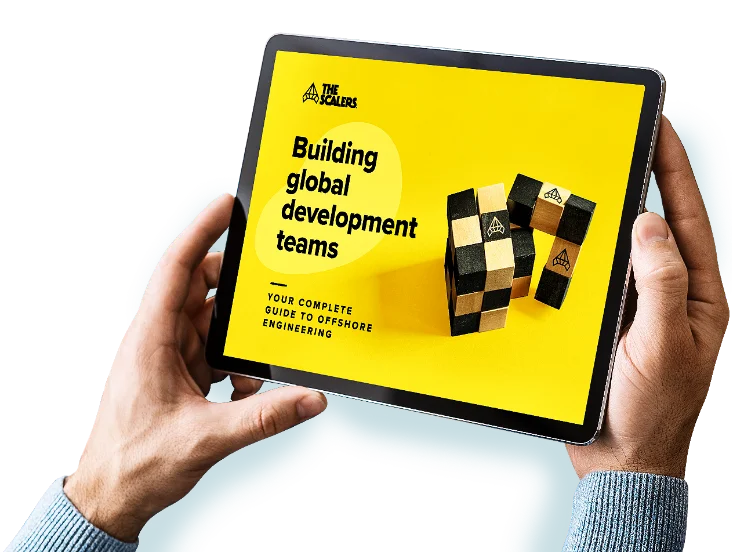 Learn how to build elite offshore teams
How to beat local skill shortages and set up your development centre abroad
DOWNLOAD GUIDE
As experts in building development teams in Bangalore, we've learned a few valuable lessons on the subtle art of hiring engineers in 2020. Let's dive deeper.
1. Soft skills matter more than you might think
A fairly common assumption among recruiters and employers is that when hiring engineers, only technical skills truly matter while soft skills are 'nice to have'. In fact, recruitment teams sometimes forget that soft skills are indeed skills that can be measured and evaluated.
So, if you're a business that wants to grow 10X in the next few years, you need to assemble a solid team with the perfect balance between technical and soft skills to take you there.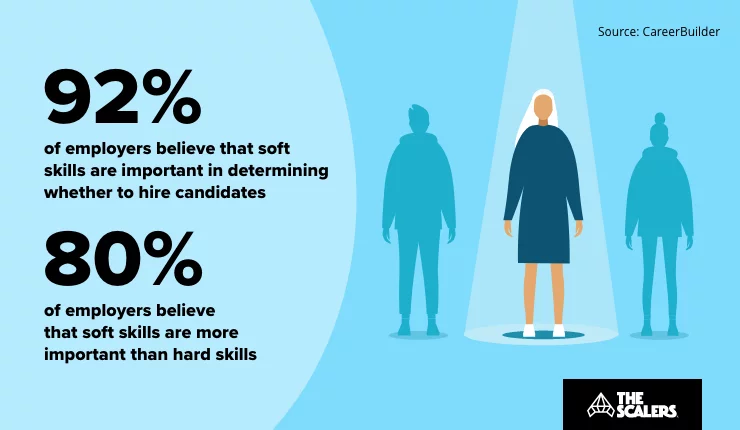 At The Scalers, the engineers we hire must be equally skilled with both code and colleagues. The first step in our 7-step recruitment process is a pre-screening interview where our interviewers spend 20-30 minutes to understand the personality of a candidate.
Some of the questions asked during this round are —
How do you communicate technical complexities?
Have you been a part of a team that has had to be restructured or adapt to unforeseen changes? If yes, how have you reacted to it?
Can you share examples of close collaboration across functions such as Engineering, Product, Design, etc.?
What is your proudest achievement?
How have you resolved conflicts with your peers in the past?
The answers to these questions throw significant light on the candidate's thought process, their personality, how they approach conflicts, and more. If we're satisfied with a candidate's responses, we then proceed with the next interview rounds.
2. Measure, refine, and repeat
No recruitment process is 'perfect'. However, what matters is finding a process that works for your organisation and your unique hiring needs.
For example, you may find that the coding exercise alone isn't enough for you to determine who to hire. In other instances, your screening parameters may need to be tweaked depending on the profile you're hiring. Whatever the case is, the key is to measure how your recruitment process is performing, refine it, and then repeat it all over again.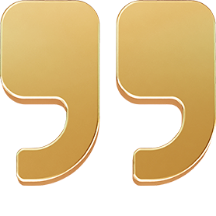 "Every client partner's business requirements are unique. To address this, we've built a dynamic recruitment process — one that implements the feedback from both our recruitment and technical teams, thus ensuring a tailor-made solution."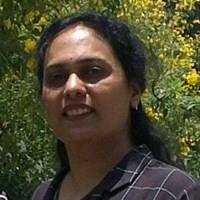 Geetha Prakash,
Talent Acquisition Head, The Scalers
This is probably one of the most important lessons that we, at The Scalers, learned. And that's why, once every few weeks, we measure how our recruitment process has been performing, the percentage of candidates that have passed the screening process, employee retention rate, performance reviews, and more.
We also gather valuable feedback from the pre-screening interviewers, the account management team, and the technical coordinators to further refine our process of hiring engineers.
3. Candidate engagement is key
One of the biggest hiring lessons we've learned is the importance of employee engagement. Hiring engineers is actually part sales, and the best sales are built on good relationships!
In fact, employee engagement begins right from the first contact. As the candidate progresses from one interview round to the other, it's essential to keep them updated about where they are in the process, even if it's "I don't have an update for you at the moment, but here's what you can expect in the next few days."
There are plenty of horror stories about businesses 'ghosting' candidates only to reach out to them months later. This not only makes them feel like an afterthought but also makes them want to never interact with your business again. Though this may sound like engineer speed dating, you're still building amicable relationships with quality engineers, which may pay off in the future.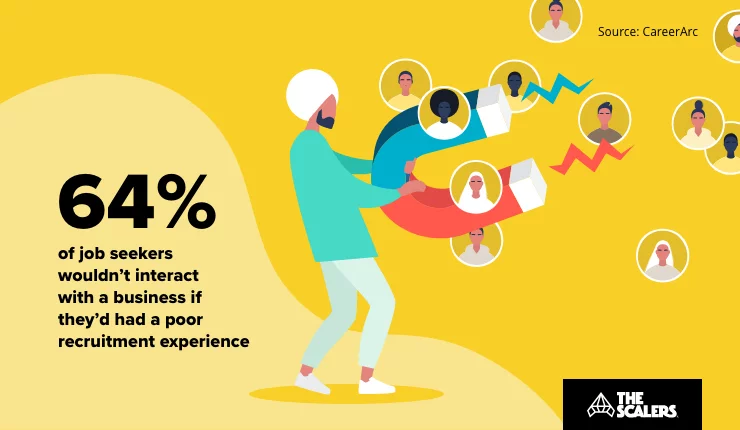 And that's why, every recruiter at The Scalers schedules regular follow-up calls with candidates, irrespective of where they are in the recruitment funnel. We also send care packages to offered candidates — a small gesture to show them how excited we are to have them onboard! Offered candidates are also sent frequent updates on the events conducted at work, important milestones reached, services or products launched by our client partners, etc.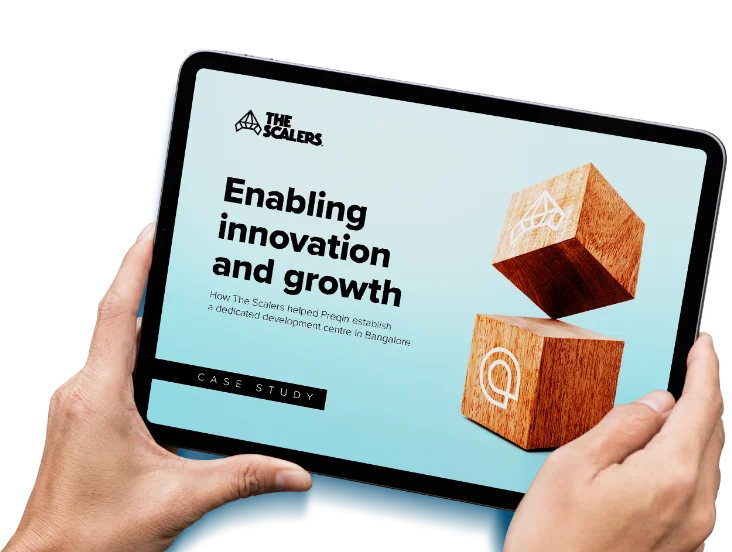 Scaling at speed: Preqin case study
How we helped a fintech establish a dedicated development centre in Bangalore
DOWNLOAD CASE STUDY
4. Designing interviews around practical knowledge
What is the most effective way to conduct a technical interview?
Research has shown that most companies fall into two primary schools of thought — businesses that rely on algorithmic and academic interviews vs. businesses that test engineers on skills that they will be using in their day-to-day role.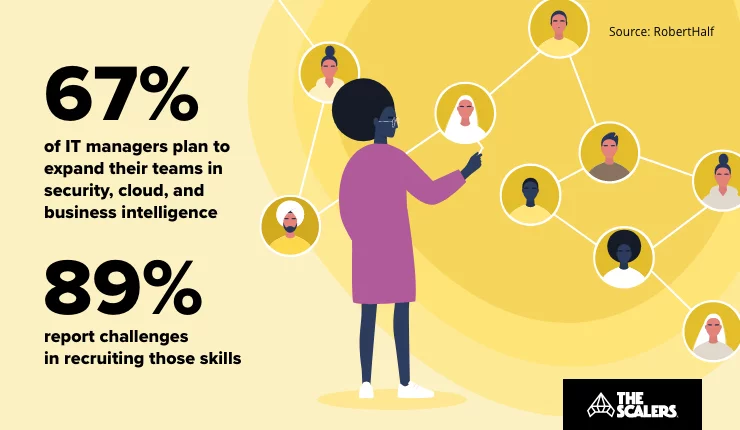 We, at The Scalers, practice the second approach. While the whiteboard interview style is definitely not completely obsolete, a practical interview style is significantly more effective. The simplest exercise is to ask candidates to design code using the tech stacks that your engineers use. When you're evaluating their code, you can ask them to walk you through their decision-making process. Why did they choose a particular design element? What were the criteria for every technical decision they made? Why didn't they use an alternative approach?
We also prepare our interview scripts by collaborating with our in-house technical coordinators and the tech leads of our client partners, to ensure that the questions are based on practical know-how and not purely theoretical technical knowledge.
If you want to build a development team with us, feel free to reach out to us. One of our senior executives will get in touch with you shortly.