The Scalers gets certified: our ISO 27001 certification for InfoSec

Aga Moleda-Orella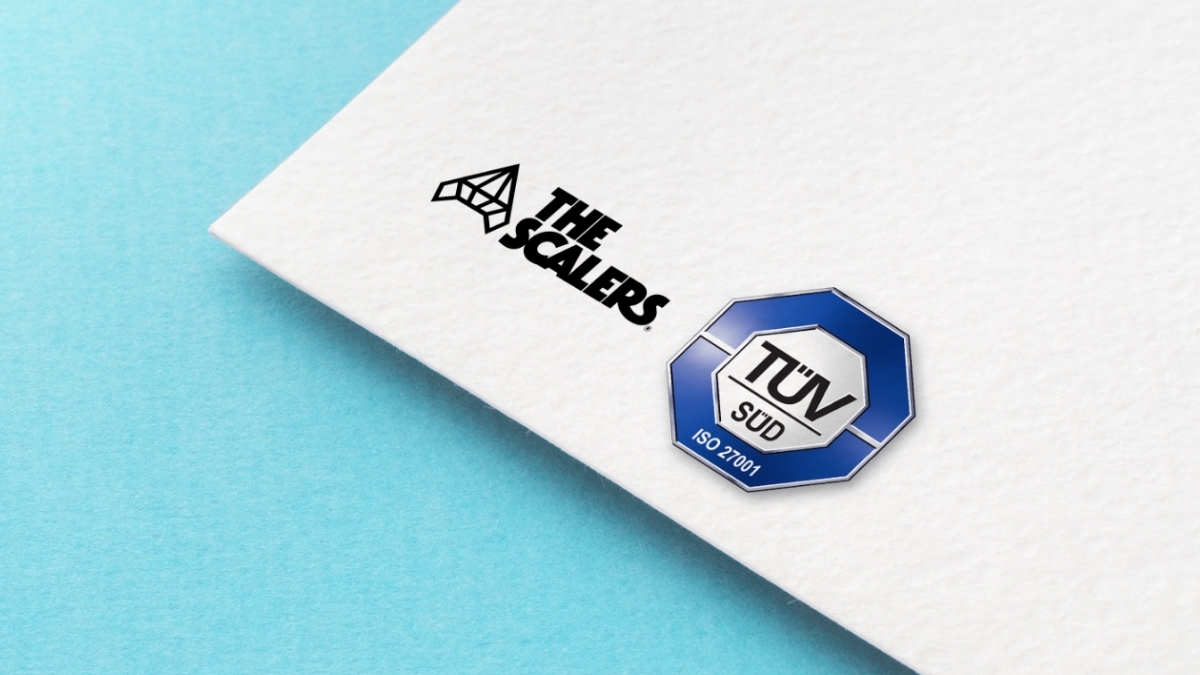 We recently made an important announcement that will be welcome news to the ears of our existing and potential partners: we've received our ISO 27001 certification.
What does this mean for us and our partners?
Obtaining this official stamp of approval from a leading authority represents our ensuring commitment to information security. Crucially, at a time when teams are distributed both throughout India — where The Scalers calls home — as well as the wider world it's absolutely essential to have specific safety measures and protocols in place in order to ensure optimal business operations.
For our partners, they can have confidence in The Scalers to process their teams' information securely, adhering to the strictest standards in the world. It's of the utmost importance to us as a business that our partners are assured that their information is in the safest hands, and we're fully prepared to act swiftly in times of crisis so that they can continue business as usual.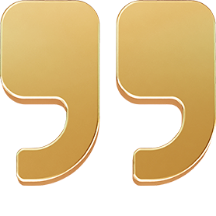 "With ransomware and other threats always lurking, advocating best practices to our staff just wasn't enough anymore. Being ISO 27001 certified means we're now  systematic in our approach, implementing state-of-the-art endpoint protection solutions and a robust ISMS to safeguard both our operations and those of our partners."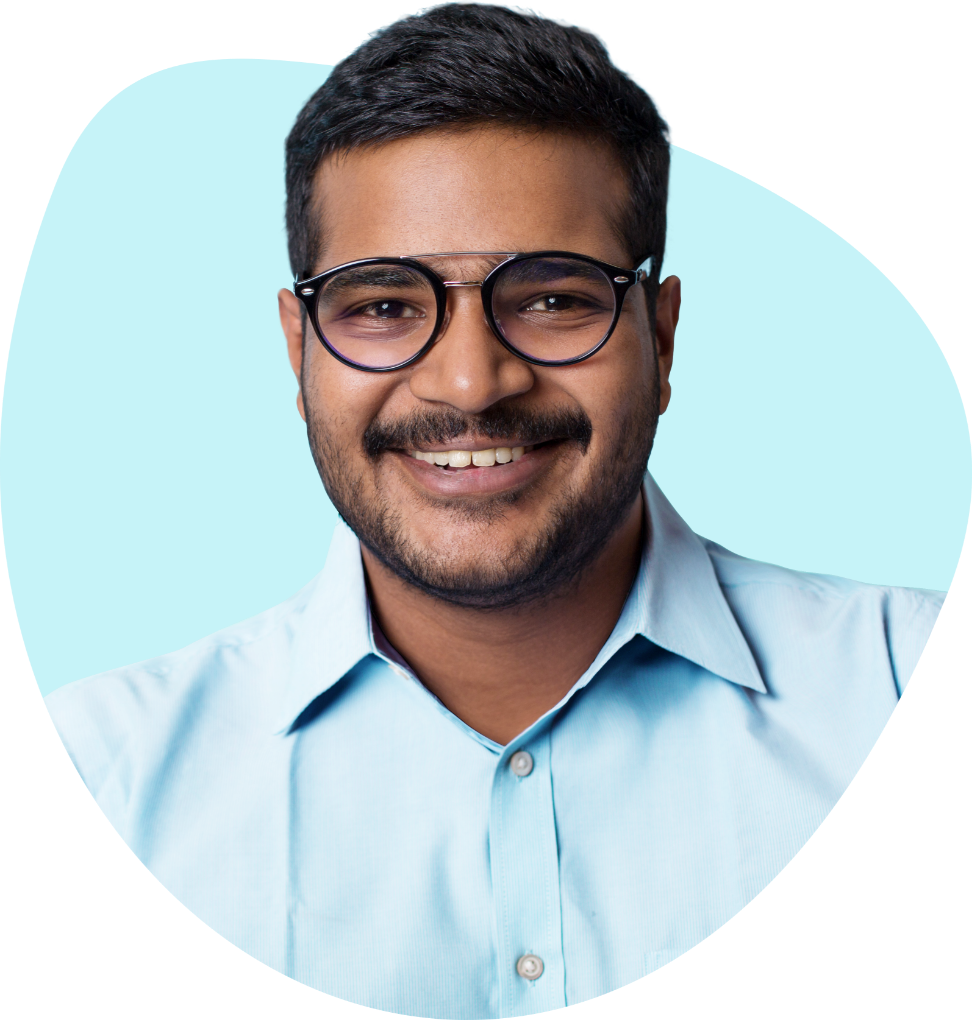 Deepak Arunachalam,
COO, The Scalers
If you're wondering exactly what this certification means, specifically in the context of offshore development, then you're in the right place. Let's look a little more closely…
What is the ISO 27001 certification?
As more and more businesses are becoming open to the concept of building globally distributed teams, one primary concern that organisations still have regarding offshoring their processes is security.
Any business that meets the standard's requirements can opt to be certified by an accredited certification body following the successful completion of an audit. According to the UK's IT governance site, the ISO 27001 certification represents "the only auditable international standard that defines the requirements of an information security management system (ISMS). An ISMS is a set of policies, procedures, processes and systems that manage information risks, such as cyber attacks, hacks, data leaks or theft".
In simple terms, a company in possession of this certification has demonstrated it has defined and put in place best-practice information security processes. Of course, not every business chooses to obtain official certified status, but uses ISO 27001 as a best-practice framework for day-to-day operations.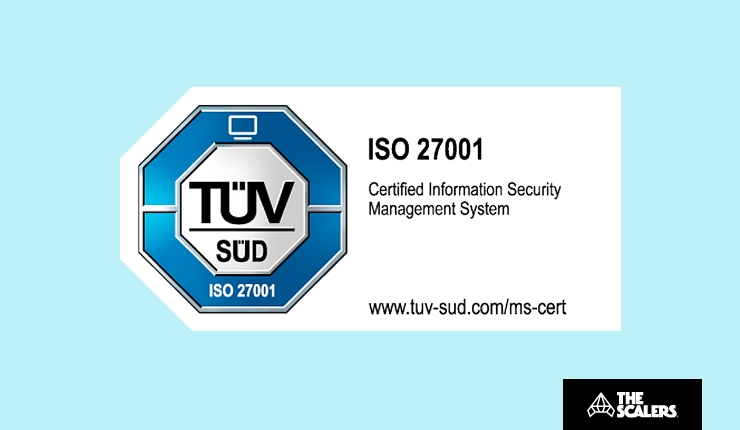 What are the benefits of having the ISO 27001 certification?
From protecting against cyber attacks to making sure the company is protected against data theft — the advantages of having the certification are numerous. On a business level, financial and reputational risk to the company is minimised, and on a partner-facing level they receive the ultimate peace of mind that the organisation they're working with operates at the highest possible standards.
For organisations transitioning from startup to maturity, the ISO 27001 certification can help you demonstrate top-tier security practices, giving you an edge against your rivals by placing your business alongside the well-known tech enterprises.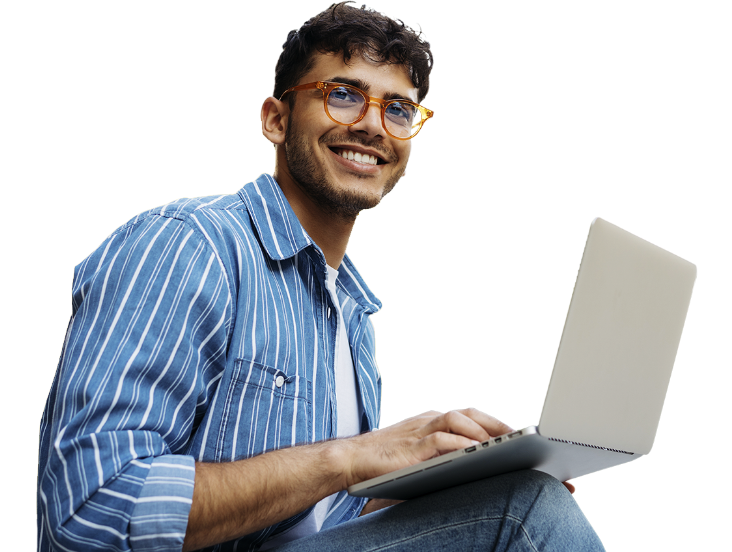 Build an offshore development team
Can't find the skills you need at home? Stop searching and start scaling
LEARN MORE
Who needs an ISO 27001 certification?
To get to the crux of the matter, pretty much any business that handles sensitive information is encouraged to obtain professionals certified in this area. From financial services companies to IT contractors, governmental bodies to telecoms and healthcare providers. It's not mandatory for compliance or regulatory requirements, but it's a way for businesses to demonstrate to their partners that they're committed to information security and confirms the standards of the business.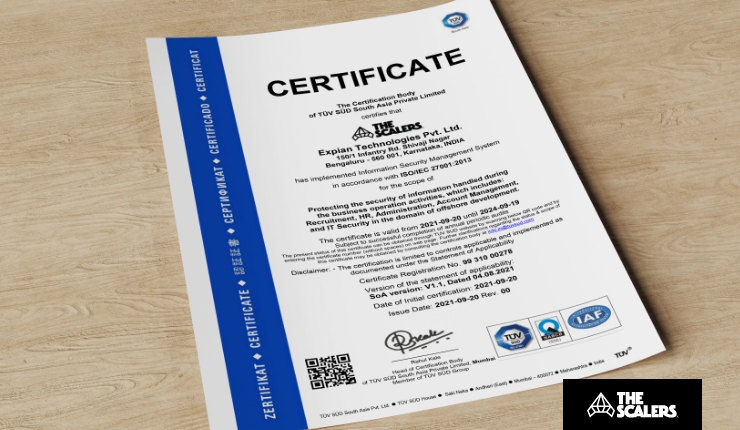 How does the ISO 27001 certification relate to offshore development?
Tales of low-quality outsourcing and exaggerated horror stories about offshore security breaches led to businesses understandably questioning the security of their confidential data with their extended team abroad. When their offshore partner has a ISO 270001 certification, or similar industry standard accreditation, it helps put these fears to bed and deliver peace of mind that their information, data, and IP is in safe hands and that collaboration across continents can be seamless and frictionless.
How does The Scalers manage security practices?
In a time when offshore software development is growing as a model, it's more important than ever for offshore team builders like The Scalers to demonstrate their commitment to information security. For years The Scalers have been developing security measures, aligning with our partners' requirements, and the certificate simply makes official what has already been in place continuously already. Through the process of obtaining the ISO, we were able to better identify fast response procedures in times of crisis, which is very valuable given we're emerging from a global pandemic.
The certification is valid for three years, so it's really important that any organisation that holds the ISO 27001 certification continues to operate at the required standard so that they pass any future auditing procedures. We also align with our partners' security protocols, mirroring what they have at HQ in their new offshore centre in Bangalore — with additional measures in place such as NDAs, on-site security guards, and mandatory training for all staff.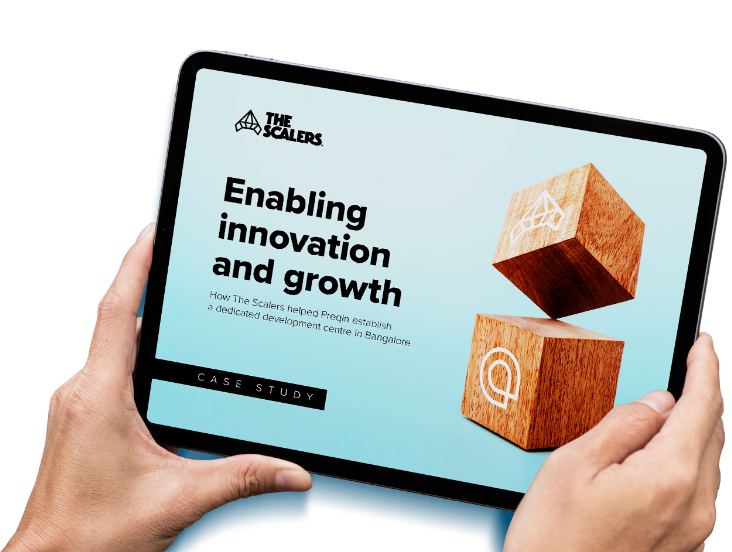 Scaling at speed: Preqin case study
How we helped a fintech establish a dedicated development centre in Bangalore
DOWNLOAD CASE STUDY
To sum it up
Put simply, our ISO 27001 certification acts as an independent assurance to our present and future partners of The Scalers' commitment to providing services of the highest quality. For CTOs, CIOs and other IT decision makers:
– The ROI on an Information Security Management System can be high, as it demonstrates elite-level processes and a commitment to data security.
– It requires constant best-practice adherence and a continual improvement of processes and strategies.
– You ensure compliance with legal, contractual, and commercial responsibilities — further enhancing your image as a business.
If you're interested in exploring the possibility of building a global development team, feel free to reach out to us by filling out the contact form. One of our senior executives will get in touch with you within 24 hours.