Forty years ago, Bangalore turned on a dime. From pensioner's paradise, the city morphed into a global leader of technological innovation. A virtuous circle of growth followed up by an explosive dynamism and a network of intellectual capital substantiated by ongoing knowledge exchange.
In 2016, Bangalore accounted for 35% of the presence of global in-house centres (GIC) in India. The value of R&D work being done in India is estimated to be around $10 billion and is forecast to rise to $45 billion by 2020. What has made Bangalore particularly attractive is the heavy concentration of high-tech talent at a low cost who can build custom software for your business. It has a special appeal to Western companies whose increased market pressure means a need for increased competitiveness without an increase in costs.
Danske Bank
Going strong for nearly 150 years, Danske Bank is a Nordic universal bank offering services within life insurance and pension, mortgage credit, wealth management, real estate and leasing services.
In 2012, Danske Bank set up Danske IT in Whitefield, Bangalore and hired 800 engineers to work on business banking, personal banking, transaction banking and various other technologies.
Bulking up its innovative endeavours was a direct result of the competitive pressure to deliver better digital services and software.
Danske Bank partnered up with global IT consulting & outsourcing solutions provider ITC Infotech who provided the first 600 employees. Subsequently, Danske Bank converted it into subsidiary of Danske Bank and transferred 400 of the ITC employees to the company's own rolls, making it Danske Bank's first captive centre outside of Europe.
The decision to make it a captive centre is a key element in many larger companies' outsourcing trajectories. Moving the operations closer to the company's core is a strategy for reclaiming ownership
Shell
On 31 March 2017, Shell opened its brand new 52 acre, custom-built Shell Technology Centre Bangalore, becoming the third hub globally alongside Houston and Amsterdam. With a capacity of 1500 people, the role of Shell's R&D hub is to dive deep into high-tech innovation projects.
By integrating universities, institutes and external industrial partners in a collaborative process with the technology centre, Shell aims to establish a web of innovative exchange to unlock untapped potential for more and cleaner energy solutions.
Shell decided on Bangalore as its third destination, describing India as "…a heartland-of-talent, proficient at generating best-in-class ideas, insights and business models…".
The purpose is to create a web of innovative exchange and the focus will be on deepening and diversifying capability, transforming early heady growth into a phase of consolidation, integrating and connecting the technology value chain from the subsurface to surface to the final RDS customer.
Shell also got busy advocating the many reasons behind Bangalore's epithet as Asia's Silicon Valley . The technical innovation and human ingenuity come together in an indefinable dynamism that pushes the city in front of ecosystems like London and Silicon Valley. The company put a particular emphasis on the significant breakthroughs hatched in its Bangalore lab.
In continuation hereof, Shell makes a great deal out of telling the stories of the employees who managed to stir their academic capabilities, professional experience and their employment at Shell and endow aspiring engineers with their talent through various programmes and initiatives. It is this circular economy of technical talent that propels Shell's ambitions in India.
Google
Google set up its R&D office in 2003, employing more than 1000 software engineers, top programmers and computer scientists to carry out projects in data mining, data warehousing, business intelligence and knowledge management. Located in Bagmane Tech Park, Google's second office in Bangalore neighbours Samsung, Amazon, and Ernst and Young.
Touted to be Google's first full-fledged engineering facility outside the US, the Bangalore team has also been subject to the company's notoriously high standards.
Google's first Code Jam event in Asia took place in Bangalore and was an efficient method for scooping up the world class technical talent for its R&D entity in the city. Not unlike its fellow MNCs, Google chose Bangalore due to its enormous untapped talent pool.
Google's decision to move out of the US to find its technical pioneers relates to the same visa issues currently under threat from Donald Trump; it simply wasn't possible to obtain enough visas to fill the positions domestically with foreign labour.
Unlike the majority of companies who set up shop in Bangalore, the move was not a cost-cutting measure but a technical necessity. Google jumped at the opportunity to ride the wave of innovation sweeping across India and has announced that the country has been a key driver of the company's growth.
Walmart
As the name suggests, Walmart Labs in Bangalore is responsible for building platforms and products to power Walmart's e-commerce and digital shopping experiences.
The R&D unit, which is the largest outside the US, opened in 2012 and currently employs more than 500 people.
The centre has played a key role in giving Walmart its competitive edge through the development of competitive intelligence and analytics (CIA) platform which, using machine learning, autoprices Walmart's products.
The US retailer also set up Walmart Global Technology Services in Bangalore employing 200 people who create technology for stores. Together, the two facilities work to develop a comprehensive understanding of consumer behaviour and to create smooth customer experiences across all platforms, whether digital or physical, also known as omni-channel retailing.
Alongside Sao Paulo and San Francisco, WalmartLabs prepared the entire technology stack handling the enormous scale of America's manic Black Friday sale.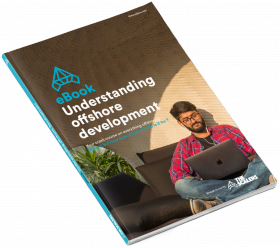 Understanding Offshore Development eBook
Your crash course on everything offshoring.
What is it? How does it work? Is it for you?
Download My Ebook
What has been key to Walmart's success in India is the ability to dodge outsourcing by hiring onsite. Walmart previously outsourced 70% of its IT to a third party but changed the number to 30% as the set-up didn't allow the company, which is the world's largest company in terms of revenue, to scale. Walmart knows that data crunching and strong algorithms pave the way to the future.
IBM
IBM's R&D entity dates back to 1998 and employs thousands of data professionals, business analysts and engineers.
IBM's office is pioneering the future of artificial intelligence with key research in areas like Deep Learning Algorithms and Infrastructure, Dialog and Conversation Systems, Cognitive IoT Platforms, Knowledge Extraction, Representation and Reasoning, Blockchain, Data security and compliance.
In August 2017, IBM set up its first hub dedicated to machine learning in Bangalore, providing hands-on training in the field. Other organisations are invited to collaborate with experts at the centre to build and deploy analytic models for a new generation of intelligent applications and prepare the world for the cognitive era.
IBM is the multinational with the most employees in India spread across cities like Delhi, Kolkata, Hyderabad, Mumbai, Chennai, Bangalore and more. In fact, the number of employees grew 800% between 2003 and 2007. 1 in 5 employees are now in India.
IBM's presence in India has solidified with a network of hubs including India Software Labs (ISL), India Research Lab (IRL), Global Technology Services (GTS) and Integrated Technology Services (ITS).
A curious trend among the MNCs in Bangalore has been the ballooning growth of their R&D offices, sometimes with a 20% increase in size every year. It goes to show that although these global companies came for talent, the sheer quality and scale allowed them to build upon existing goals and create technological powerhouses in Asia's Silicon Valley.
A European Business Group study eloquently encapsulated Bangalore's new positioning in the world of tech:
"This reflects the belief that heterogeneous, multi-layered markets like India aren't just meant to consume the stripped-down, end-of-life products from the western firms, but could emerge as beachheads for new forms of innovations."
For many, it has also been a natural way to enter the Indian market where the purchasing power of the booming middle class has reached unprecedented levels.
Combined, these are the factors that explain the discernible presence of MNCs in Bangalore. Housed in the tech parks across town, their R&D facilities are developing the products of the future.