Countries across the West are facing an increasingly hard time scooping up web developers. As this mismatch between supply and demand have left vacancies unfilled for months, Indian software developers – adept, affordable and abundant- are busy pushing the world's tech industry eastward.
1. An IT Ecosystem That Just Won't Quit
Bangalore is now the 2nd fastest growing IT ecosystem in the world and home to the 3rd largest amount of startups. Incubators are flocking to cities like Bangalore on the lookout for prime investments so networking events like meetups, conferences and hackatons are increasingly commonplace. Thus, Indian software developers and their offshore offices have the most optimal conditions for technological and entrepreneurial advancement.
2. Investment Fever
Indian PM, Narendra Modi, has kicked off a campaign to fuel India's already explosive tech industry. In the same vein, he embarked on a radical liberalisation of Foreign Direct Investment (FDI), paving the way for an inflow of a whopping $55.46 billion in financial year 2015-16 . A total of $2.256 billion of venture investment was made in 2015 in Bangalore alone.
3. Counting the IT Sector's Bigwigs
Microsoft and Google are but two companies currently profiting from the technological high tide in India which incubated a CEO for each. The cream of the crop, they mirror the huge talent pool of software developers headquartered in their native country where IITs are mass-producing and solidly equipping aspiring and talented developers ready to follow in their footsteps. Global conglomerates like Amazon, Uber, LinkedIn and Walmart to name a few have all set up software development centres in India which means that these household names often feature on Indian developers' CVs.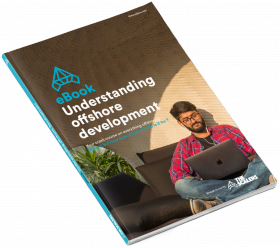 Understanding Offshore Development eBook
Your crash course on everything offshoring.
What is it? How does it work? Is it for you?
Download My Ebook
4. When The Penny Drops
With paychecks 50% lower than their Western counterparts', Indian software developers have made cities like Bangalore, Chennai and Hyderabad offshore hotspots. Combined with unique skill sets and technological sophistication, this explains why startups and conglomerates alike are queuing to capitalise on these skillful young developers.
5. Cultural Rigour
India's IT capital, Bangalore, has become synonymous with startups and tech-savvy millennials. Across the city, an innovative and entrepreneurial vibe gives evidence to the booming offshore industry which was quick to hijack these bright minds. With an excellent grasp of the English language and at the forefront of their field, Indian software developers are not a bi-product but the essence of the offshore industry.
As western companies are stuck in a futile search for candidates at home, a new generation of Indian offshore software developers are piggybacking a booming offshore industry in the east. To climb up the value chain, Western companies must join the race and acclimatise to a reality where Indian software developers are winning at the offshore game.