7 unique advantages of The Scalers' offshoring 2.0 model

Pablo Rodriguez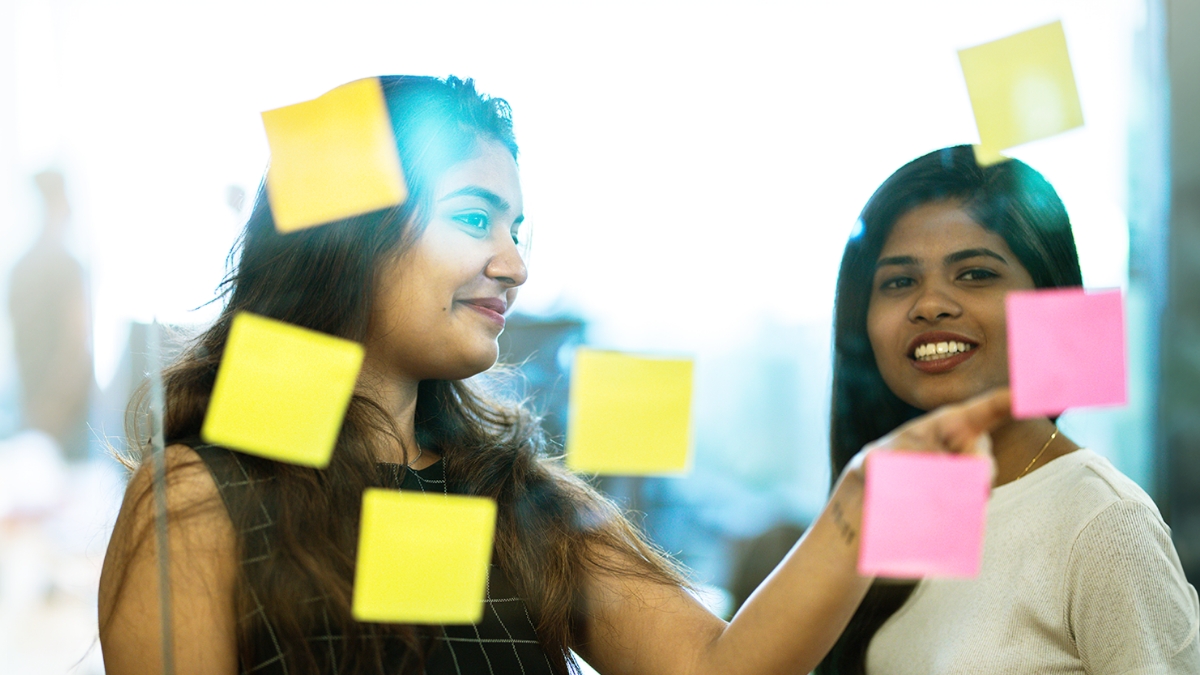 Most offshore development companies build tech teams with engineers who jump from one project to another.
This traditional approach to offshoring works for organisations that need external developers for short-term tasks. For instance, you can hire a development team on a five-month project to launch a new product.
But what if you want to build or extend your current software development team with fully dedicated developers?
In that case, you should consider collaborating with an offshore company that searches, hires, and onboards culturally aligned engineers for your business.
That's what we do at The Scalers: we build 100% dedicated teams for our partners with top talent in Bangalore, India, the fastest-growing tech hub in the world.
And that's not all. Partnering with us means getting benefits no other offshore company can offer you.
In this article, we've prepared a list of the seven unique advantages of working with The Scalers. By the end, you'll know what The Scalers' model is all about, and how it allows you to set up a world-class team in Bangalore.

Let's get started!
1. Getting a fully dedicated team
A fully dedicated team means engineers aren't external to your business but a part of it.
At The Scalers, we build dedicated teams with developers who understand your organisation's mission and vision and are committed to your success. These developers work 100% under your name and act as your in-house team in Bangalore.
We source the top 1% of Indian engineering talent, so you get to work with the best professionals. But you have the final say: you decide on your team roster.
Our talent pool comprises top engineers specialised in multiple technologies, from C# to JS, PHP, and Python, among many others.
2. Enjoying a dedicated office (plus an opening celebration)
Besides getting a fully dedicated team, one of the benefits of The Scalers' model includes having a dedicated office space in Bangalore.
The city, known as 'The Silicon Valley of Asia', is an ideal location for an office your team can call home. Bangalore has over a million developers, produces 90,000 new engineers yearly, and is an R&D hub with more than 400 centres including companies like Google and Amazon.
At The Scalers, we follow a people-first approach and respect Indian culture. As a symbolic beginning to our partnership, the first engineer on your team will open the new office space, cutting the ceremonial ribbon and lighting diyas.
The office opening celebration is a unique experience for tech leaders visiting their teams from the US or Europe. It's a blend of cultures, where local traditions harmonise with modern tech in a space personalised with their organisation's branding.
Come and discover it yourself!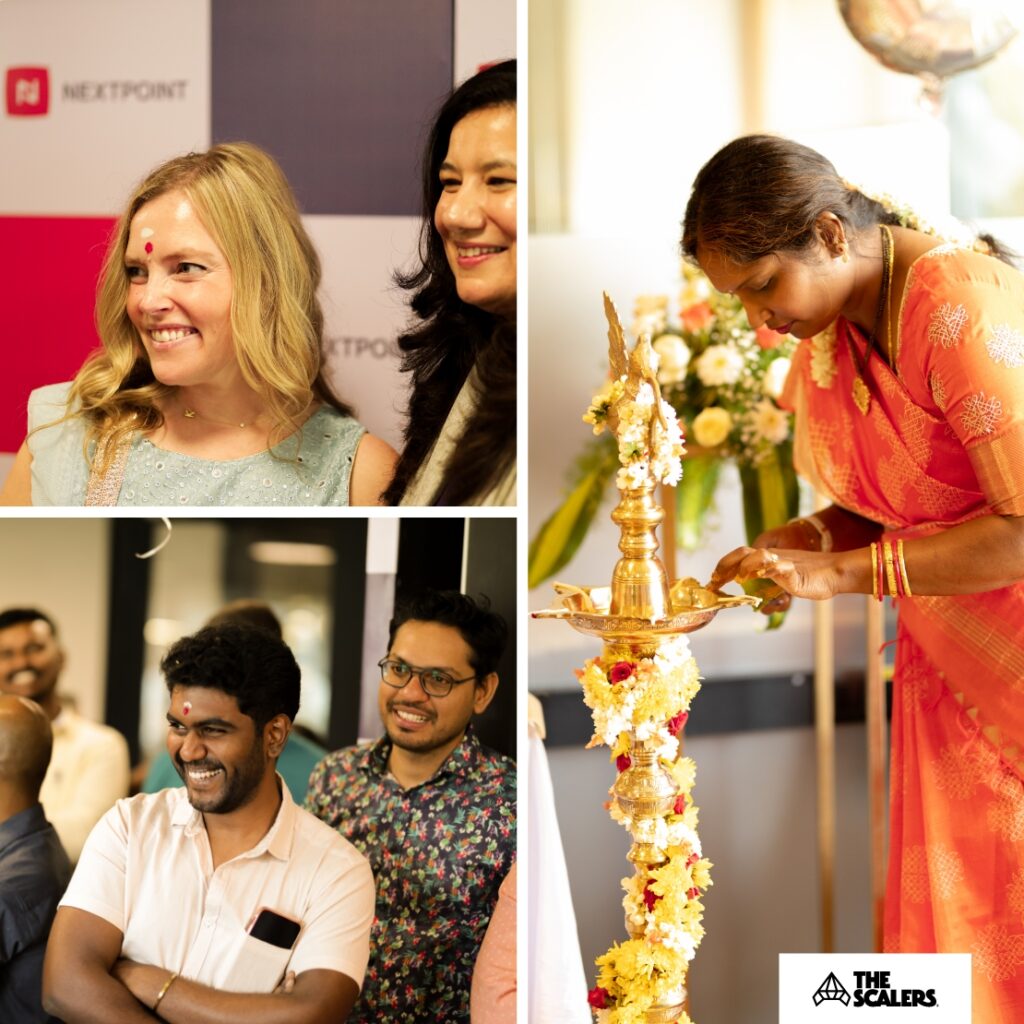 3. Fostering engineer integration
Engineer integration and satisfaction is one of our top priorities. That's why each of our partners' dedicated teams has the ongoing support of a Chief Happiness Officer (CHO).
The role of a CHO is to prioritise the well-being of your team. They take care of the end-to-end lifecycle of engineers and ensure your office isn't just a place to work but a place where your team thrives.
Our approach to engineer satisfaction results in less than 15% employee attrition rate at The Scalers, compared to 34% in other Indian offshore companies.
The CHO's job involves overseeing daily operations, supporting developers with work-life balance perks, and organising team outings and cultural events for engagement.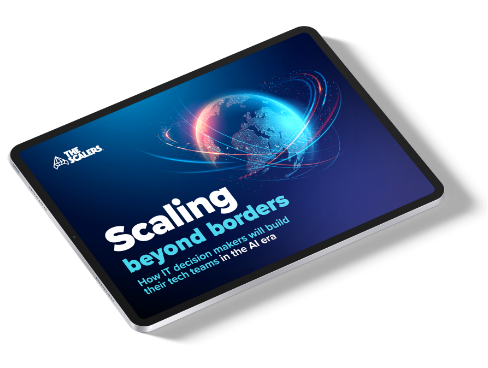 Build future-proof dev teams
Discover how to scale development teams in 2023 and beyond
DOWNLOAD EBOOK
4. Investing in engineers' skills and growth
To ensure that engineers work seamlessly with organisations across different timezones and cultures, we designate an internal Learning and Development Manager (L&D Manager) for our partners' offshore team.
The end goal? Improve engineers' soft skills.
As a partner, your team will actively engage in a soft skills training program with predefined modules we can tailor to your requirements.
Developers will gain valuable training in the following modules/areas:
Mindfulness
Business étiquettes
Emotional resilience
Problem solving and decision making
Managing change — the art of balancing
Impactful communication and interpersonal skills
Planning, prioritisation, managing time, and goal setting
The art of asking questions, listening skills, and impactful conversation
Building trust, psychological safety, and the elements of high performing teams
Thanks to the soft skills training and the L&D Manager, engineers will shine not just in their technical roles but also in their people skills. They'll work hand in hand with your team in the US, Europe, or Australia, making collaboration smoother and results even better.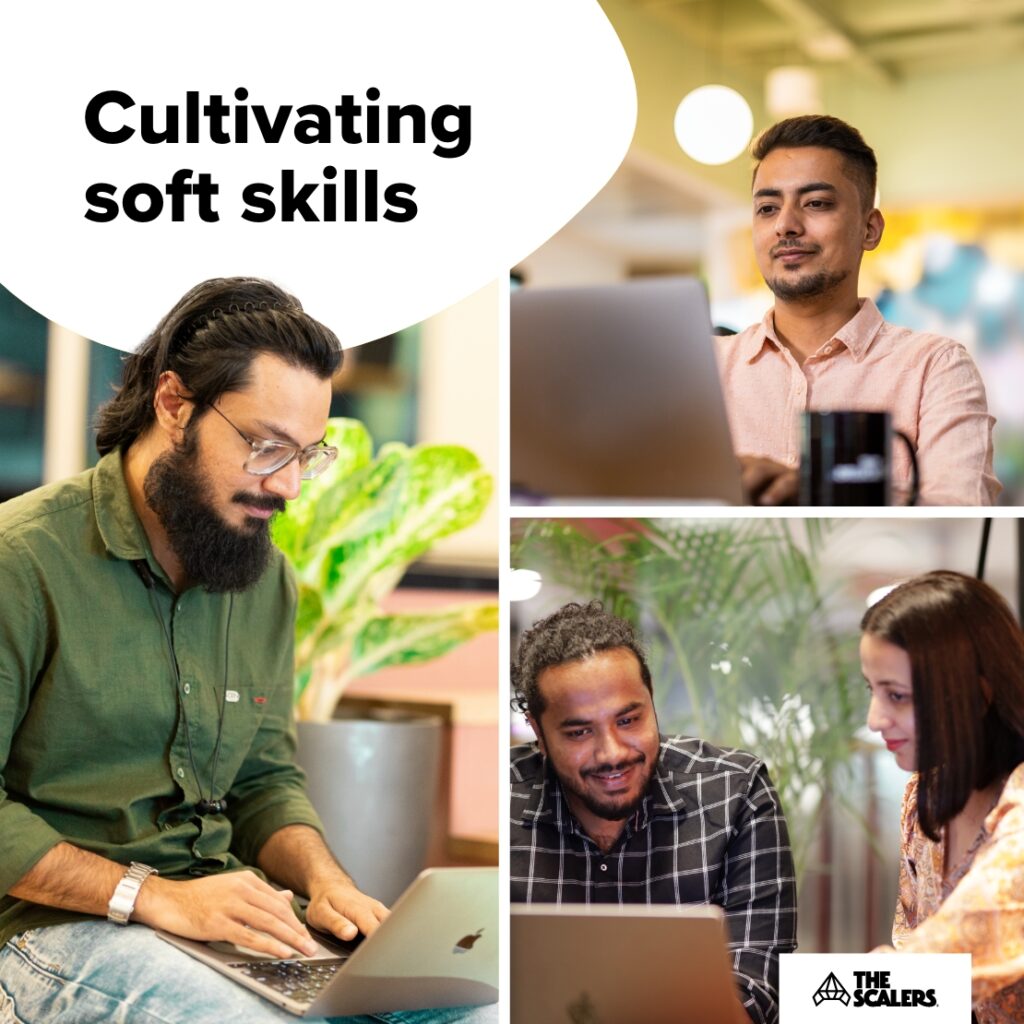 5. Balancing work and leisure
Apart from running employee engagement programs, CHOs organise workations to keep developer motivation up.
Workations bring partners and offshore teams together for a week of collaboration, learning, and fun in paradisiac places like Goa. It's a fantastic opportunity to strengthen teamwork, encourage personal and professional growth, and explore new destinations and cultures.
To make it all happen, we carefully plan the location, schedule, budget, communication, logistics, and activities. We aim to strike the perfect balance between work and leisure.
Some partners, like Ykone, have already benefited from our workation program. If you ever plan a visit to your team, we'd be thrilled to organise a fun-filled week for you just like we did for Ykone's executive members.
6. Accessing a dedicated platform (Team Platform)
Team Platform is a dedicated online portal our partners use to monitor their team recruitment, track expenses, future hiring, and more.
When you partner with us, we give you access to our in-house platform, where you'll have a bird-eye view of your team:
Get an overview of your team with a complete employee profile, including phone numbers, and email IDs.
Visualise the staffing plan, opening positions, and recruitment pipeline.
Track invoices and see monthly costs incurred and when they are due.
With Team Platform, you have your team at your fingertips.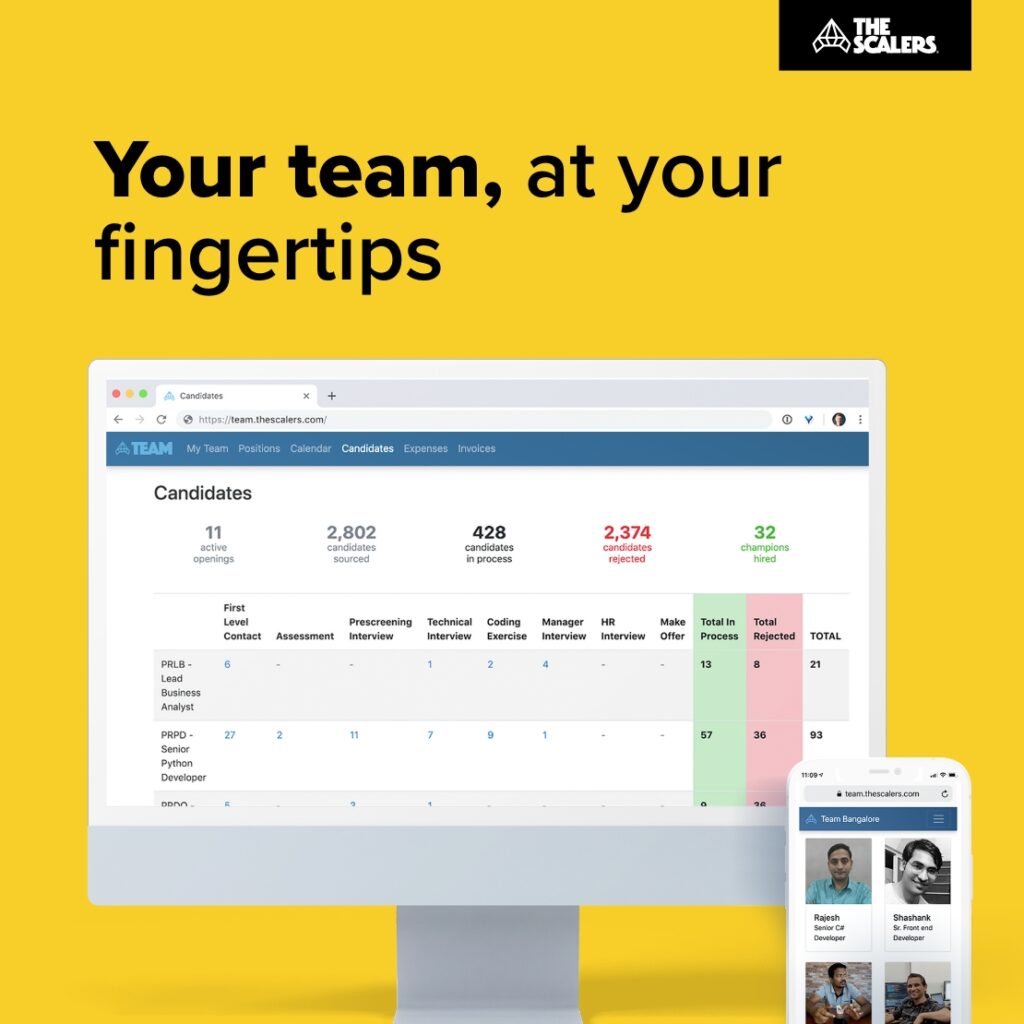 7. Benefiting from growth opportunities
At The Scalers, we don't just offer our partners a chance to scale their teams when needed, but we have the data to prove it: on average, our partners experience a 5% growth in the first two years of collaboration with us.
One of our standout success stories is Preqin, a UK FinTech firm that grew its team from 4 to 10 engineers, then to 30, and added 80 in the second year of the partnership. Today, Preqin's team in India boasts an impressive 367 employees.
One of the benefits we offer partners like Preqin is building an office from the ground up equipped with all the tools and goodies its team needs to succeed.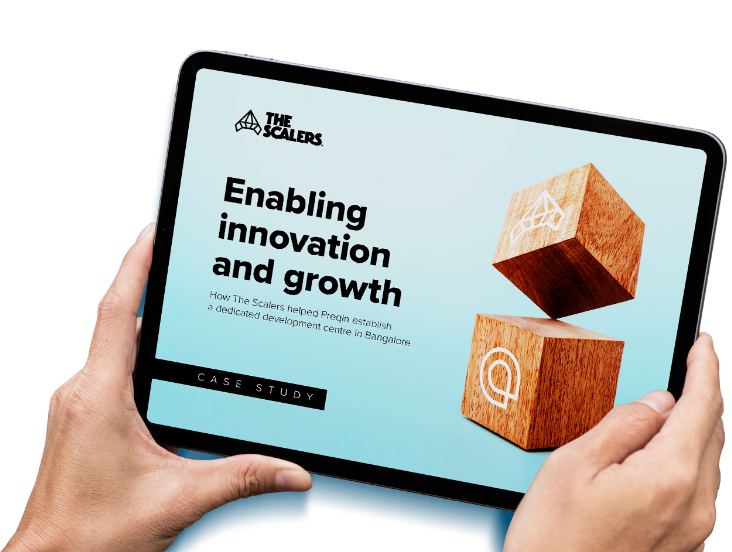 Scaling at speed: Preqin case study
How we helped a fintech establish a dedicated development centre in Bangalore
DOWNLOAD CASE STUDY
In summary
If you've read this far, you already know how The Scalers' model can benefit businesses like yours.
Are you ready to build or expand your dev team in a renowned tech hub like Bangalore? Contact us, and one of our senior team members will assist you and answer any questions you may have.
KEY TAKEAWAYS:
The Scalers builds fully dedicated development teams that become integral to the partners' organisation, sourced from the top 1% of Indian engineering talent.
Partners get a dedicated office space in Bangalore, known as 'The Silicon Valley of Asia,' with a unique opening celebration that blends local traditions with modern tech.
The Scalers prioritises engineer integration and well-being by offering ongoing support from a CHO, who oversees daily operations and organises team outings and events.
Engineers receive soft skills training to improve communication, and interpersonal skills, enhancing collaboration with partners in different regions.
The Scalers organises workations to foster teamwork and personal growth.
Partners get access to a dedicated online platform (Team Platform) for team monitoring and management.
Partners' offshore teams grow an average of 5% within the first two years of collaboration. The Scalers builds fully equipped offices for partners that grow significantly.
We hope to see you in the next one. Good luck building your offshore software development team!