Building a strong remote team culture: The Scalers' playbook

Aga Moleda-Orella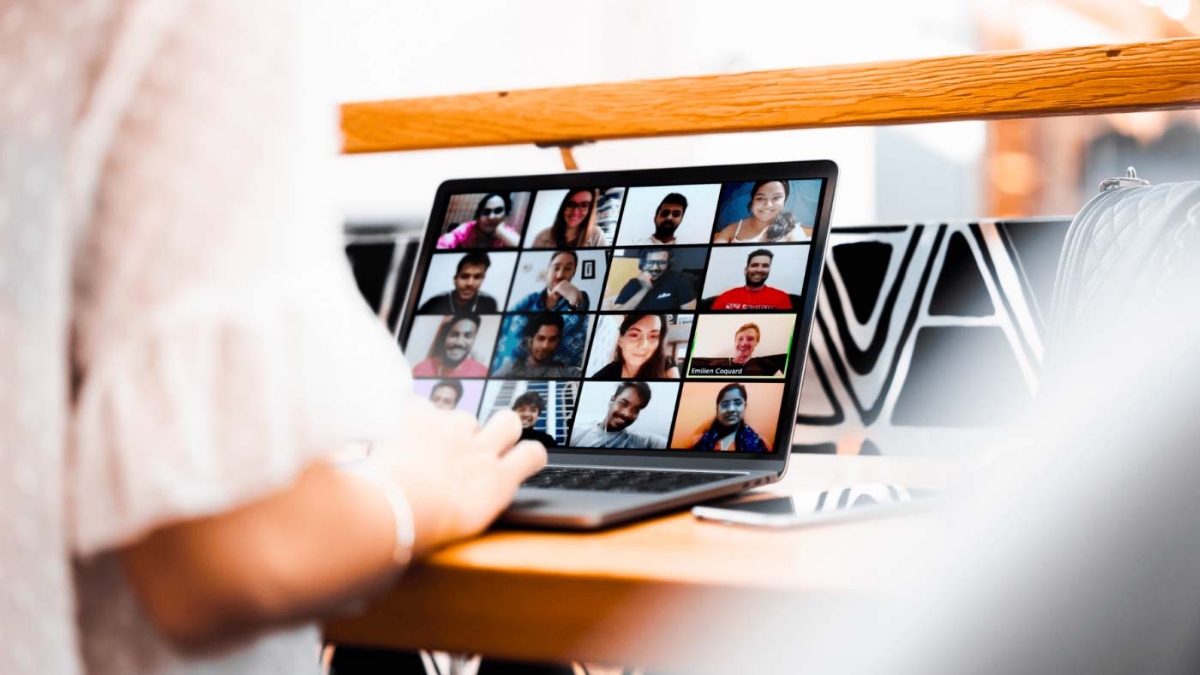 Fact number one: recent research in the wake of the coronavirus has shown that 75% of people consider remote working to be the new normal. Misconception: collaboration and team spirit are difficult to foster when employees are distributed.
The COVID-19 pandemic has changed how businesses view remote work — once often seen as optional or occasional, now almost every organisation in the world has installed a mandatory work-from-home policy. People are wondering if the embrace of change will exist as a forced flash in the pan or a permanent paradigm shift. And, employers are wondering how to build a strong remote team culture and team spirit in distributed workforces.
Fact number two: We build dedicated, remote teams in Bangalore that act as real-time extensions of businesses worldwide.
So, while it is indeed true that today lots of companies have had to adapt to a 'new normal' — we've been 'doing distributed' before it went mainstream. For other businesses, remote working represents a new reality that's forced adaptation and a positive reaction to change — but for our teams, it's simply The Scalers way. A notion sewn into the fabric of our organisation.
Ever since The Scalers' inception, our CEO and founder Emilien Coquard has championed the notion of new ways of working, including a forward-thinking flexibility that is often lacking in the vision of legacy companies. That's helped to ensure our seamless reaction to the 'corona crisis', with our developers working from home in a manner that has mirrored our marketing team in Europe, which has been geographically distributed since the beginning.
Technology has given us a global office, and physical proximity in the workplace is no longer the requirement it once was. Our attitude is: if present-day interconnectivity can facilitate global business due to high-speed communication and cross-continent transactions, why not use it to help foster team spirit within our remote teams? Let's dive deeper…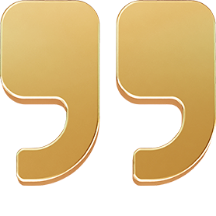 "When done well, remote work has the potential to improve performance, increase employee satisfaction and benefit a business"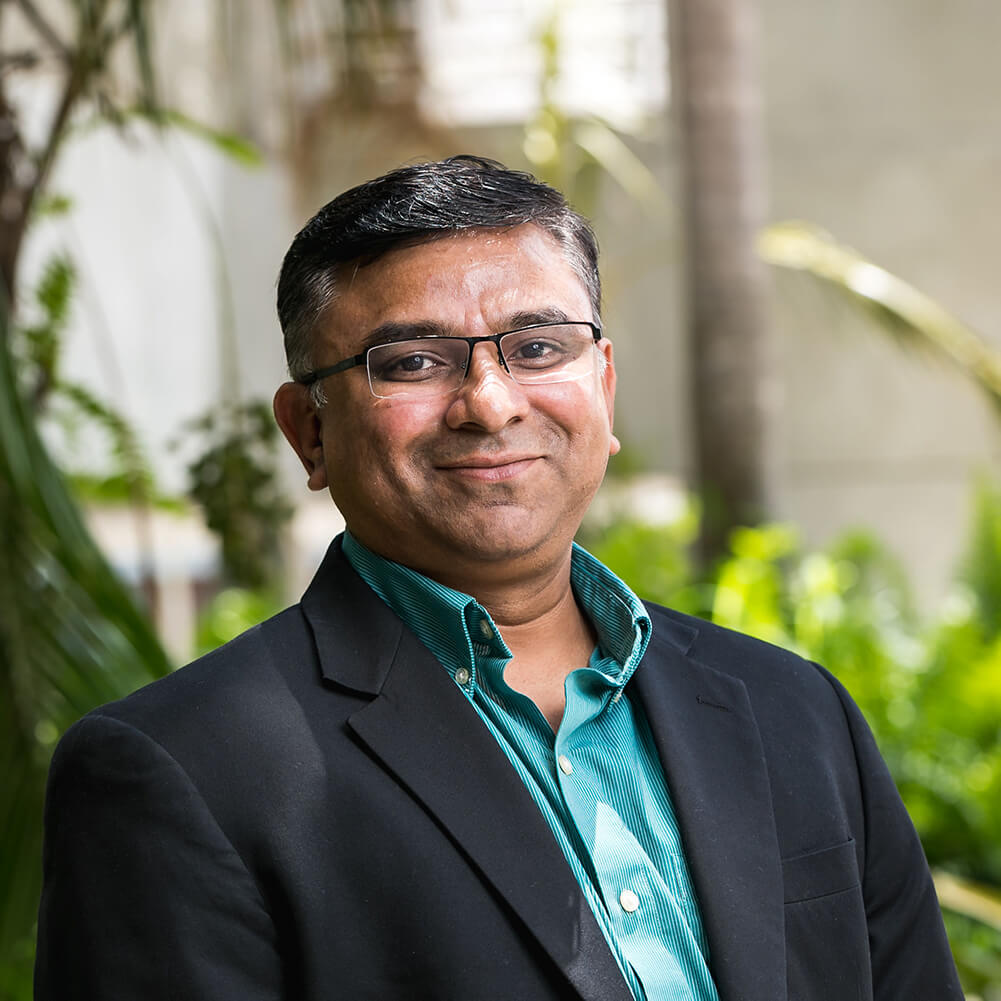 Ravi Gajendran,
PhD, assistant professor in the department of global leadership and management at Florida International University
Culture-Driven Mission
Sometimes it seems the very things we're told help businesses — driving toward higher productivity, fostering collaboration between previously siloed teams, adapting to an ever-changing competitive landscape — focus more so on the positive transformation of processes rather than the human element at the heart of organisations. We see things a little differently.
Putting people at the heart of everything is the ethos that The Scalers live by. So it's super-important we maintain team togetherness — whether that's for our clients' Bangalore-based development teams a continent away from their European-based management, or our internal marketing team working together on projects while sitting a time zone or two apart.
People are the lifeblood of any organisation, and without them, our business can't function successfully nor flourish profitably. And yet, some organisations skimp on building a strong remote team culture. Whether that's seeing flexible work from home inaccurately as a perk in and of itself and not as another working environment with its own unique set of challenges. Or, not understanding how offshore teams act as an extension of their existing setup, confusing it with outsourcing.
In today's global economy, organisations need to be able to deploy people to projects speedily to help improve time to market — and the desire for access to top-tier talent, with the right skills, and having the ability to scale fast means that building or extending dedicated teams is a go-to solution.
So, if this type of distributed workforce is indeed the new normal, then a necessary component is making sure morale-boosting activities don't just consist of a playlist and a pair of earphones!
In fact, psychologists have previously explored how to maximize the efficiency and productivity of teams that are geographically dispersed. A paper published by the American Psychological Association in 2019 noted that working remotely "can improve employee productivity, creativity and morale", on the condition that employers properly understand the nature of remote work and implement the necessary strategies to foster collaboration.
Introducing…
The Scalers' Playbook To Building a Strong Remote Team Culture
When you're in the office it's easy to notice the hunched shoulders of a somewhat-forlorn colleague, indicating (hopefully) that it sounds like it's time to plan a morale-boosting activity. However, when you're working remotely it isn't so simple to spot. That's why it makes sense to build these activities into your teams' regular schedule.
So whether working remotely and onboarding remote employees is something you've always done, or your employees have made their distributed debuts as a result of the coronavirus, you're in the right place. Chats by the water cooler, tasty team lunches, Friday drinks… Do distributed teams have to miss out on these worldly pleasures? Our answer is a resounding "no".
STRONG TEAM SPIRIT
Here are some of our favourite activities that help to build team spirit and a strong remote culture.
1. Online Standups
At The Scalers, our standup has always been done in our HQ in Bangalore, headed by the CEO Emilien and featuring the friendly faces of the Europe-based marketing team via Zoom. However, in the confines of quarantine, we've transitioned to everyone participating from home. And it works fantastically well, with a shared sense of togetherness and camaraderie. All the heads of department give an update, and everyone has a chance to ask a question, make an announcement, or simply let everyone know about an interesting project they're working on. It's a great way of keeping connected and up to speed on everyone's activities.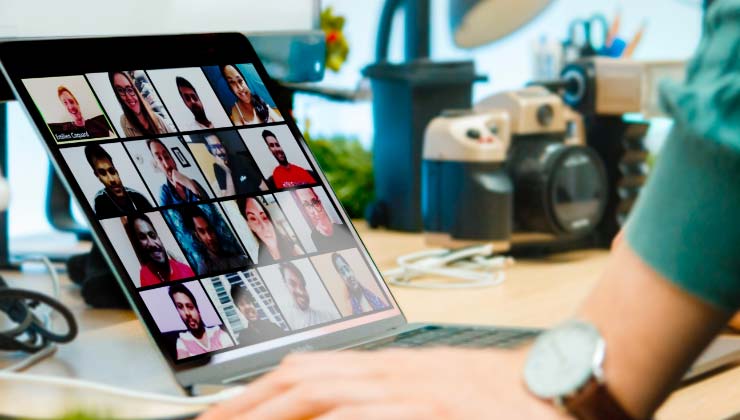 2. Skills Sharing Sessions
Skills sharing is a great way of dispersing knowledge throughout your team and growing as an organisation — but it's also an opportunity to encourage communication between different functions within the business. You'll be surprised by the plethora of knowledge your teams bring to the table. Some of the sessions that we conducted at The Scalers included:
CEO organised a contract-closing masterclass
Chief of Staff gave a tutorial on effective public speaking
Head of Marketing discussed how and why content marketing is crucial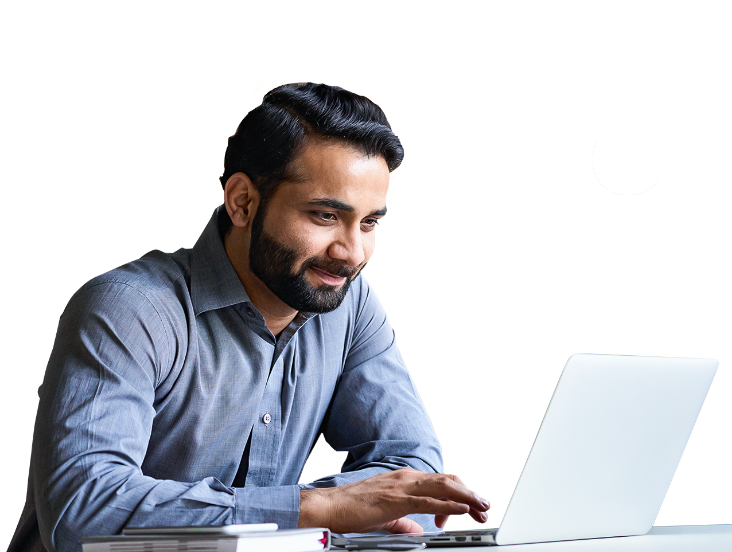 Build your offshore development centre
Increase innovation and deliver at speed in the Silicon Valley of Asia
LEARN MORE
3. Creative Competitions
During the coronavirus lockdown, our Head of Marketing decided to host an Art Challenge in support of the #StayHome hashtag. The competition saw aspiring artists create themed pieces to encourage people to stay inside during quarantine. Our winner was Senior Engineer Chetan D. from the Preqin's team, with this excellent piece: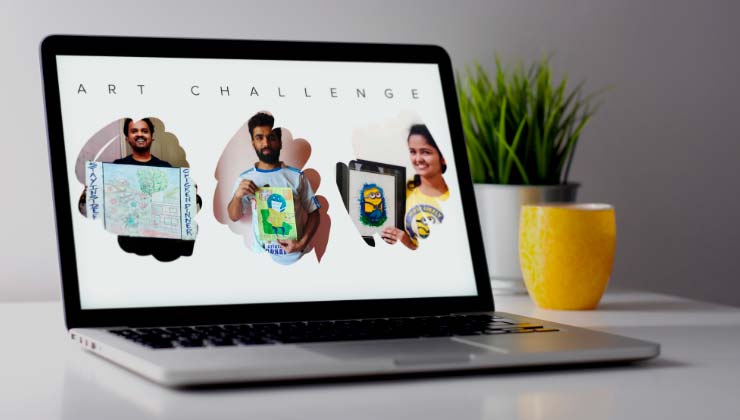 An unexpected benefit of getting the creative juices flowing is it can lead to an unofficial brainstorm and kick off some cool concepts. So, what are you waiting for? From art challenges to poetry slams, put on your artistic hats and get your ideas on the page.
@Home Talent Show
When our Chief of Staff announced the talent show, we didn't expect to see such a range of talented individuals: chefs, singers, comedians, gymnasts — The Scalers Got Talent, indeed. Our winner saw Lahari, one of our client's developers, perform the Dance Masti.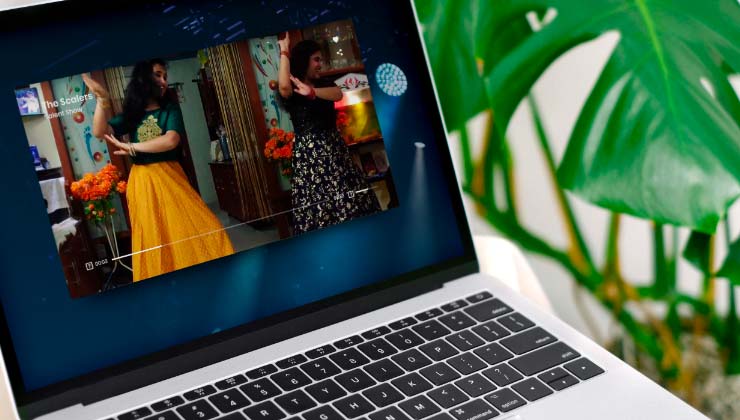 Cooking Club
Rustling up a raspberry crumble might seem super-simple to you, but your colleagues might be really appreciative of your help and guidance on their culinary quest. Cooking encourages group bonding, improved communication, and fosters camaraderie all while whipping up your favourite dishes. It's especially fun with distributed teams who all bring something local to the table, literally.
4. Activities for Kids
Family time is fantastic, and remote working means you've got more time to spend time with those at home. While having your kids around is great, their minds wander and require stimulation, and this may present a (pleasant) distraction when you're trying to polish that presentation. Branded colouring books, themed lessons, games for parents and children… it's time to get creative. Employee engagement is crucial for any organisation, but when it comes to building a strong remote culture — keeping the kids engaged while you work can be just as key.
5. Virtual Happy Hour
One of the few positives to arise out of the coronavirus lockdown are the innovative ways people ensure personal connection continues. And, like many things relating to pubs, Britain and Ireland lead the way! It's not just virtual pub quizzes that have popped up. But, virtual pubs themselves, such as the aptly named Corona Arms. Team outings accompanied by a couple of drinks are a great way to encourage bonding among colleagues. And, give them the chance to get to know each other outside of the office… and now it's totally possible to do it virtually.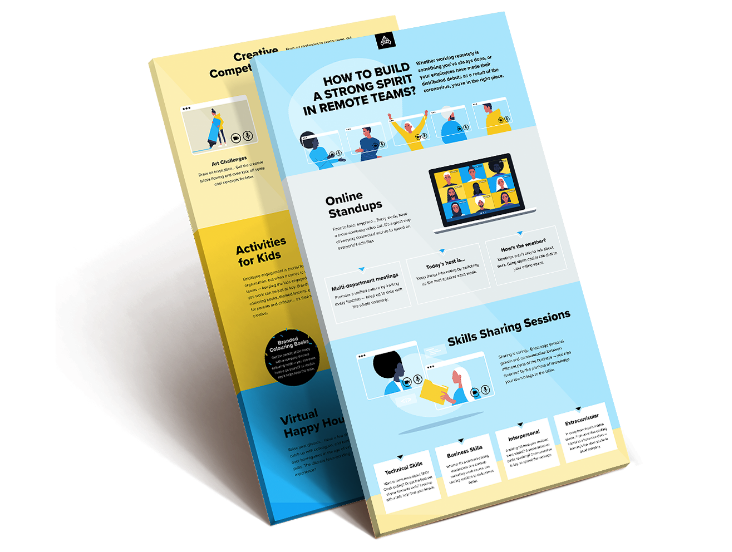 Remote Team Culture: Our Playbook
Check out five practical ideas to help you build a strong spirit in your remote teams
Summary
So now you know all there is to know-how about building remote-team spirit, and why it's important. It's a myth that distributed teams aren't able to generate a strong remote culture and enjoy a culture of collaboration and creativity. Try some of the activities detailed above, and throw in a few of your own and be sure to let us know how you get on.
If you'd like to know more about building or extending a remote development team, or your business is struggling to find top-tier developers locally, and you're looking to scale quickly — then download a copy of our offshoring crash-course ebook. As experts in building dedicated engineering teams in India, we can help you build your A-Team.