A comprehensive guide to onboarding remote employees

Divya Gunashekar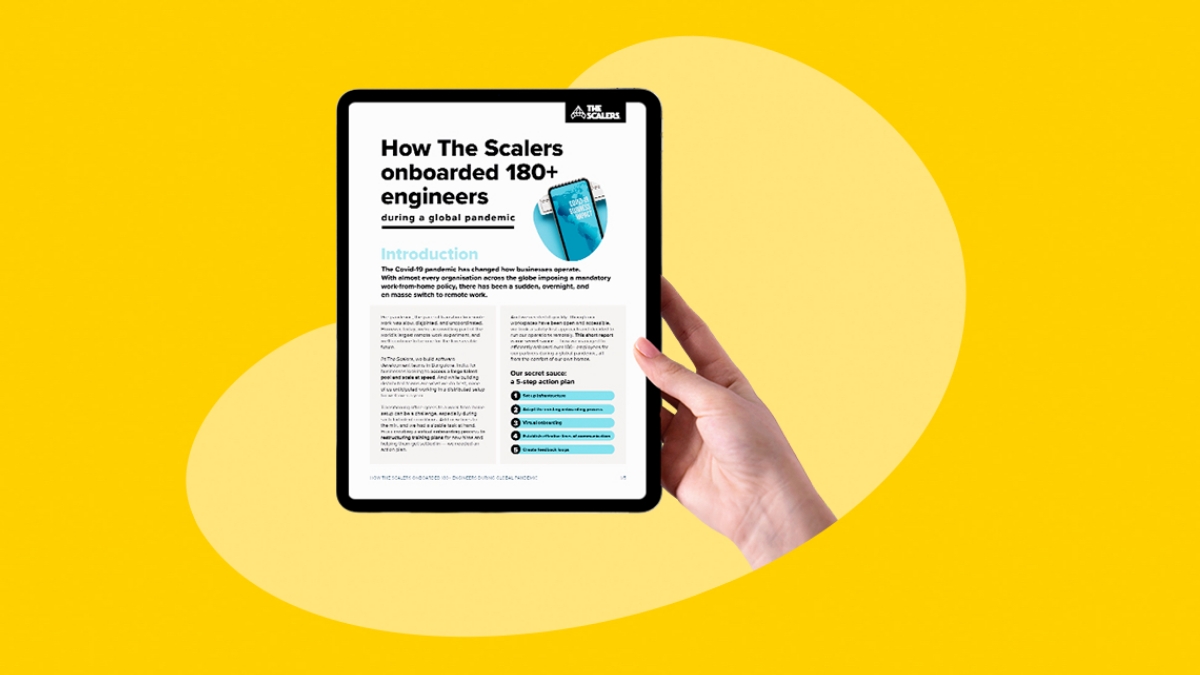 The onboarding process can have a dramatic effect on job performance and employee satisfaction. In fact, a study conducted by the Aberdeen Group showed that organisations with a standard onboarding process experience 54% greater new hire productivity and 50% greater new hire retention.
However, in a remote or distributed setup, this is easier said than done. The combination of logistical and cultural differences (in some cases), in addition to the typical challenges with new starts, means that companies are unsure of how to welcome new hires, bridge the culture gap, and make them feel appreciated. And with the Covid-19 pandemic urging businesses to operate remotely, onboarding employees has definitely become somewhat of a challenge.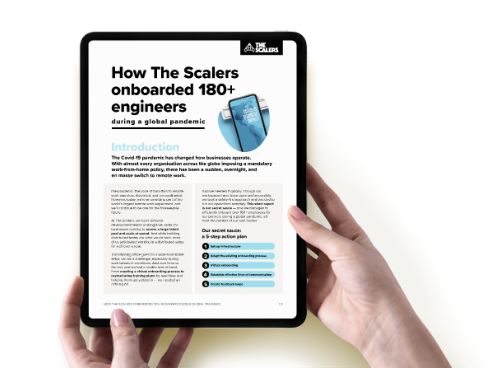 Remote Onboarding: Our Secret Sauce
How we onboarded over 180+ engineers remotely during a pandemic
DOWNLOAD WHITEPAPER
Remote onboarding: An unchartered territory
At The Scalers, we build software development teams in Bangalore, India, for businesses looking to access a large talent pool and scale at speed. And while building distributed teams is what we do best, none of us anticipated working in a remote setup for well over a year.
Transitioning office goers to a work-from-home setup can be a challenge, especially during such turbulent conditions. Add new hires to the mix, and we had a sizable task at hand. That's when we created our virtual onboarding process — a system designed to efficiently onboard new hires from anywhere in the world.
And so, we're sharing some tried-and-tested tips to improve how businesses onboard remote employees and global teams. We'll also explore the significant impact that this has on collaboration, employee experience, and productivity.
We've also just released a Whitepaper on how we onboarded over 180 engineers for our partners during the Covid-19 pandemic.
The essential aspects of onboarding employees
Onboarding starts before the work does
The most effective onboarding process kicks off the day a company rolls out its offer. The delay between a job offer and starting work can be anywhere from a few days to several months. Especially in the latter case, it's imperative that the delay doesn't fall into negligence.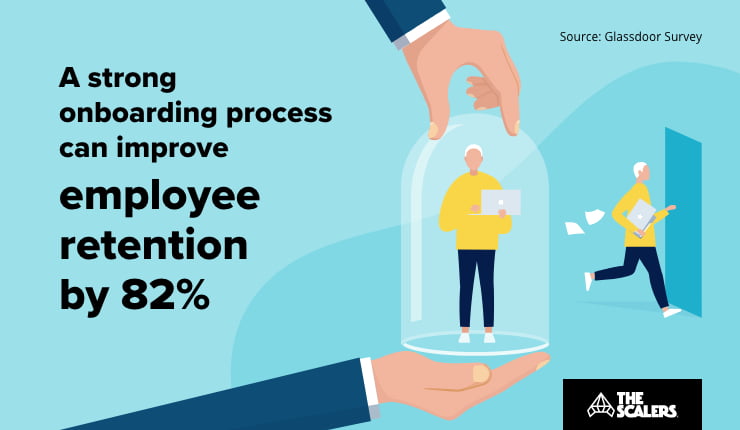 So what can companies do?
Schedule weekly catch-up calls or drop regular emails to see if there's anything the new hire needs. Simply making your presence known goes a long way in demonstrating investment in new employees. At The Scalers, we send little care packages — flowers, some branded goodies, or even an indulgent dessert to bring a smile to their face. It's all about keeping new employees warm and feeling like they made the right choice.
Cultivating effective teamwork and collaboration
Proper onboarding will always make your employees feel like part of 'the family' — even if you don't phrase it that way. It helps them belong. And when people feel valued at work, they tend to be more invested in their success. The quality of output will be better than a similar employee who feels excluded, unhappy, or simply a little isolated.
Managers should also take time to describe the ethos of the company. Encourage new hires to ask questions and make sure they know that being wrong is still a success. These small efforts can give your employees the confidence to strike up conversations or approach other team members about issues or new collaborations. Particularly for offshore or remote workers whose colleagues could be 10,000 miles away, onboarding is crucial to getting settled.
We like to assign our new hires a 'buddy' — someone who knows the ropes of the business, chats easily, and is nice to be around. Having a 'go-to' person in a new work environment substantially reduces isolation or nerves among new employees.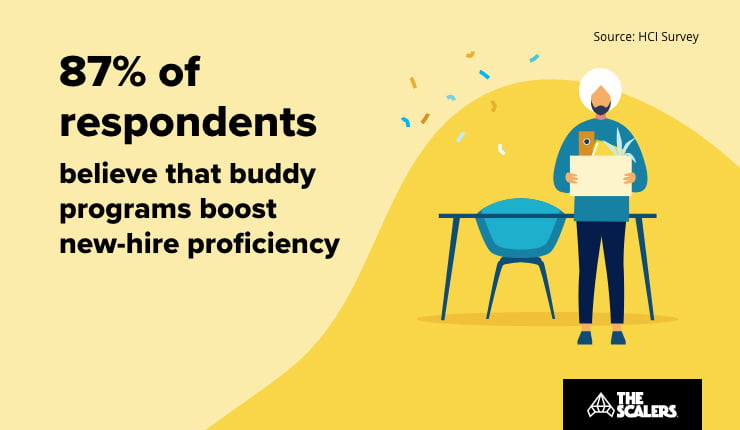 Onboarding remote employees the right way
There are a million and one ways to conduct onboarding for remote employees that are a part of a global team. And most of them are pretty good options. Here are a few that we think are particularly important for onboarding offshore team members.
1. Walk them through the organisational structure
Employees learn a lot about their company from simply watching interactions between colleagues and their management. However, in a remote setup, this isn't really possible.
So, managers should jump on a call with new hires to explain how the company works, who's in charge, and who they'll be working with. Creating a back-of-envelope organisational chart or something similar could be helpful.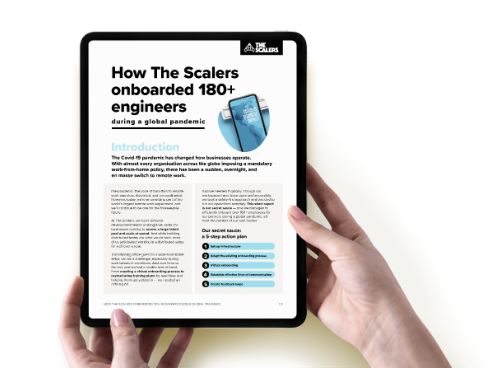 Remote Onboarding: Our Secret Sauce
How we onboarded over 180+ engineers remotely during a pandemic
DOWNLOAD WHITEPAPER
2. Prepare a dedicated workspace
When building an offshore team, setting up a productive workspace is crucial. It also requires a decent amount of thought and effort, though a dedicated offshore development partner usually takes care of these details. Details like providing all the necessary software and tools, providing a computer, and any specialist equipment.
For instance, at The Scalers, we provide new hires with a welcome pack that contains their laptop, notepad, some sweet treats, and even a personalised mug. Small gestures like these can go a long way in making the employee feel valued, involved, and appreciated. Of course, less altruistically, it also helps them deliver productive work more quickly.
3. Fine tune the roles and responsibilities of your remote employees
It's a pretty obvious one, but when onboarding remote employees, the manager should run through their job description, key responsibilities, performance review structure, and anything else of reasonable importance. Crucially, this should be a conversation — not a senior employee dictating terms. Get their opinion and use it productively.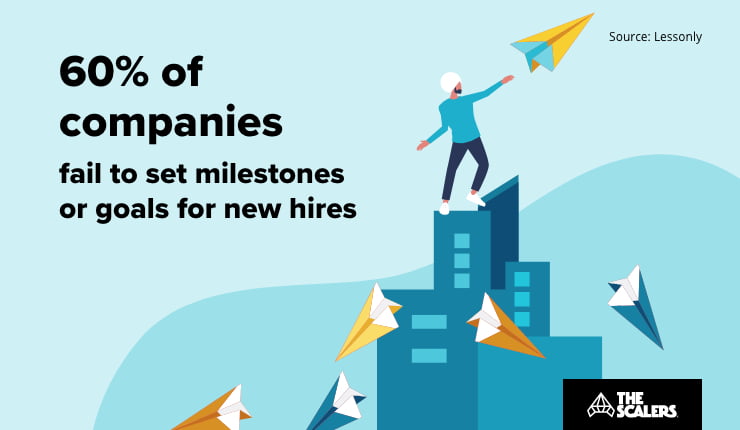 This is also a great time to establish short-term personal and professional goals. At The Scalers, as a rule, we put a lot of focus on the first 45 days: if the new hires are happy, involved, and productive at this stage, then we can be confident they're a great long-term match for the business.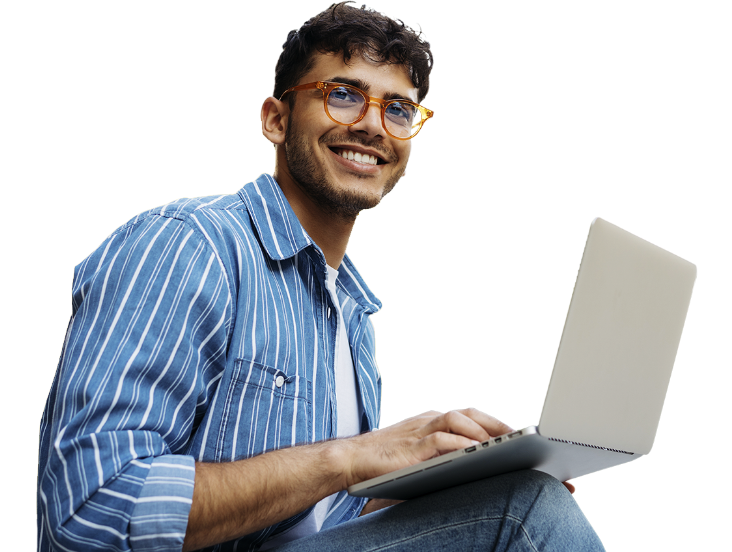 Build an offshore development team
Can't find the skills you need at home? Stop searching and start scaling
LEARN MORE
How we onboarded 180+ engineers during a global pandemic
The onboarding process is an early fork in the road, when new employees remain headed toward engagement or veer off in another direction. It's an organisation's first and foremost chance to make an impression that stays with new joiners for the duration of their careers. That's why it's important to get it right.
Our latest whitepaper explains how we onboarded over 180 engineers for our partners during the Covid-19 pandemic.
What will you learn?
Our secret sauce: A 5-step action plan to onboard remote employees and ensure they're settled and bought into the company culture.
How we adapted our existing onboarding processes during this 'new normal' to mirror real-world practices in the virtual space.
Our 1-day virtual onboarding program — processes and meetings to help new hires get acquainted with the business, their teams, policies, and more.
How you can maintain high levels of engagement and boost employee retention after you've onboarded your new hires.
At The Scalers, we not only help our partners recruit the best talent in the industry but also guide them through the onboarding process and help to build a healthy team culture. We're their eyes and ears on the ground, helping them establish a team that is engaged, motivated, and efficient.
If you have any questions about building a global development team, feel free to reach out to us using the contact form below, and we'll get back to you!