An insight into what our employee onboarding process looks like

Tom White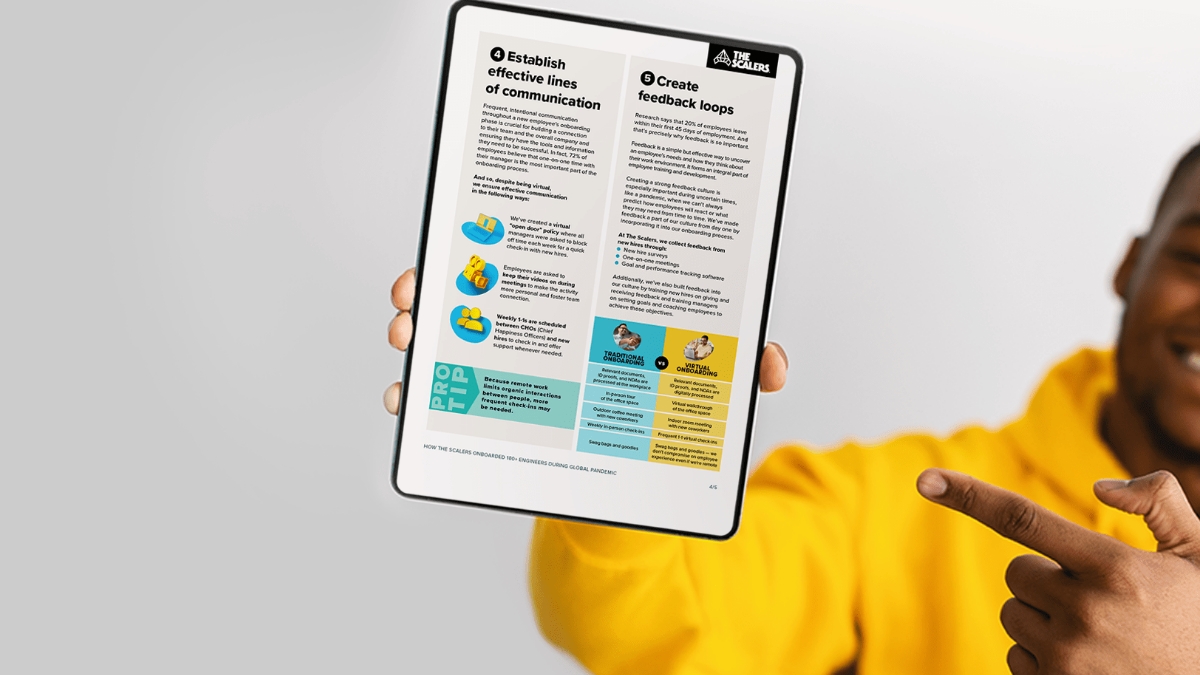 According to a recent study, 20% of new hires resign within 45 days of their new role. While some employees cited reasons like poor clarity and unmet expectations about the position itself, others said that the onboarding process was simply ineffective and overwhelming.
And organisations actually agree. In fact, only 40% of businesses believe that they've managed to create a standard and effective onboarding process that helps new hires feel comfortable in their new role while the others fall short.
Unsurprisingly, building a standard employee onboarding process when working with distributed teams is even more challenging. The combination of logistical and cultural differences (in some cases), in addition to the typical challenges associated with new starters, means that companies are unsure of how to welcome them, bridge the culture gap, and make them feel appreciated.
Designing a virtual employee onboarding process in 2021
At The Scalers, we build software development teams in Bangalore, India, for businesses looking to access a large talent pool and scale at speed. And while building distributed teams is what we do best, none of us anticipated working in a remote setup for well over a year, no thanks to the pandemic.
To make the process of transitioning office goers to a work-from-home setup, we created our own virtual employee onboarding process — a system designed to efficiently onboard new hires from anywhere in the world. And we used it to successfully onboard (and retain) over 180 engineers in just 12 months!
If you want to know how we did it, download our free whitepaper, 'How the Scalers Onboarded Over 180+ Engineers During a Global Pandemic.'
What will you learn?
Our secret sauce: A 5-step action plan to onboard remote employees and ensure they're settled and bought into the company culture.
How we adapted our existing employee onboarding processes during this 'new normal' to mirror real-world practices in the virtual space.
Our 1-day virtual onboarding program — processes and meetings to help new hires get acquainted with the business, their teams, policies, and more.
How you can maintain high levels of engagement and boost employee retention after you've onboarded your new hires.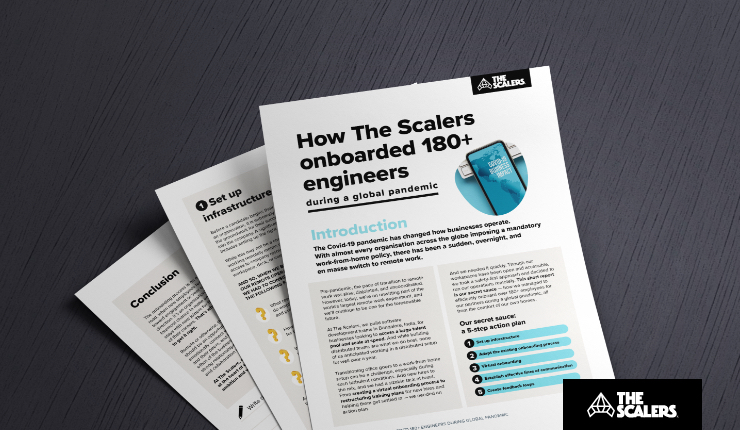 If you're looking for more information on how to onboard remote employees and global teams, we've listed out four tried-and-tested tips to help you get started:
1. Focus on pre-boarding activities
According to a study conducted by the Aberdeen Group, organisations that implement a pre-boarding process are 11% more likely to retain employees in the first year than those that don't.
What is pre-boarding?
Pre-boarding is a part of the employee onboarding process that starts from the day they sign the offer letter. Starting a new job can often be overwhelming and stressful for a lot of people, and so, spacing out formalities and processes is always a good thing.
For instance, instead of asking new hires to fill out all their HR paperwork on the day of onboarding, you can send it to them a few days in advance so they can fill it out digitally. Virtual onboarding is all about tailoring a process that works best for both — the employee and the employer. You can also send them an onboarding checklist and an employee handbook that outlines the policies and procedures, so they know what to expect.
2. Onboarding is more than just a one-day event
Did you know that, on average, it takes new employees eight months to reach full productivity and proficiency? And yet, only 37% of businesses extend their employee onboarding program beyond the first month. This means that new hires go for at least seven months without the support they need. And in a distributed team, this means trouble.
When working with global and remote teams, communication is paramount. The most successful employee onboarding programs are those that factor in frequent check-ins to ensure that new hires are on track.
A simple 10-minute catch-up call at the end of every week, especially for the first six months, can do wonders to boost the morale and confidence of a new employee who might otherwise be feeling overwhelmed and anxious.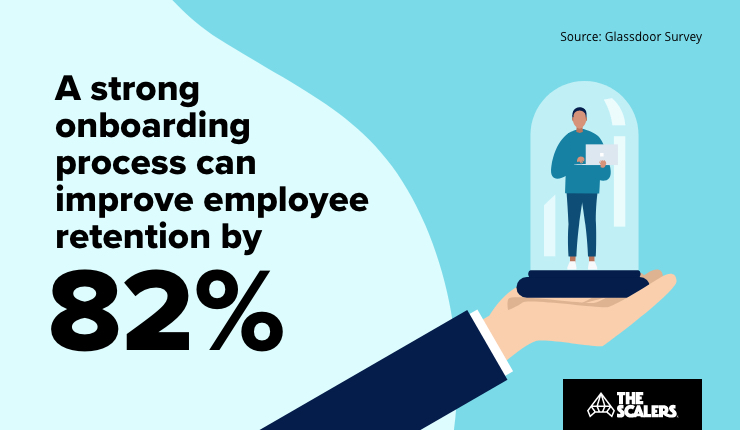 3. Plan for social integration
According to a study by OfficeVibe, 70% of employees believe that having friends at work is the most crucial element to a happy work life. And when you're working in a distributed setup, this becomes even more important.
People thrive on social relationships, and new hires are no different. Unfortunately, one of the most underrated components of the employee onboarding process is social integration. So how can you facilitate connections when designing an onboarding program?
Start by scheduling a few 1-1 calls between new hires and their teams. These virtual calls do not have to have an 'agenda' — it's simply a way for them to get to know each other better. You can even assign new hires a dedicated 'buddy' — someone familiar with the organisation, the people, and the policies, and can make them feel welcome. By helping new employees build these relationships early on, you're establishing a foundation for their long-term success in their role.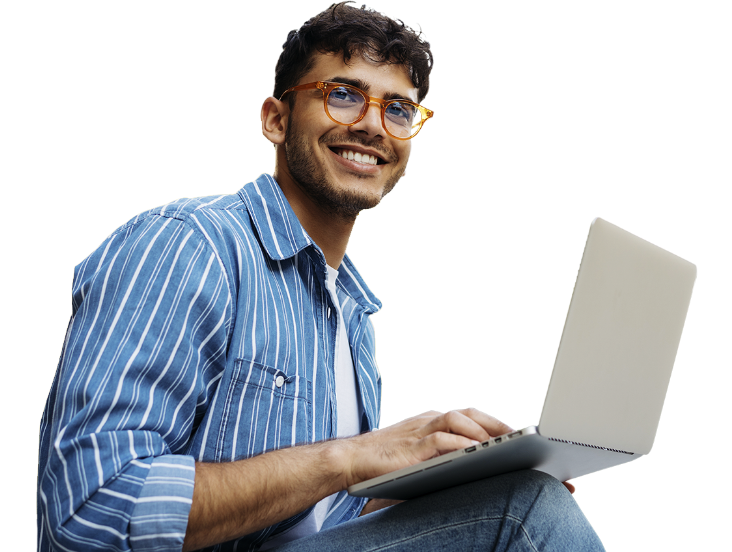 Build an offshore development team
Can't find the skills you need at home? Stop searching and start scaling
LEARN MORE
4. Always welcome feedback
If you've never designed a virtual employee onboarding process before, chances are that you might need some help to make it as efficient and effective as possible. And what better way to understand what's working and what's not than to ask for feedback from your new hires?
You can create a simple survey that newly onboarded employees can fill out, stating what they liked, what they didn't, and how they think it can be done better. These kinds of questions give you valuable insights that you won't get anywhere else — a tool to help you improve your employee onboarding processes, virtual or otherwise.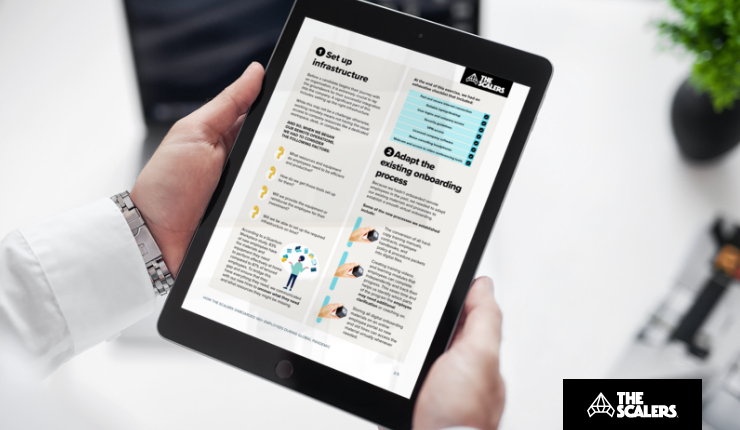 Following these simple tips will help you create employee onboarding processes that are all about enhancing the experience of new hires. After all, the onboarding process is an early fork in the road that determines if your new employees remain headed toward engagement or veer off in another direction.
If you have any questions about our onboarding process or building a global development team, feel free to reach out to us by filling out the contact form below, and we'll get back to you within 24 hours.