Building the best tech teams — interviews with our townhall award winners

Stephen Hedrick
2021 was a phenomenal year for The Scalers, and in December's townhall, we highlighted our plans for exponential growth. As we're set to exceed expectations and continue to expand at a rapid pace, we thought now would be a great time to give you another sneak peek behind the scenes and show you who's behind the success of building the best tech teams.
In this exclusive insider look, our townhall award winners spoke to Stephen Hedrick — our Senior Content Writer — to provide an insight into their roles, what they entail, and how they add value for our partners. Let's get started!
Building the best tech teams starts with acquiring the right talent
Stephen: Congratulations, Mohammad, on being the winner of our Townhall's Rising Star Award. You've been a recruitment champion this year, rapidly excelling, attracting talent, becoming a rising star. So, let's start with a few questions to gain insight into your role as a Talent Acquisition Specialist and its function.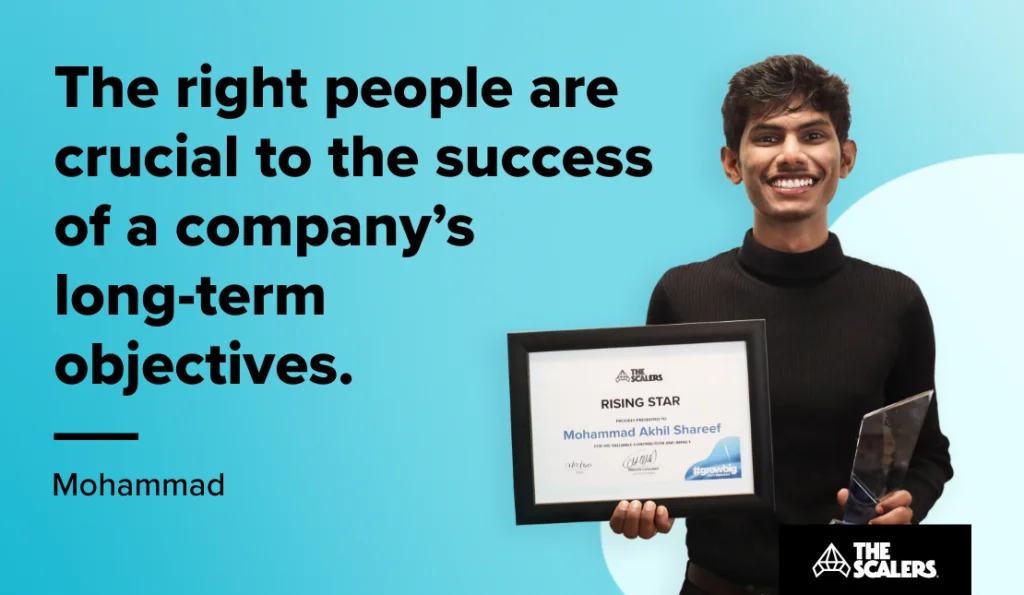 Can you tell me what your role in building the best tech teams entails?
Mohammad: I'm a Talent Acquisition Specialist, and my role is to source, attract, and interview prospective tech candidates to find the best fit for a company's long-term objectives. This is a sensitive and time-consuming process as people play an essential role in any organisation and are crucial to their success.
What is the difference between talent acquisition and recruiting?
Mohammad: Recruiting involves putting together a job description and finding a candidate who matches it, whereas talent acquisition involves evaluating whether the candidate and company fit together. This method requires screening candidates in various ways. You not only confirm that the candidate meets all the requirements of the job but check that others factors, such as whether they are articulate, can communicate well, have a good work ethic, and a positive attitude, etc.
What do you look for in a candidate, and can you tell me the steps involved?
Mohammad: Our first step is to conduct a market analysis based on the job description. It helps if you begin by understanding the nature of the work and the technology involved. You determine the technical knowledge one must have, the difficulty of the job, and the budget. After that, we have a pre-screening call to determine whether their communication is good and if what they have written on their CV matches their responses.
Do you tailor the process to each of your partners?
Mohammad:
All candidates go through varying rounds of screening. For instance, the technical round assesses their technical capabilities and approach to a given scenario and tests their knowledge. The managerial round considers how they would perform their duties in the same situation. The HR round presents an opportunity to address the candidate's concerns. It also allows us to ask them why they are leaving their current job, and query their expectations, etc.
How would you decide between two candidates with similar qualifications?
Mohammad: If employees compete for the same role with similar technical and communication skills, I tend to look at different factors, such as how stable the candidate has been in their past roles. For example, how long did they stay in their last position? How many companies have they worked for in the last 5-10 years? I also check what their approach to given scenarios might be and how well they can execute this approach.
Sourcing the top 1% developers
Stephen: Congratulations, Shravya Mekkini, on winning Recruiter of the Year during the last Townhall event. As an Associate Manager, you've earned a reputation as the most admired recruiter in the Talent Acquisition team because you find the best talent for our partners in the shortest time.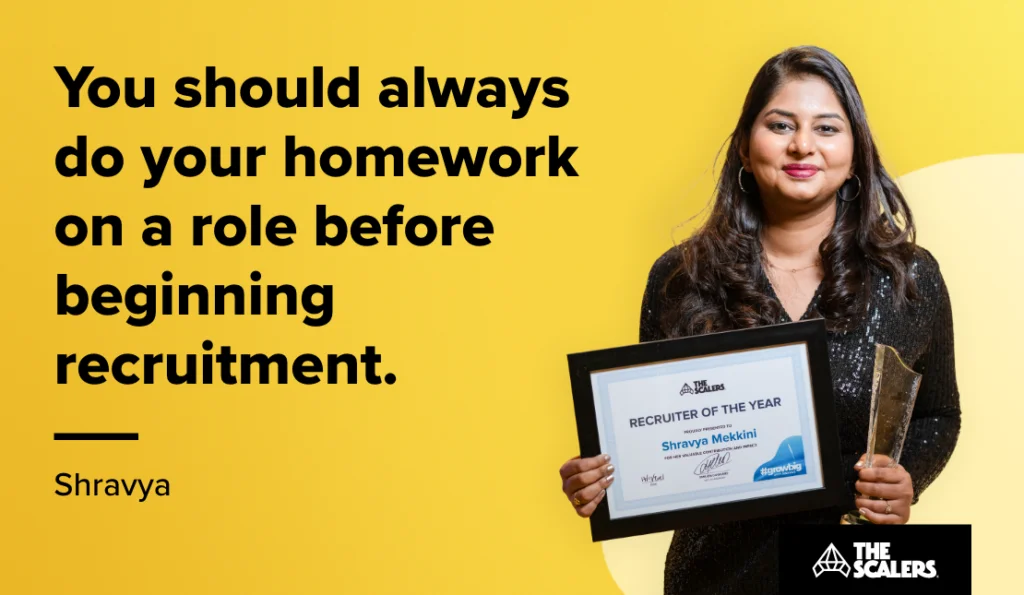 What techniques do you use to find the perfect candidate?
Shravya: We always begin by sourcing candidates from various portals after determining what the partner wants, the domain experience they expect, the projects and the primary skills they are working on. These classifications help us find potential candidates from the companies we target. We also talk to passive candidates with significant experience in their fields and past successes. The main factors we consider are education, company stability and background.
How do you determine whether you can meet a partner's needs?
Shravya: We use our talent pipeline information to derive analytics. We consider the time needed to find a candidate that can fully meet the requirements of the position. Some positions require more time than others and some potential candidates have a longer time to hire than others. The differences are typically the result of the agreements that candidates have with their current employers. Some companies only require candidates to give a notice period of 60 days, while others require 90 days.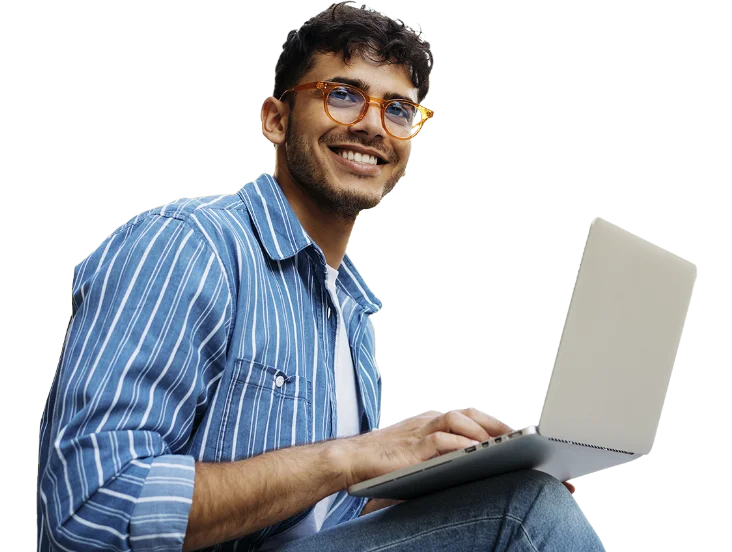 Build an offshore development team
Can't find the skills you need at home? Stop searching and start scaling
LEARN MORE
When building the best tech teams, how does your recruiting process work?
We use premium platforms such as Instahyre to recruit active candidates who are looking for work and use career development and professional networking platforms like LinkedIn to look for passive candidates that have the combination of education and experience we need. We also post a lot of job offers and ask employees for referrals.
In The Scalers, we have different recruitment stages. First, we engage in recruitment sourcing, and then we conduct pre-screening interviews. Out of eight candidates, six might advance to the technical round, out of those six, three candidates might go on the shortlist, and out of three, one might make it to the managerial stage.
What traits tell you that a candidate is qualified?
Shravya: Candidates not only need to exhibit general positive personality traits, but they also need to demonstrate that they are driven and possess a solid work ethic. This might mean checking how often they take action to update their skills. We also see if candidates can explain their previous roles and responsibilities to us. We check to see whether they joined their past projects from the outset or if they supported them halfway through. Moreover, we check to see if they have researched the company they are applying for and how self-motivated, detail-oriented, and confident they are.
What are some best practices you follow as a recruiter?
Shravya: Recruiters must do extensive research to ensure they understand the roles they are hiring for. When asking a recruiter a question, we need to be sure we know the answers ourselves. It takes a lot of planning to accomplish this. It is essential to take a strategic approach to sourcing candidates, thinking about how to find them effectively.
Best Candidate Engagement
Stephen: Whenever we ask our partners about their engagements, the name "Sushmitha" stands out. You've been awarded the Best Candidate Engagement. So, Sushmitha, as a team lead and an expert in your field, you've helped our partners scale their development teams without exception. Can you tell us something more about your role?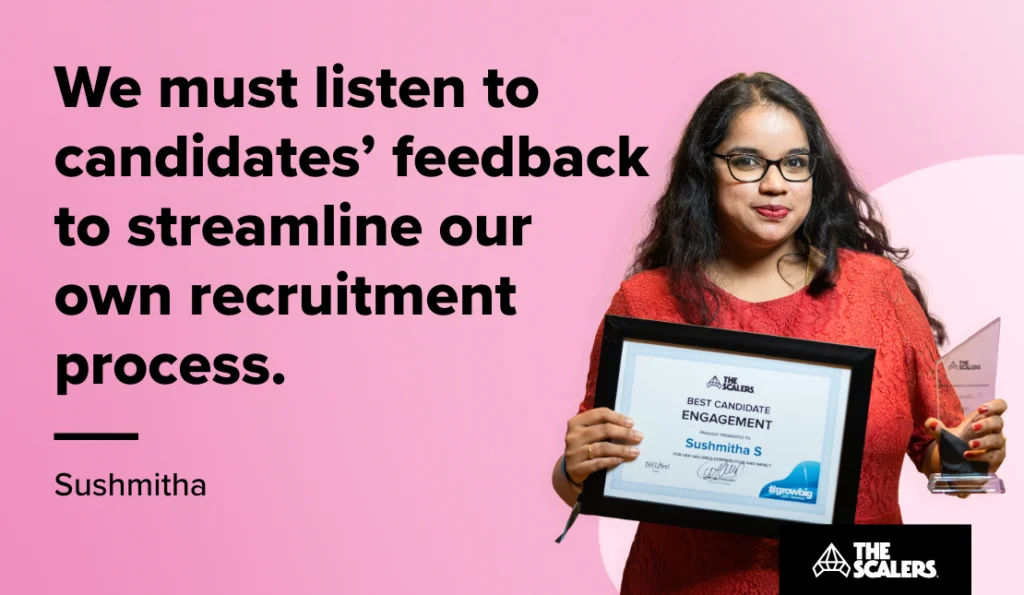 Why is candidate engagement critical when building the best tech teams?
Sushmitha: It is no secret that software development is a competitive field. Engineers are in high demand. This reality puts pressure on recruitment and increases candidates' chance of dropping out before onboarding. However, this dropout rate decreases when the candidate is engaged well, meaning that the candidate's experience is critical for continued success. Moreover, this same engineer might refer a friend if the recruitment process is positive.
How can a company improve their client engagement?
Sushmitha: To streamline and refine our client engagement and recruitment process, we must listen to candidates and collect their feedback. We can gain a deeper understanding of our company's vision, mission, and culture by viewing it from an outsider's perspective. For this to happen, Stephens must ensure that the feedback given must be honest, to the point, and unbiased under any circumstances.
How is client engagement measured?
Sushmitha: Proper client engagement should capture information on the candidate, i.e. their name, location, years of experience, education, and current job status.We also have to produce a timeline of their career, for example, how they started their career and in what position they commenced. We need to assess their focus on the details of their current projects and candidates' roles and see if they have similar methodologies and approaches to solving problems.
How do you know your client engagement was successful?
Sushmitha: We are on the road to success when we validate a candidate's tech skills and gain a better understanding of their core competencies. Once we have determined what drives their career change and personal growth we can take the final steps. It is vital to measure these qualities, but the ultimate success in recruiting is how many people you interview versus how many people you hire.
What etiquette do you follow when pre-screening a candidate?
Sushmitha: As part of the interview process, we record the calls to ensure the candidate is okay with the recording. Before the call, we inform our team lead or recruiters that the candidate agrees. We always greet them with a warm welcome and make them feel comfortable in the discussion.
Building the best tech teams requires top-tier daily operations
Stephen: Welcome, Shabreen Begum; congratulations on being awarded the Loyalty Award. As a Senior Operations Specialist (Payroll), you've worked for several domains, reporting and learning with best practices in the organisation for the last 3+ years. You have proven time and time again your dedication and loyalty towards The Scalers. Let's dive in to learn more.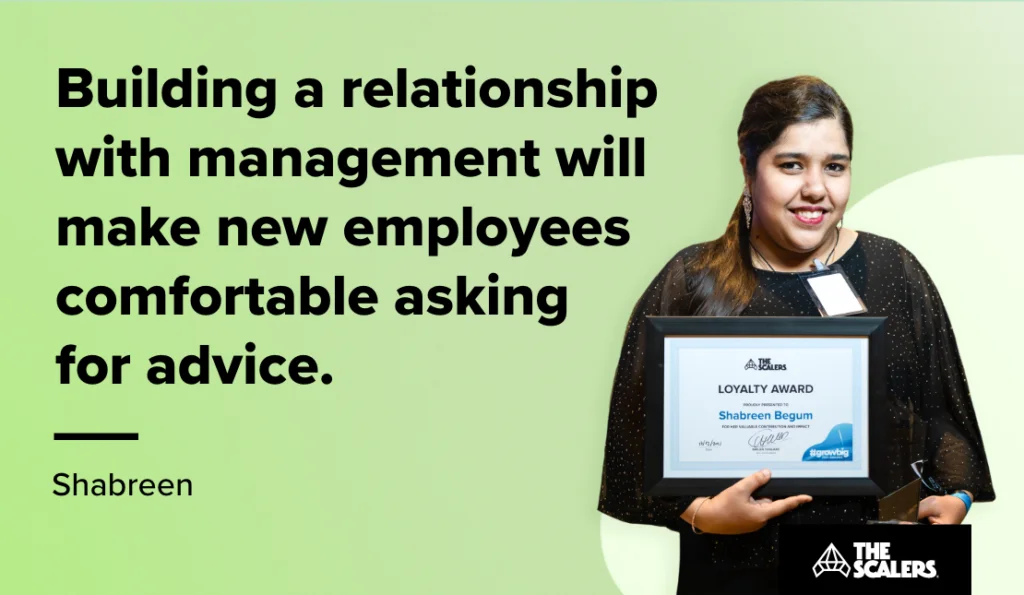 What skills do you need to have to be an operations specialist?
Shabreen: A specialist in operations liaises with the HR and recruitment teams, trains employees, among other things, so you must possess proven organisational skills, such as time management, project management experience, strong problem-solving and analytical skills, self-sufficiency; the ability to work independently, excellent verbal and written communication skills, and a keen eye for detail.
What are the best ways to manage workflow throughout an organisation?
Shabreen: The best way to manage workflow is to communicate the roles and responsibilities, complete organisational goals on time, weed out redundancies, establish specific etiquette guidelines, monitor key performance indicators, and encourage frequent training.
How involved should an operations specialist be in the onboarding process?
Shabreen: As an operations specialist, you must know all legal and administrative processes. It would help if you were involved in the onboarding process to advise which candidates are best suited for the environment and company culture they are applying for.
How do you train new hires and ensure they follow policies and procedures?
Shabreen: Onboarding begins with inducting new joiners by giving them an in-depth overview of their responsibilities and roles, conveying the company values and mission and updating them on our achievements thus far. We show them the different tools they will be using and ensure to have a short call each week to connect and help them with any questions they might have.
What recommendations do you have for improving and increasing performance?
Shabreen: In week one, setting the proper KPIs and expectations for the project is essential. Building the relationship between employees and management is crucial and ensuring that new employees are comfortable enough to ask their senior colleagues for advice.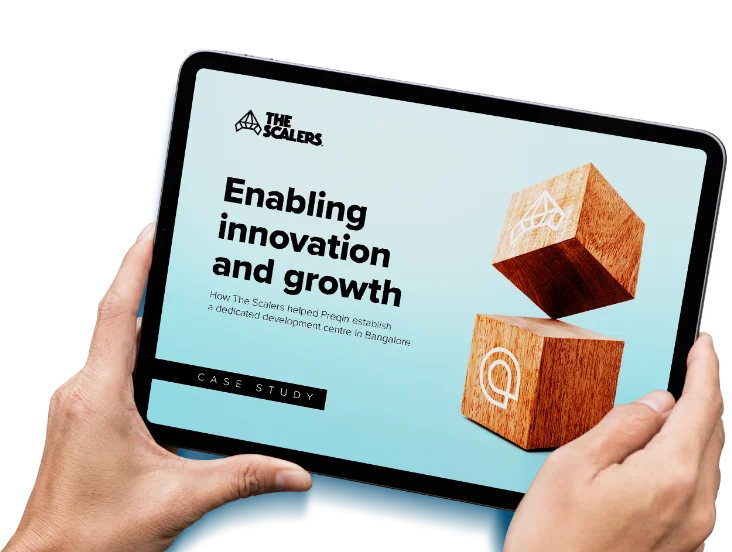 Scaling at speed: Preqin case study
How we helped a fintech establish a dedicated development centre in Bangalore
DOWNLOAD CASE STUDY
Why we'll continue building the best tech teams
At The Scalers, we have a top-notch team that is constantly improving our recruitment process so that we can continue building the best tech teams. These individuals are committed to providing high-quality talent to our existing partners so they can scale without limitations.
There you have it, ladies and gentlemen, a round of applause for the Townhall Award winners for 2022. It has been a pleasure working with you this year, and we look forward to congratulating all the new recipients next year.