Delving deeper into the dedicated team model of offshore software development

Luanne Botha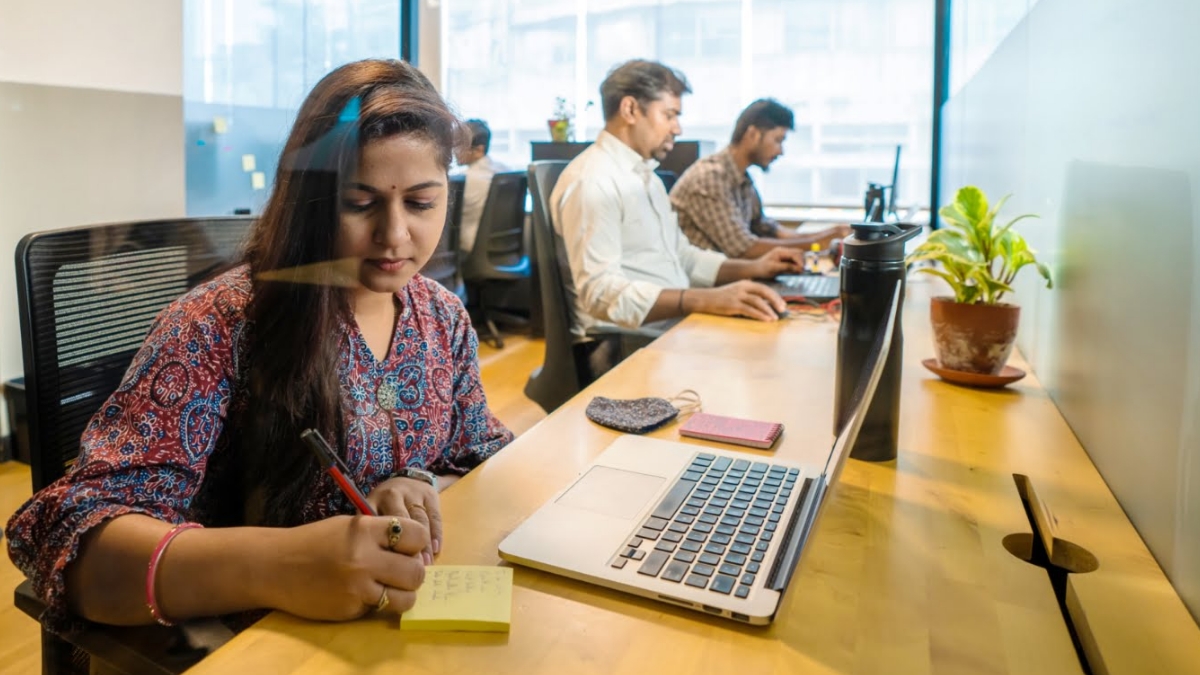 This article was previously published for the Forbes Tech Council and was written by our CEO, Emilien Coquard
Over the past six months of writing these articles, I've been prone to using terms such as 'Offshore 2.0', and 'dedicated team', and 'offshore cultural alignment'. I suppose because these form the bread and butter of what I do, I perhaps presume incorrectly that other people are as familiar with these phrases as I am. Additionally, I've tried to look at the concept of offshoring through an original lens, from Swedish pop music production to the operational model of global sports franchises.
Today I thought I'd delve a little more deeply into dedicated teams and the offshore dedicated team model as it pertains to software development, as a way to get back to basics so to speak, and to give a deeper level of insight into what it means in real terms.
Offshore moves to centre stage
I think it's now crystal clear that offshoring — in the context of software development — has been gaining traction at an accelerated pace in the eighteen months since the pandemic erupted globally. With businesses seeking to diversify their offerings, from family-run cafes partnering with food delivery services to bring customer favourites to suburban dining rooms, or gyms offering personalised classes at home via streaming — the world has truly embraced transformation.
For many organisations I speak to, the pandemic has pushed forward their digital initiatives by as much as five years. In this new age, speed and flexibility are the keys to innovation, and unlocking this resilience requires software-centricity. Centric to that is talented developers.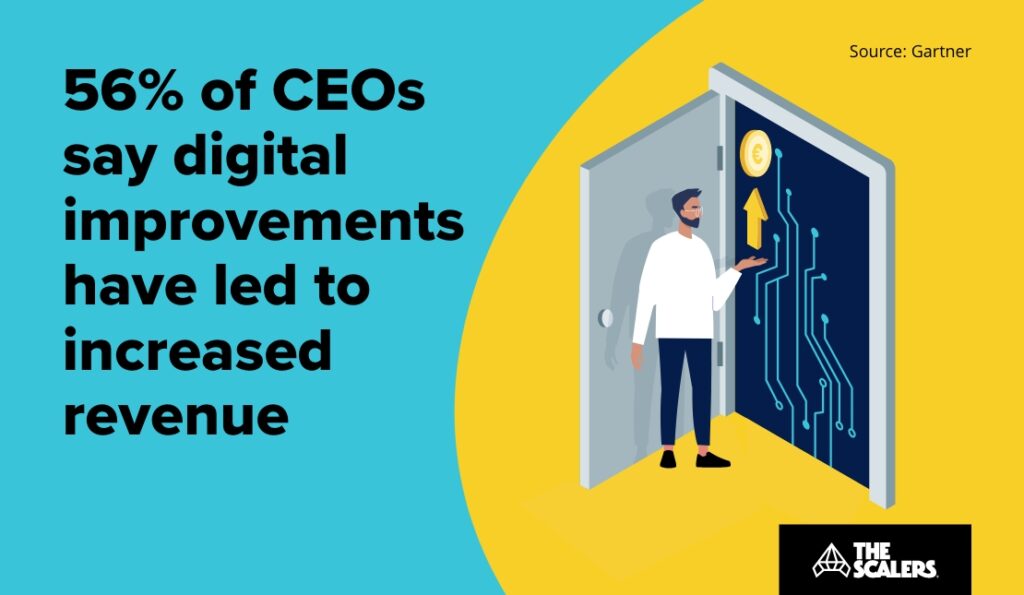 Local obstacles to overcome
If we've established that developers are central to everything, then the next question to explore is why companies who limit their hires to those found locally risk falling behind? In places like Western Europe, North America, and Australia the competition for top talent is extremely fierce, with the tech giants hoovering up the best developers.
I suppose to put it in a nutshell: it's very much a seller's market where smaller organisations, including challengers and new entrants, have to compete with major players for the engineers with elite-level skills they need to go up a level. Simply put, building your engineering team locally means potentially missing out on skills you can find elsewhere. While the offshore dedicated team model is one option, another is outsourcing.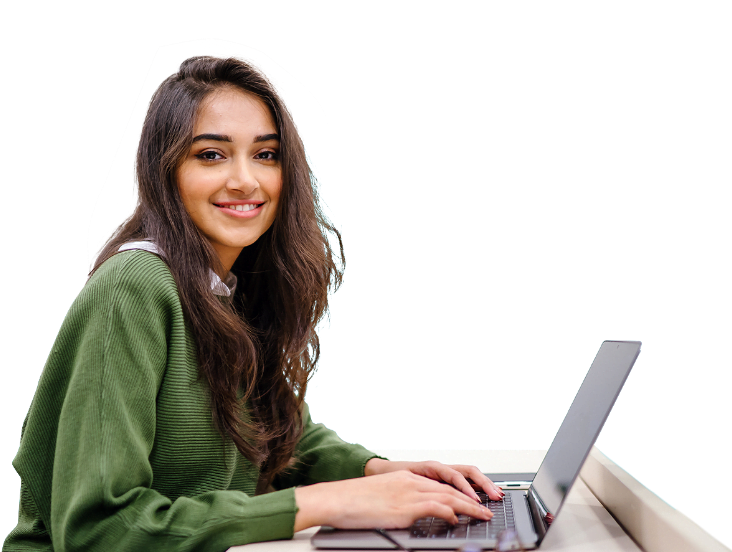 Extend your tech team
in Bangalore
Speed up your software delivery with an integrated and dedicated team
LEARN MORE
"Can't I just outsource?"
Of course. For some organisations, a project-by-project style of external software development is what they're looking for. Perhaps for a temporary increase in their pipeline, or to build an app they don't intend to deliver continuously for an extended period. However, there are issues around a lack of control and there remain concerns around quality control and engineer 'buy in' to the products and services being built, on a personal level.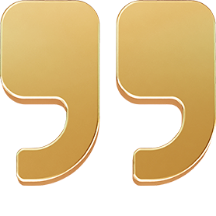 "With dedicated offshore teams, the level of talent is so important because it's about long-term value, collaboration, and cultural alignment — and not cost optimisation"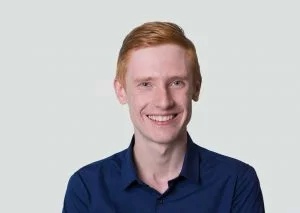 – Emilien Coquard,
CEO & Co-Founder, The Scalers
The offshore dedicated team model to the rescue
While all offshore team builders have different ideas about what's best — they all have a refined model of doing things. The best providers will deliver recruitment services to build your initial team and then scale up on demand. On top of that, they will manage your administrative side of things and day-to-day operations — while you're in charge of their output and retain control. You essentially work identically with your offshore team as you do with the team at home, with tools and processes in place to collaborate seamlessly across continents if necessary.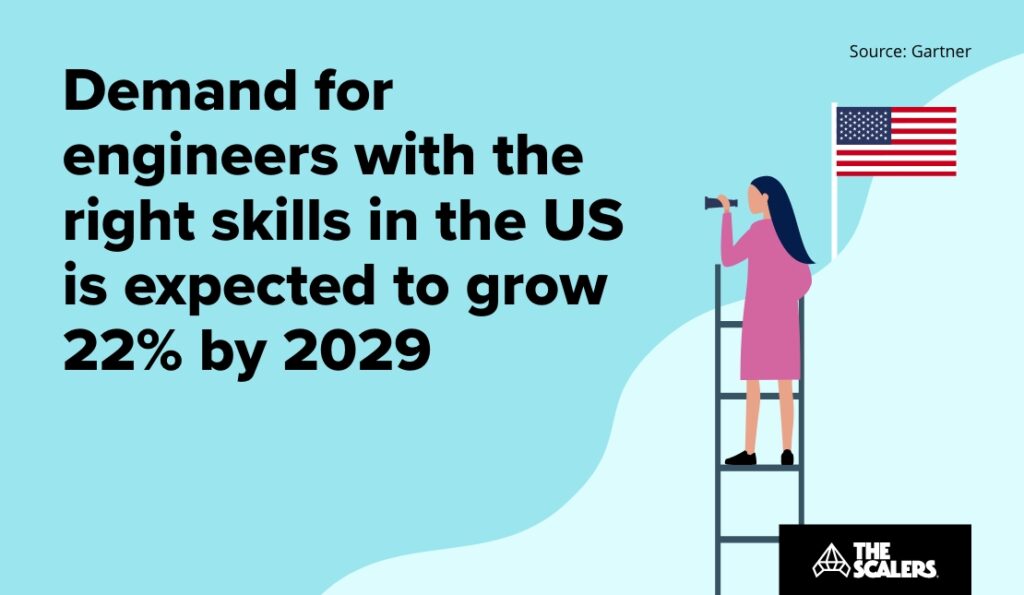 Perhaps most significantly, the cultural fit of the engineers is paramount, helping to increase the aforementioned organisational buy-in of the extended team and boost levels of retention. I'd make a strong argument that when an offshore team is built, onboarded, and aligned properly that it's not seen as an 'other' at all, but a fully integrated part of the overall engineering setup.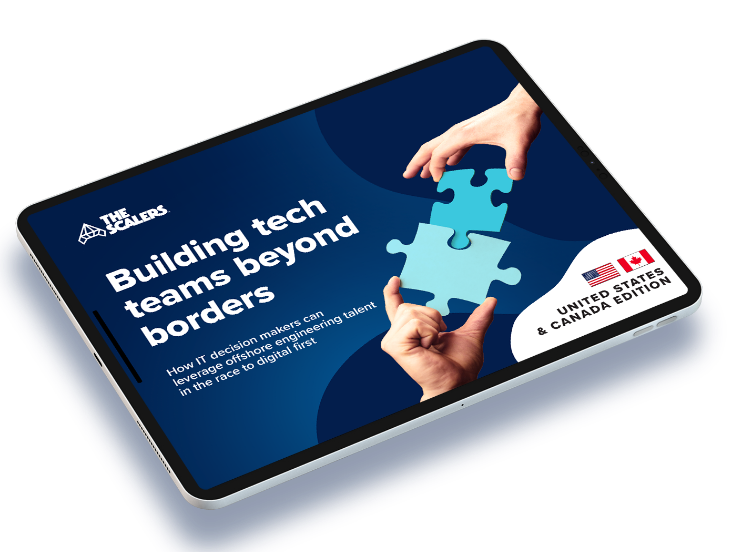 Combating the North American skills gap
How US and Canadian businesses can leverage global talent to scale without limits
DOWNLOAD WHITEPAPER
The downsides of dedication?
For the sake of balance, with the offshore dedicated team model there's more of a role in recruitment to play than with software houses. While the technical testing is administered by your offshore partner, the final interviews lie with you. However, since the biggest and most significant advantage is that you gain unlimited access to top tech talent — highly skilled engineers who possess the ability to exceed your requirements — that some small adaptation to working with people from a different culture can only be seen as a drawback when viewed through a very specific lens. In fact, with cultural diversity at senior level shown to deliver value for organisations, I'd argue it's actually a benefit.
Ultimately, the level of talent is so important because it's about long-term value, collaboration and cultural alignment and not strictly cost optimization and speed of delivery.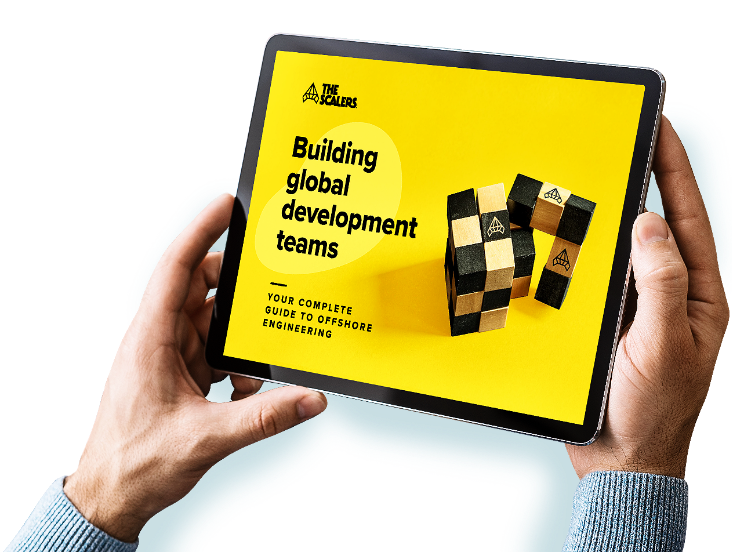 Learn how to build elite offshore teams
How to beat local skill shortages and set up your development centre abroad
DOWNLOAD GUIDE
Offshore dedicated team model: wrapping it up
Forward-thinking business leaders need to define their needs. Software houses will always remain a viable option for short-term projects where hired hands are required to manage a temporarily bulging pipeline. However, if the business requires elite, integrated developers to permanently scale a business with a view to the long term then it's very difficult to argue against the dedicated team approach.
As I always say: offshoring used to be about finding a price you couldn't get at home, whereas today it's about finding the skills and people you can't get at home. It's about building a strategic asset to benefit your organisation for the long term.