The big boom in offshore outsourcing has kicked off a fierce debate surrounding the ethics of offshoring . Ranging from job losses to low-quality output, the industry has been under attack. However, offshore software development companies in India tell us a different story through their contribution to the country's thriving IT ecosystem and speedy economic growth.
Offshore Outsourcing Dilemmas
Blue collar, white collar
While many of the ethical arguments in the offshore outsourcing debate ring true for manufacturing jobs and blue collar workers, the white collar and services sector are a different kettle of fish. Between 2000 and 2004, America witnessed a 32% drop in the number of students in computer science degree programs while Europe's high-tech industry remains in continuous decline — only nine of the world's top 100 ICT companies are headquartered in Europe. A loss of jobs in the host country has been touted as the main negative effect of outsourcing, but it is often sluggish supply in the IT sector that prompts companies to shift branches of their operations abroad.
The rising tide that lifts all boats
To cultivate their competitive edge in the global marketplace, companies are increasingly compelled to seek out low-wage geographies for sections of their operations. And while financial exploitation of workers is indeed a real and pressing issue, it is important to stress the sector-specific nature of the problem i.e. manufacturing. Low wages are not an absolute concept but a relative one. So despite earning a fraction of their American counterpart's salary, an Indian software developer's cost of living is low and their purchasing power strong. When it comes to wages, larger numbers aren't always better.
Moreover, India's booming IT ecosystem employs millions of developers — increasing by the minute — and has had a socioeconomic impact of astronomical proportions. Nine per cent of India's incremental GDP is derived from the IT-BPO industry, while the industry employs 2.2 million people directly, and eight million indirectly. This has transformed critical areas such as education, healthcare, and employment — all contributing to the significant improvement of citizens' lives.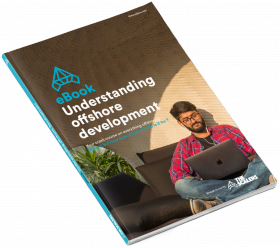 Understanding Offshore Development eBook
Your crash course on everything offshoring.
What is it? How does it work? Is it for you?
Download My Ebook
Quantifying Quality
Predominantly considered a cost-saving measure, there has often been an expectation of low-quality output attached to offshore outsourcing. However, in the recent Global Startup Ecosystem Ranking by San Francisco-based Compass, Bangalore was the only city apart from Singapore to feature in the top 20. This ranking is an impressive testimony to the quality of Indian software developers.
Outsourcing software offshore has also provided companies the opportunity to offload tasks with less added value, allowing them to concentrate their resources in more sophisticated areas like architecture and technical management. On top of that, scalability across a wide range of skills helps explain the growing popularity of offshore outsourcing to destinations like Bangalore and Hyderabad.
Although offshore outsourcing has been the source of heated debate on the international stage, the software industry stands beyond the parameters of the discussion. Global supply and demand of software developers helps to demystify the tale of US job losses. And despite providing strong skills at a low cost, Indian software developers enjoy a high a standard of living while the software industry has injected a boost of vitality into the Indian economy. Due to software offshore outsourcing, India is no longer the world's back office, but a country climbing the economic ladder at exceptional speed.