How to choose the right offshore software development company

Deepak Arunachalam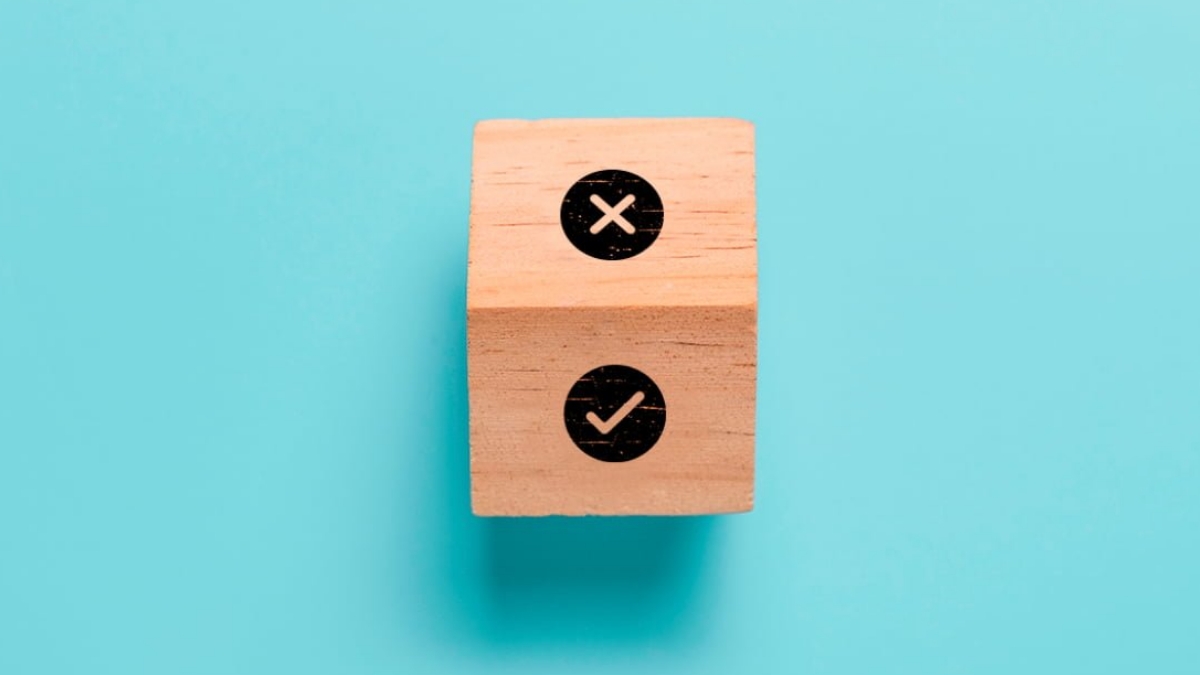 As companies strive to remain competitive in the technological rat race, the offshore software development industry has gained considerable momentum. Offshoring allows companies in the US and Europe to access talented engineers in emerging nations like India.
Lots of companies want to offshore to reduce costs but managing offshore teams is tricky. So, you need a good partner. If you hire a team in another country, you'll only see them once or twice a year. This means that managing these employees and ensuring they deliver outstanding work is challenging.
An offshore software development company can help. Hiring offshore developers can be a complete game-changer for your business when you find the right offshore software development company.
The company's role is to build the right offshore team on your behalf and handle the administration while you run the company. As a result, you get a close-knit team of exceptional developers who are an extension of your team.
Choosing the right offshore software development company
Begin by defining what you want
Make sure you know what you want to gain from hiring an offshore development partner before you sign contracts with headhunting companies. Write a proposal that outlines your specific goals and metrics, the types of projects you want to offshore, your capacity and growth targets, and any existing issues.
Preparation is crucial for dealing with offshore software development companies. With a clear understanding of your expectations regarding team size, skill level, and other vital details, you can communicate your needs to offshoring companies.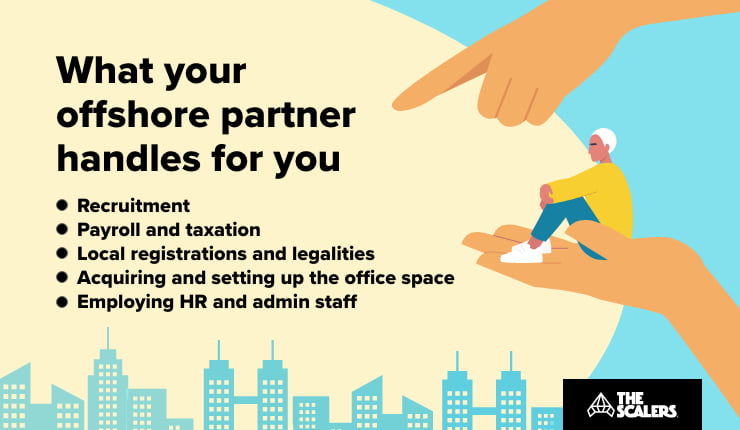 Become familiar with offshoring
It can be challenging to find someone you can trust to build offshore development teams. If you learn the ins and outs of offshoring, you can focus on ensuring that your partner is the right fit for you – rather than the other way around.
This also means clearly understanding the difference between outsourcing and offshoring. As a result, you can better assess the offshore software company's suitability.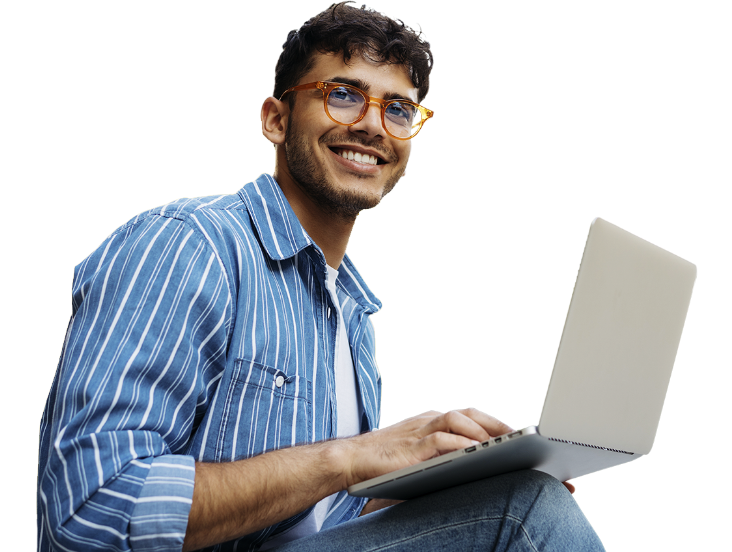 Build an offshore development team
Can't find the skills you need at home? Stop searching and start scaling
LEARN MORE
Ensure they demonstrate experience
It would help if you chose an offshore vendor with experience building world-class development teams for your business. You need a company with proven expertise in offshore software development.
You want to partner with a company who can demonstrate their success as remote offshore teams. A strong portfolio is vital, but references from colleagues or acquaintances are helpful. At the very least, you should expect detailed case studies demonstrating their problem-solving ability. If they're legitimate, you can move forward.
Investigate management capabilities and cultural fit
Peter Drucker once said management is doing the right thing. Only a few offshore software development companies do what they say. Don't partner with a company that is flying by the seat of its pants. Your company might have a great vision, but clumsy execution can hamstring it. Given the logistical challenges (time zones, distance), a strong management team is needed.
You can trust your partner to manage the administration tasks diligently. For evidence of their experience delivering effective offshore teams, ask directly what makes their management capability robust and reliable.
For example, to ensure cultural compatibility, a European software company could leverage Indian engineering talent. The long-existing links between the two as well as the influence of global corporations have created a perfect talent hot spot.
Evaluate cost-effectiveness, not cost
Access to the most qualified talent at the most affordable price should be a major factor in choosing to offshore your software development. Because the cost of living is lower in popular offshoring destinations like India, every offshoring partner will offer you lower rates than the equivalent back home in Western Europe or the US.
Remember, assessing value is key. For example, company X might charge 50% more than company Y but deliver results that are 3x better—more cost, but higher return.
Results from case studies can be a reliable barometer of value. Nevertheless, you should also evaluate the management team and staff—do you feel confident allowing them to help build your business?
Discuss the costs in detail. Inquire about quotes, timelines, and how unforeseen costs are handled. Is it a fixed fee or a variable fee? A reliable partner will have all the answers.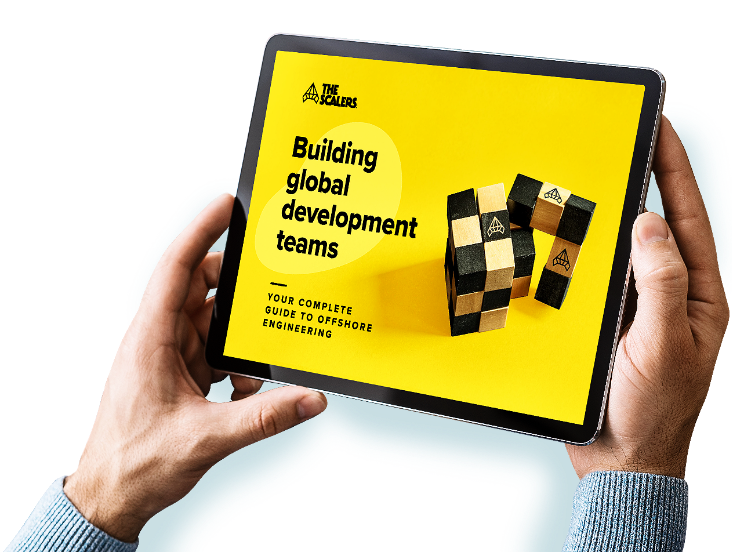 Learn how to build elite offshore teams
How to beat local skill shortages and set up your development centre abroad
DOWNLOAD GUIDE
Prioritise long-term goals and strategy
Offshore software development companies think long-term. While there are short-term milestones, the focus must be on the future as you integrate a full-time, permanent team.
Since typical offshore contracts run for years, your partner should understand your current business needs and those you anticipate in two years, five years, or even ten years. Ensure your remote team partner offers flexibility and adaptability as standards.
Offshore recruitment is critical for the future. It's imperative to hire world-class developers. Top-quality offshoring means a permanent workforce wholly and utterly devoted to your company.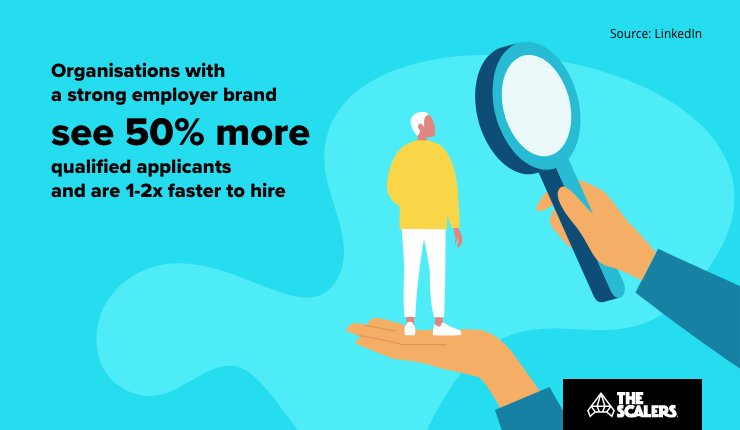 Questions to ask an offshore software development company before choosing them
Building a close-knit team of skilled developers can help add value to your team. Nevertheless, before partnering with an offshore development partner, it's essential to consider what you'd ask your partner before signing the deal. Below you will find the essential questions to ask:
How will they identify your needs?
If you are considering offshoring, you must make sure that the offshore software company understands your goals.
What are your specific goals, metrics, and growth targets? What are you working on now? Are they aware of your current business needs?
Offshore partners should research your business before meeting you. Discuss the finer details, like the size of the team and the skills you need. In the next step, the company will draft a proposal.
If they cannot identify your business needs, they are probably not the right fit.
What are their rates and how do they charge?
The right offshore development partner must be affordable but of high quality.In countries like India, the cost of living is lower, so two out of three offshoring partners will offer you a lower rate than at home.
Assessing which provides the highest value is key. Is your return higher if you pay more? Once you're confident about the pricing, it's time to get specific about the costs.
Ask about quotes, timelines, and unforeseen costs during the project. Is the monthly fee that you'll be paying fixed or variable? What expenses does the fee cover? Are there any hidden costs?
The right partner will be able to put your mind at ease and give you all the answers without any hesitation.
How does their recruitment process work?
You probably want to go offshore because of the acute shortage of talent. So you need to make sure the offshore development company you pick can guarantee access to the best talent.
Ask them about their recruitment process if you meet a potential offshore partner. How do they source candidates? How are candidates filtered out? Which criteria do they use? Do they value cultural compatibility?
You can even ask them for a portfolio of the teams they've built over the years. if the company can't demonstrate its success in building offshore teams, it's wise to walk away.
By answering these questions, you can determine what engineer you can expect to work with. You can also analyse their problem-solving abilities, dedication, and punctuality through this exercise.
A meticulous hiring process increases the chances of hiring the most qualified tech talent in the industry — and that's precisely what you need.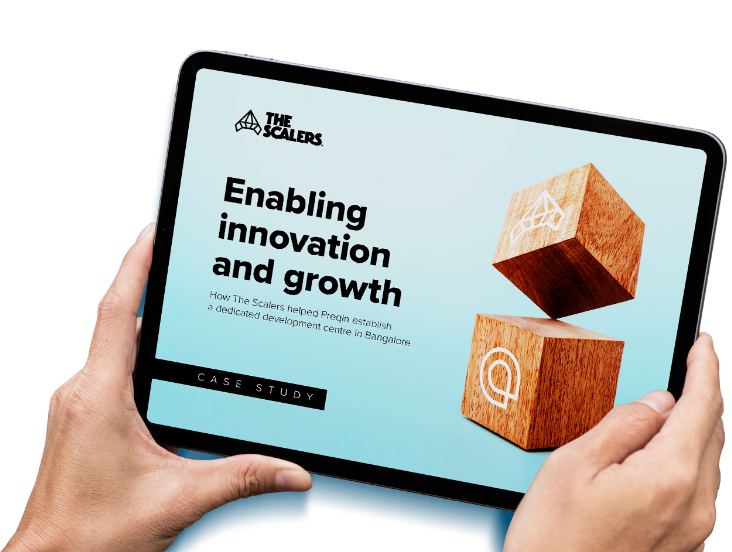 Scaling at speed: Preqin case study
How we helped a fintech establish a dedicated development centre in Bangalore
DOWNLOAD CASE STUDY
How long does it take to build a team?
Developers' availability, the project's complexity, and the required technical expertise all influence how long it takes to build a team. An experienced offshore partner can still give you a rough estimate.
The right offshore development company knows the industry, can quickly analyse project complexities and knows where to source developers. Alternatively, if the company is uncertain about timelines, it won't deliver on time. Your business could suffer a significant capital loss.
Who handles the administrative and legal activities?
Considering that you're 10,000 miles away, your offshore development partner is your trusted advisor. That means that they need to be able to handle all the administrative and legal activities for you.
They take care of the recruitment process, set up workstations and onboarding, and issue weekly/bi-monthly updates about your team.
So during your meeting with an offshore software development company, it's probably time to look elsewhere if they cannot offer you all this and more.
In the initial meeting, offshore software development companies must discuss these questions. You can find more tips and tricks in our blog Offshore Software Development: The Definitive Guide For CEOs.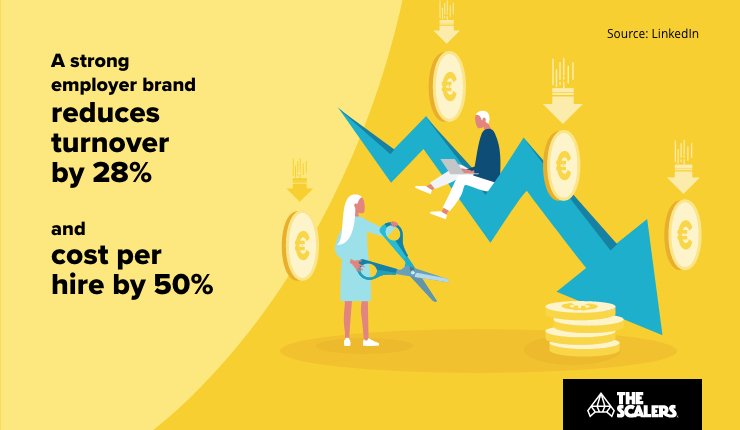 Put The Scalers to the test
Establishing your offshore team isn't as intimidating as it might seem. Here at The Scalers, we have a proven record of walking companies through the entire process, from establishing early requirements to signing off on a job well done.
If you'd like to hear our answers to the questions above, or any others about partnering with an offshore development company, feel free to reach out to us by filling out the contact form below, and we will get back to you within the next 24 hours.