The pros and cons of offshoring: traditional vs offshoring 2.0 model

Pablo Rodriguez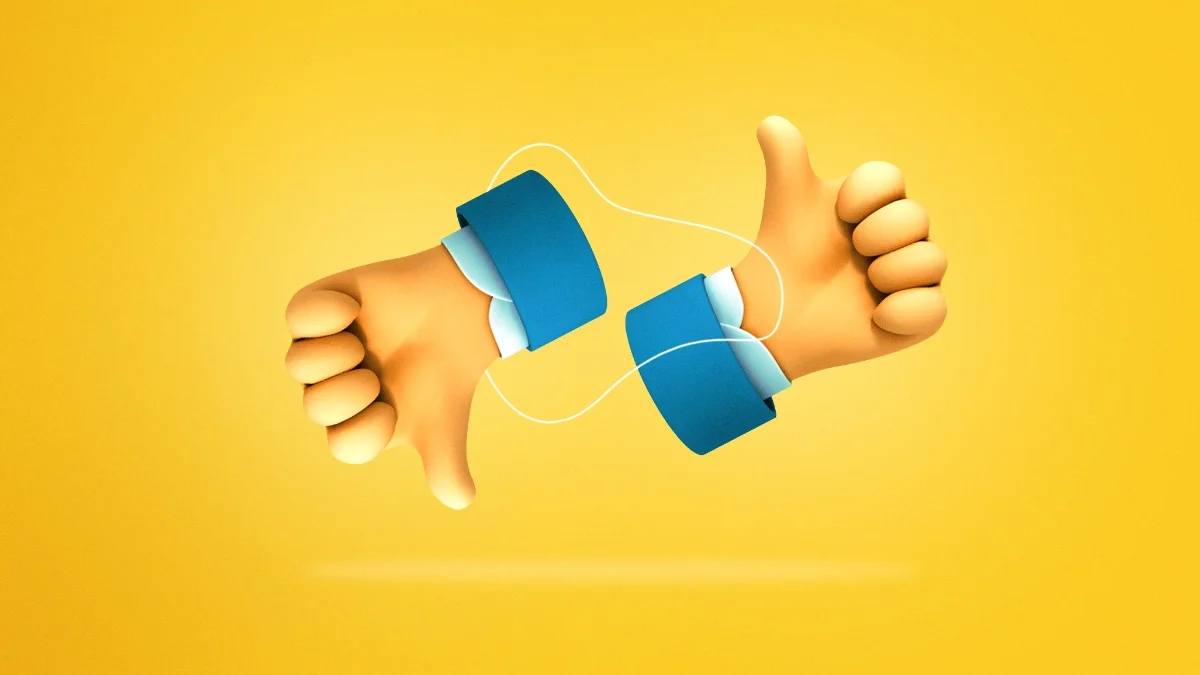 Here's a scary stat: 95% of companies in the tech industry can't find the talent they need.
And what's more worrying is you may be one of them.
If you've ever considered offshoring tech to overcome the talent shortage in your region, this guide is for you. After reading it, you'll be able to analyse the pros and cons of offshoring, what model works better for your business and the key to finding elite tech talent overseas.
CTOs, CEOs, and engineering leaders, this one's for you.
Let's get started!
What is offshoring?
Offshoring means delegating processes or moving operations to a foreign country. For example, hiring a dedicated team of Indian developers for your US or European-based company.
There might be various reasons for hiring an offshore team. Perhaps you're facing a talent shortage in your region, can't find the right skills, or are looking for cost leverage.
Either way, when offshoring business operations, you'll benefit from lower hiring costs and easy access to top talent worldwide, among other perks.
In recent years, offshoring popularity has faced scepticism because some vendors offer cheap and low-quality solutions for short-term collaborations. It's crucial you recognise these offerings, which look irresistible at first sight, and learn to differentiate them from high-quality offshoring.
Or, as we like to call it: offshoring 2.0.
But before moving forward with offshoring, you must understand the differences between the traditional model and offshoring 2.0.
To help you do so, we'll discuss the pros and cons of each model and why organisations are turning from a more traditional approach to an improved strategy that allows them to scale tech teams easily.
Offshoring advantages and disadvantages
To make a start, let's quickly outline the general advantages and disadvantages of offshoring compared to hiring and building a tech team locally.
Advantages of offshoring
Cost savings
Higher quality talent
Higher scalability
Save time spent hiring
Gain focus on your key tasks
Gain additional time zone coverage
Disadvantages of offshoring
Geographical distance
Possible communication barriers
Potential compliance and regulation issues
The traditional offshoring model
Traditional offshoring is a project-based approach where organisations collaborate short-term with external engineering teams.
For example, if you want to build a small team of software developers for a five-month project, the traditional offshoring model is a good fit for your business.
Developers on the traditional offshoring model execute tasks with the utmost commitment, but they won't add extra value to your organisation as they work on a brief and temporary assignment.
These offshore teams are known for having a high engineer rotation, with developers working on one or more projects simultaneously and not focusing on one partner at a time.
Traditional offshoring pros and cons list
The image below illustrates the offshoring pros and cons for companies leveraging the traditional model.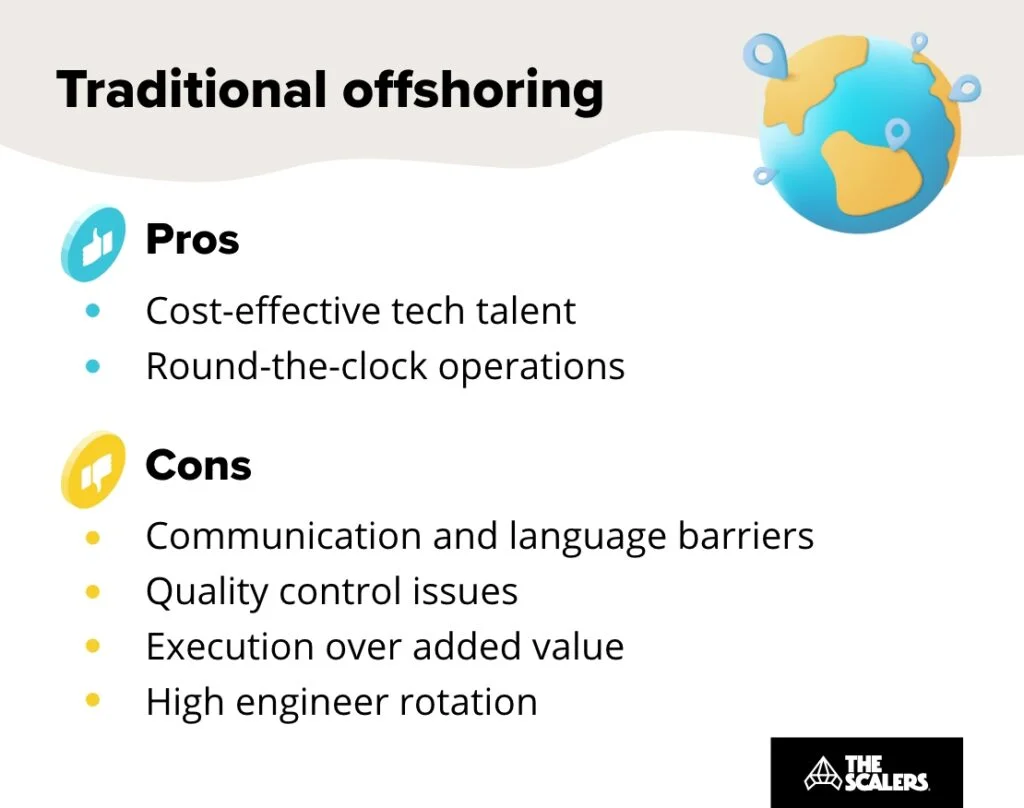 Pros of traditional offshoring
These are the two main advantages of traditional offshoring:
Cost-effective tech talent
Offshore developers are more cost-effective than local or regional engineers due to different factors, such as their home countries' cost of living and professional rates.

According to the tech salary insights portal Levels.fyi, a software engineer in New York earns €165,000/year on average. An equivalent engineer in Warsaw, Poland, receives €55,000/year.
That's a staggering difference, considering value for money.
And their value goes beyond lower salaries.
The US tech talent shortage is forcing firms to look for qualified engineers outside their borders, and regions like Eastern Europe and South East Asia are becoming increasingly popular.
Not only because of their cost-effectiveness but also due to the strong work ethic and niche programming skills developers in these countries possess.
Round-the-clock operations
Offshoring gives companies a competitive edge: a global presence and 24/7 operations.
How? Businesses that offshore tech following the traditional model have development teams working in different time zones. When their in-house or management team is unavailable, offshore engineers step in to continue the work.
Let's say your company is working to launch a new product and hire two engineers overseas to do the job. Despite working in a different time zone, they meet the short-term project's requirements before the deadline.
Having a few hours hour overlap between your offshore team and your headquarters didn't interfere with the resolution of the project. Instead, it resulted in higher productivity and a faster time to market.
Cons of traditional offshoring
Although offshoring brings many advantages, the traditional offshoring model has its faults. These are some of its disadvantages:
Execution over added value
Companies that offshore software development the traditional way care about quick product execution. Plain and simple.
But what if you're looking for engineers willing to go the extra mile, innovate, and stay longer in your team? Then, traditional offshoring isn't for you.
In the traditional model, software development teams have a job and perform it. It's mere execution, and there's no added value to it. Engineers often lack skills such as innovation or creative problem-solving.
Communication and language barriers
When you build a team in a foreign country, you risk hiring engineers who aren't proficient in English and don't know how to convey ideas accurately.
As a tech leader, you know how challenging it's to foster effective communication within your company, yet it's even greater with an offshore team.
And it's not just about the language.
The engineers you hire with traditional offshoring can deliver good results but aren't aligned with your company's mission or values. They're part of an external team with a clear mindset: completing a project and moving on to the next one.
Traditional offshoring emphasises a cost-focused mindset, prioritising cost savings over skills proficiency, fluent communication, innovative thinking, and cultural alignment.
Quality control issues
With communication and language barriers come concerns over the quality of the work.
Traditional offshoring follows a cost-centric approach, with companies hiring unskilled engineers with short experience in their field. These organisations want to build teams at a very low price, and what they get in return are engineers who don't meet the standards of an ultra-competitive industry.
The development team's lack of skills and quality can lead to miscommunication, incomplete deliverables, and inconsistencies in the final product.
High engineer rotation
Traditional offshoring generally involves hiring short-term engineering teams instead of dedicated developers.
The engineer rotation in these teams is high, with professionals onboarding and leaving your team after a few months of work.
Imagine you onboard and train a new engineering team for your company. Once completing their tasks, these developers move on to a new organisation, and the process repeats like a never-ending cycle: you're always onboarding and training a fresh group of engineers.
The result? Inefficiency and compromised speed and quality in your business workflow. Engineers aren't aligned with your company and provide no extra value in product development and innovation.
The offshoring 2.0 model
Offshoring 2.0 is the smarter way to go offshore, a better approach to offshore software development that emphasises long-term partnership and collaboration.
If you harness offshoring 2.0, you'll enjoy a team of hard-working top-notch offshore developers aligned with your company's mission, culture, and values. These engineers are 100% committed and focused on your goals.
The offshoring 2.0 model goes beyond cost savings and adds value to your organisation: offshore developers aren't external to your business but are part of it.
Offshoring 2.0 pros and cons list
The image below illustrates the offshoring pros and cons for companies leveraging the offshoring 2.0 model.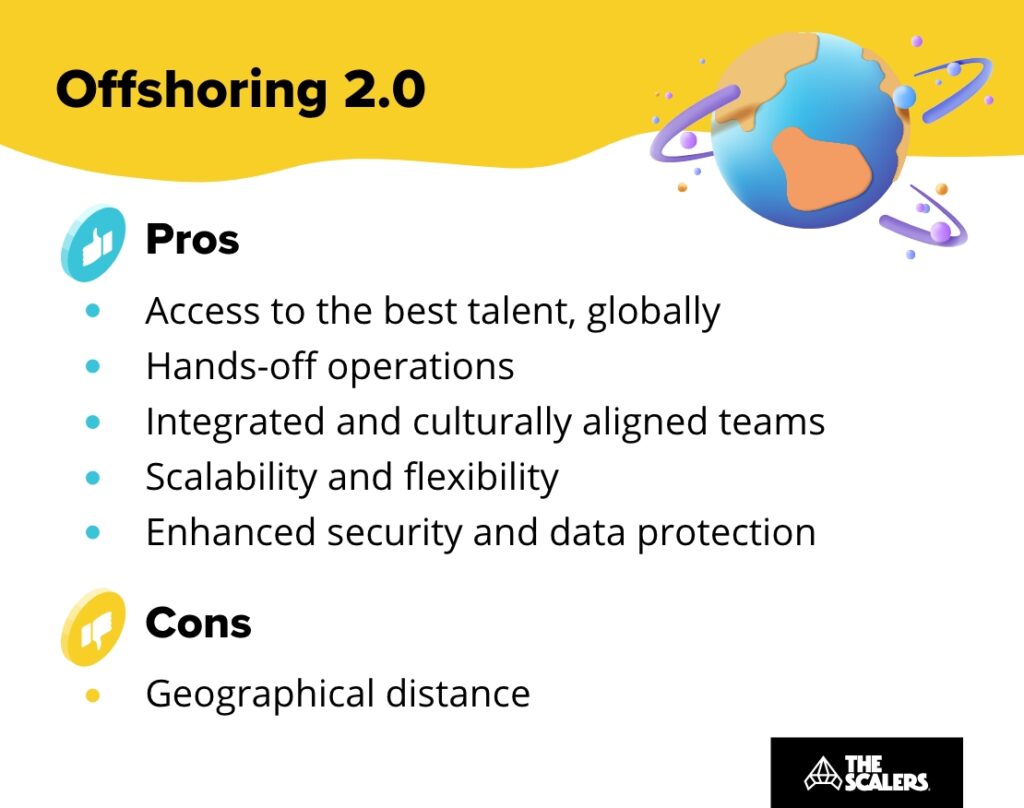 Offshoring 2.0 pros
Here's a detailed list of the pros of the offshoring 2.0 model and why you should consider implementing it in your company over traditional offshoring.
Access to the best talent, globally
Searching, finding, and hiring the best engineering talent worldwide. That's what the offshoring 2.0 model offers to businesses like yours.
Offshore partners who work under the offshoring 2.0 model access top developers in Bangalore, India, the second-ranked tech ecosystem in the world for offshoring elite engineers.
Tech giants like Microsoft, Twitter, and Amazon have Research and Development Centres (R&D Centres) in Bangalore, a city that produces 90,000 new engineers yearly.
Contrary to traditional offshoring, offshoring 2.0 sources the top 1% of the available talent. For instance, if you're looking for Indian developers to join your company, you'll get offshore developers with high English proficiency and the most in-demand skills in the market.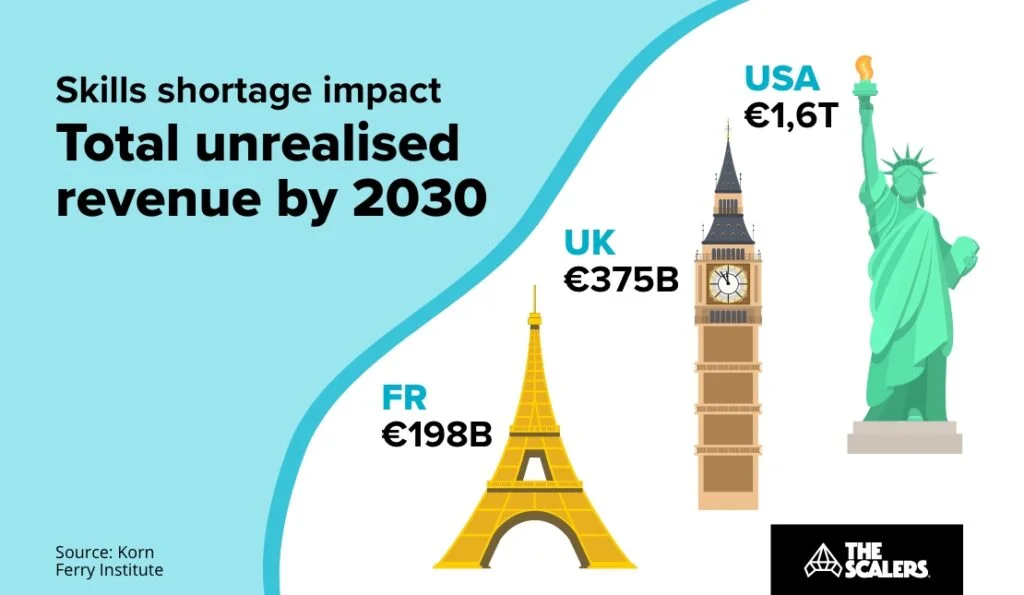 Hands-off operations:
The days when companies had to invest significant time, effort, and resources in establishing operations in an offshore country are over with the offshoring 2.0 model.
Once you find the right partner, you won't have to worry about setting up operations: your partner will do all the heavy lifting while you focus on your product and start working with your team.
From hiring and onboarding to infrastructure, management, and administration, your offshore development company has you covered.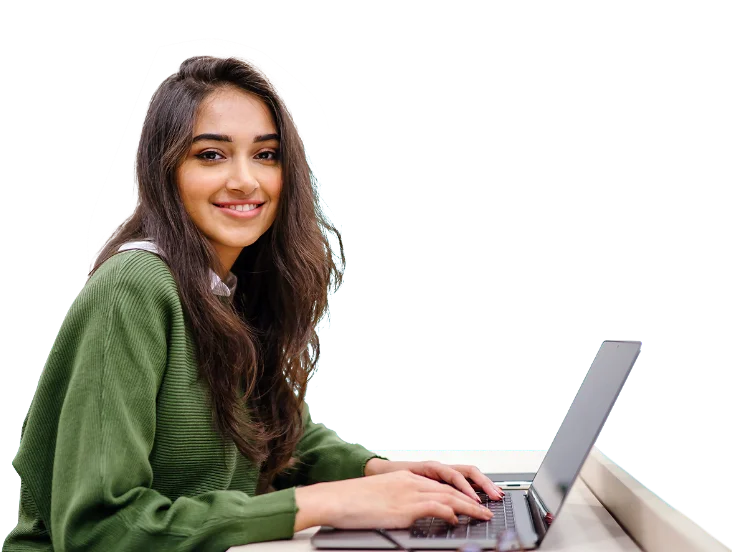 Extend your tech team
in Bangalore
Speed up your software delivery with an integrated and dedicated team
LEARN MORE
Integrated and culturally aligned teams
While traditional offshoring has a cost-focused mindset, offshoring 2.0 embraces a value-adding and long-term approach.
What does this really mean? This model prioritises effective collaboration and integration between your company and offshore teams.
In the offshoring 2.0 model, development teams are 100% aligned with your business. Offshore engineers work as your in-house team, share your goals and vision, and use the same communication channels as the rest of your company.
This model fosters cultural and strategic alignment, giving clear visibility and control over your offshore team's progress.
Scalability and flexibility
Traditional offshoring allows you to build development teams and scale up whenever needed. Offshoring 2.0 takes that scalability and flexibility to the next level.
Let's say you want to expand your offshore engineering team with 15 more developers due to business growth. Your customers demand new and better products, and your team can't handle more work.
Your offshore partner will kick off a high-level recruitment process to find world-class talent for your team to keep up with the pace of your industry.
Offshoring 2.0 emphasises long-term development teams (not project-based teams), fully integrated with the company, quality, and collaboration. You get a faster time to hire and better value for money than traditional offshoring.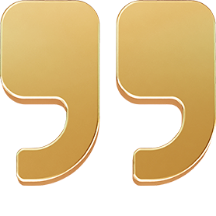 Growing a team from 0 to 100+ is, of course, a challenge. Having a trusted partner on the ground has made this much easier for us in terms of building the team culture in Bangalore and sourcing candidates — which would have been very, very challenging for us without The Scalers. Working with The Scalers has been a success, and I don't say that lightly!

Daniel Barnes
SVP of Engineering, Preqin
Enhanced security and data protection
During the first quarter of 2023, more than six million data records were exposed worldwide through data breaches.
Sounds crazy, right?
Tech decision-makers are often concerned about offshoring because of the risk of data loss and confidential data leaks. Offshoring 2.0 solves these potential cybersecurity threats.
The right partner should be accredited with official security certifications confirming their compliance with industry regulations. At the same time, offshore development teams should follow strict security practices the same way it's followed in your company to protect sensitive information and maintain data integrity.
Offshoring 2.0 cons
The offshoring 2.0 model seems an excellent solution for organisations seeking long-term partnerships. Are there any cons?
Geographical distance
If you want to share the same or similar time zone as your development team and regularly travel to visit them, this model might not seem ideal for your business.
But that's not necessarily true. The right offshore partner should ensure various ways of collaboration, e.g. by organising periodic workstations for your company to work face-to-face with your offshore team.
What for some companies is a disadvantage, for others, it's an added value: the best tech talent is located thousands of miles away from your headquarters.
India is a tech hub producing some of the most talented developers year in, year out. These engineers study in top universities and have niche programming skills, not to mention high English proficiency.
The illustration below compares English proficiency in India to other offshore locations such as Colombia and Pakistan.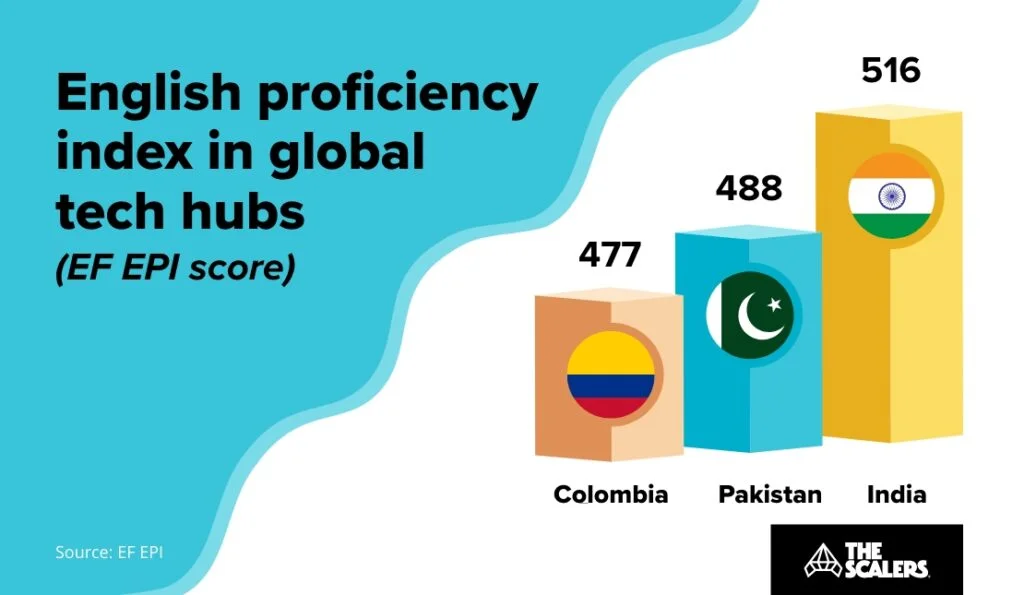 What is the smarter way to go offshore?
Now that you know the differences between the traditional offshoring model and offshoring 2.0 and their pros and cons, it's time to consider what strategy works best for your business.
As a tech leader, one of your primary concerns is to keep up with the latest tech advancements and find more talent for your business as you grow.
And for that purpose, you require a partner on the ground that understands your unique needs and supports you all the way while scaling.
That's where The Scalers truly excel.
Headquartered in Bangalore, the Silicon Valley of Asia, The Scalers build dedicated offshore software development teams for companies worldwide.
Combining European and Indian leadership, the company has developed an offshoring model that allows organisations to scale engineering teams quickly and efficiently.
The Scalers' model entails the following:
Harnessing the tech talent of Bangalore, the Silicon Valley of Asia
Recruiting the top 1% of Indian developers with niche skills and high seniority
Building dedicated teams for long-term collaboration (3-5 years on average)
Managing all operations on the ground (HR, payroll, set-up, and other administrative tasks)
Cultivating a people-centred culture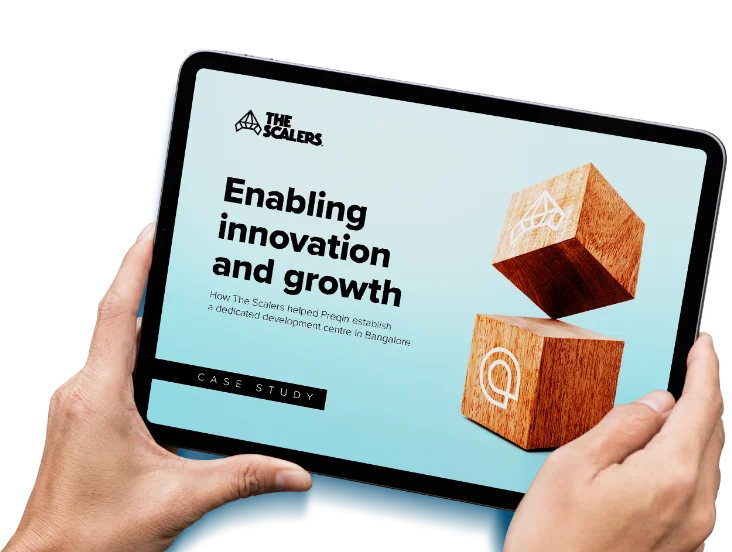 Scaling at speed: Preqin case study
How we helped a fintech establish a dedicated development centre in Bangalore
DOWNLOAD CASE STUDY
Ready to scale your tech team in Bangalore? Get in touch today, and talk to an offshore expert to set up an agile and scalable engineering team.
In summary
Finding the right talent for your business might feel overwhelming due to the developers' shortage in Western countries.
Offshoring, with its pros and cons, is a viable solution to a problem compromising the growth of organisations of all sizes and industries.
KEY TAKEAWAYS:
Offshoring provides cost-effective access to top tech talent with niche programming skills.
Traditional offshoring offers cost savings and round-the-clock operations but may face communication barriers, quality control issues, lack of added value, and vulnerability to crises from offshore development teams.
Offshoring 2.0 emphasises long-term partnerships, access to better quality talent, no operational headaches, scalability, and a partner on the ground for the whole time.
The Scalers, based in Bangalore, India, offer an Offshoring 2.0 model — a unique offshore software development model, recruiting top Indian developers, building dedicated teams, handling administrative tasks, providing on-ground management, and focusing on engineer satisfaction.
That's a wrap.

If you're interested in learning more about offshoring and digital strategies to enhance digital transformation, keep an eye on our blog. We'll be publishing more guides and articles around these topics shortly.
See you in the next one, and good luck building your dedicated offshore team!