Offshore software development: the definitive guide for CTOs

Simon Walsh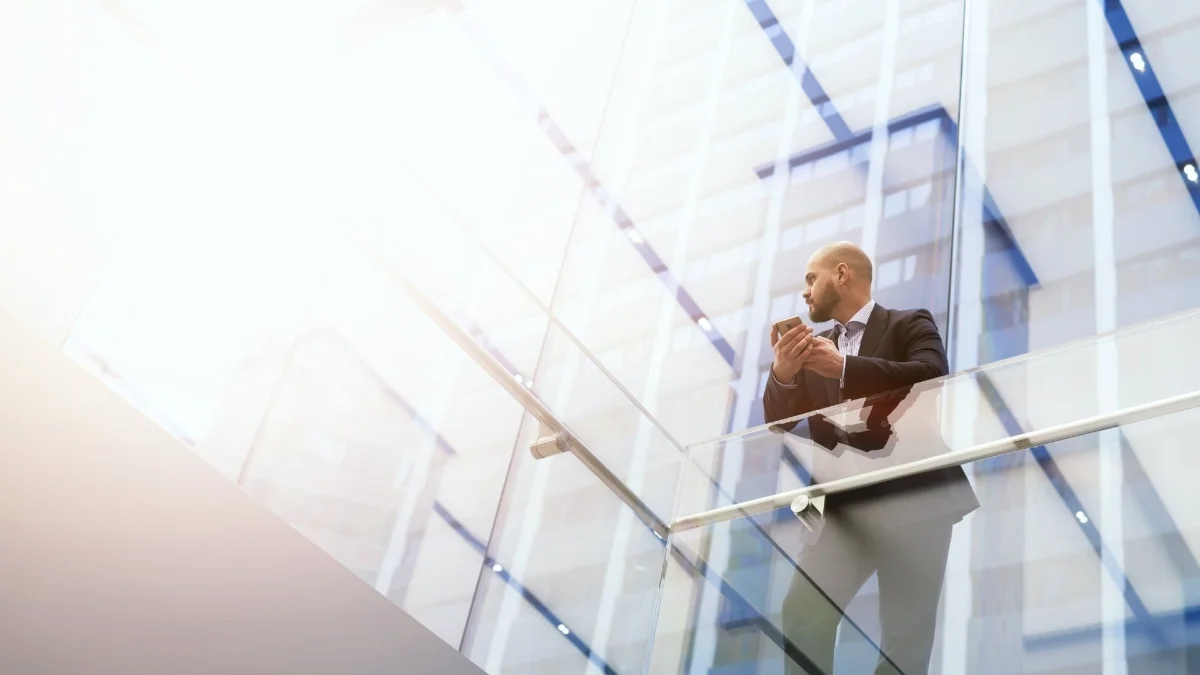 There's no doubt that the software industry has become saturated. With tech start-ups booming like never before, the number of software companies is expected to reach over a million in the next decade. Almost half of these businesses are tightly packed in Western Europe and American cities, leading to increased competition, rising operational costs, and a shortage of talent.
Offshore software development services have emerged as a solution for Western businesses looking to get ahead in a crowded and expensive marketplace. But how can you leverage offshore dedicated teams to benefit your business?
In this guide, we explain what offshore software development is, the benefits of the offshore model, and how to implement it for your software development processes.
What is offshore software development?
Offshore software development involves a company hiring a dedicated software development team and establishing a new office, known as an offshore development centre, in a different country.
For instance, IT giants like Google, Microsoft, and Apple have all established their R&D centres in Bangalore, the Silicon Valley of Asia. The large pool of skilled professionals, and the opportunity to scale quickly allow them to increase their output and improve their technical expertise without incurring significant stress, inconvenience, or expense.
Outsourcing vs Offshoring: What's the Difference?
When comparing outsourcing vs offshoring it's important to know that outsourcing may be appropriate for short-term projects that involve creating an application without ongoing iterations and delivery. It offers favourable arbitrage but can often bring risks as the developers aren't yours and juggle your project alongside many others for various clients.
The engineers aren't part of your company and aren't aligned with your culture, values, and long-term strategic goals. With offshoring, the developers are chosen by you and work exclusively for your business. The right offshore partner will handle recruitment, selecting suitable candidates based on your requirements, and provide you with a list of the best candidates for you to make the final hiring decision.
Ultimately, offshoring allows you to tap into talent and skills that are not available locally. It's a way of overcoming intense battles for top engineering talent in countries where the major tech giants hoover up the best developers — leading to a fierce seller's market.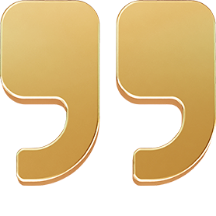 Offshoring used to be about finding a price you couldn't get at home; today it's about finding the skills and people you can't get at home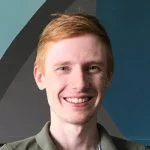 Emilien Coquard,
CEO & Co-Founder, The Scalers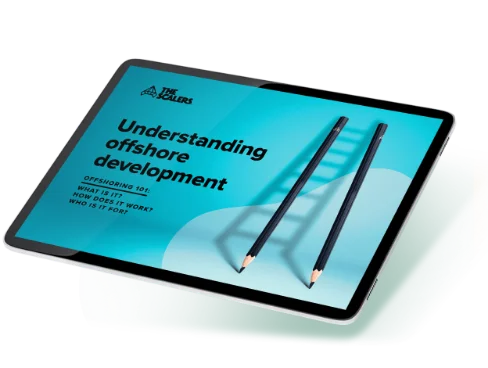 Understanding Offshore Development
Your crash course on everything offshoring. What is it? How does it work? Is it for you?
DOWNLOAD EBOOK
When is the best time for offshore software development?
No business wants to reject profitable, growth-enabling opportunities due to a lack of internal capacity. This would not likely happen with the right technology team in place.
If you're looking for a long-term solution, outsourcing your software development to an external vendor isn't going to work. You want to scale your team, which needs to be done quickly. This is where an offshore development model can prove to be invaluable.
By starting offshore development, you gain access to a massive pool of qualified engineers who aren't outsourced help but a value-adding extension of your business. They will be a part of your business for years, enabling you to take on more projects and generate higher profits. And because the talent pool in countries like India is enormous, you don't ever have to worry about talent scarcity.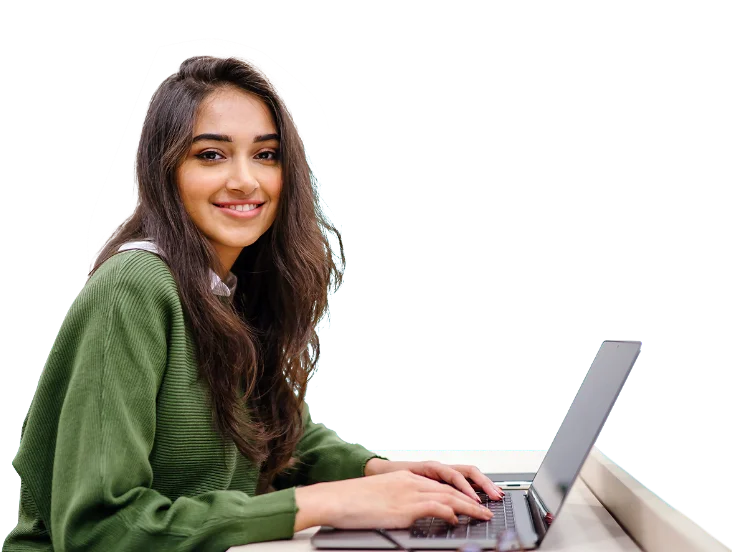 Extend your tech team
in Bangalore
Speed up your software delivery with an integrated and dedicated team
LEARN MORE
Who should use offshore software development?
Service-based companies with non-technical core businesses often leverage offshore software development. These businesses are experts in their respective industries but need help to keep up with the ever-changing technology. It can be something as simple as transforming their existing website or a complex project such as developing a value-adding digital product for their customers.
However, because of their lack of software expertise, they will need competent developers to maintain and build their technology. Offshoring is a neat solution where they can hire developers full-time and at a fraction of the cost. The development teams they build can also help implement new ideas further down the line.
In other cases, companies may already have an in-house development team but need to scale up and take on more significant contracts. They want to increase the value of their business and grow with the times but need help too. Since new developers are expensive and hard to find, a dedicated offshore team might be an ideal solution.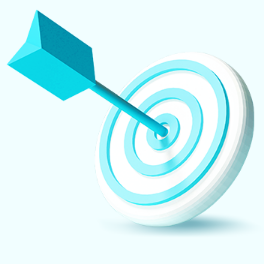 TIP
The offshore team that you build is a permanent extension of your local team. So, if you're looking to hire engineers for a one-off project, partnering with an outsourcing vendor might be the better move.
What are the benefits of offshore software development?
Undoubtedly, going offshore isn't a small move. It's a significant strategic move, meaning the benefits must be tangible for your business. So, what are the benefits of offshore software development?
1. Access to engineering talent
It's obvious that the cost of offshore software development is much more reasonable than in the West. However, this is not the primary reason that Western companies look to build tech teams overseas.
In the US alone, over 250,000 software engineering jobs are currently unfilled — a number that is only increasing. There just aren't enough talented developers to fill the roles. Even though colleges in the West are pushing IT courses, there's still going to be an inevitable delay before those graduates are experts in their respective industries. And that's why, today, the main reason companies are looking to build offshore teams and engage developers in countries like India isn't cost — it's availability.
India produces 1.5 million engineering graduates every year. These engineers leave the university ready to work thanks to their high training pedigree and extensive English language training. Indian engineers can communicate with general fluency in the English language and be extremely clear and concise in a highly technical environment.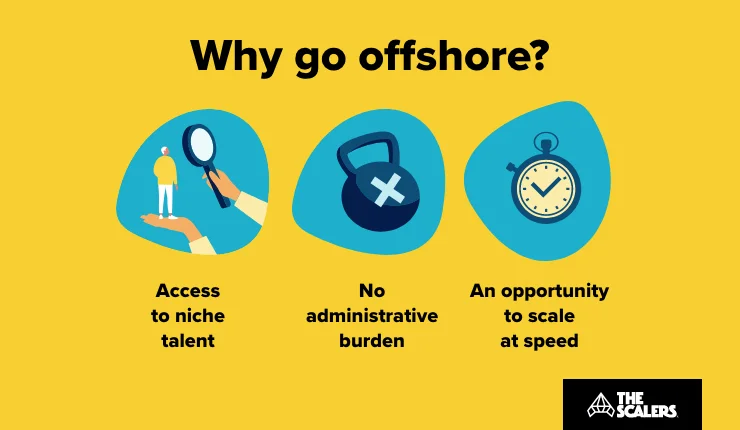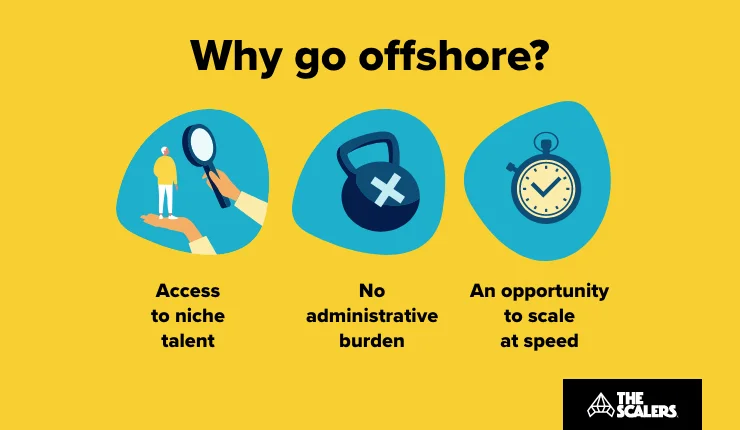 2. The opportunity to scale quickly
Taking on new, skilled, expensive employees is an investment that presents a significant financial risk. If those employees decide to leave early, you could be overburdened with work, the quality of the software you develop drops, and before you know it, your clients are going elsewhere.
A team of offshore professionals can, however, prevent these types of crises. First, the cost of recruiting and paying staff is lower. Thanks to the reduced payroll, a business could withstand periods more efficiently with an offshore team. At the same time, expanding your offshore software development team can be done much faster than your local team. For example, The Scalers have brought multiple groups of engineers to our client's teams in as little as four weeks. Vetted, tested, and ready for work.
3. The ability to focus on your core business
With offshoring, your offshore partner takes care of the administration, payroll, recruitment, accommodation, insurance, and so much more. The primary role of an offshore software development company is to limit the stress of scaling your team.
This gives you ample time to focus on your core business, interact with potential clients, and grow your business without worrying about being unable to accommodate them. You can read more about the business benefits of offshore software development in our earlier blog post.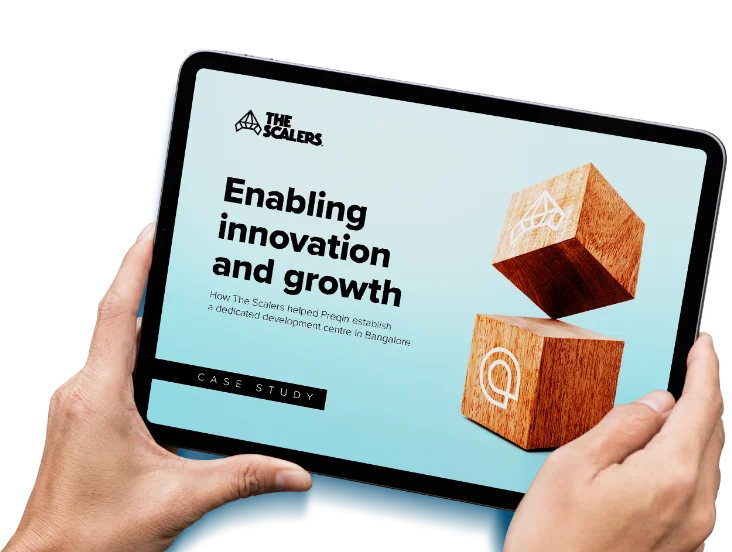 Scaling at speed: Preqin case study
How we helped a fintech establish a dedicated development centre in Bangalore
DOWNLOAD CASE STUDY
The best offshore locations: where can you go?
The world is your oyster — you can pick any location to build an offshore development team. However, some locations are better than others. So, which country can you offshore to?
India
India is the IT offshoring capital of the world. They have the most developers, the best training, and fluent English-language skills. Given the lower cost of living, setting up offshore software development in India can be a very lucrative option for your business.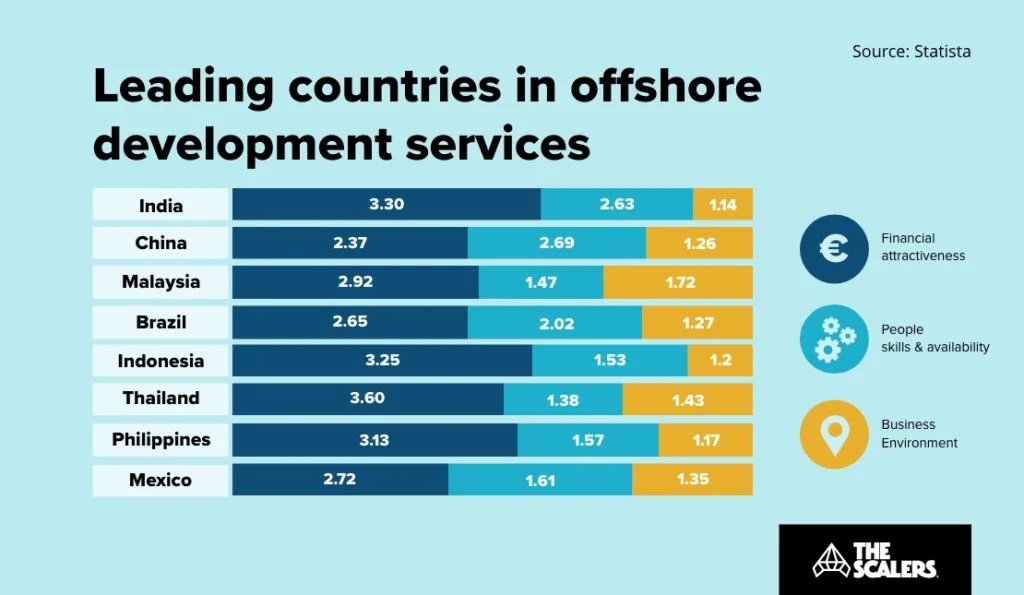 Eastern Europe
For businesses that operate in Western Europe, nearshoring to countries in Eastern Europe is also an option. Nearshoring is helpful for companies that want constant, real-time collaboration with their in-house staff. Conversely, countries like Ukraine and Romania are known for having good developers. Unfortunately, the recent war in Ukraine, a nation-state that borders many Eastern European countries like Romania, has caused many to be nervous at the prospect of establishing entities there. Nevertheless, Eastern Europe still has its benefits.
Latin America
Because of the minimal time difference, offshoring to Latin America is most common among North American companies. Again, this is considered nearshoring. However, the developers' standard is typically lower than in other regions, and you still pay a premium for talented, experienced developers.
The Philippines
The Philippines is a standout choice for offshoring. The Philippines has become an attractive destination for offshore businesses seeking to reduce costs and improve efficiency due to its growing economy, skilled workforce, and favourable business climate. Companies looking to outsource certain functions can benefit from the country's strong English proficiency and cultural ties to Western countries. In addition, the government has offered various incentives and programs to support the offshore industry.
Does offshoring create an ethical dilemma?
An ethical dilemma arises when companies consider offshoring their development processes to another country: "Am I depriving local engineers of jobs?"
The reality of the ethics of offshoring is quite different. Companies are drawn towards offshoring because they can't find local engineers to scale and maintain quality. Setting up a development centre in the West is difficult because there aren't enough engineers to meet the ever-increasing demand as more technology companies start. This implies that offshoring doesn't lead to a loss of jobs.
Rather than companies having to choose between globalisation or patriotism, they can choose both. Globalisation has always proven to benefit the economy of a country. Wealth is not a zero-sum game where one country's loss is another country's gain. If going offshore means becoming more economically productive and producing better services and products, aren't companies doing more good than harm?
It is vital to ensure the quality of the software developed by the offshore dedicated teams. Companies can opt for quality assurance offshoring by hiring developers, as part of a separate quality assurance team in the same offshore location or by incorporating quality assurance processes and practices into the work of the offshore development team. This will help ensure that the software developed offshore meets the required standards and specifications and that the final product is of high quality.
How can you manage your offshore software development team?
The benefits of offshore teams are significant. Once you've done all the groundwork, the next step is building your offshore team with an offshore development partner you can trust. Your offshore partner will oversee the recruitment, administration, etc. However, as a stakeholder in the business, here are some tips on how you can manage your offshore team.
Share the vision and mission of your company
The first step towards a successful collaboration with your offshore team is to explain the vision and mission of your business to them. This is an opportunity to formally introduce your business's objectives, goals, and needs and define where you see your company in the next couple of years.
Often, companies see their offshore team only as an execution partner for their development processes and nothing more. However, establishing a connection with your remote team is extremely important. The more they know about your brand, what you want to build, and why, the more invested they're going to become in the vision and mission of your company.
From the moment you start building your offshore team, you should always have a clear vision and mission for your project. That vision must be consistently and continuously communicated to your offshore team.
Bridge the culture gap
You're bound to encounter some cultural differences when working with a local team in the US and an offshore team in a country like India. The key is fostering a unified culture of belonging across your teams.
Remind your teams that they're both working towards a common goal and that if the project is a success, everyone wins – together. It doesn't matter where the person sits or his role in the organisation.
As the lead on a project, it is your responsibility to make your offshore team feel appreciated and recognised. Make it your mission to ensure that everyone contributing to your project feels included and a part of your greater vision.
Visit your offshore team from time to time; conduct ice-breaker conference calls where both your teams get a chance to get to know each other and always be vocal about how you feel about their collaboration.
Communicate effectively
Effective communication is the key to a successful partnership with your offshore team, and many times, companies need to address this aspect.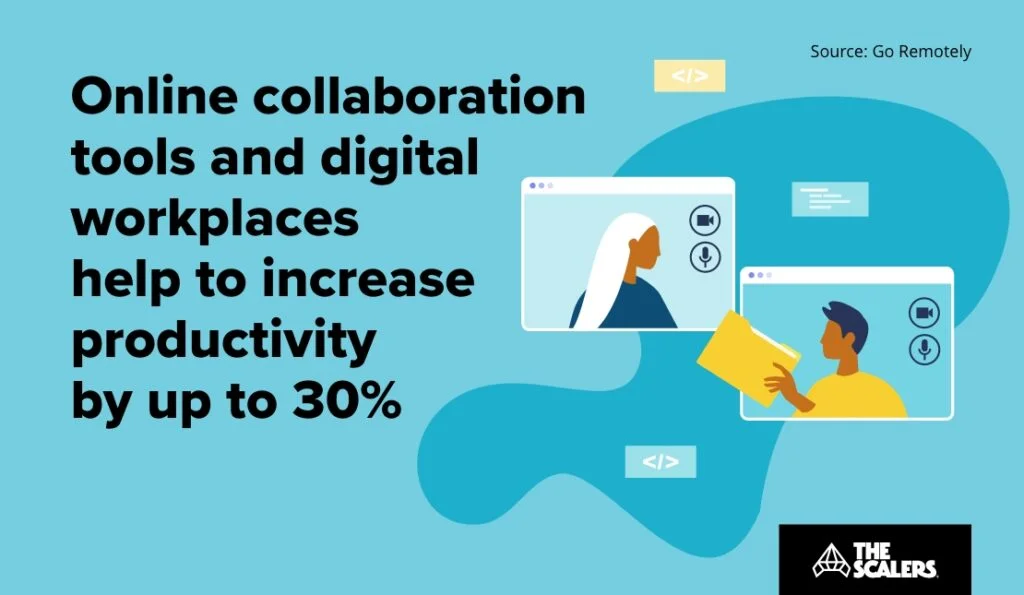 It is crucial to foster an environment where effective communication becomes the first and most important goal to continuing your development project. Some communication channels that you can use between your in-house and virtual teams include:
E-mails: official communication, schedules, and project meeting notes can be shared via emails.
Instant messaging: Instant messaging tools like Slack and Skype work best for quick clarifications, status updates, and queries.
Productivity tools: Project management is crucial when working with offshore teams because you wouldn't know what your remote team is working on without it. Tools like JIRA, Asana, and Basecamp are worth exploring.
These are just a few of the many strategies that you can implement when working with an offshore development partner. We've written an entire blog post detailing 8 strategies to make remote teams work — a resource that can be extremely helpful for your business.
Now that you know everything about offshore software development and how it can be an excellent move for your business, feel free to reach out to us by filling out the contact form and let's get started!