The cost of offshore software development: everything you need to know

Tom White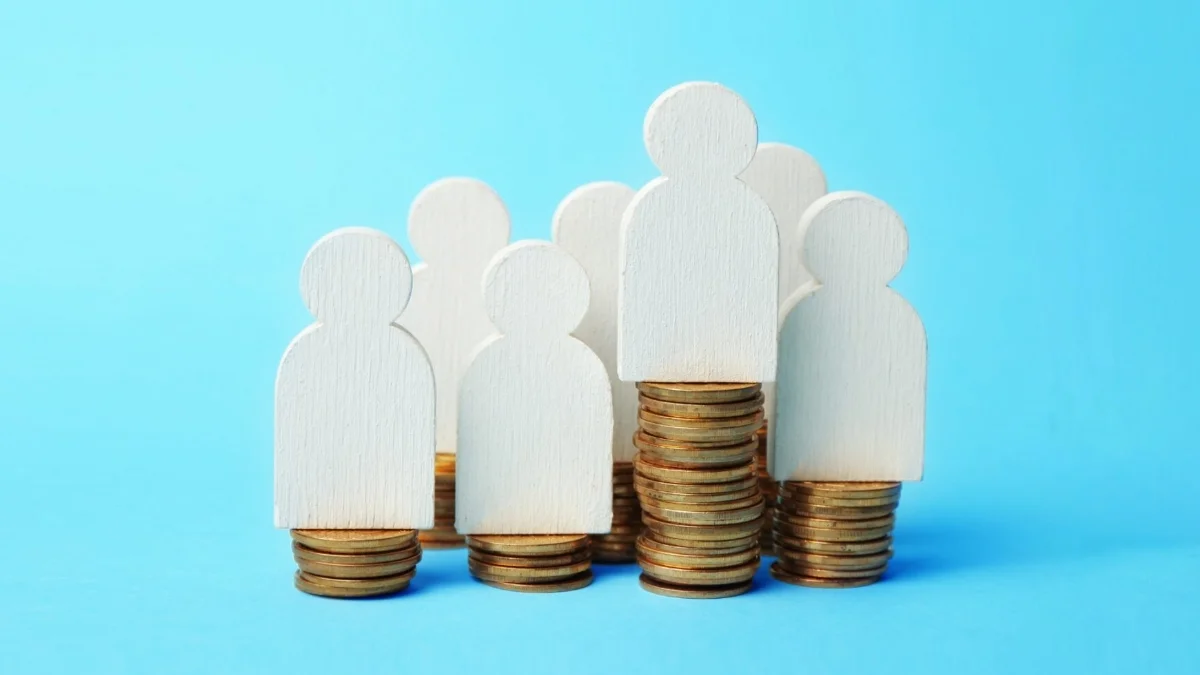 The presence of offshoring has been prevalent for quite some time. Increasing labour costs in western countries is one of the significant reasons behind the upsurge in businesses opting for offshore development.  With the unpredictable challenges of Covid-19 presenting new challenges, enterprises are more aware of the myriad benefits offshoring offers. So, with the changing business environment, it's  imperative for organisations to evolve at a higher pace. And, offshore software development is a perfect solution for this. 
With organisations striving to stay ahead in today's digital landscape, offshore development has gained significant momentum. Through offshore development partners, businesses in developed markets get access to highly skilled programmers in emerging technology countries with favourable arbitrage. But, offshore development sometimes brings several unexpected extra fees. Here we share everything you need to know for estimating the cost of offshore software development.
How to calculate the cost of offshore software development?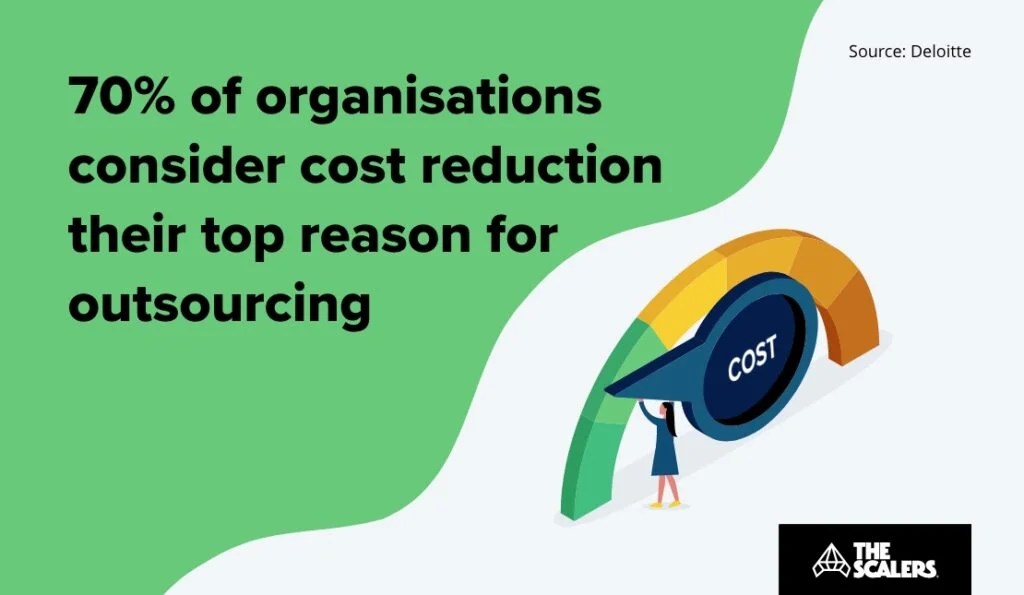 According to Deloitte, 70% of organisations consider cost optimisation reduction as one of the top reasons for offshore development. Estimating the cost of offshore software development can be tricky when not working with an expert partner and has some extra steps, butin most cases it still represents a fraction of the price of hiring locally. So, consider these aspects when figuring out the cost of offshoring a team of developers for your tech project.
Having a clear idea of your project makes it easier for an offshore company to understand what should be delivered.
Defining the complete scope of the project can help you and your service provider to give a more accurate estimate of offshore software development cost.
Do not confuse estimation for the final cost.
Getting the right developers for the job can help decide the major cost of the project.
The additional costs can vary depending on the project.
Technical support, solving unexpected bugs, documentation, and helping with the takeover of the ownership of the operation of the project are additional services that come with additional costs.
After understanding all these, you can see the complexity of calculating the cost of offshore software development. It's fair to say that sometimes software development is not as easy as many think.
Well, offshore development has been experiencing an upward trend for the last couple of years. When opting to outsource software development, you should expect to save not only on the developer's salary but also on hiring, benefits, social security contributions, and overheads. In most cases, organisations will save quite a bit of money and time by offshoring to high-quality software development service providers. Even though there are some additional costs, offshoring generally proves to be more cost-efficient than hiring an in-house development team. And, the talent overseas is often more abundant than at home.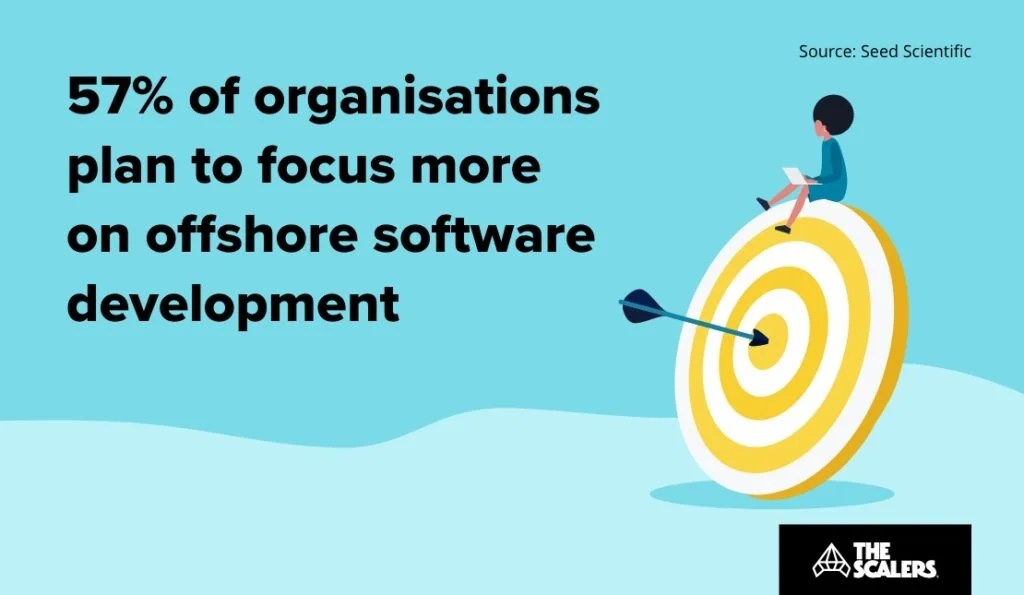 Components affecting offshore software development costs
1. Size of the project
The size of the software project influences the development costs. The higher the number of features and other factors, the higher in number the team needed and so is the cost of offshore software development. And, depending on the size of the project the efforts and overall costs will increase accordingly.
2. Technical considerations of the project
Technical aspects including software architecture, UI/UX designs, tools and methodology selected, third-party integrations, etc. impact the cost of the project. Ultimately, it relies on the scope of the software product or ongoing service you are looking to build.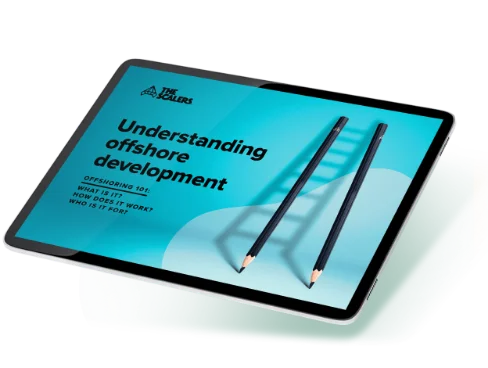 Understanding Offshore Development
Your crash course on everything offshoring. What is it? How does it work? Is it for you?
DOWNLOAD EBOOK
3. Time to market
Bringing your product early to the market or giving it more time will impact the development costs. Also, deadlines influence the software project in several ways. If you have an extraordinary idea but the timeframe to complete the project is shorter, it will affect the R&D, planning, and overall development. In such a case, you will have to hire an extended team of experienced engineers to get things done efficiently and quickly, incurring higher costs.
4. Skills and expertise of the team
The knowledge, experience, and skills of your offshore development team directly impacts the project costs. If your project is complex, you need a qualified team of senior developers and this adds to the overall project costs.
5. Additional costs
The offshore development organisations may charge extra for maintenance and support, some licences, infrastructural costs, etc. They may even charge in case the partners want some modifications. So, to avoid any ambiguity, such factors should be clarified beforehand.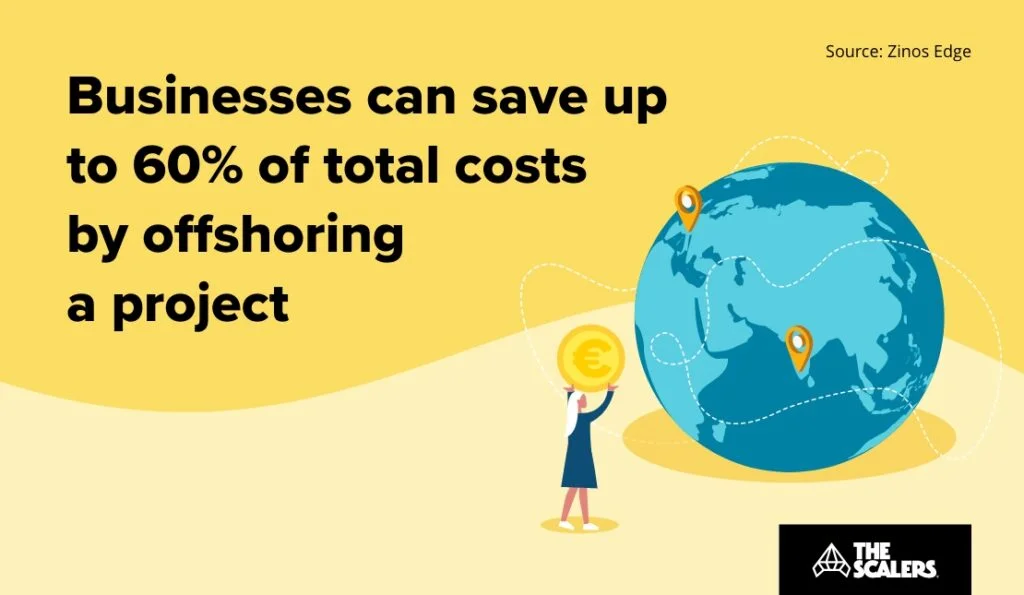 How much does software development cost if you hire locally?
Majority of our partners that we help build teams come from Western Europe, United States and Australia and New Zealand. One of the reasons is extremely high talent shortage, another the cost — not only salaries but the office space and operations. Let's first dive into the outlook of the salaries in those locations.
Western Europe
Usually, countries in Western Europe turn to Eastern Europe and Asia in search of tech talent and cost arbitrage through offshore software development. Organisations headquartered in Western Europe, especially UK and Germany report that 60% of their jobs are already outsourced in some capacity. This figure is forecasted to increase, as businesses plan to offshore more in the coming years. Yet, businesses can still find skilled developers in Western Europe when looking locally — but increasingly, organisations feel restricted by the talent gap. They simply can't scale as fast as they'd like. You can hire locally with a rate varying from €133 to over €267 per hour in Western Europe.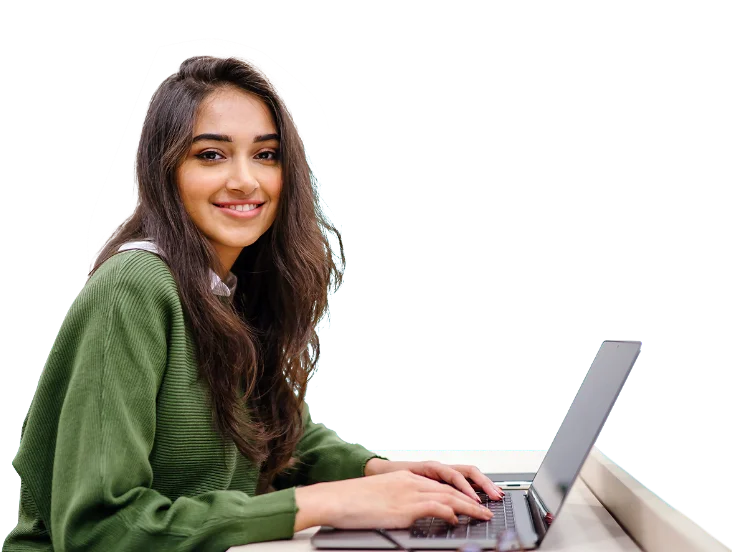 Extend your tech team
in Bangalore
Speed up your software delivery with an integrated and dedicated team
LEARN MORE
Australia
The Australian offshore software development market is growing rapidly today. Yet, there are some hurdles that hold it from becoming one of the top offshore development hubs: high rates, remote location, and time difference. The average cost for software development can be as high as €89-€133 in Australia.
United States
The US ranks top among digitally competitive countries in the world. Yet, the specifics of its market make the region one of the most expensive offshore destinations. Average rates for offshore software development in the US may range from €57.5-€115 per hour.
As you may see, the average cost of  software development in offshore destinations is far lower than in the United States, Australia or Western Europe. Therefore, hiring offshore developers is the most cost-effective decision because the cost of living in offshoring destinations is lower than in the US or Western Europe.
What is the cost of offshore software development in different locations?
Are you wondering how much custom software development costs? There are many options for how you can choose a software development partner, and a lot of time is needed to do your own research before making a decision. Below, you'll find a price guide covering the most popular development locations.
Eastern Europe
Although being close geographically, Western and Eastern Europe vary a lot in terms of software development rates. The region includes countries like Ukraine, Poland, Romania, Moldova, Estonia, Hungary, etc. If you outsource your project to a software development vendor in the Eastern Europe region, it will cost you around €22-€40 per hour, depending on the skill of a particular offshore developer. The rates in each country are: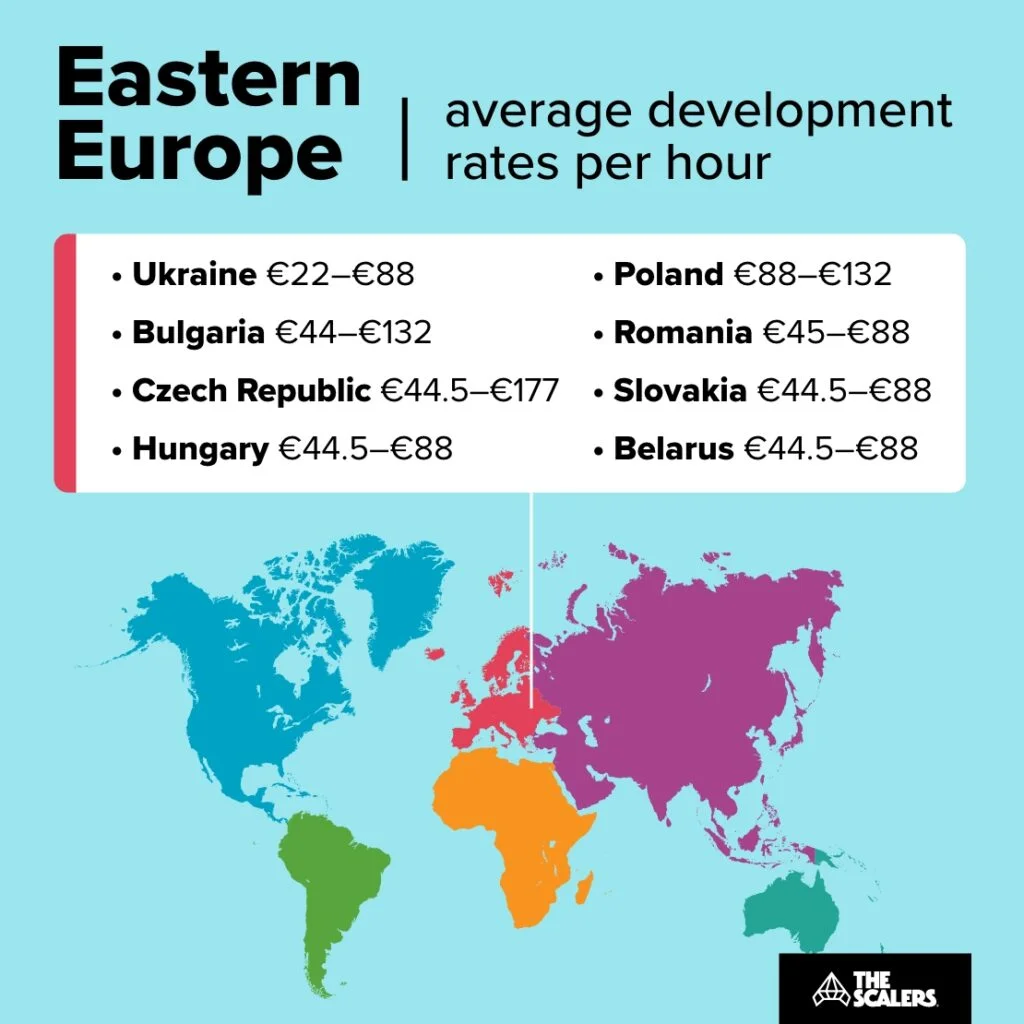 Asia
The biggest software development offshoring hubs in Asia are China, India, Vietnam, Malaysia, Indonesia, the Philippines and Bangladesh. The major advantage of the Asia region is its low offshore software development rates. The rates in Asia range from €17.8 to €40. With its 10 million tech specialists, Asia has lots to provide. The rates in Asia are as follows: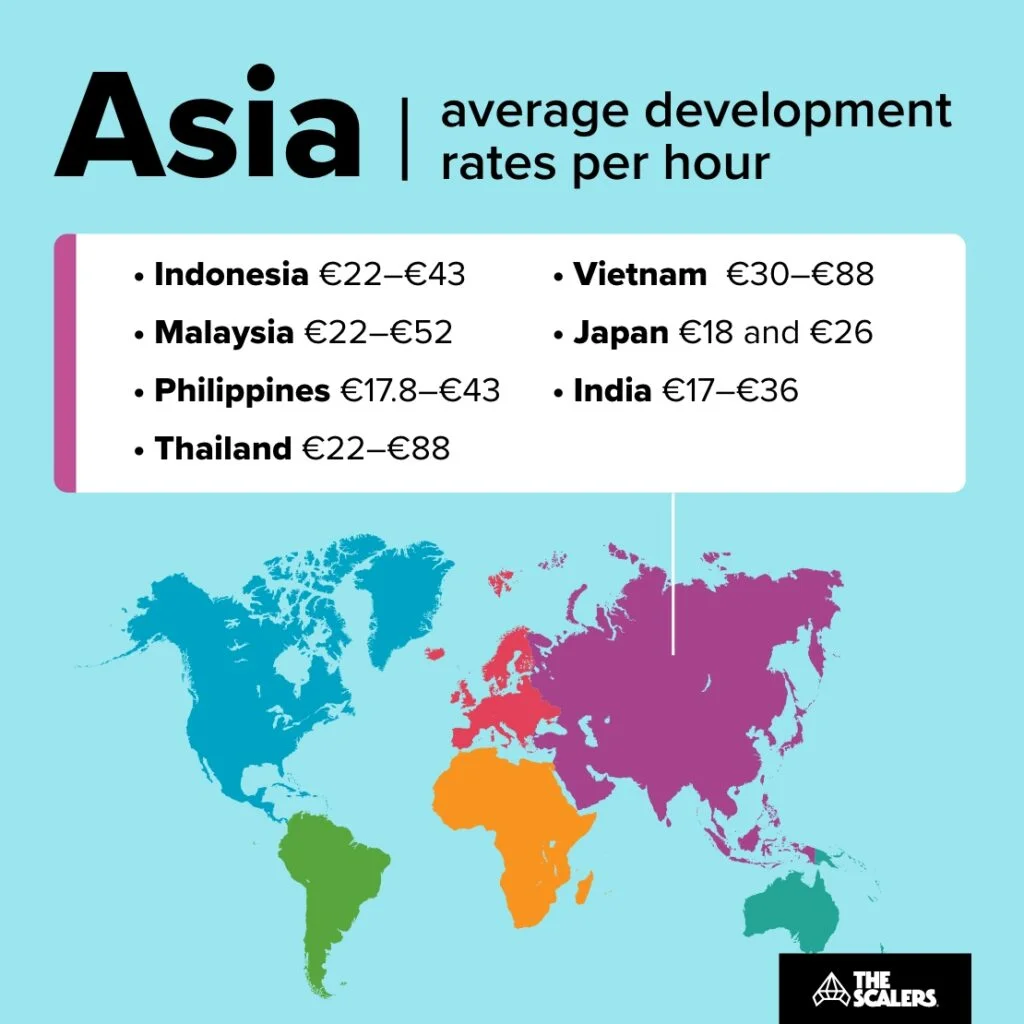 India offers unparalleled quality software development services at cost effective prices. The best reasons to make India a preferred outsourcing destination are favourable policies, fast-developing infrastructure and an immensely talented workforce.
Cities like Bangalore in India provide the perfect ecosystem for offshore development and are captivating the attention of stakeholders from across the world. By offshoring to Bangalore, you get access to skilled individuals with favourable arbitrage.
Latin America
The IT offshoring market in Latin America should also be considered while choosing a destination to hire a remote development team. For, it provides competitive talents, relatively good rates, and a convenient location. The offshore software development costs in Latin America are roughly around €26.7-€49 which is a fair price to ask for. The rates are below: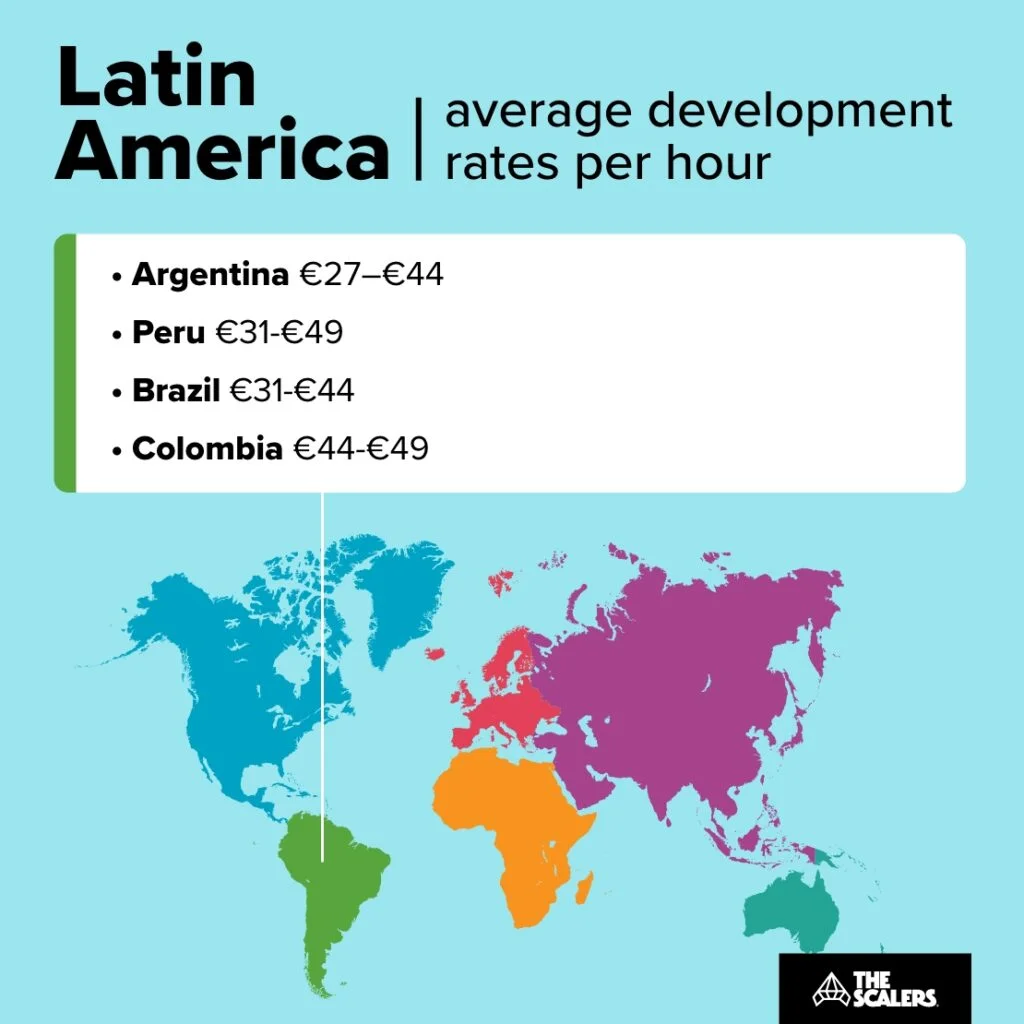 Africa
Until recently, Africa hasn't been among top offshore development locations. Today, the African offshore software development market started to grow rapidly. Key hubs here are Kenya, Morocco, Egypt and Nigeria. Rates in Africa usually vary from €18 to €43.5. Following are the rates in each country.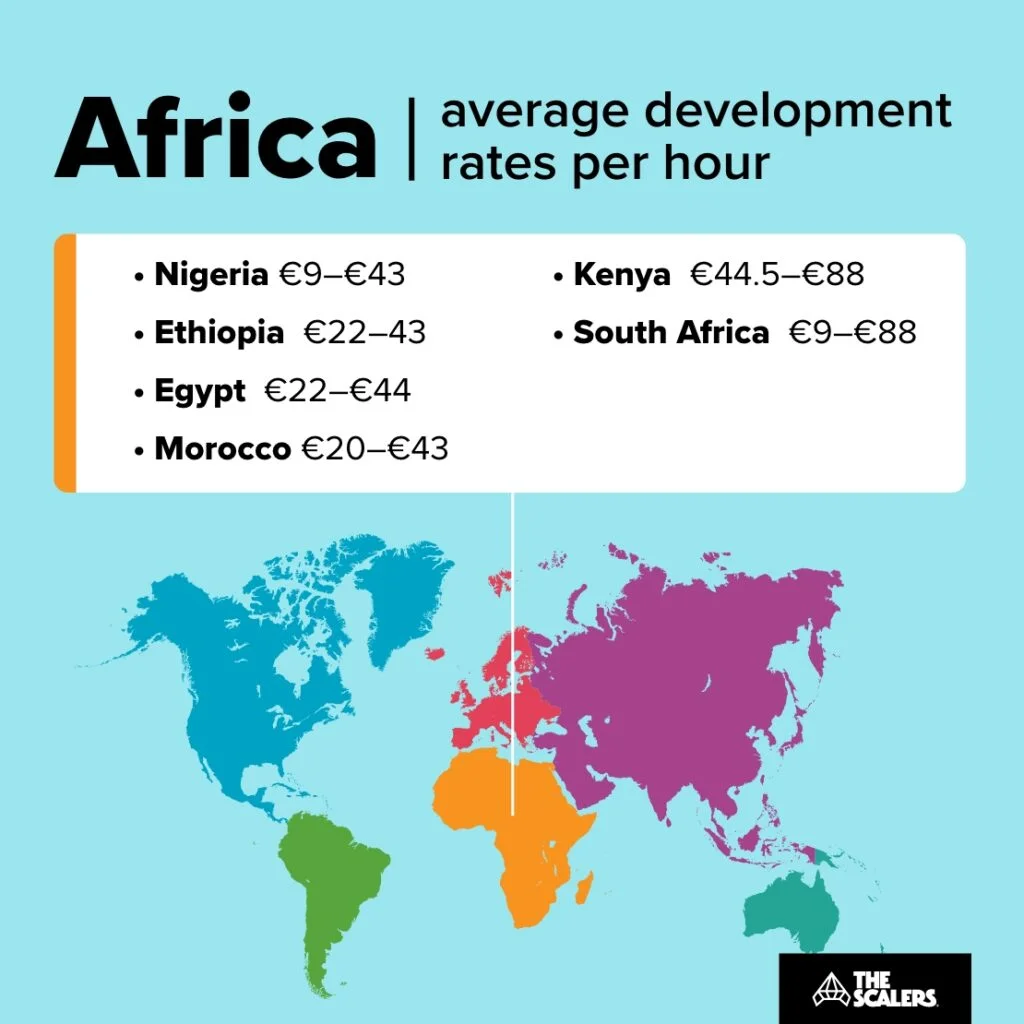 Balance between price and quality
Outsourcing your software development is definitely the right choice for businesses that are looking for a perfect balance between a good service and a good price. Whether you run a startup or a big enterprise, the offshore development partners will help you embody the ideas into a working solution. Once you decide to work with an offshore software development partner, your work is only half done. You can't hire an offshore development partner without preparing for it.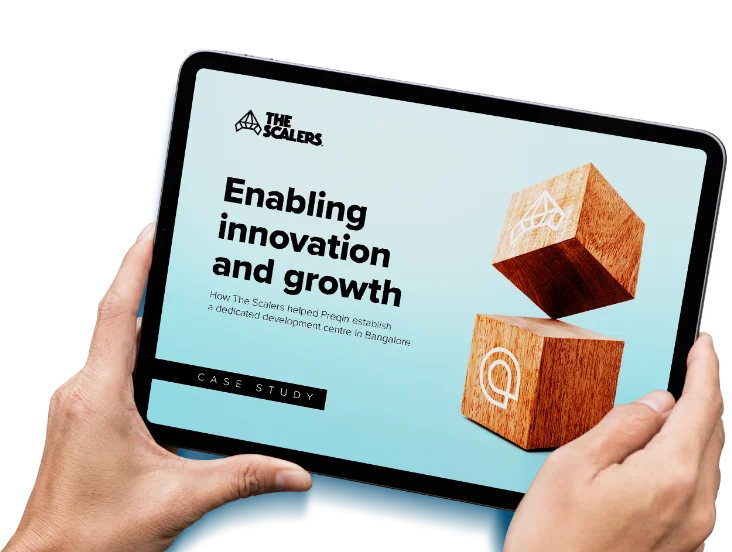 Scaling at speed: Preqin case study
How we helped a fintech establish a dedicated development centre in Bangalore
DOWNLOAD CASE STUDY
In this article, we tried to provide an estimation of the hourly rate you need to pay for an experienced developer who is ready to work. Please, always remember that the offshore software development costs mentioned above can differ when you hire full-time, world-class developers. The actual rate can be influenced by the need of specific or niche technologies, seniority and past experience of developers, past projects, and many other factors.
Knowing offshore software development costs is a good place to start, you should be aware of these rates so that you can focus on a suitable market to find the best offshoring partner. If you're looking for a long-lasting team — we're here to help.