A guide to offshore software development rates by country

Pablo Rodriguez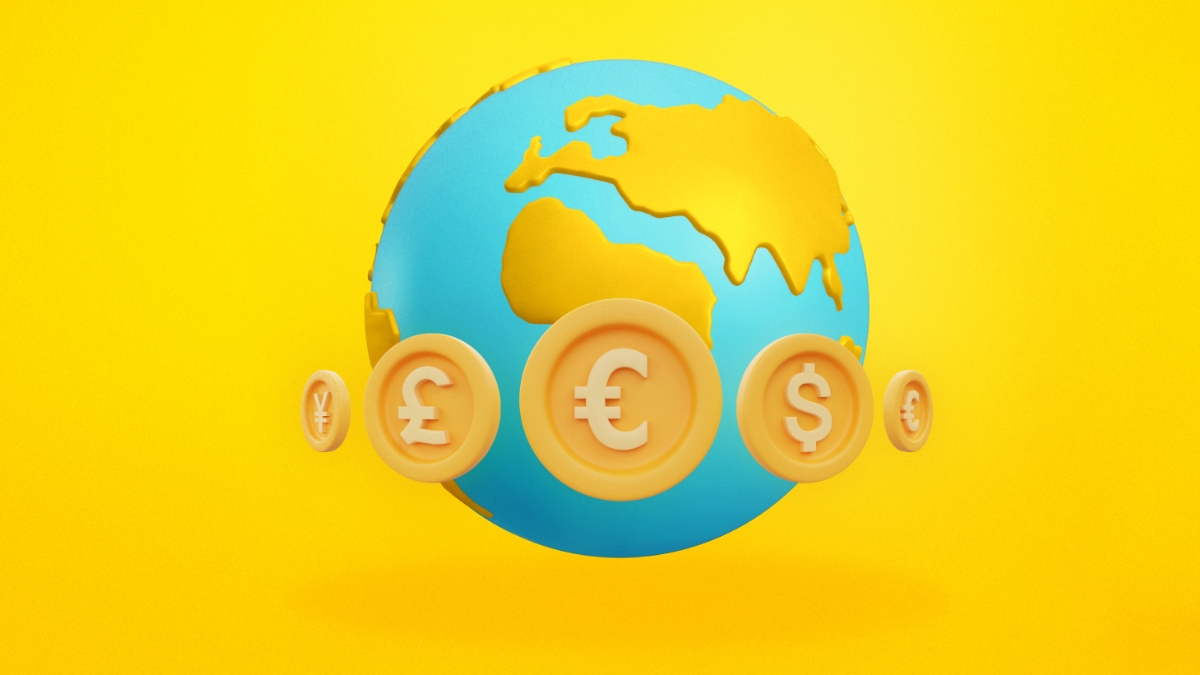 Let's be honest: hiring an onshore or local software development team is pricey and time-consuming.
According to 2023 Accelerance's Global Software Outsourcing Report, software development companies in the US charge up to €200 per hour for their services.
As a tech leader, you're likely looking for a more cost-effective and flexible solution for your business. That's where offshoring comes in.
In this guide, we'll analyse and compare offshore software development rates worldwide and what are the factors affecting these prices. By the end of the article, you'll know the best offshore software development country so you can start offshoring today.
Let's dive in!
Offshore software development rates comparison chart
There aren't right or wrong choices when deciding where to hire offshore developers. It all depends on quantitative aspects, such as your organisation's budget or qualitative ones, like cultural proximity and English proficiency.
The major factor in the cost of offshore development is the region engineers are based. To make your life easier, we've created a table with hourly rates from offshore development companies in different regions sourced from Upwork and PayScale.
| | | | | |
| --- | --- | --- | --- | --- |
| Region | Popular tech hubs | Junior developer | Senior developer | Average rate |
| Latin America | Colombia and Mexico | €28/h | €45/h | €37/h |
| Eastern Europe | Poland and Ukraine | €18/h | €45/h | €32/h |
| Africa | Egypt and South Africa | €18/h | €43/h | €30/h |
| Asia | India and Philippines | €18/h | €38/h | €28/h |
Keep in mind these rates might vary depending on the type of company, the specific location and the tech expertise of the engineering teams. We'll discuss these factors later on in this guide.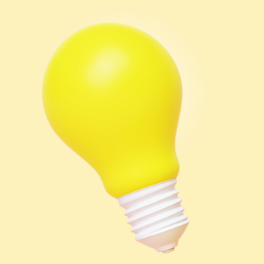 DID YOU KNOW?
By 2030, more than 85 million jobs could go unfilled because there aren't enough skilled people to take them.
Source: Korn Ferry
Offshore software development rates by country
Now we've established the average regional rates, let's dive into some of the top tech offshoring locations, why they're so attractive, and their specific rates.
Please note that the hourly rates below are calculated using tools like PayScale, Upwork, Indeed, and other professional salary calculators.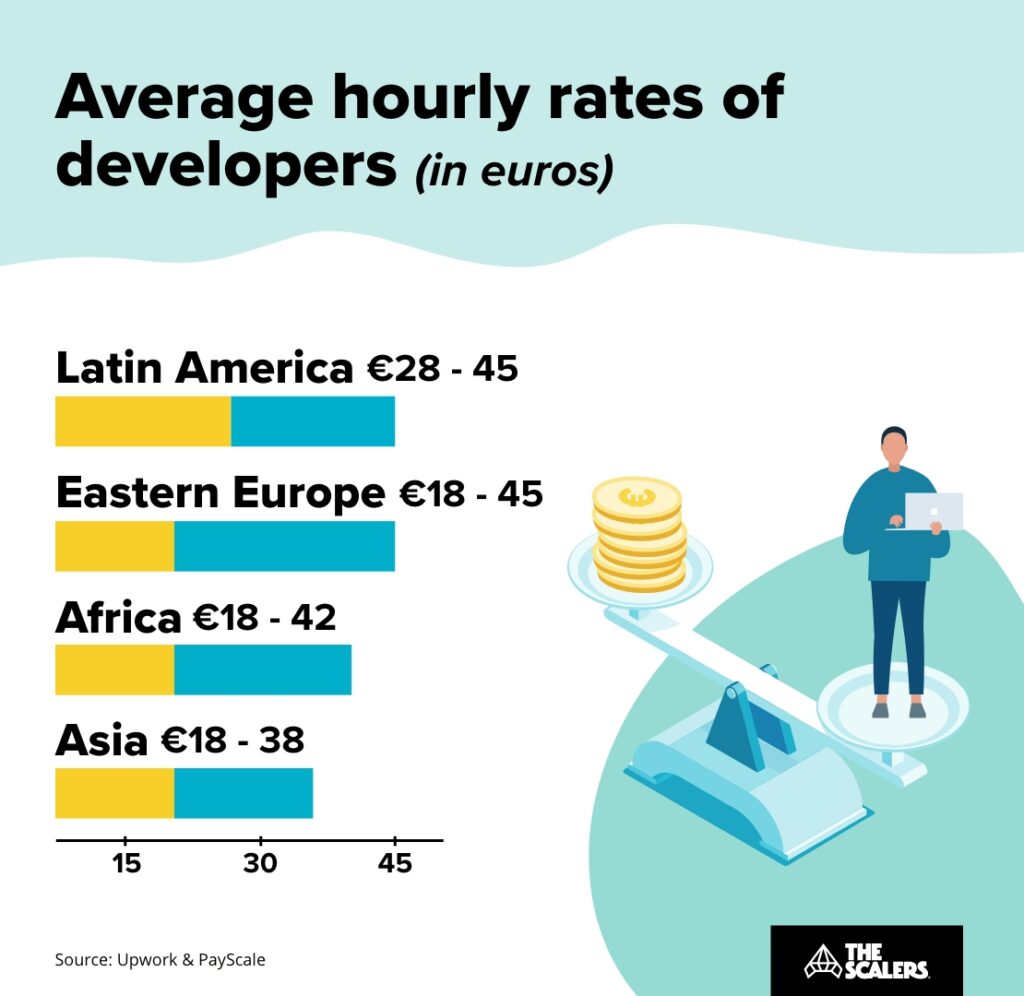 Latin American countries
Colombia and Mexico
Colombia is slowly becoming a trendy destination for tech investors. Especially Medellin.
This vibrant city is a hub for innovation. In 2022, it was named the first Special District of Science, Technology, and Innovation in Colombia. Since its designation, local and foreign companies that invest in Medellin have had tax, financial, and administrative advantages.
Alongside Colombia, Mexico is a key tech enclave in Latin America. Monterrey, the country's industrial capital, has a talent pool of 100,000+ high-skilled engineers ready to embark on international projects.
Companies that hire the best developers in Colombia and Mexico pay rates between €25/h to €65/h. On average, organisations pay €37/h for software development services in these up-and-coming tech hubs.
Other Latin American locations
Chile, Brazil, and Argentina are noteworthy contenders in the Latin American offshore development landscape.
Brazil is a popular choice among Portuguese-speaking global firms, while thousands of engineers graduate every year at top Argentine and Chilian universities in Santiago de Chile and Buenos Aires.
The average offshore software development rates in these countries are around €35/h.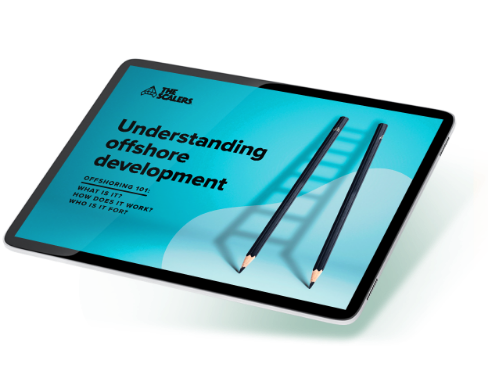 Understanding Offshore Development
Your crash course on everything offshoring. What is it? How does it work? Is it for you?
DOWNLOAD EBOOK
Eastern European countries
Poland and Ukraine
When discussing software development in Eastern Europe, two countries come to mind: Poland and Ukraine.
Polish and Ukrainian engineers are known for their hard work ethic and project commitment. According to Clutch, 3,200+ custom software development companies offer premium services in Eastern Europe.
Most firms and engineers are based in tech hotspots like Warsaw, Krakow, Kyiv and Lviv. The software development hourly rates in these cities range from as low as €13/h to €60/h. On average, a company can offshore engineers in Poland and Ukraine for €32/h.
Other Eastern European locations
Neighbours Czechia, Romania and Hungary strive to break the dominance of Polish and Ukranian developers. The rates in these nations fluctuate between €13/h to €30/h.
African countries
Egypt and South Africa
African talent flourishes in the North and the South, with Egypt and South Africa shining as exceptional tech hubs.
European companies offshore software engineering to Egypt because of the geographical time zone and proximity to the continent. Meanwhile, South Africa's high number of fluent English developers is an attractive prospect for many US, UK, and Australian firms.
Software development rates in these countries go from €20/h to €45/h. Yet, tech leaders can hire developers for €30/h on average.
Other African locations
Nigeria is the most populated country in Africa, so it's no surprise it's a prominent software development hub. Similarly, Morocco is investing heavily in computer science and producing more engineers than ever before.
The pricing for services in these nations spans from €15/h to €42/h.
Asian countries
India and The Philippines
India is not only an excellent offshore software development destination but also a well-known leader in the IT industry.
The country is home to giant tech corporations such as HCL Technologies, and a whopping 1.5 million new engineers join the workforce each year.
Bengaluru, known as the Silicon Valley of Asia, is India's most important tech hub. Google and Amazon, among others, have Research and Development Centers (R&D Centers) in the city.
The Philippines is another big name in the Asian tech scene. Companies searching for engineers in the region often benefit from the most competitive rates in the continent. But such affordability comes at a trade-off.
The talent pool in The Philippines is poor in comparison to India. The country is experiencing a significant talent shortage, meaning low engineers quality.
The software development rates in India and The Philippines go from €10/h to €50/h. The average rate in these locations is €28/h.
Other Asian locations
In recent years, Pakistan and China have been making themselves a name as attractive offshore development destinations in Asia.
However, despite China's notable advancements in software engineering, most tech leaders are opting against investing in the country due to the language barrier and high hourly rates (up to €40/h for senior developers).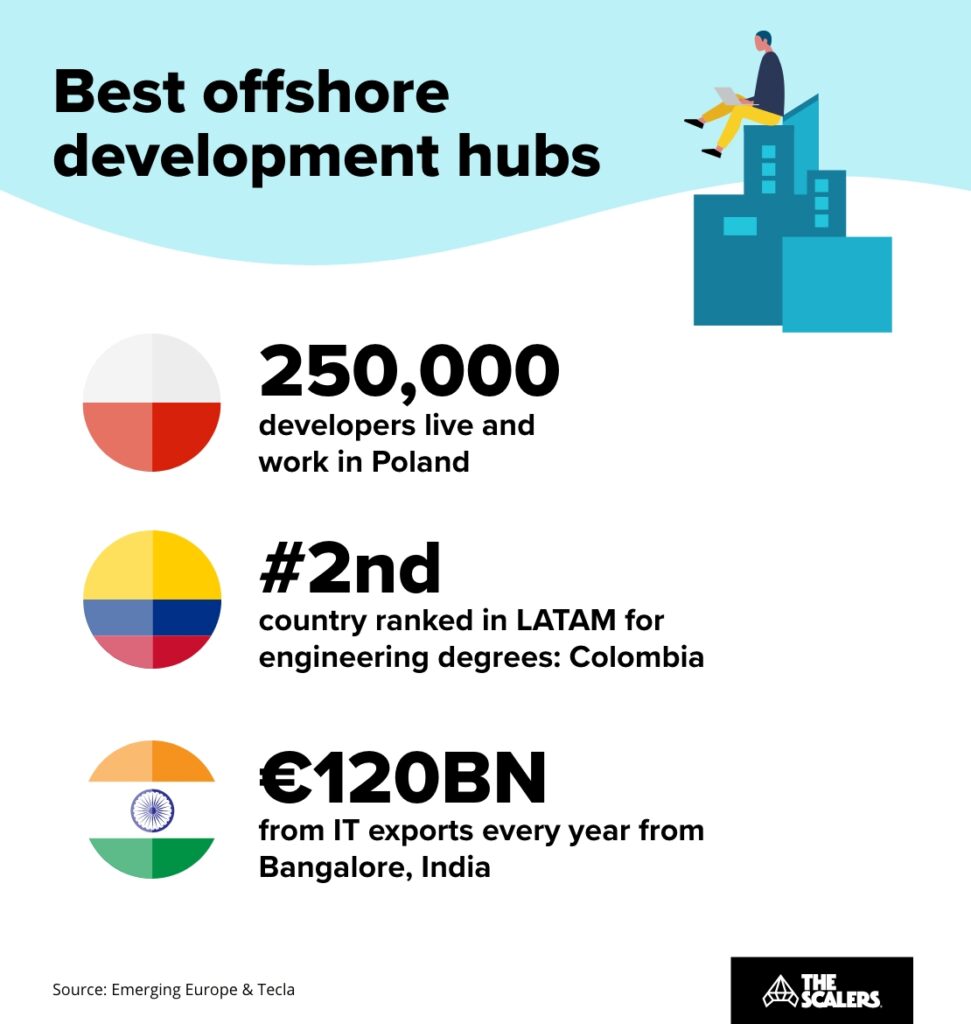 Additional factors affecting offshore software development rates
If you've read this far, you already know that the most critical factor determining offshore software development rates is the country where developers or offshore partners are based.
But it's not the only one.
You should consider other aspects when hiring top developers in countries like India or Colombia. The engineering tech stack and the company's reputation can impact the overall cost. Even the developer's place of residence within the country plays a significant role.
City
A survey by ManpowerGroup reveals that 4 in 5 employers globally find it difficult to find the talent they need, especially in software engineering roles.
No industry is immune to the effects of talent shortage in Western regions like the US or the UK. It affects your competitors. It affects you.
Offshoring software development to Eastern Europe and Asia is an efficient way to deal with scarcity. The sizable talent pool (coupled with the lower cost of living in these areas) allows companies to hire the best developers for their teams without spending a fortune.
But are software development rates the same in large tech hubs as in other big cities? Short answer, no.
For instance, hiring engineers in Mumbai may cost you more than in Bengaluru. In Mumbai, the high cost of living leads to higher hourly rates, whereas in Bengaluru, you can get more value for your money by accessing top talent.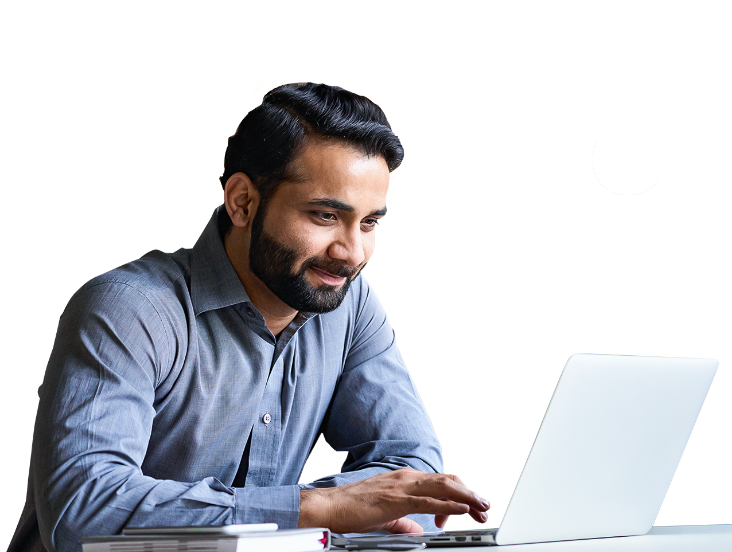 Build your offshore development centre
Increase innovation and deliver at speed in the Silicon Valley of Asia
LEARN MORE
Tech expertise
Developers' rates depend on their tech expertise, programming languages, and the frameworks they specialise in.
If you want to hire offshore developers with niche, in-demand skills, you must invest more than a standard engineering team. Developers skilled in multiple disciplines will always command a higher wage relative to their location and specialisation.
For example, hiring a front-end developer to build an app will typically cost less than a developer who's an expert in applying machine learning and artificial intelligence.
Company quality
An extensive and successful portfolio is one of the most valuable assets a company has to prove and justify its offshore software development rates.
That's why you should do a background check before choosing an offshore partner. See what organisations they are working with, where they find tech talent, where they come from, and their business perspectives for the future.
After analysing a partner, you can consider whether the rates they ask for are reasonable. An offshore company that works with 20+ international firms will probably have higher software development rates than one just starting in the tech industry.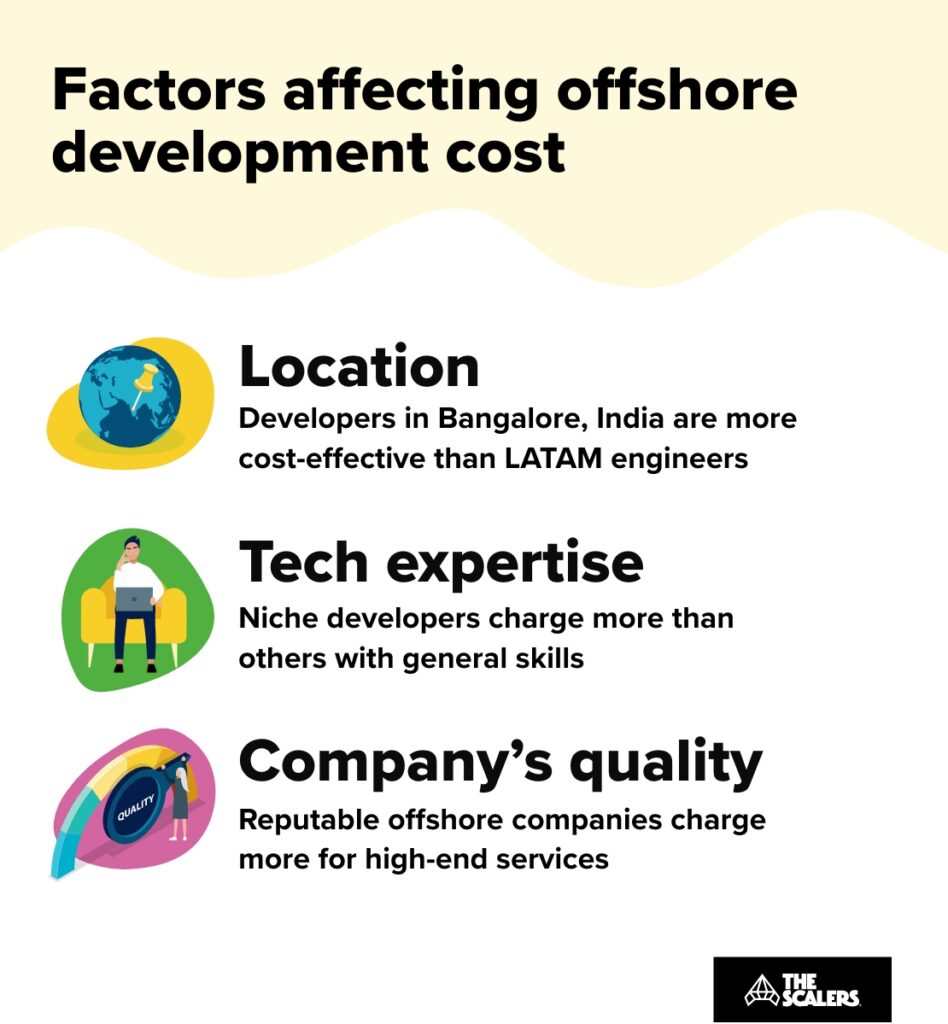 Why is India the best offshore software development country?
India is a thriving hub of technical brilliance and innovation.
The country produces roughly 1.5 million English-speaking engineers every year. And that number is only increasing. These engineers go through years of education to be the best in the industry, with skills on par with developers from the UK or France — or anywhere else.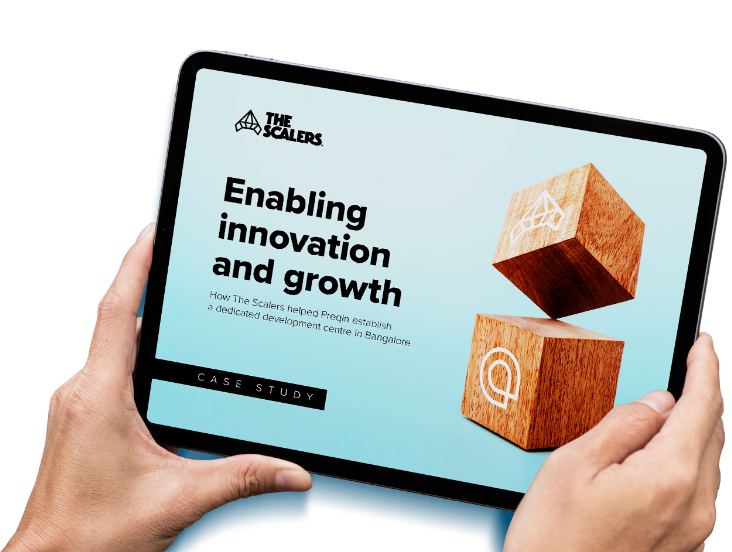 Scaling at speed: Preqin case study
How we helped a fintech establish a dedicated development centre in Bangalore
DOWNLOAD CASE STUDY
What's in for you? As a tech leader, in India, you'll enjoy the following:
A collaborative and vibrant tech community
World-class software developers
Cost-effective services (average rate of €28/h)
Unmatched scalability
Vast talent pools in tech hubs like Bengaluru and Hyderabad
The combination of tech infrastructure, brilliant emerging engineers, and English proficiency makes India the most strategic location for offshoring software development.
It's also an excellent place to build scalable and dedicated software development teams for organisations worldwide. That's what we do at The Scalers.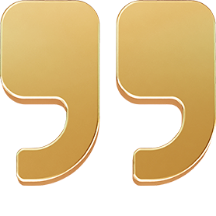 The Scalers are experts who really understood how we could achieve our digital transformation. Our development team in Bangalore has been a game-changer for my business.

Emmanuel Cazeneuve
CEO, Hesus
Conclusion
Going offshore opens a literal world of options (and price points) for where to build your software team.
Asian countries like India and the Philippines offer the lowest rates, from €10/h to €50/h for their services, with Africa and Eastern Europe close behind.
Among these choices, India emerges as a clear frontrunner for offshore software development thanks to its large talent pool and cost-effective engineering teams.
Just remember: before choosing an offshore partner, consider critical factors like the developers' expertise and skill set, the reputation of the offshore development company, and its specific location.
These aspects determine each country's software development rate.
KEY TAKEAWAYS:
Offshore software development offers a cost-effective and flexible solution for businesses seeking to reduce expenses.
Hourly rates for offshore software development vary by region, with options available in Latin America, Eastern Europe, Africa, and Asia.
Location, tech expertise, and company reputation affect offshore software development rates.
India is a top offshore software development country due to its large talent pool, English-speaking engineers, cost-effectiveness, and vibrant tech community.
Tech leaders should consider India's tech ecosystem for a strategic offshoring location.
If you're looking for a cost-effective way of offshoring software development, get in touch and let's talk about your unique needs and tech requirements.
You're one message away from transforming your business!