Building a people-centric culture: Insights from The Scalers' Townhall 2022

Stephen Hedrick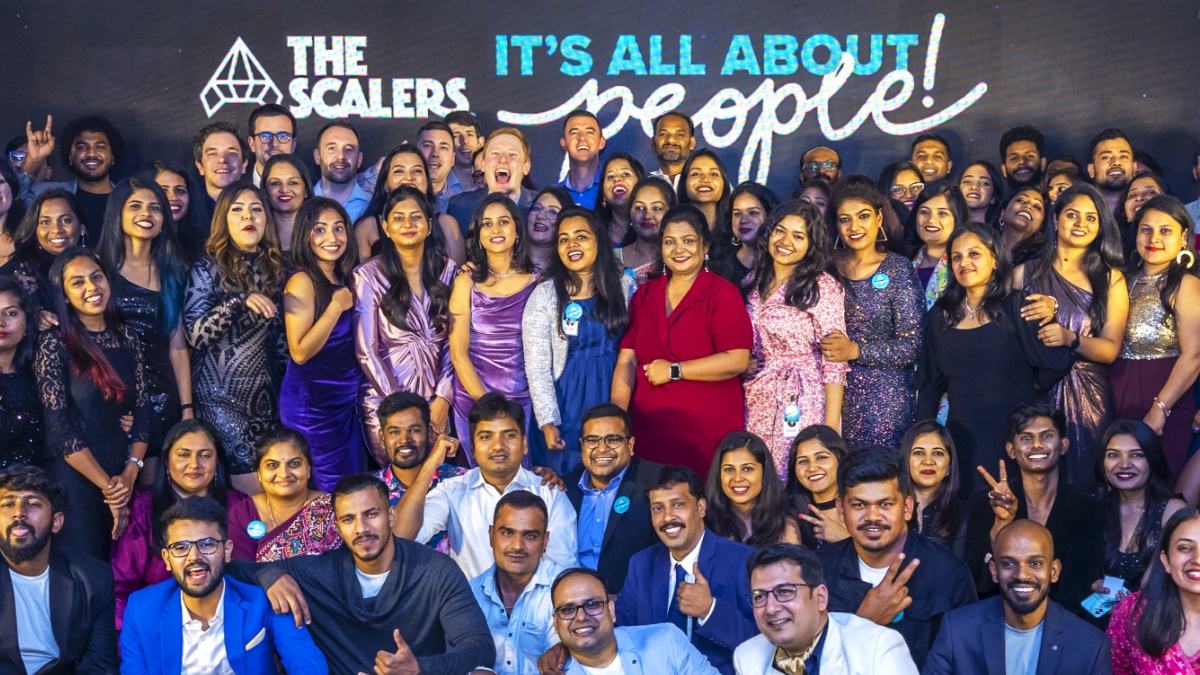 At The Scalers, our strategic pillars are Growth, Excellence, and Culture. In terms of growth, we aim to scale quickly and significantly to revolutionise the offshore industry. Our pillar of excellence emphasises the importance of mastering the company's craft to create long-term value for its partners. Finally, the culture pillar emphasises embedding people-centricity into the business at every level.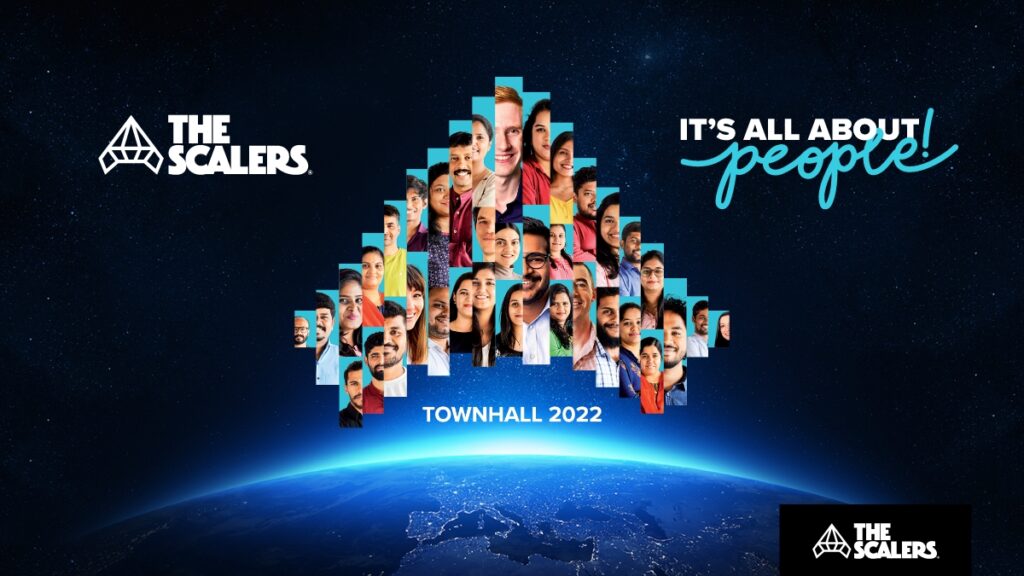 The company aims to achieve sustainable success by prioritising these three pillars while staying true to our values. In 2022 we successfully upheld these pillars. It led to a fantastic year of growth, and it wouldn't have been possible without the efforts of each and every employee at The Scalers.
In part, we found that by creating a fun and transparent community that rewards hard work we were able to foster a positive and inclusive work culture. We also successfully reached the goals we set for ourselves on our quest to improve the entire offshore industry while keeping to our goal of building a smarter way for our partners to scale.
Celebrating a successful 2022
Every year, The Scalers holds an annual townhall event to celebrate the company's accomplishments, recognise outstanding team members, and align everyone around the company's vision and plans for the future.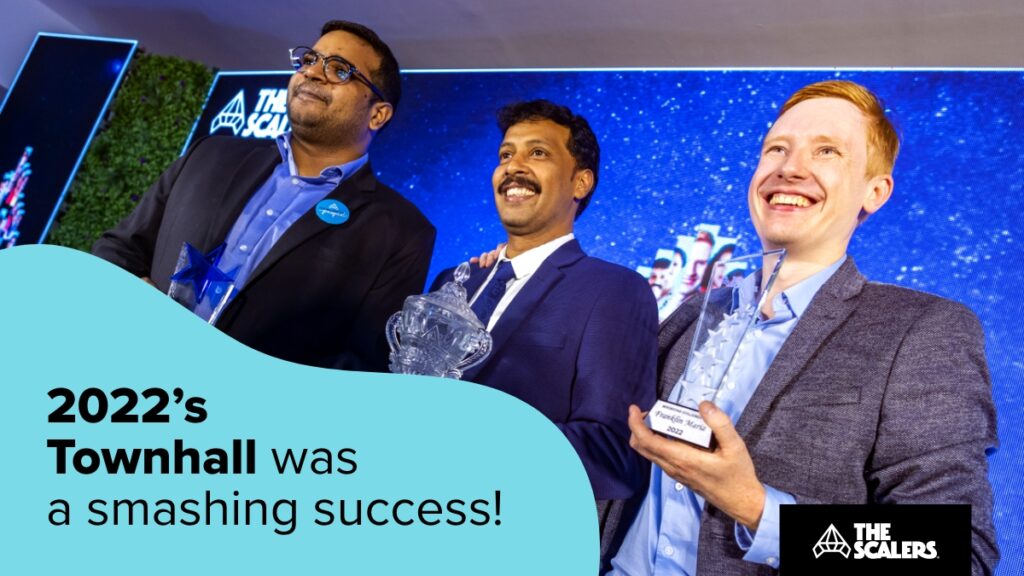 2022's Townhall acknowledged our general approach to work and core ethos that people are at the heart of everything we do for our partners and employees. "It's all about the people" is a maxim we live by. So, this year we incorporated it into our theme.
We made it our top priority to recognise those employees who work to spread our people-centric vision. As a result, we went above and beyond to show thanks and recognition to those who have worked to make The Scalers an ideal workplace.
Reaching milestones in the offshore industry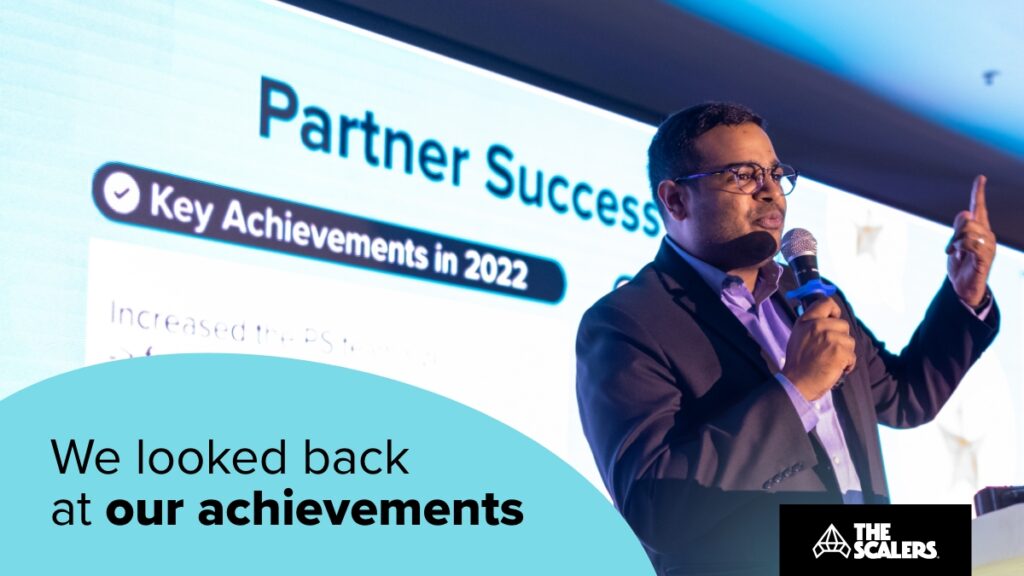 2022 was an unforgettable year with new relationships and achievements. From engineering to engagement activities, our company achieved milestones and employees worked hard to maintain a standard of excellence in every process.
We made great strides in facilitating sustainable developments in our process alignments and scaled quality tech teams proficient in various technologies across multiple industries.
It was a nice feeling to look back at our key achievements and honour those who improved our processes and systems by auditing, reviewing, and evaluating them before deciding how to make them even better. So, every one of us took the time to thank a Scaler personally by nominating them — expressing our gratitude and appreciation for those we felt contributed the most to our teams.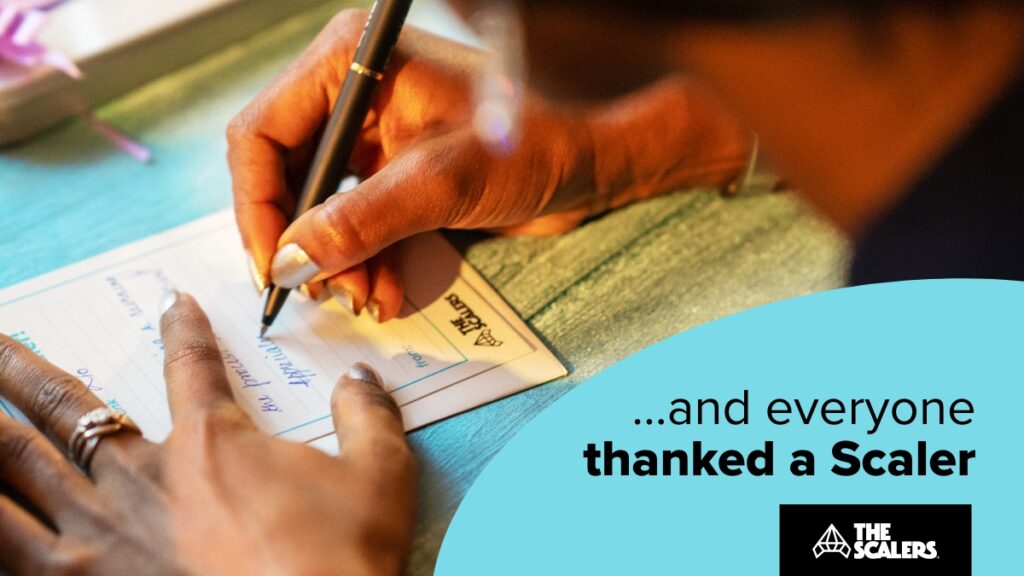 Together we looked back at 2022's highlights and what we achieved this year, including:
Growing the number of partnerships
Over the past year, we have experienced significant growth and success in expanding our partnerships and increasing our deal close ratio. In fact, we're thrilled to report that we have added nine new partners to our network, further expanding our reach and capabilities in the market.
Hiring more engineers and diversified talent
We are proud to report that we have a rapidly growing team of talented engineers. We saw an increase from 190 in 2021 to 309 developers. We also have over 200 new hires in research, DevOps, UX roles. These recruits bring a wealth of knowledge and experience to our partners, allowing us to expand our capabilities and offer even more innovative solutions.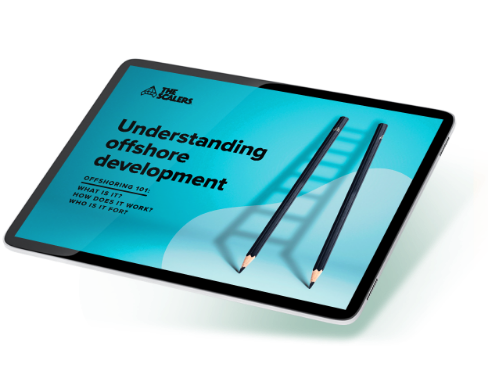 Understanding Offshore Development
Your crash course on everything offshoring. What is it? How does it work? Is it for you?
DOWNLOAD EBOOK
Becoming officially Great Place to Work-certified
We believe prioritising employee wellbeing and creating an empowering workplace culture is vital to our success. This certification recognises our 100% commitment to investing in the well-being of our people, as well as our outstanding workplace culture, equality, mental health, and societal contributions.
Getting ISO 9001 certification
ISO 9001 certification is a standard that defines the requirements for a quality management system (QMS). It is designed to help organisations ensure that their products and services meet the needs and expectations of their customers, and that they consistently improve their internal processes. The certification gives us international recognition for our management best practices. It shows our partners that our recruitment, HR administration, partner management, and IT security procedures are solid and secure. It also demonstrates our commitment to continuous improvement in all business areas.
Attending industry events
In 2022 we had a chance to participate and sponsor a couple of industry events, including one hosted in Australia — Fintech22. Our partnership allowed us to network with industry experts, explore new business opportunities, and share our thoughts on the impact of offshoring on the future of fintech.
Empowering women with WoW Connect
We prioritised gender diversity as a strategic objective — helping our female employees network and share career and personal development best practices. It encourages women professionals to create a better work-life balance, promote wellness through this exclusive programme and confront the unique challenges they face.
Expanding our global tech presence
We initiated new partnerships with tech industry publishers and communities, such as Foundry, CIO Watercooler, and CTO Universe. We released multiple reports and guides for tech leaders together.
Organising workations for our partners and their teams in India
Finally after the pandemic, most of our partners had a chance to explore our Bangalore office and connect with their teams. For some we helped organise workation in Goa with workshops and team building activities, which proved to be highly beneficial to the teams, providing them with a great deal of value
Organising soft-skills training for engineers
We have a soft-skills training programme to help our engineers thrive in the IT industry. It has received widespread praise from our Partners and has enabled our engineers to grow beyond their technical skill sets. By investing in both technical and soft-skills training, we ensure our engineers are well-rounded professionals who can provide the highest quality services to our Partners.
Visiting our partners in Europe
In 2022, our Partner Success team had a chance to visit our partners across Europe – from London to Dublin, France, Portugal, Greece and more! The goal was to strengthen relationships and discuss future team expansions. On top of that, we held our first face-to-face onboarding sessions with a new partner in one case.
Implementing Rewards & Recognition programme
We believe in recognising and rewarding exceptional individuals who embody our mission and vision. To help our partners achieve this goal, we have worked closely with them to hold special ceremonies that celebrate the outstanding achievements of these individuals.
Read our blog, The Scalers' 2022 recap: a year of amazing growth, to discover more.
Drumroll please: Let's get ready to make some noise in 2023!
We kept the best part for the end — during the townhall event we had a surprise activity that helped us get in the groove — we came together to play in a massive jam session that involved 60 drums and 60 tambourines. The drum circle leader guided us through this rhythmic experience by setting the tempo, providing cues, encouraging improvisation and helping us gear up for a thrilling 2023!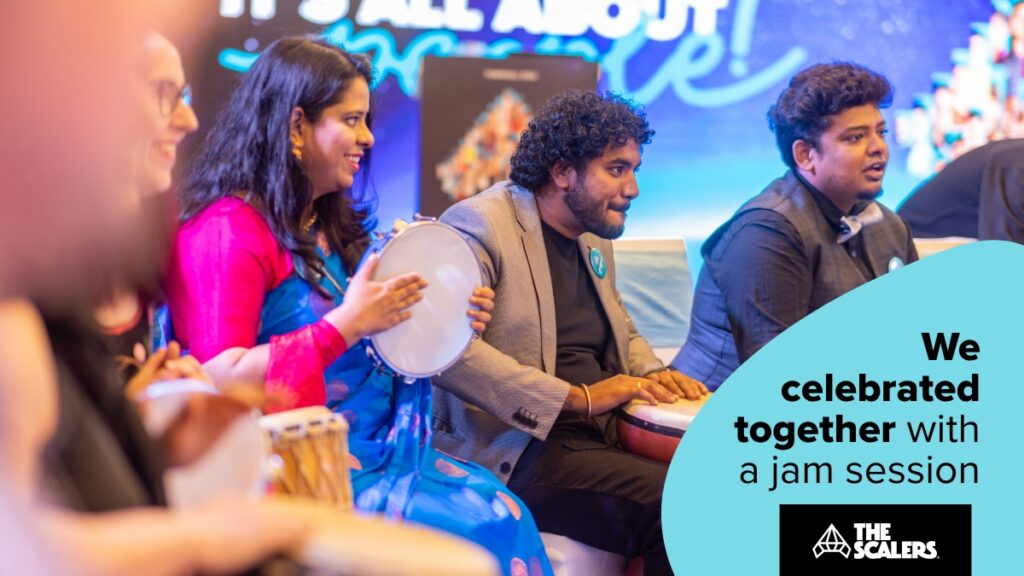 It was a great team-building activity that boosted our morale, lifted our spirits, and got us in the mood for the other exciting evening events. The energy was electric, a great reminder of the fun and camaraderie we share at The Scalers.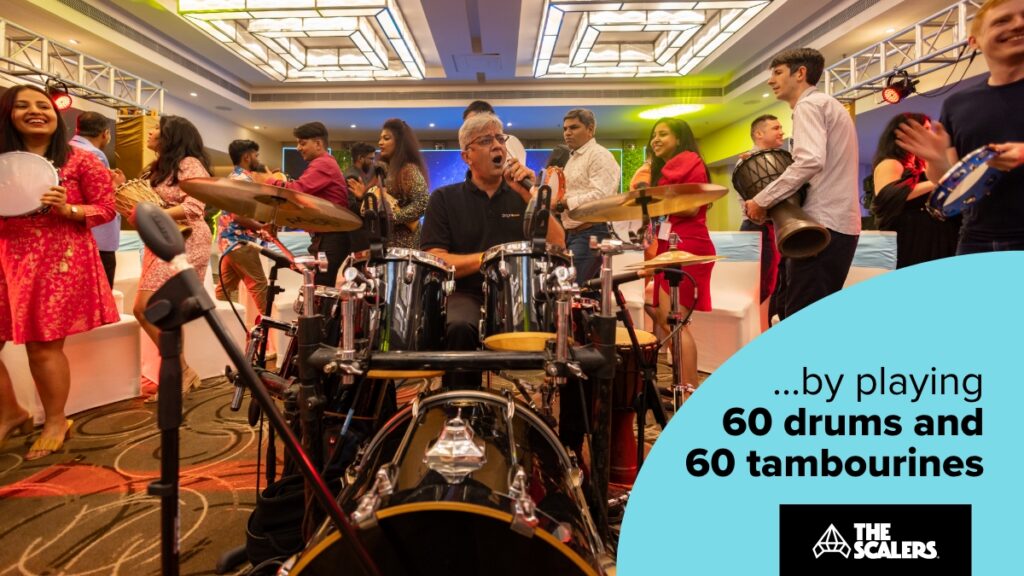 Once the main event rolled around, Emilien Coquard, our CEO and his co-hosts kicked off the Townhall by welcoming the attendees and setting the tone with a lot of enthusiasm. The excitement in the room was real and palpable. So, we took the opportunity to express how we feel about our employees by paying tribute to their hard work and reminding them, "We're here for you as you've been here for us."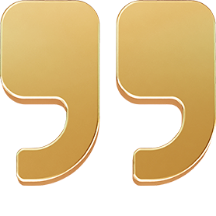 "Our success extends beyond our accomplishments; it's also about the processes and people who got us here. Our employees have been at the forefront of everything we have achieved throughout our company's history, and their commitment and dedication have made our achievements possible."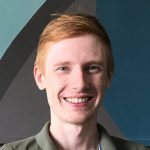 Emilien Coquard
CEO & Co-Founder, The Scalers
The Townhall Awards Ceremony: A recap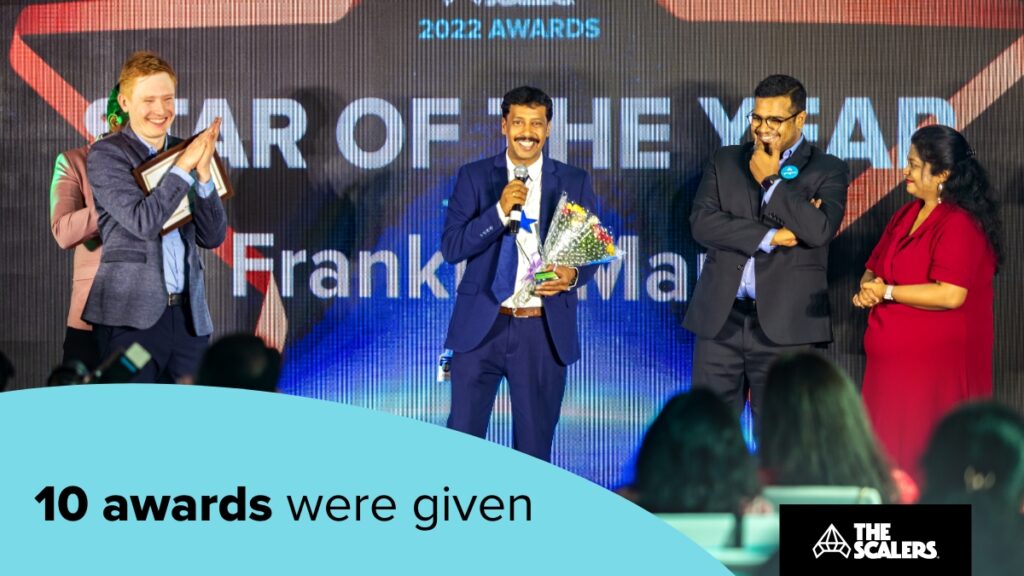 The peak of the evening came during the awards ceremony. Ten awards were given to the year's top performers. Each category was carefully crafted to celebrate different aspects of our employees' positive actions taken over the course of the previous year. The nomination process was rigorous, as we had to choose from a pool of outstanding candidates. And the winners are handpicked, so a lot of consideration went into the decision-making process.
For instance, the most awards — the Rockstar Colleague Award and Star of the Year Award — went out to Franklin Maria, Head of People & Culture. Winning these awards is a tremendous achievement that recognises Franklin's outstanding contributions to the company's success. It highlights the significant role he played in fostering a culture of excellence, innovation, and collaboration, which ultimately translated into positive results for every department and inspired others. Franklin is a shining example of the value an engaged and motivated team member can add.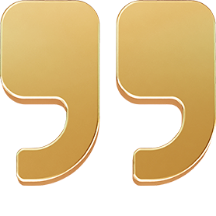 "Receiving the Rockstar Colleague and Star of the Year Awards is a great honour, and I'm humbled to have been recognised for my contributions. This is a testament to the exceptional team I work with and the collaborative efforts we have put in to achieve our goals. I'm also grateful for the recognition and proud to be part of such an incredible team."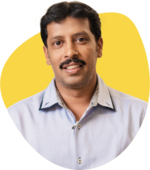 Franklin Maria
Head of People & Culture, The Scalers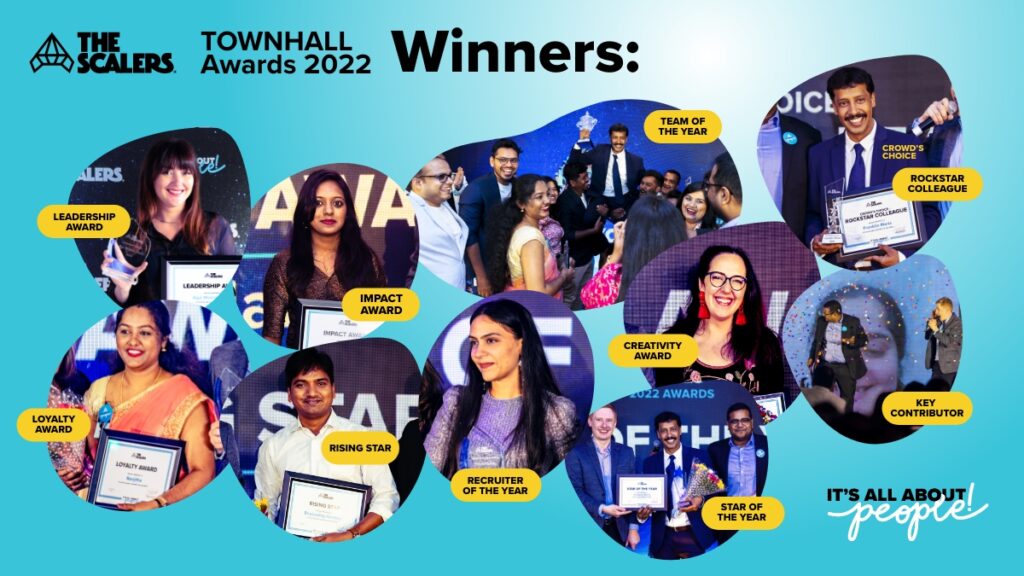 The ceremony was filled with excitement and anticipation as the award winners were announced. Each winner was called to the stage to receive their trophy or plaque, carefully crafted to symbolise their achievements. The trophies were designed to reflect the unique qualities of each award, while the plaques provided a lasting reminder of their success.
As the winners walked to the stage to receive their awards, the attendees erupted in applause, celebrating their inspiring efforts and accomplishments. Clearly, the winners had put in a tremendous amount of work and dedication to reach this point, and their recognition was well-deserved.
Nevertheless, each employee left with a sense of accomplishment, and no one left empty-handed. The gift boxes we received at the end of the evening were filled with all kinds of goodies and treats. The package was a delightful surprise, from chocolates to stationary, leaving everyone feeling appreciated and valued.
However, one item in the box caught our attention — a small plant for each desk. It was an unexpected addition. By giving each of us a plant, the organisers provided us with a thoughtful gift and took steps to make our workspaces more comfortable and productive. It was a small detail that showed that they put care and consideration into every aspect of the event.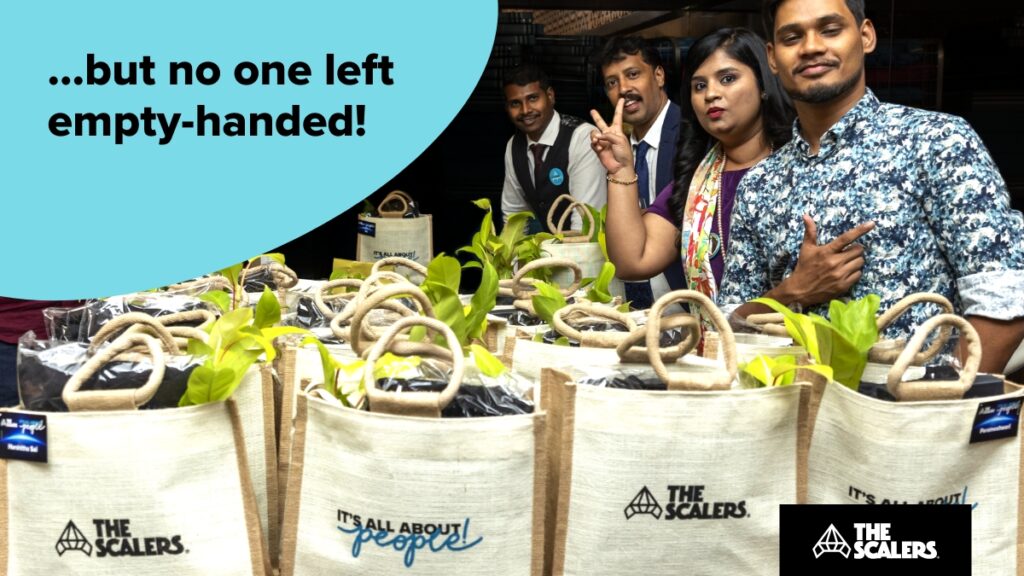 Looking Forward to 2023
At the end of the evening, our leads shared their vision, outlined initiatives and projects, and highlighted areas of focus for the year ahead. After the awards ceremony, the organisation's leaders reminded us that anything is possible together.
The message was powerful and left the attendees inspired and motivated to continue making a difference at The Scalers, "Together, we can scale to new heights" The atmosphere was of gratitude and togetherness; even those who did not win an award didn't leave empty-handed.
While 2022 was a big year, 2023 is positioned to be even bigger. In 2023, our company has ambitious goals to drive growth and success across multiple departments.

Our focus is opening ourselves more to the US and AUS markets, while maintaining the strength of our current relationships in Europe. We also plan to provide more training and implement a data-driven approach. We look forward to a year filled with creative initiatives and brand-new partnerships to ensure we stay the best in our industry.