In between the pillars of the offshoring industry, smartsourcing surfaced as the (not so) new kid on the block.
Smartsourcing goes beyond hiring offshore programmers to cut costs. Smartshoring is about partnering with service providers to not only cut costs, but also to boost innovation across the full spectrum of your business. It delivers the agility often lacking in other offshoring frameworks.
Because Smartsourcing emanated from the hard-won lessons of offshore outsourcing, outsourcing has also become the default context. But Smartsourcing works beyond outsourcing and can be applied across the full range of offshoring models.
We have created an overview of the key elements of this strategy in order to provide the next stepping stone for companies looking to move out.
Smartsourcing coincides with major shifts in the offshoring industry where menial tech support tasks have been substituted with groundbreaking R&D centres. This transition accentuates the need for more meticulous planning to sow the seeds for next generation of innovation.
Performance Benchmarking
Ultimately, this point is about matching of expectations. Self-assessment lies at the core of this strategy where current performance of the task or department under prospective offshoring is examined in great detail.
Automatically, it becomes a way to implement standardised performance metrics and detect hidden pockets of inefficiency. Alignment along tasks that overlap across departments becomes an added bonus. In many ways, it is the golden opportunity to overhaul structures, procedures and processes across an organisation.
This strategy strengthens the negotiating punch once vendors are shortlisted for further enquiries because expectations are data-driven and solidified. The corporation is able to assess vendors beyond costs and incongruity is minimised.
Knowledge of the local market context
This task oscillates somewhere in between accepting the time difference and understanding the dynamics of the job market.
Hiring and retaining employees hinges on supply and demand which will invariably be different depending on the national context. To keep attrition low, corporates have everything to gain from familiarising themselves with local competition and what attracts or deters employees. Local transport networks, holiday entitlement, and the reliability of public authorities also come into play when setting up a brick and mortar entity.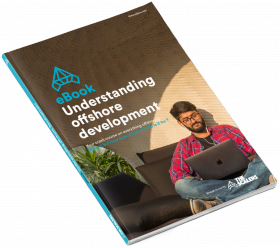 Understanding Offshore Development eBook
Your crash course on everything offshoring.
What is it? How does it work? Is it for you?
Download My Ebook
Cementing knowledge on these aspects helps corporates decide how much it is worth handing over to the vendor versus what can be taken care of internally.
Culture
Culture rarely enters the equation when Smartsourcing is discussed but venturing offshore without a cultural blueprint can suck the life out any project.
Of course, the type of culture in question is work culture. It encompasses the way we respect deadlines, how we manage others, communication style, and the times when yes means maybe. Understanding how tasks are conducted and goals achieved reduces friction in information systems across all levels.
Innovation
Smartsourcing has also been a way to discard the replication of the technical status quo and instead take products on a trip down innovation lane. Rather than a service exchange program, the relationship between the client and the vendor is a partnership of much more intimate nature.
It is on this basis that innovation becomes an integral part of the process. In fact, innovation has become one of smartsourcing's primary pillars. Cost-cutting and innovation have long been considered mutually exclusive but the smartsourcing strategy overcomes that through the nature of the relationship between the client and the vendor.
Examine the long-term viability
Cost-cutting is not episodic but stretches across the project from start to end i.e. it is an ongoing process. For instance, cutting costs initially by 80% may seem attractive but if it means that attrition is high, the cost-saving efforts will go to dust.
Instead, the competitiveness of the strategy needs extended shelf life. Corporate objectives evolve and sometimes along lines that are not predictable. Corporates need to accommodate with great elasticity shifting markets by integrating a resilient structure of our corporate mechanisms.
In that context, it is vital to consider the entire value chain rather than just snippets of it as doing so disrupts the holistic approach to the venture.
Forbes wrote how: "In Japan, for example, less than 1% of the population eligible for university actually attended in 1950. Today that number is greater than 25%. The same sort of shift is occurring today in India and China. This is having a profound impact on the availability of qualified workers for jobs that we would never have considered outsourcing."
To many, offshoring represents a trade-off between cost-saving and quality work. Smartsourcing focuses on the core of innovation, making it product-focused rather than cost-obsessed.
While all the above mentioned points sum up the primary stepping stones of the smartsourcing strategy, transparency, openness and cooperation are key elements in its successful execution.