Common misconceptions about offshoring: Part 2

Pavithra Dennis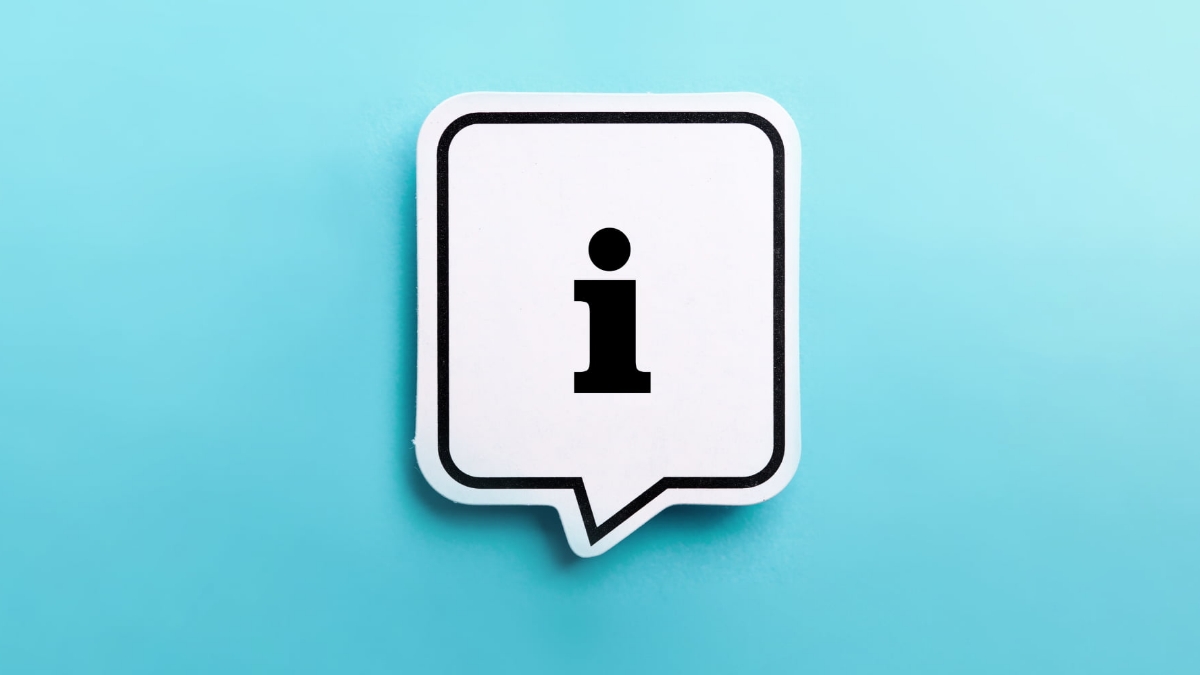 The concept of building a globally distributed team is one that has gained significant momentum in recent times, especially with the Covid-19 pandemic urging businesses to go remote.
On the one hand, businesses are beginning to understand the benefits of engaging a global workforce — a move that allows them to access the best talents without the usual geographical restrictions. On the other hand, building a team offshore has always been a bit of a 'controversial' topic.
For decades, businesses outsourced their development processes only to receive code at low prices and unfinished projects, often leading to a severe credibility crash. This, in turn, has led organisations to believe that building a team of developers abroad in countries like India, for instance, is not a wise move.
However, we're here to tell you otherwise. While there are definitely a few players in the offshoring industry that provide the traditional services, there are some others that are built on innovation, transparency, and personalised software solutions. And, at The Scalers, that's what we stand by. We've already discussed some common misconceptions about offshoring in this blog post. This piece is the second chapter in the series. Let's begin!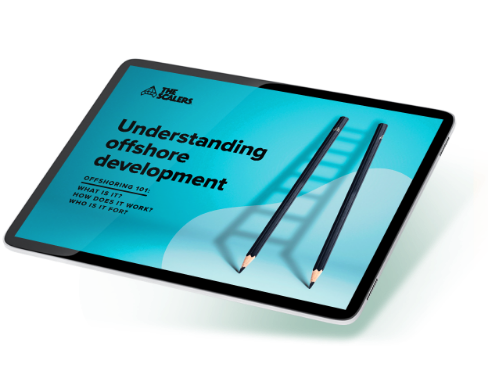 Understanding Offshore Development
Your crash course on everything offshoring. What is it? How does it work? Is it for you?
DOWNLOAD EBOOK
1. Security
How it was done:
One of the most common misconceptions about offshoring is that it exposes your business to security risks. This is a completely valid concern. After all, data security is one of the most crucial bedrocks of any business.
But why is a data breach more likely with your offshore team than your local team? Is it because you have all the security measures in place to mitigate any potential leaks or issues only where your local team is? Are you taking the same actions with your offshore team?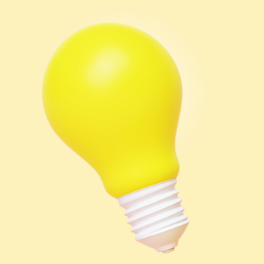 DID YOU KNOW?
Bad outsourcing decisions cause 63% of data breaches.
Source: Trustwave Survey
Another reason why security breaches are considered to be an 'offshore phenomenon' is because of outsourcing. When you outsource your development process to an external vendor, it is important to understand that you are just another client that they service. Your intellectual property isn't really their concern.
How we do it:
The offshore development team that we help you build is entirely yours. That means that every piece of confidential information remains within the jurisdiction of your company. We also implement strict non-disclosure agreements, which clearly state the terms of your contract with your offshore team.
With our experience in the offshoring industry, we understand the importance of data security. And, that's why we always urge our clients to conduct routine checks of encrypted data and invest in advanced firewalls to make sure that their trade secrets are well protected.
As long as you take the right precautions, just like you would at home, there should be nothing to worry about.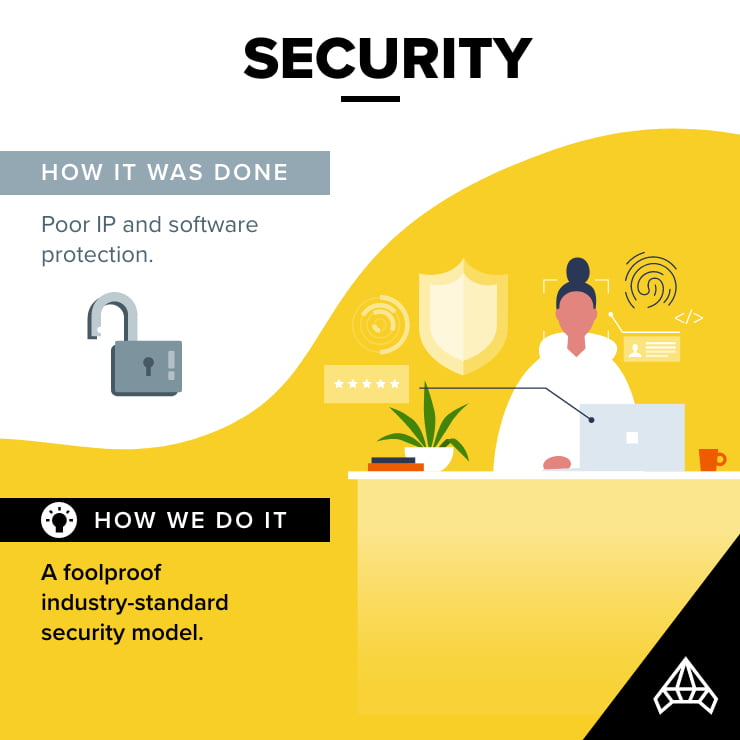 2. Time Difference
How it was done:
Another misconception about offshoring is that geographical distance and varied time zones make the teams unproductive — and for good reason.
The concept of offshore development first became popular in the 1970s, with large corporations like General Electric and Cisco building teams in emerging hubs such as India.
However, back then, digital communication was still a dream. There were no systems in place, no instant messaging apps, and the time-difference threw a massive spanner in the works. Even two decades ago, the complexity of long-distance communication was enough for businesses to stay away from the offshoring bandwagon. But we're in 2020 now.
How we do it:
Today, an engineering company in the UK with an offshore software development team in India faces a time-difference of 5-6 hours. This means that there is still an overlap between their working days. By the time the team in the UK begins their workday, the Indian team has already done half a day's worth of work. There is also plenty of crossover time for the essential stand-up meetings, check-ins, and reviews. That is a significant advantage!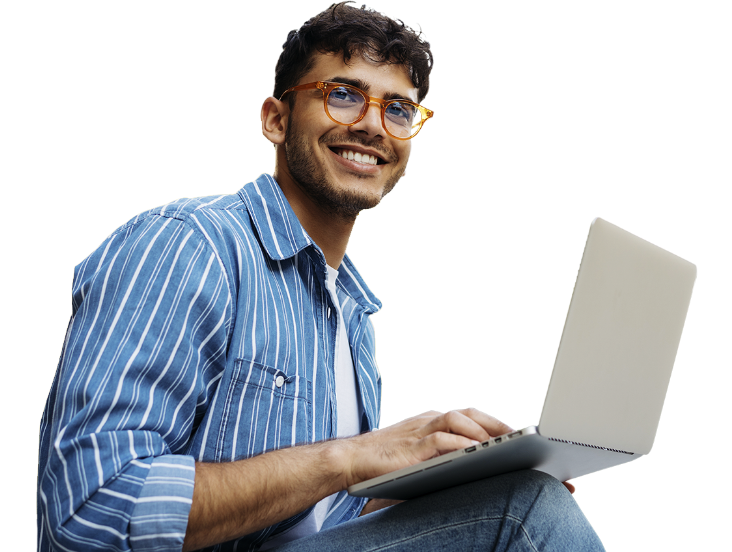 Build an offshore development team
Can't find the skills you need at home? Stop searching and start scaling
LEARN MORE
Given the plethora of communication devices, video conferencing apps, and screen sharing tools available, collaborating with your team on the other side of the world isn't daunting anymore.
Being based halfway across the globe is now a minor inconvenience. For some businesses, it's even more productive than having everyone in the same place! It's no longer about the time difference. It's about time-management.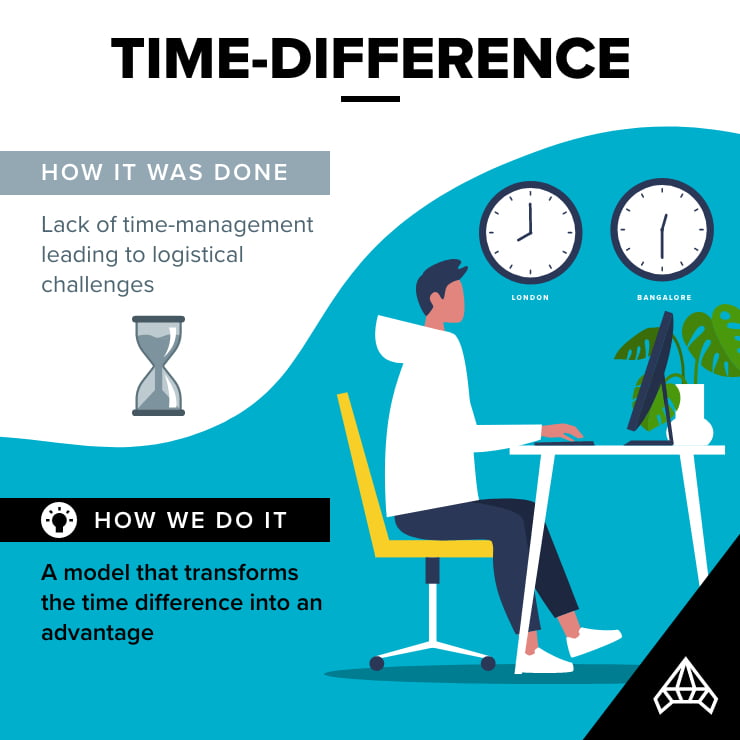 3. Project-Based Work
How it was done:
Often, when you read articles about offshore software development, the words 'offshoring' and 'outsourcing' are used interchangeably. However, the reality is that they are two entirely different models. This is probably one of the oldest and most deep-rooted misconceptions about offshoring.
When a business engages with an outsourcing company, they're signing a project-based contract. For instance, say your company takes on too much work, and you don't have the internal capacity to deliver. In such a scenario, you can choose to outsource your development processes to a third-party vendor for the duration of the project. The vendor, in turn, assigns a few developers to the project and builds the software for you.
While this brings a few benefits such as flexibility and low costs, it also exposes the business to risks such as hidden costs, loss of ownership, and substandard software.
That isn't what offshoring is about.
How we do it:
Offshoring is where companies build a remote software development team (which they own, in entirety) to augment their existing workforce with skilled professionals. Since offshoring is generally to growing tech-hubs like India, companies can access first-rate talent at a lower cost than at home.
At The Scalers, we don't engage with clients on a project basis. Rather, we build them a permanent value-adding extension of their local team, in Bangalore. The crucial difference here is that this offshore team is a part of the organization in every sense. They share the vision of the company, are fully integrated into the business, and work under the same management — this makes them as useful and reliable as the existing local development team.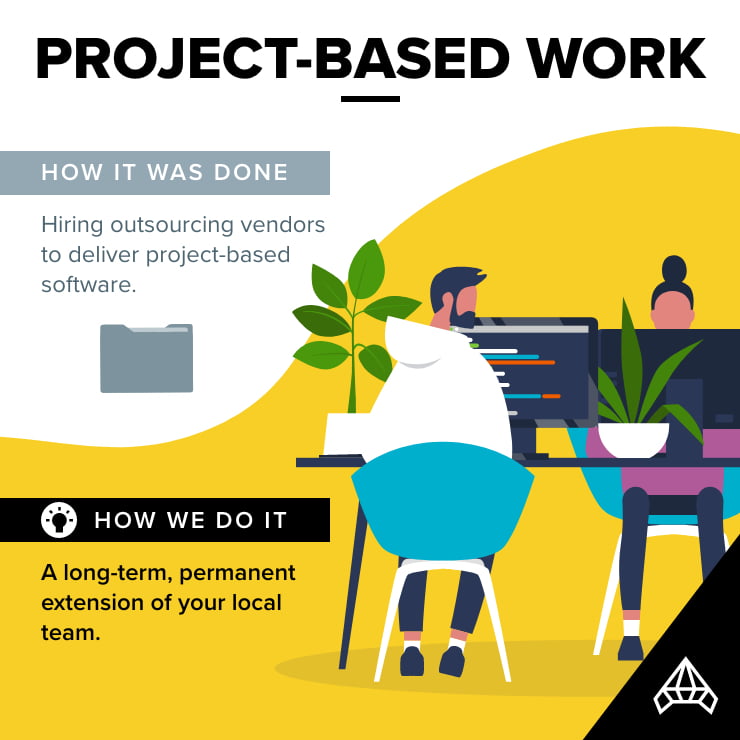 All said and done, there is no smoke without a fire, and that is equally true for the offshore software development industry. Many offshore companies have made mistakes in the past and continue to offer mediocre outsourcing services, and that may or may not change in the future.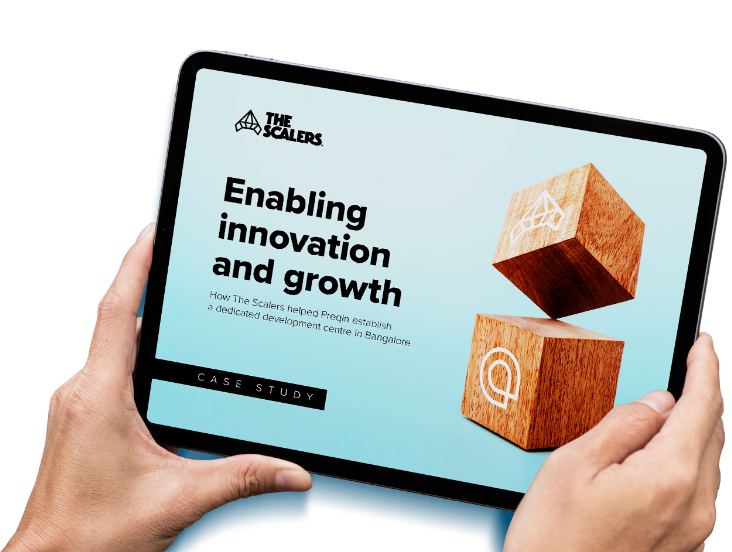 Scaling at speed: Preqin case study
How we helped a fintech establish a dedicated development centre in Bangalore
DOWNLOAD CASE STUDY
However, the problem has been that the smoke continues to linger in the air despite the fire being extinguished. The new chapter of offshore software development has begun, and there are great benefits to reap from it. All you need is the right partner to back you up! 

If you're looking to leverage Indian software developers and build a remote team with us, feel free to reach out to us by filling out the contact form. One of our senior executives will be in touch with you shortly.