Skill shortage in the UK: can India fill the gap?

Christopher Wilson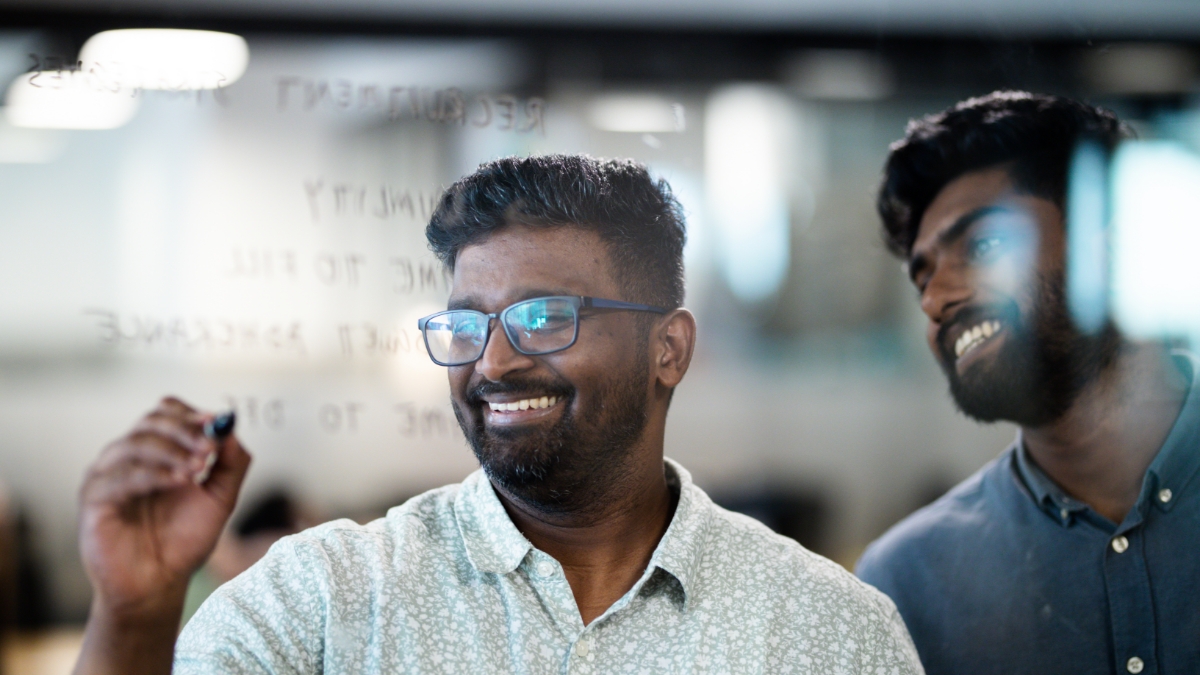 The skill shortage in the UK is costing companies £6.6 billion per year according to a recent report from the Open University Business Barometer. That's due to a combination of the costs of finding candidates and training up underskilled employees, as well as the reduction in output and revenue due to staffing shortfalls.
With more than two-thirds of UK companies affected, it's no surprise that more and more companies are looking for ways to plug the talent gap. While there are several options available, offshoring is becoming the go-to solution with India the leading choice for software engineering.
Keep reading to find out the current state of the skill shortage in the UK and how India can fill the talent gap.
The cause and scale of the skill shortage in the UK?
Companies have struggled to find certain skills for a long time. However, a recent report from the UK government pointed to three factors that have accelerated this trend at breakneck rates.
The first is the ongoing digital revolution which is now touching every industry and resulting in an exponential increase in demand for software development skills. The second was the covid pandemic lockdowns that not only turbocharged the ongoing digital transformation trend but also froze immigration and brought on the "great resignation" where a large chunk of skilled, older developers left the job market for good. The final factor is the ongoing reduction in net migration from the EU due to Brexit which has increased some skills gaps.
Together, these have caused a dramatic increase in demand and a cliff-edge drop in the supply of high-value skills.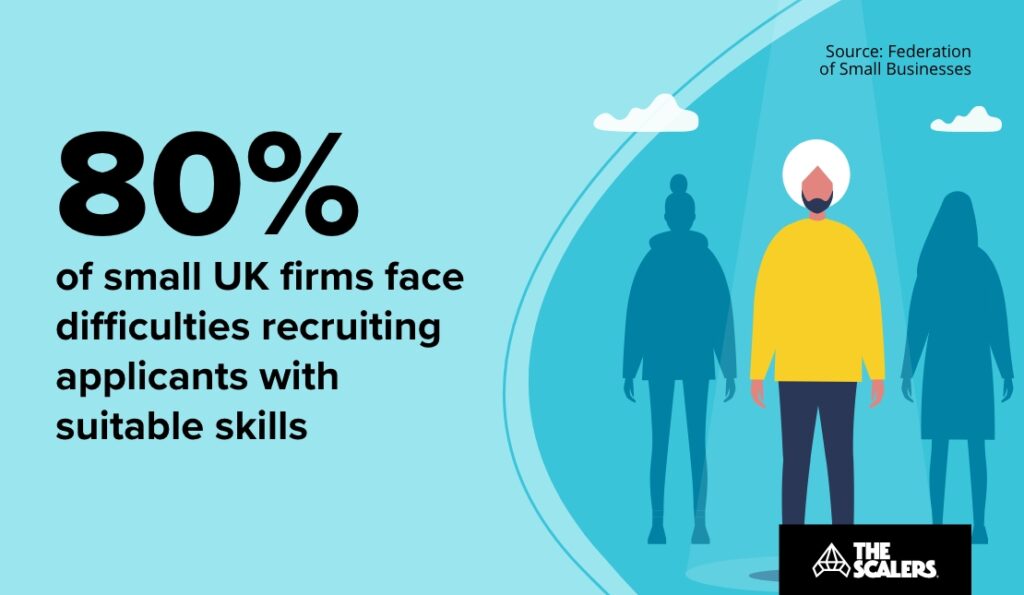 Almost every industry in the UK has been hit by skill shortages, and the IT sector is no exception.
IT has the second highest number of vacancies per 100 employees [UK Gov].
From February to April 2023, there were over 50,000 advertised vacancies in the IT and communications sector. [Office of National Statistics].
The tech talent pool is worse in 2023 than in 2022 [Statistic].
While there are options including training up unskilled employees and increasing tech budgets, they take time and money: the two most costly resources a company has.
There is, however, a far more popular option for overcoming the skill shortage in the UK.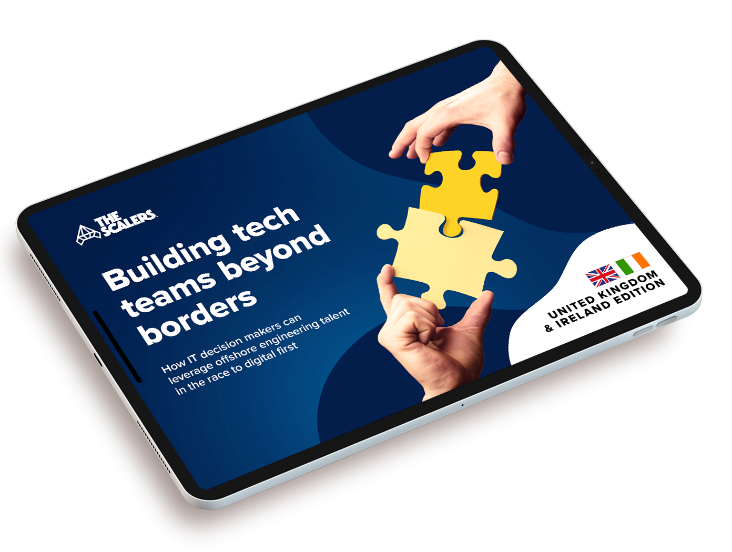 Overcoming the UK and Irish talent crunch
How businesses can navigate the skills gap at home and scale quickly with offshore talent
DOWNLOAD WHITEPAPER
Going offshore: the go-to solution to the UK skill shortage
A recent report showed 38% of IT leaders expected their use of offshore development resources will increase in 2023.
And it's an even greater 60% for companies with larger software development teams. It's easy to understand why. When the other options are "do nothing" or spending more and more to bribe local talent away from competitors with bigger names and budgets, accessing areas with skills surpluses is the obvious solution.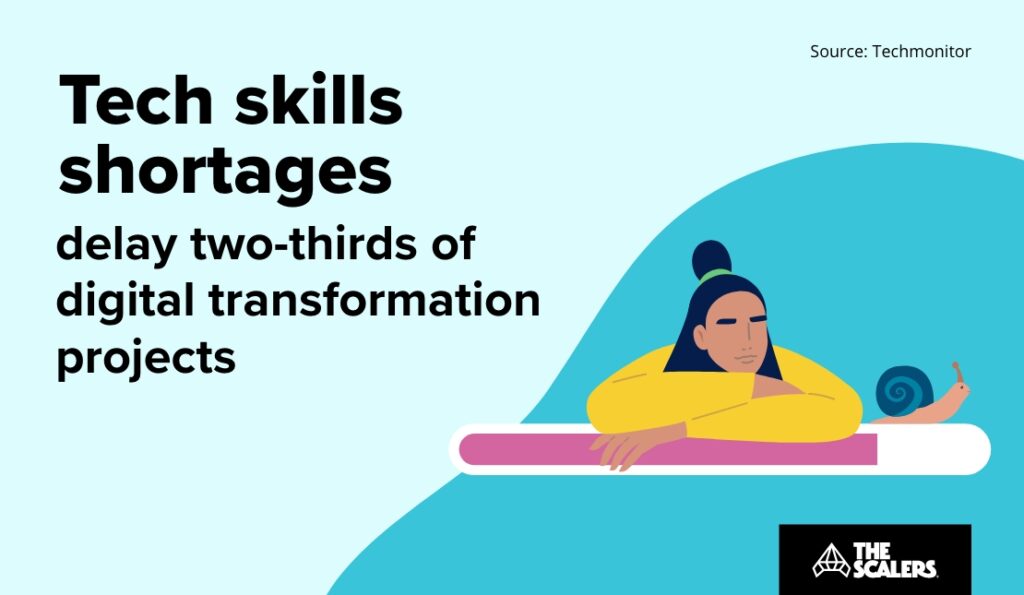 By going offshore, Tech leaders are able to unlock talent pools beyond their borders. Instead of the UK's limited developer community, UK companies are able to attract the best talent from countries where there are surpluses of software engineers.
While there are many offshore locations bidding for UK companies' attention, there's one that stands out as the prime location for building dedicated software development teams: India.
Why India is the favourite location for dedicated software development teams
India has the hard and soft skills required for high-quality software development teams. And what's more, it has them at a colossal scale.
A recent report estimated that India would become the largest developer community with over 5 million software engineers by 2025. Github perhaps hints at an even greater community. In 2022 they announced that the Indian community had reached 9.75 million users which was a 2.5 million increase since 2021. This makes it second only behind the US which it's due to overtake in 2024.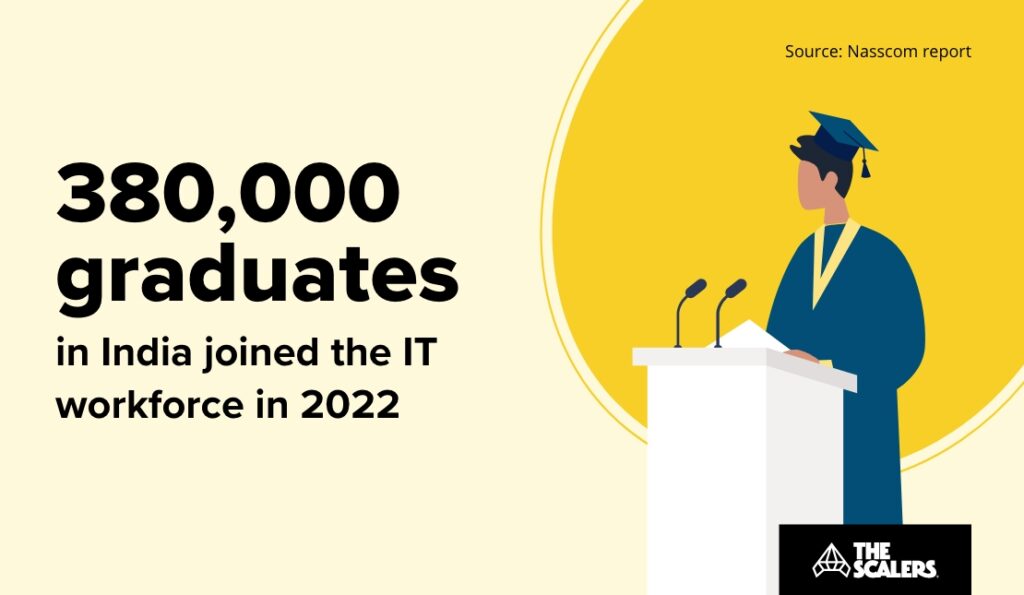 These are the results of India's investment in its educational system with a focus on STEM disciplines. There are now an estimated 1,081,000 students studying computer science engineering across India. Bangalore alone has 1 million software engineers and has become the fastest-growing tech hub in the world.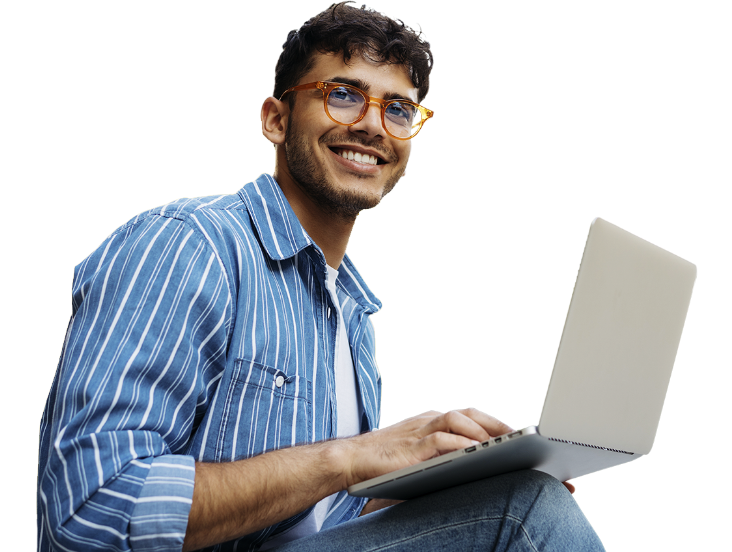 Build an offshore development team
Can't find the skills you need at home? Stop searching and start scaling
LEARN MORE
So while there are other offshore locations that have knowledgeable developers, they lack the abundance that India offers.
It's not just about the size of the talent pool
India also has the right soft skills too.
English is an official language and is widely spoken, especially among software engineers. Plus, there are a large number of multinational corporations with offices across India. This has resulted in a spread of Western work culture and development processes as well as engineers with experience working in global teams.
When you add in the 60% lower cost of living and 88% cheaper office space, companies can get more out of their tech budgets than hiring at home. But don't expect to slash your dev budget by 80% and see no effects. If you want to hire quality developers at speed, you should make a more modest reduction.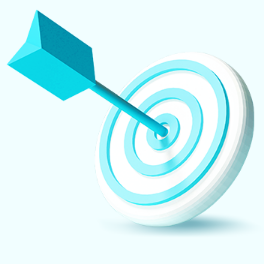 TIP
Choosing a high-quality offshore partner saves you more in the long run. 
But there are some key challenges you need to be aware of before you start building an offshore team in India
Offshoring challenges in India
Going offshore is a simple solution to beating local talent shortages, but it does bring second-order challenges that you need to address in order to reap the benefits.
Finding quality engineers at scale who can do what they say they can.
Operational models where you have little to no control or visibility into your team.
Integrating local and offshore teams despite language and culture differences.
Mitigating security risks and protecting intellectual property.
Managing, engaging and supporting offshore employees so they stick around and can deliver their best work.
The solution to these challenges?
You need to find an offshore partner who will do the hard work for you.
Scale your development with an offshore partner you can trust
Unless you are a massive multinational corporation that has a ton of resources to throw at building a new offshore development hub, you're going to need an offshore partner.
They have the operational infrastructure in place to help you scale fast as well as the local know-how to navigate regulations. By leveraging their knowledge, expertise and infrastructure, companies are able to build dedicated offshore teams in a fraction of the time so they can start reaping the benefits sooner. But not all partners are the same.
Some offshore companies operate on a low-value principle with the promise of cost savings as their main selling point.
They skip on finding employees with the right culture fit and soft skills. In some cases, they don't properly vet for technical abilities or are unable to find sufficiently skilled engineers due to their limited budgets. You can also expect high turnover as the few quality engineers are attracted to competitors offering better compensation and work environments.
There is an alternative, high-value, long-term and people-first approach.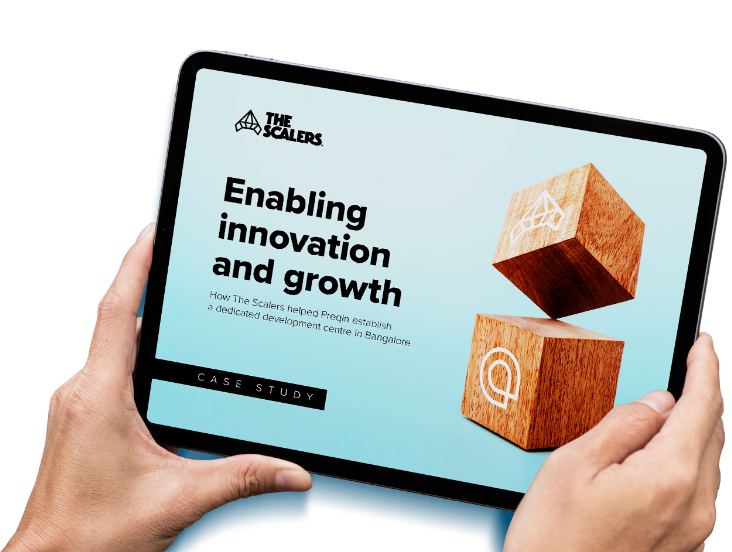 Scaling at speed: Preqin case study
How we helped a fintech establish a dedicated development centre in Bangalore
DOWNLOAD CASE STUDY
Offshoring that actually works
At The Scalers, we build offshore teams so good and well-integrated, our partners don't call them offshore.
By focusing on hiring the highest quality candidates, with the right cultural fit and providing them with the best working conditions our partners get teams that deliver value that increases over time. Our proven model starts with hiring for your company, not putting forward employees from a bench, so you get the exact skills and personalities you need.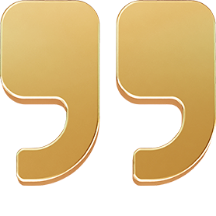 Growing a team from 0 to 95 is of course a challenge. Having a trusted partner on the ground has made this much easier for us in terms of building the team culture in Bangalore and sourcing candidates — which would have been very, very challenging for us without The Scalers.

Daniel Barnes
SVP of Engineering, Preqin 
Then, we take care of all the headaches on the ground like getting an office and equipment, onboarding employees and ensuring they get paid on time. And once your employees start joining, your dedicated CHO will ensure they're happy, engaged and committed to the long haul.
And throughout the whole process, your partner success manager keeps you updated with weekly chats, and monthly reports and is ready to respond to any questions. So when you're ready to scale your team, just let them know and our turnkey process will kick into gear.
So, can India plug the skill shortage in the UK?
India's abundance of tech talent, strong English skills and rich IT industry make it a prime location for companies looking to fill vacancies for in-demand skills. This has made offshoring in India the go-to solution to plugging the skill shortage in the UK.
KEY TAKEAWAYS:
The UK is experiencing a massive skill shortage due to a drop in supply and skyrocketing demand for key skills.
The IT industry has been particularly hit
Going offshore is a fantastic way to beat talent shortages by unlocking the talent base of the world
India has become a go-to location for offshoring due to its abundance of engineers and talent base. 
You need an experienced partner to ensure your offshoring project works  
If you're looking for a partner to build you a dedicated tech team in India, get in touch today and we'll give you a tailored proposal based on your exact needs.