Offshore development services in India: The ultimate guide

Pablo Rodriguez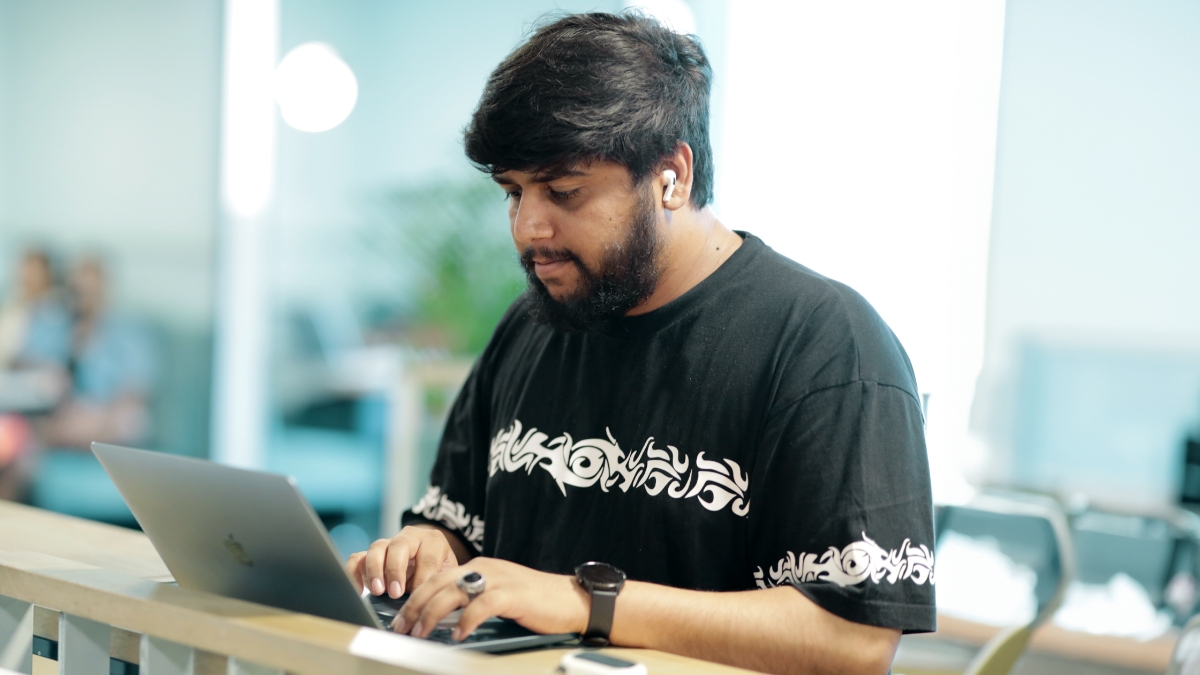 If you're looking for an updated guide on offshore development services in India, you're in the right place.
In this article, you'll learn why this Asian country is considered one of the best destinations to find and hire elite engineers. You'll also discover why — as a tech leader — you should consider moving operations to Bangalore, the 'Silicon Valley of Asia'.
But first, let's start by defining offshore development services and why they've become a solution for Western companies tackling the talent shortage in their regions.
What are offshore development services?
There are many common misconceptions about offshore software development.
And we aren't surprised: its growing popularity has led to companies offering low-quality services.
Ironically, such circumstances allow CTOs, CIOs, and VPs of Engineering to discern between a reliable and an unreliable partner. The difference? A reliable partner can find the top 1% of talent from a large engineering talent pool, offering unparalleled flexibility to scale development teams.
Plus, they are crucial in helping US, UK, and European companies tackle the ongoing tech talent shortage in their regions.
Before diving into why and how to choose an offshore development partner in India, it's essential to understand and get familiarised with the following concepts:
Offshore development: the process of moving tech operations overseas to access specialised expertise and reduce costs. E.g., a US-based organisation offshores software development to Bangalore to find niche developers to rapidly expand their team and product, addressing local talent scarcity more effectively.
Offshore development services: a range of IT-related services, including software development, application maintenance and quality assurance performed by a dedicated development team. E.g., a European firm hires a team of 11 Magento software engineers to build and maintain its ecommerce platform.
Offshore development company: an organisation specialising in building top software development teams for businesses worldwide. E.g., an Indian offshore company builds a long-term software engineering team for a corporation headquartered in the UK.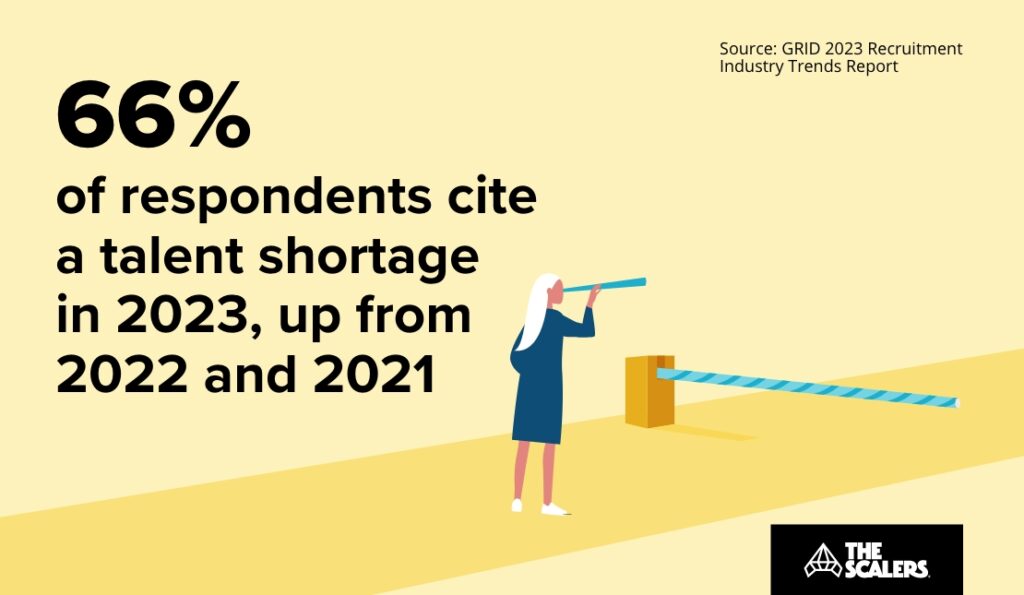 How is working with an offshore development team different from outsourcing?
In contrast to common belief, offshoring isn't the same as outsourcing.
A company offering offshore development solutions builds long-term dedicated engineering teams integrated with an organisation's mission and values. This means developers are an extension of businesses and work just for them.
A company offering outsourcing services hires, generally, engineers for short-term projects, with professionals who are task-focused and juggle multiple clients and projects. Since the main driver for outsourcing is cost and delivery time, companies push hard for the lowest price possible, resulting in low-quality deliverables.
| | | | | |
| --- | --- | --- | --- | --- |
| Model | Engagement | Integration | Quality vs Cost | Management and control |
| Offshoring (done right) | Long-term partnerships | Offshore developers are 100% focused on the organisation's goals and requirements | Focus on quality, efficiency, and alignment | High level of control over the development team |
| Outsourcing | Typically, short-term partnerships | Outsourced developers may handle multiple clients and projects simultaneously | Focus on cost savings over quality | Low level of control and less direct influence over the team's success |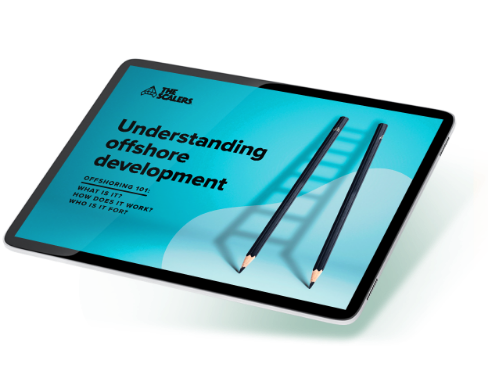 Understanding Offshore Development
Your crash course on everything offshoring. What is it? How does it work? Is it for you?
DOWNLOAD EBOOK
Introducing offshore software development services in India
Now that you know what offshore development services are, it's time to dive into India as a top offshore destination.
Why choose India for offshore software development?
Moving your software development offshore to India is a critical strategic move for any business — and that means the benefits must be significant and tangible.
These are the three main pros of working with an offshore development services company in a renowned tech hub like Bangalore:
Accessing top talent
According to a 2022 report, the US has only 716,000 STEM Graduates. India has 2.6 million… and rising.
The country's strong focus on IT and English education equips Indian engineers with the programming skills and tech proficiency to effectively address the American talent shortfall.
When establishing a development team in India, you gain access to a talent pool that's five times larger than you'll find locally, allowing you to select the best-suited candidates for your needs. This is one of the remarkable advantages quality offshoring offers.
Achieving greater cost-effectiveness
Senior developers in Western countries like the US or the UK earn an average of €60–190 per hour.
However, these hourly rates don't always guarantee superior services. Western engineers command high salaries due to their location rather than solely based on delivering high-quality services.
In India, the cost of living is significantly lower than in the West. A senior developer's offshore software development rate is around €38 per hour, even in major metropolitan areas.
Despite some stereotypes, elite Indian engineers know niche programming languages and creative approaches to innovation just as well as their Western counterparts. That's why hiring the best Indian developers is a smart choice.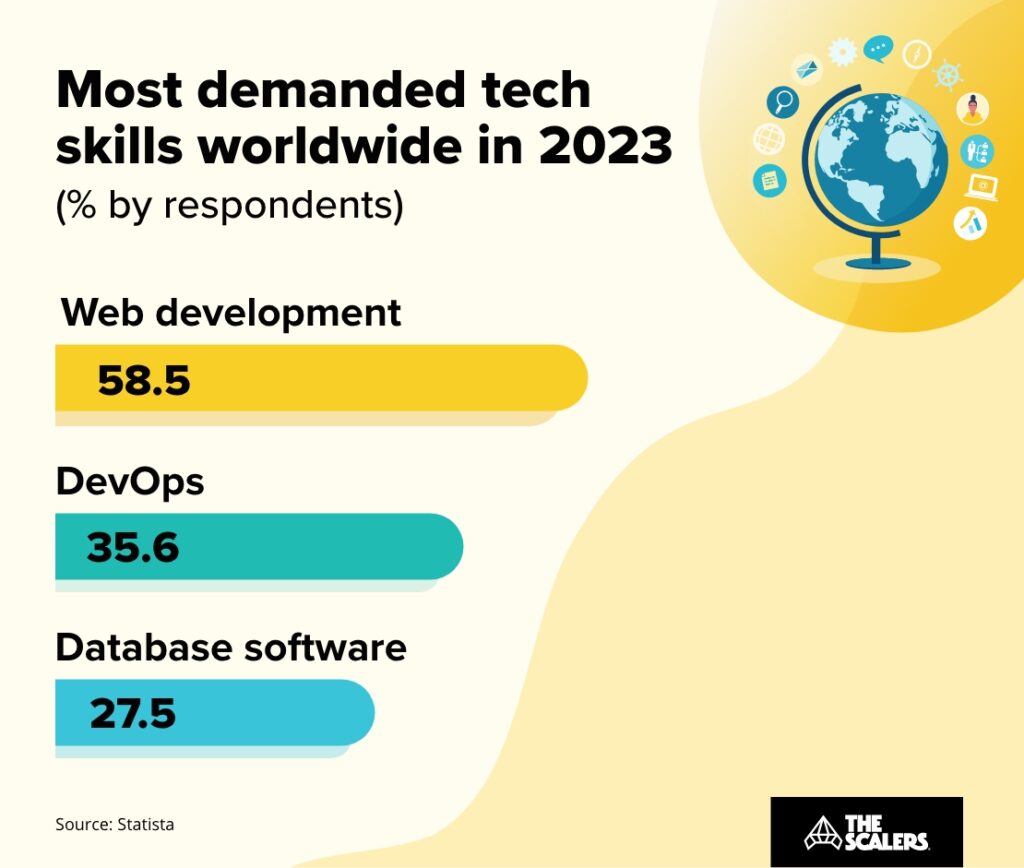 Enhancing cultural alignment
Building an offshore development team goes beyond hiring technical experts: forming a team that aligns culturally with your business mission and values is crucial.
Offshore development in India is also popular because the country has the second-largest number of English speakers globally after the United States. The lack of a language barrier makes corporate cultural alignment effortless.
Factors for choosing an offshore development partner in India
You are already aware of the multiple benefits that make India an attractive offshore destination. Now, you must find a reliable offshore partner to help you build your dream team.
These are the factors you should consider before deciding on one or another:
Scalability and flexibility: choose a partner that allows you to add more engineers to your team whenever you need. Your business goals and requirements may change with time, so it's essential to collaborate with a trusted partner that offers you high flexibility and scalability.
Hands-off operations: an excellent offshore development company takes care of the heavy lifting while you focus on other key business functions. Look for a partner that handles HR and administrative tasks, such as hiring, onboarding, and local office set-up.
Leadership and management: make sure you collaborate with a company led by experienced professionals. Verify whether they use transparent communication channels and have mechanisms in place for regular updates and reporting.
Case studies/testimonials: prioritise partners who can demonstrate their success through case studies and testimonials. Examples of 'before-and-after' implementations showcase their ability to deliver results.
Apart from these aspects, pick an offshore development partner aware of current industry trends.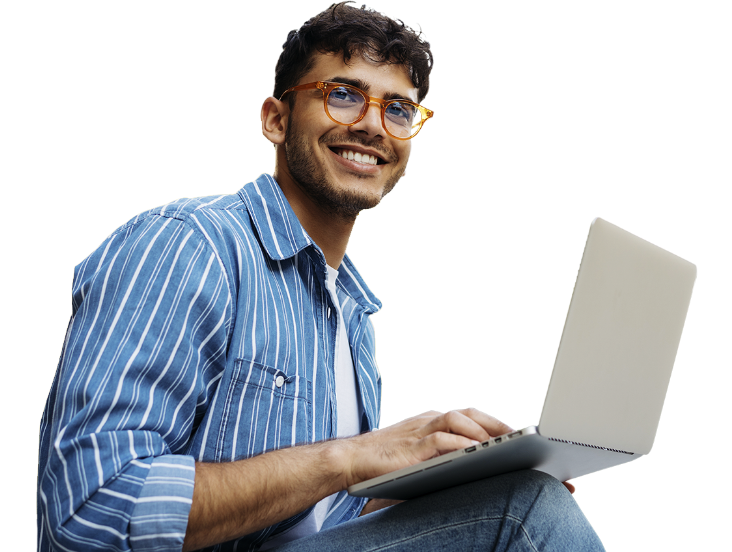 Build an offshore development team
Can't find the skills you need at home? Stop searching and start scaling
LEARN MORE
3 trends in offshore software development services in India
India's offshore software services have been a magnet for businesses worldwide.
To gain international companies' trust, Indian offshore partners are embracing three key trends: new technologies, strong cybersecurity, and cross-team collaboration.
Increased talent specialisation in new technologies
AI is revolutionising industries, with no exception.
Indeed, 53% of organisations are hiring or planning to hire professionals with AI skills, including software developers. These businesses aren't only looking for professionals with AI tools proficiency but also individuals who can build and maintain AI-based products or services.
The growing demand for engineers possessing niche skills is driving Indian offshore companies to expand their search for highly specialised tech talent.
The upside? The rise of AI, upcoming technologies, and groundbreaking programming languages opens up exciting opportunities for collaboration and innovation.
Greater focus on cybersecurity
Cybersecurity is one of the main priorities for top offshore partners in India.
And it's no wonder why: in 2023, data breaches cost organisations an average of $4.45 million worldwide.
As data breaches and cyberattacks continue to make headlines, offshore companies are committing to protect sensitive data more than ever. Partners that hold official security certifications — such as information security management systems (ISMS) like the ISO ISO/IEC 27001 — will prevail over their competitors.
Emphasis on cross-team collaboration
Effective cross-team collaboration in 2023 and beyond is about more than just communication: it's about synergy.
That's why top offshore development companies in India work — and will keep actively working — to integrate offshore developers into organisations' processes and methodologies.
This collaborative approach enhances project outcomes and lays the foundation for long-term partnerships. Businesses prioritising cross-team collaboration find that their offshore development teams in India become extensions of their organisations, working together to achieve shared objectives.
What's the best offshore development company in India?
Finding an offshore partner who truly comprehends your unique requirements and supports your growth is crucial, especially when scaling your operations.
That's exactly what The Scalers offers businesses like yours.
Headquartered in Bangalore, the Silicon Valley of Asia, The Scalers is one of the best offshore development companies. With a fusion of European and Indian leadership, this organisation specialises in building dedicated offshore software development teams.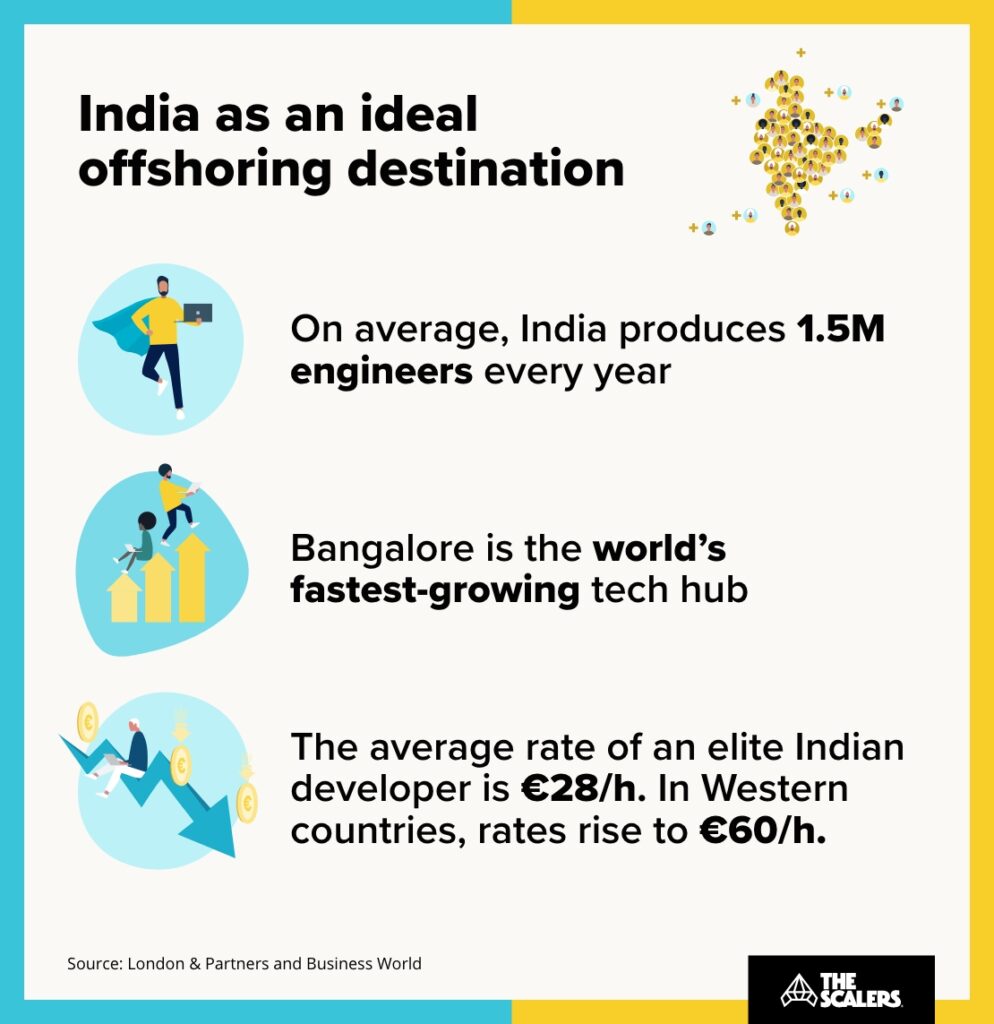 The Scalers' approach to offshoring consists of:
Leveraging Bangalore's tech expertise, one of the fastest-growing tech hubs worldwide
Picking the top 1% of Indian developers, renowned for their niche skills and extensive experience
Building dedicated development teams for long-term partnerships, typically spanning 3–5 years
Managing all on-ground operations, including HR, payroll, setup, and other administrative functions
Cultivating a people-centric culture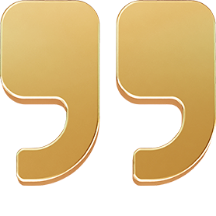 We were struggling to find talented developers in Paris, but we found them in Bangalore with The Scalers. Our partnership is now in its sixth year, and it's amazing to see how far they have pushed our business forward

Emmanuel Cazeneuve
CEO, Hesus
Are you ready to build an agile and scalable development team in Bangalore? Contact us today, talk with an offshore expert and explore how you can hire top Indian engineers quickly and easily.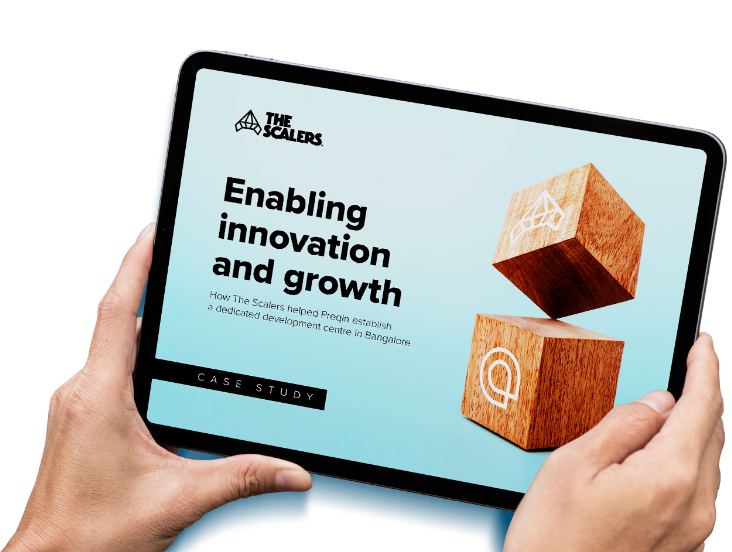 Scaling at speed: Preqin case study
How we helped a fintech establish a dedicated development centre in Bangalore
DOWNLOAD CASE STUDY
In summary
India offers an excellent opportunity for businesses searching for top-notch tech talent and cost-efficiency.
If that's what you're looking for, consider collaborating with a reliable offshore partner in tech hubs like Bangalore.
KEY TAKEAWAYS:
Offshore development services in India offer access to elite engineers and can be a solution for Western companies facing talent shortages.
Offshoring involves moving tech operations overseas to access specialised expertise and cost savings, like offshoring software development to Bangalore.
India offers several advantages for offshore software development, including a large talent pool, cost-effectiveness, and cultural alignment.
When choosing an offshore development partner in India, consider factors like scalability, hands-off operations, leadership, management, and case studies/testimonials.
Trends in offshore software development services in India include increased specialisation in new technologies, a greater focus on cybersecurity, and an emphasis on cross-team collaboration.
That's all for today. We look forward to seeing you in the next article on offshoring, tech trends or software development!